April 2023 - Special Educator e-Journal
---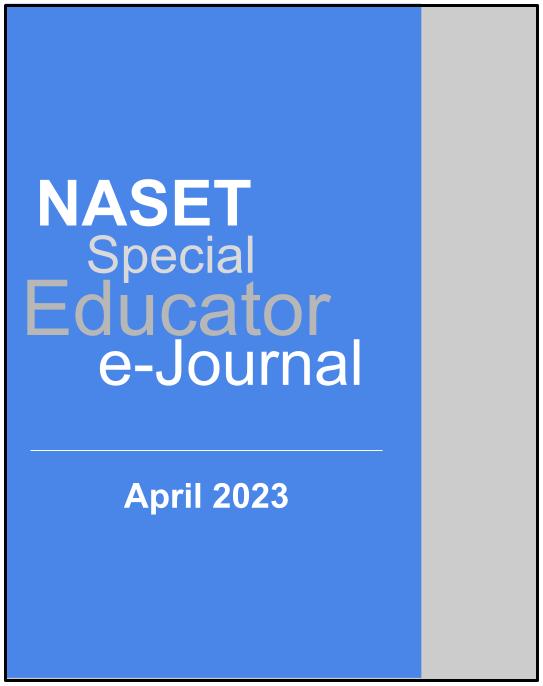 ---
NASET Members - Login Below to access the latest Special Educator e-Journal.
Site visitors: You may access a sample e-Journal - Sample e-Journal
---
Special Education Legal Alert
By Perry A. Zirkel
© February 2023
This month's update identifies recent major court decisions that illustrate applications of Section 504 and the Americans with Disabilities Act (ADA) to relatively novel situations. For related publications and earlier monthly updates, see perryzirkel.com.
NASET Members- Login to Access the Full Article
---
Buzz from the Hub
All articles below and many more can be accessed through login:
Frequently Asked Questions (FAQs) on Pre-Employment Transition Services
The account you create at NTACT will give you access to a wide range of transition-related materials, such as this FAQ on pre-employment transition services. The questions and answers are organized into categories for easy browsing and include: administrative, allowable costs, definitions, service delivery, and RSA FAQs.
Talking to Kids About Sex and Dating
Check out this suite of stand-alone articles from the Child Mind Institute, which rounds up resources on why it matters to talk to teens about sex and romantic relationships, and how to approach this sensitive topic. Dive into consent and how kids can confidently set and respect boundaries. The suite includes tips on how to help teens deal with unwanted attention, as well as warning signs of sexual behaviors that are concerning. Some DOs and DON'Ts are outlined to help teens make good choices as they enter their first relationships. Each article in the suite is also available in Spanish.
Balloons lifting a winning ribbon.
Sexual Health and Wellness
PEATC, Virginia's PTI, has developed a toolkit to help guide parents through discussing sexual health and wellness with their child with disabilities. The toolkit covers topics such as sexuality, self-care, relationships, social skills, and boundaries. Many additional factsheets and resource documents (including YouTube videos) are also available.
Sexuality & Disability | 6 videos and articles to explore and share, as befits the person and the circumstances
Sex education for students with disabilities | A more scholarly article from Law & Order, from 2006
NASET Members - Login to Access the Full Article
---
The Academic Benefits of Social Emotional Learning during the School Day
Philip Garza
Florida International University
Abstract
The purpose of this study is to explore the academic benefits of social emotional learning throughout the school day as opposed to absence of it all together. This review seeks to find positive correlations of social emotional learning and academic performance. The literature on Social Emotional Learning depicts that when taught to students there is a majority of mutual agreement that students will benefit emotionally and will improve in all areas of academic performance.
NASET Members- Login to Access the Full Article
---
U.S. Department of Education Issues Dear Colleague Letter Calling for End to Corporal Punishment in Schools and Guiding Principles on School Discipline
The U.S. Secretary of Education Miguel Cardona wrote to Governors, Chief State School Officers, and School District and School Leaders and urged them to end corporal punishment in schools—the practice of paddling, spanking, or otherwise imposing physical punishmenton students. This letter reinforces the Department of Education's (Department's) position that corporal punishment in schools should be replaced with evidence-based practices, such as implementing multi-tiered systems of support like Positive Behavioral Interventions and Supports, that create a safe and healthy school environments. Every student and educator should feel safe and supported inside of school buildings; and more importantly, schools should always be free from the threat of violence.
NASET Members - Login to Access the Full Article
---
Education Department Announces Use of Secret Shopping to Protect Students, Crack Down on Institutions that Lure Students with Lies
The U.S. Department of Education (Department) announced that the Enforcement Office of Federal Student Aid (FSA) will use secret shoppers as an additional tool to monitor postsecondary institutions' compliance with the laws and regulations governing their participation in the federal student aid programs. In particular, secret shoppers will evaluate recruitment, enrollment, financial aid, and other practices of postsecondary institutions to help identify potentially deceptive or predatory practices used to recruit and enroll students.
"Secret shopping is another tool in FSA's toolbox as we expand our oversight work to hold predatory schools accountable," said FSA Chief Operating Officer Richard Cordray. "Our focus—as always—is to ensure that students, borrowers, families, and taxpayers are not being preyed upon to make a quick buck."
NASET Members - Login to Access the Full Article
---
U.S. Education Secretary Issues Statement on Passing of Disability Rights Leader Judy Heumann
The U.S. Secretary of Education Miguel Cardona issued the following statement on the passing of Disability Rights Leader Judy Heumann:
"On March 4, our country lost a great disability rights leader with the passing of Judith (Judy) Heumann. As Assistant Secretary for the Office of Special Education and Rehabilitative Services during the Clinton Administration, Judy helped ensure that students with disabilities not only had the right to physically attend public school, but that such students had the right to learn the same curriculum as their non-disabled peers. Her leadership is realized in the nearly 20 percentage point jump from 2000 to 2023 in the number of students with disabilities who graduate with a standard high school diploma. Judy's legacy also includes influencing the publication of the regulations implementing Section 504 of the Rehabilitation Act of 1973 that bars discrimination against disabled people in federally funded programs.
NASET Members - Login to Access the Full Article
---
Creating Trauma-Informed Spaces for Youth in Residential Programs
Aimee J. Hackney
Nina R. Graham
Kristine Jolivette, Ph.D.
Sara Sanders, Ed.D.
University of Alabama
**Note: This article was taken from the Winter, 2023 edition of JAASEP
Abstract
A majority of youth in residential facilities such as residential children's treatment centers and juvenile justice facilities have a history of exposure to traumatic events, contributing to a multitude of long-term mental and physical concerns. Residential facility teachers and staff have the unique opportunity to create trauma-informed spaces - safe, healing environments in all aspects of a youths' life during their stay. Trauma-informed spaces may help youth develop healthy relationships, build resilience, and increase social and emotional skills, all establishing a foundation for future success in their home, school, and community. This article provides suggestions for incorporating trauma-informed strategies across all spaces of the facility to mitigate the negative effects of trauma using Harris and Fallot's (2001) five core values of safety, trustworthiness, choice, collaboration, and empowerment.
Keywords: trauma, trauma-informed care, trauma-informed spaces, residential facility, juvenile justice
NASET Members - Login to Access the Full Article
---
Latest Employment Opportunities Posted on NASET
* Elementary Special Education Teacher - French and/or English Speaker - Special Education Teachers wanted for grades K through 5, including a French speaking Special Education teacher to support the French immersion theme. Candidates must be eager to work with students of all abilities in a French immersion public school and adapt instruction to students' interests and needs. To learn more- Click here
* Teacher-Exceptional Student Education - This position encompasses the three standards included in Teacher Professional Expectations in School Board Policy, which are high student achievement, safe learning environment, and effective and efficient operations. To learn more - Click here
* [2023-2024] High School Math Learning Specialist - Reporting to the Academic Dean, the High School Math Learning Specialist will be responsible for building meaningful relationships with students, implementing a Common Core-aligned curriculum, and working with their grade team to analyze data to drive instruction. This is an exciting opportunity for an educator who is passionate about improving student outcomes by leading excellent instruction and building a positive school culture. To learn more- Click here
* [2023-2024] High School ELA Learning Specialist - Reporting to the Academic Dean, the High School ELA Learning Specialist will be responsible for building meaningful relationships with students, implementing a Common Core-aligned curriculum, and working with their grade team to analyze data to drive instruction. This is an exciting opportunity for an educator who is passionate about improving student outcomes by leading excellent instruction and building a positive school culture. To learn more- Click here
* Elementary Schools ICT Teacher - Ascend invests in employees by providing ongoing professional development, coaching, and career pathways in our schools. We are proud to provide a generous benefits package, which includes flexibility in our healthcare plan, and 403(b) matching starting at year one. At Ascend, we care about our workforce's mental health and offer services covered by insurance and additional time off for our staff to utilize for their personal care. To learn more- Click here
* Middle School Special Education Teacher - Access to education is a social justice issue. As educators, we center justice and live out our commitment to Diversity, Equity, Inclusion, and Anti-Racism (DEIA) by ensuring that our students have the skills, tools, and confidence they need to thrive today and in the future. We are proud to have a workforce that mirrors the diversity seen in our students. To learn more- Click here
* Middle School SETSS Teacher - We're excited about middle school special education (SETSS) teachers who are fired up about their lessons—who want to spend their time discussing, preparing, and immersing themselves in the rich content they teach. We value teachers who truly listen to what students are saying—who create a space for students to think their way through to answers, and who praise their insights and curiosities along the way. To learn more- Click here
* Elementary Schools SETSS Teacher - The elementary school special education SETSS teacher will develop and teach engaging lessons that follow the rigorous, Common Core aligned Ascend curriculum and provide individual or small group instruction for students who require additional academic support. To learn more- Click here
* Special Educator for Sulam@JDS in the 2023-2024 school year - Sulam@JDS is a highly collaborative program that partners with all stakeholders; parents, students, general educators and specialists, to ensure a meaningful, high quality individualized program for each student. We believe that every student is valuable to our community and has the right to be included in all aspects of their community school. We provide the necessary educational, social, and emotional support to ensure success and maximize possibilities and potential. To learn more- Click here
* Upper School (US) English Teacher for Sulam in the 2023-2024 school year - We are a family-friendly organization with a warm and supportive culture. Sulam, a K-12 Jewish special education inclusion program, provides high quality educational, social, and emotional support for students with disabilities, while teaching the entire community that everyone belongs and can make a vital contribution to the world. Sulam aspires to create an educational approach where people with learning differences are recognized as vital contributors to a diverse world, and are integrated naturally into the fabric of a school community and broader society. To learn more- Click here
* Autism Resource Specialist - The Autism Resource Specialist assists in identifying and implementing appropriate behavior management and communication systems and occasionally will demonstrate evaluation and teaching procedures on-site in the classroom. The Autism Resource Specialist develops multimedia materials and plans, coordinates, and conducts in-service training workshops. To learn more- Click here
* 2023-24 RSP Teachers (SPED) - CNCA (Camino Nuevo Charter Academy) currently seeks candidates who are committed to serving in under-resourced communities. We are seeking teachers who embrace research-based, innovative curricular frameworks such as a balanced literacy approach and conceptual based math. Our approach to teaching and learning involves a deep commitment to ongoing teacher professional development, and collaboration. To learn more- Click here
* Director of Special Services - The Director of Special Services is responsible for coordinating alignment of materials and resources, instructional program evaluation, personnel management, department professional development, staff scheduling, and effective fiscal management of the Department of Special Services. The Director of Special Services provides leadership to coordinate and supervise the effective delivery of Special Education services Gifted and Talented Services, MultiLingual Learner services , and Section 504 of the Rehabilitation Act. To learn more- Click here
* Special Education Teacher (Sheppard Pratt School- Hunt Valley) - The Sheppard Pratt School - Hunt Valley is a year round special education program that provides educational services to students ages five to 21 with complex intellectual and behavioral disabilities, including autism spectrum disorder and other related disorders. Sheppard Pratt offers tuition reimbursement as well as offering fast track Standard Professional Certificate in Special Education and Masters of Arts in Leadership in Teaching programs in partnership with Notre Dame of Maryland University. To learn more- Click here
* Special Education Teacher in Arizona - $70,000/year - STARS is owned and operated by Occupational Therapists. You will be an employee and receive full benefits. Summers off with year-round pay and year-round appreciation. With a proven track record, STARS is able to offer you an unbeatable support system and resources. STARS places Special Education Teachers throughout the Phoenix, Tucson and the surrounding area public schools. To learn more- Click here
---
Acknowledgements
Portions of this or previous month's NASET's Special Educator e-Journal were excerpted from:
Center for Parent Information and Resources
Committee on Education and the Workforce
FirstGov.gov-The Official U.S. Government Web Portal
Journal of the American Academy of Special Education Professionals (JAASEP)
National Collaborative on Workforce and Disability for Youth
National Institute of Health
National Organization on Disability
Substance Abuse and Mental Health Services Administration
U.S. Department of Education
U.S. Department of Education-The Achiever
U.S. Department of Education-The Education Innovator
U.S. Department of Health and Human Services
U.S. Department of Labor
U.S. Food and Drug Administration
U.S. Office of Special Education
The National Association of Special Education Teachers (NASET) thanks all of the above for the information provided for this or prior editions of the Special Educator e-Journal
---
Download a PDF Version of This e-Journal
NASET Members - Login to Access