April 2022 - Special Educator e-Journal
---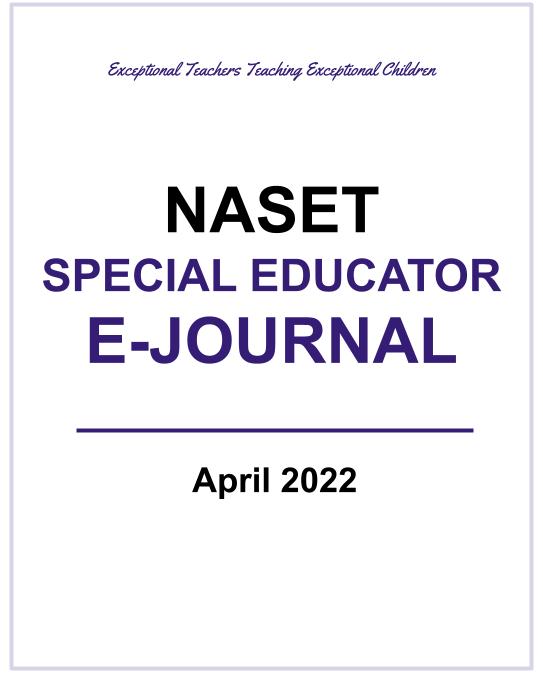 ---
NASET Members - Login Below to access the latest Special Educator e-Journal.
Site visitors: You may access a sample e-Journal - Sample e-Journal
---
---
Special Education Legal Alert
By Perry A. Zirkel
© March 2022
This month's update identifies court decisions that address current issues for students with disabilities, including not only eligibility, but also free appropriate public education (FAPE) under Endrew F. in the context of the high-stakes remedy of tuition reimbursement. For various related articles, special supplements, and earlier monthly updates, see perryzirkel.com.
NASET Members- Login to Access the Full Article
---
Buzz from the Hub
All articles below can be accessed through login:
Education Data 101
Parents Are Getting Access to Student Data, But How Can We Support Them to Use It?
Sharing Info about State Assessments with Families of Children with Disabilities
Q&A on Serving Children with Disabilities Placed by Their Parents in Private Schools
The Importance of Community in Indigenous Peoples' Healing
The Incredible Power of Purpose
Mental Wellness in the Black Community
Compartiendo Esperanza: Mental Wellness in the Latinx Community
Native Hope: Reflecting on Our Foundations
Sharing Info about State Assessments with Families
Return to School | Child Find and Early Intervention Services

And many more!!
NASET Members - Login to Access the Full Article
---
Questions Often Asked by Parents about Special Education Services
When children are struggling in school, it's important to find out why. It may be that a disability is affecting your child's educational performance. If so, your child may be eligible for special education and related services that can help. To learn more about special education, keep reading. This publication will help you learn how you and the school can work together to help your child.
As a first step, the school may need to try sufficient interventions in the regular education classroom and modify instructional practices before referring your child for special education evaluation.
NASET Members- Login to Access the Full Article
---
Understanding Evaluation Results and Next Steps
Need a refresher on evaluation basics? Or maybe you're still deciding whether your child needs an evaluation or you haven't yet requested one. If so, go back to a previous step in our evaluation journey:
Learning about evaluations
Deciding on an evaluation
Requesting an evaluation
Preparing for an evaluation
Your child has had an evaluation, and you've gotten the results. Now what? Evaluation results will lead to some sort of action. The school will decide whether or not your child is eligible for special education supports and services.
NASET Members - Login to Access the Full Article
---
Information for Limited English Proficient (LEP) Parents and Guardians and for Schools and School Districts that Communicate with Them
Schools must communicate information to limited English proficient parents in a language they can understand about any program, service, or activity that is called to the attention of parents who are proficient in English. This fact sheet answers common questions about the rights of parents and guardians who do not speak, listen, read, or write English proficiently because it is not their primary language.
NASET Members - Login to Access the Full Article
---
Protecting Youth Mental Health: The U.S. Surgeon General's Advisory
Mental health affects every aspect of our lives: how we feel about ourselves and the world; solve problems, cope with stress, and overcome challenges; build relationships and connect with others; and perform in school, at work, and throughout life. Mental health encompasses our emotional, psychological, and social wellbeing, and is an essential component of overall health.1
As described in the 1999 Surgeon General's Report on Mental Health, it is the "springboard of thinking and communication skills, learning, emotional growth, resilience and self-esteem."2 Mental health challenges can be difficult to define, diagnose, and address, partly because it isn't always clear when an issue is serious enough to warrant intervention.2 All of us, at all ages, occasionally experience fear, worry, sadness, or distress. In most cases, these symptoms are short-lived and don't affect our ability to function. But, at other times, symptoms can cause serious difficulties with daily functioning and affect our relationships with others, as in the case of conditions such as anxiety disorders, major depressive disorder, schizophrenia, bipolar disorder, and eating disorders, among others.
---
Education Department Launches Historic Real Pay for Real Jobs Initiative for People with Disabilities
The U.S. Department of Education's Rehabilitation Services Administration (RSA) released the notice inviting applications for the Subminimum Wage to Competitive Integrated Employment (SWTCIE) demonstration project, aimed at increasing access for people with disabilities to jobs that pay good wages.
The SWTCIE project is the largest discretionary grant administered by RSA, with $167 million available to State Vocational Rehabilitation agencies and their partners.
"Economic security should be available to all Americans," said U.S. Secretary of Education Miguel Cardona. "Providing individuals with disabilities with a high-quality education and the services that they need to thrive will result in real pay for real jobs, empowering them and leading to greater social and economic inclusion."
SWTCIE is a step toward ending practices that have allowed some employers to pay less than the federal minimum wage to people with disabilities. The new grant program will sponsor innovative approaches that allow people with disabilities to successfully secure jobs working alongside their non-disabled peers while earning the same pay.
NASET Members - Login to Access the Full Article
---
Statement by U.S. Secretary of Education Miguel Cardona on CDC Guidance and Keeping Schools Safely Open
U.S. Secretary of Education Miguel Cardona issued the following statement on the release of new CDC guidance:
"Ninety-nine percent of schools are safely open for in-person learning and that is a testament to the hard work and partnership of school communities – particularly parents, educators, district leaders and school staff. With today's announcement of updated CDC guidance, we can continue to keep schools safely open while allowing for educators and parents to get back to focusing on what is most important: our students' futures. Moving forward, districts should continue to work with local health experts, parents, and educators to identify what works best for their communities and consider the appropriate mitigation strategies needed to keep students and staff safe. This work – in addition to the critical work of helping students catch up academically and providing emotional and mental health supports– can and should be done using American Rescue Plan funds. As we move forward into a new phase of recovery, the Department remains committed to our school communities and providing the guidance and resources they need to be successful."
NASET Members - Login to Access the Full Article
---
Latest Employment Opportunities Posted on NASET
* Special Education Teacher - The SEED School of Los Angeles County is seeking a Founding Special Education Teacher. In this role, the teacher will provide special education students with learning activities and experiences designed to help them fulfill their potential for intellectual, emotional, physical, and social growth. The special education teacher will also develop or modify curricula and prepare lessons and other instructional materials to student ability levels. To learn more- Click here
* Upper School Special Education (Directed Studies) Language Arts Teacher - The Upper School Special Education (Directed Studies) Language Arts Teacher is given the duty of instructing students on such a level as to allow them to obtain proficiency in their subject levels at a grade-appropriate level. To learn more- Click here
* [2022-2023] Middle School Learning Specialist - Reporting to the Academic Dean, the Learning Specialist will be responsible for providing tailored support to students with special education needs, through integrated co-teaching, in small group settings, or a combination of both. This is an exciting opportunity for a seasoned educator who is passionate about ensuring all students succeed and thrive in school. To learn more- Click here
* [2022-2023] 7th Grade Learning Specialist - Reporting to the Academic Dean, the Learning Specialist will be responsible for providing tailored support to students with special education needs, through integrated co-teaching, in small group settings, or a combination of both. This is an exciting opportunity for a seasoned educator who is passionate about ensuring all students succeed and thrive in school. To learn more- Click here
* Assistant Professor of Special Education - Marian University is accepting applications for a tenure-track faculty position in the area of Special Education to begin fall 2022. Successful candidates will have a strong commitment to undergraduate education, student engagement and research, as well as service to the college and community. To learn more- Click here
* Autism Resource Specialist - DESE Project Access - The Autism Resource Specialist is responsible for assisting professional education staff and other related service providers in observing children demonstrating Autism Spectrum Disorder behaviors and identifying, developing, and/or referring curricula, materials, and equipment appropriate for students with Autism Spectrum Disorder. The Autism Resource Specialist assists in identifying and implementing appropriate behavior management and communication systems and occasionally will demonstrate evaluation and teaching procedures on-site in the classroom. To learn more- Click here
* Special Education Teacher - Salem Academy Charter School values a school culture that celebrates learning, and we believe that the adult culture in the school is the foundation of the school's success. The culture is based on mutual respect, integrity, professionalism, a commitment to excellence, a collaborative spirit, and a sense of human kindness particularly as it relates to age-appropriate adolescent development. To learn more- Click here
* Special Education Teacher (2022-23 school year) Methow - The Special Education Teacher provides services to special education students with a range of moderate to severe disabilities ages three to 21 years of age. The Special Education Teacher leads the IEP team to develop data driven student learning and behavioral goals. To learn more- Click here
* Quest Academy Day Treatment Special Education Teacher (2022-23 School Year) - The Special Education Teacher designs a positive learning environment and delivers instruction to students whose educational needs are primarily the result of significant social, emotional and behavioral challenges. The teacher is responsible for assessment of each student's individual academic and behavioral needs, individualization of the general education curriculum (K-12), development of IEPs as appropriate and coordination with agency and/or consulting behavioral staff to support achievement of school and treatment goals. To learn more- Click here
* Education Specialist - Social Emotional Learning (#8789) - Willamette Education Service District is accepting applications for a full-time (40 hours per week) Education Specialist - Social Emotional Learning position; bilingual Spanish preferred. Successful candidate will work as a member of the Cross-Functional Equity, Inclusion and Achievement Team in the School Improvement Services Department, and will follow a 205- day calendar. This position will be based at the Willamette ESD Marion Center in Salem, OR and will begin August 8, 2022. To learn more- Click here
* Education Specialist - Mental Health & Behavior (#8788) - Willamette Education Service District is accepting applications for a full-time (40 hours per week) Education Specialist - Mental Health and Behavior position; bilingual Spanish preferred. Successful candidate will work as a member of the Cross- Functional Equity, Inclusion and Achievement Team in the School Improvement Services Department, and will follow a 205-day calendar. This position will be based at the Willamette ESD Marion Center in Salem, OR and will begin as soon as possible upon conclusion of the selection process. To learn more- Click here
* Special Education Teacher - School Based - We are recruiting a Special Education Teacher for a local school district. This is a full-time, contract position. The district is currently conducting interviews and hiring immediately. To learn more- Click here
* Senior Researcher, Mathematics Disabilities - AIR is looking to hire a Senior Researcher to work with leading AIR scholars in the area of mathematics disabilities, joining our Learning Supports Program Area within AIR's Human Services Division. Candidates hired for the new position might initially start working remotely but will ultimately have the option to work from one of our offices located in Crystal City, VA; Rockville, MD; Austin, TX; Chicago, IL; Chapel Hill, NC; or Sacramento, CA. To learn more - Click here
* Lecturer or Lecturer (Doctoral Schedule) - Special Education Program, Graduate School of Education - The Department of Counseling, Leadership Literacy and Special Education seeks applicants for a lecturer position in Special Education to teach in our CAEP-Accredited, hybrid M.S.Ed. programs at the early childhood, childhood, and adolescent levels. Successful candidates demonstrate excellence in teaching, service, administrative skills, and anti-racist, anti-oppressive advocacy and leadership to engage and inspire our economically, culturally, and linguistically diverse Bronx and surrounding community candidates, colleagues, and K-20 schools. Experience in working with diverse populations across intersectional identities is expected. To learn more- Click here
* Assistant Professor - Special Education (CLLSE) - The successful applicant will have a developed research agenda and experience in research and publication. This position may require program coordination of special education programs, so strong interpersonal skills with students and excellent administrative and organizational skills are encouraged. Preference for candidates with experience in adolescent special education. To learn more- Click here
* Self-Contained Classroom Teacher - The Educator's role is to plan, organize, and implement an invigorating instructional program that guides and encourages students to fulfill their academic potential. The Educator will work in tandem with the Classroom Behavioral Specialist and will be responsible for developing the academic curriculum, delivering classroom instruction, and working closely with the administration, staff, specialists, and the students' families to enable the optimal development of each student. To learn more- Click here
* Special Education Teacher - The job of CLASSROOM TEACHER is done for the purpose/s of providing support to the instructional process by serving as a teacher with specific responsibility for supervising students within the classroom and other assigned areas; developing lesson plans and delivering group and individual student instruction within established curriculum guidelines. To learn more- Click here
* Assistant Principal - DC Public Schools' mission is to recruit, develop, and invest in a talented, caring, and diverse team. We know that when our educators are given the tools, opportunities, and recognition to thrive, our students will thrive in school and in life. RISE - Rigorous Instruction Supports Equity - is a new program to support educators through professional development, performance-based incentive awards, and support for new teachers at our highest-need schools. At its core, RISE is about honoring our educators as professionals and providing opportunities to learn and grow within the district. To learn more- Click here
* Principal - We work with Chicago Public Schools and with school districts from the Suburban Cook County, Lake County, and the Western Suburbs to serve students who are referred based on their need for a highly structured, therapeutic school setting and individualized approach to learning. Students who are referred by a public school district are educated at Knapp School & Yeshiva at no cost to their families. In doing so we provide both academic and social and emotional supports that are aligned with each student's specific strengths and needs. To learn more- Click here
* Strategist II: ID Teacher - Join Ames Community School District, where your journey matters! ACSD promotes an educational environment that is racially, ethnically, linguistically, and culturally diverse to broaden students' academic experience and to enrich our District. We are focused on creating and supporting diversity, equity, and inclusion within the organizational culture and in our community. To learn more- Click here
* Integrated Services Teacher - Join Ames Community School District, where your journey matters! ACSD promotes an educational environment that is racially, ethnically, linguistically, and culturally diverse to broaden students' academic experience and to enrich our District. We are focused on creating and supporting diversity, equity, and inclusion within the organizational culture and in our community. To learn more- Click here
* Strategist I Teacher - Join Ames Community School District, where your journey matters! ACSD promotes an educational environment that is racially, ethnically, linguistically, and culturally diverse to broaden students' academic experience and to enrich our District. We are focused on creating and supporting diversity, equity, and inclusion within the organizational culture and in our community. To learn more- Click here
* Behavior Interventionist - Join Ames Community School District, where your journey matters! ACSD promotes an educational environment that is racially, ethnically, linguistically, and culturally diverse to broaden students' academic experience and to enrich our District. We are focused on creating and supporting diversity, equity, and inclusion within the organizational culture and in our community. To learn more- Click here
* Special Education Teacher - Do you aspire to help children with diverse challenges build skills for their future? Are you ready to make a real impact in their lives? As a Special Education Teacher at Bancroft, you will draw upon a wealth of curriculum and clinical resources to design individualized student goals. To learn more- Click here
* Special Education Teacher (All Specializations) - 2022-23 School Year - DCPS serves approximately 49,000 students in the nation's capital through the efforts of approximately 4,200 educators in 117 schools. As part of a comprehensive reform effort to become the preeminent urban school system in America, DCPS intends to have the highest-performing, best paid (Salary Range: $56,313 - $90,905), most satisfied, and most honored educator force in the nation and a distinctive central office staff whose work supports and drives instructional excellence and significant achievement gains for DCPS students. To learn more- Click here
* Middle School Special Education Teacher - The Halton School, an independent school for students with Asperger's, is looking for a Middle School Special Education teacher. The teacher will provide special education instruction to students in a small multi-grade class. The teacher will utilize a variety of teaching methods to meet student's educational needs and adapt and develop instructional materials accordingly. To learn more- Click here
* Director of McKay Academic Center (Academic Support) - The Dunham School is a PK-12, non-denominational Christian, independent school serving 785 students on one campus. The school offers fee paid tutoring, coaching, small group instruction and individual courses for students with a range of learning challenges including ADD, ADHD, dyslexia, dysgraphia and high functioning autism. To learn more - Click here
---
Acknowledgements
Portions of this or previous month's NASET's Special Educator e-Journal were excerpted from:
Center for Parent Information and Resources
Committee on Education and the Workforce
FirstGov.gov-The Official U.S. Government Web Portal
Journal of the American Academy of Special Education Professionals (JAASEP)
National Collaborative on Workforce and Disability for Youth
National Institute of Health
National Organization on Disability
Substance Abuse and Mental Health Services Administration
U.S. Department of Education
U.S. Department of Education-The Achiever
U.S. Department of Education-The Education Innovator
U.S. Department of Health and Human Services
U.S. Department of Labor
U.S. Food and Drug Administration
U.S. Office of Special Education
The National Association of Special Education Teachers (NASET) thanks all of the above for the information provided for this or prior editions of the Special Educator e-Journal
---
Download a PDF Version of This e-Journal
NASET Members - Login to Access