December 2020 - Special Educator e-Journal
---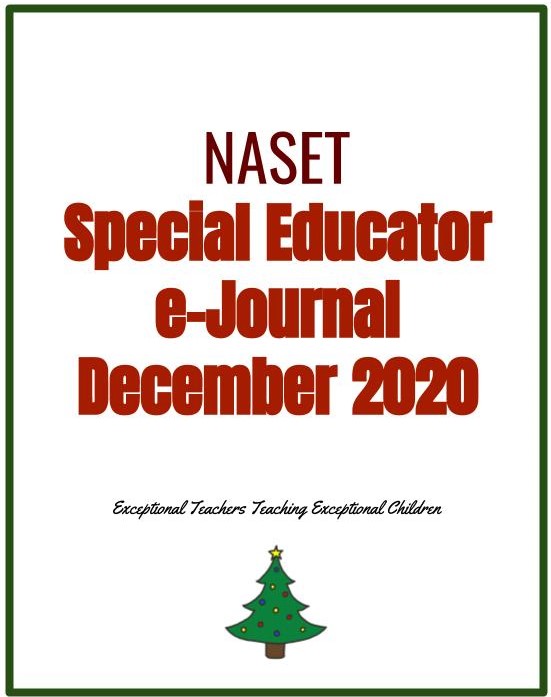 ---
---
NASET Members - Login Below to access the latest Special Educator e-Journal.
Site visitors: You may access a sample e-Journal - Sample e-Journal
---
Special Education Legal Alert
By Perry A. Zirkel
© November 2020
This month's update identifies recent court decisions of general significance, specifically addressing issues of (a) IDEA standards for evaluations (including reevaluations) and (b) FAPE claims arising under COVID-19.
NASET Members- Login to Access the Full Article
---
COVID-19 GUIDANCE AND CASE LAW: LATE FALL UPDATE*
Perry A. Zirkel
@ Nov. 18 2020
The pandemic continues, and the ultimate two-part question for parents and school districts still remains open-ended: (a) has the district denied FAPE to the eligible child and, if so, (b) what is the resulting relief, including any compensatory education? In the meantime, the issue for IDEA adjudications keeps reappearing in a potentially significant role—upon parental filing for a due process hearing on such pandemic-related issues, what is the "stay-put"? This latest summary provides an update since the coverage in the early fall Special Supplement.
NASET Members - Login to Access the Full Article
---
Buzz from the Hub
All articles below can be accessed through login:
For Parents: Supporting Learning During the COVID-19 Pandemic

Back to School Questions and Answers | Webinar

Free Financial Education Activities for Parents to Use with Their Children

Supporting Student Success Through Authentic Partnerships

Collaborating with Families of Students with Disabilities

Distance Learning Helped Me See My Child's Struggles and What She Needs to Thrive

Learning about Democracy at Home

Telehealth in an Increasingly Virtual World

Bookshare Student Forum: Advocating for Your Rights

Creative Alternatives to Family Gatherings During COVID-19

Free Printable | 25 Fun Family Night Ideas

Holidays During the Pandemic
NASET Members- Login to Access the Full Article
---
Addressing Low Parental Involvement In Secondary Special Education: A Review of the Literature
Sabah A. Ahmed
Abstract
In regards to parental involvement, laws like NCLB, ESSA, and IDEA require schools to report their methods of parental outreach. However, many parents and educators are not satisfied with the methods and levels of parental involvement in secondary schools, specifically in special education. Many educators have noted that parental involvement declines during the secondary school years compared to the level of involvement in the elementary years which can be especially detrimental to students who receive special education services. According to research, parents have indicated that the lack of resources and poor school outreach has turned them away from being actively involved with their child's education. Other obstacles for parents include not understanding the legal processes and jargon involving their child's education and not speaking English as a first language. This literature review evaluates existing research on the potential causes of low parental involvement in secondary special education while suggesting strategies to improve parent experiences in secondary special education.
Keywords: Parental involvement, secondary special education, best practices
NASET Members - Login to Access the Full Article
---
Families of Students with Disabilities in School Systems: Considering the Influence of Terminology Used in Federal Education Legislation
Grace L. Francis, Ph.D.
Tracy Gershwin, Ph.D., BCBA-D
Alexandra R. Raines, M.A.
H. Rutherford Turnbull, J.D.
Abstract
Family members of students with disabilities powerfully influence students' long-term outcomes, including employment, community living, and quality of life. The two U.S. federal education laws; the Every Student Succeeds Act and the Individuals with Disabilities Education Act, recognize the importance of family members in the educational process. However, these laws use various terms and phrases when referring to and describing family members and family-professional interactions. This is important, as terminology may inform expectations and education professionals look to these laws to inform their practices. The purpose of this manuscript is to (a) briefly describe U.S. federal general and special education laws, (b) present examples of terminology used within the laws related to families and family-professional interactions, (c) provide potential implications for family-professional interactions, and (d) explore future directions for this line of inquiry.
Keywords: parent, family, school, disability, education, law
NASET Members - Login to Access the Full Article
---
The Debate of Disproportionality in Special Education
Jessica Bus
Abstract
Emerging research has recently contradicted the large body of literature that suggests diverse students are often overrepresented in the identification process for special education, suggesting that minority students (e.g., Black students) are misidentified as needing special education services. While the case for overrepresentation has been unequivocal for decades, a case for underrepresentation is materializing. Despite this ongoing debate, literature typically sides with overrepresentation or underrepresentation without considering that the findings are mixed. Whether there is an overrepresentation of diverse students or an underrepresentation of diverse students, it is time that equity is finally reached in the identification and placement process of students into special education. In order to begin seeking equity for such students, professionals in the field of special education must recognize that the debate seems to be far from over.
Keywords: overrepresentation, underrepresentation, special education, identification, representation
NASET Members - Login to Access the Full Article
---
Book Review: Coherent School Leadership: Forging Clarity from Complexity
Mary Verrastro
Fullan, M., & Kirtman, L. (2019). Coherent school leadership: Forging clarity from complexity. Alexandria: ASCD, 128. $26.95.
Abstract
Change, and the disturbance that is caused by change, is necessary for schools to improve. However, disturbance without coherence-making will lead to failure, especially in today's fragmented and reactive world of education. In Coherent School Leadership: Forging Clarity from Complexity, Fullan and Kirtman show leaders how to create a route to success based on combining grounded frameworks (The Framework and the Competencies) to improve coherence.
NASET Members - Login to Access the Full Article
---
Book Review: Building on the Strengths and Needs of Students with Special Needs
Lindsey Riha
Building on the Strengths of Students with Special Needs
During Toby Karten's first year of teaching in 1976, she experienced working with students who had varying disabilities from all different kinds of socioeconomic backgrounds at a private school in Brooklyn. She described these students as being unteachable by public schools, which is why they came to her private school. However, she noted that these students were capable of learning, in their own unique way. She taught them in conventional and unconventional ways, even taking them out into the community to give them more real-life experiences. She explains that these students that their challenges were not just theirs, but hers to take on in order to teach them. Working in various public and private schools throughout her career, Karten noted that the labels of these students' disabilities does not define them. Meaning, it does not tell teachers and administrators their strengths, difficulties, likes, and dislikes. To actually be in the classroom with them and find what their learning capabilities are takes time. This also may take several changes in order to fit the needs of each student. Karten went into further detail about how laws that have been created in the last several years have allowed these students time into the general population for different classes in school, and how inclusion must be viewed as a continuous learning opportunity for the students and teachers.
NASET Members - Login to Access the Full Article
---
Book Review: Schools that Succeed: How Educators Marshal the Power of Systems for Improvement
Evelyn Stover
Chenoweth, Karin. Schools that Succeed: How Educators Marshal the Power of Systems for Improvement. Cambridge: Harvard Education Press, 2017. 229pp. ISBN 978-1-68253-027-6. $30.00
Introduction
A graduate of Columbia University's School of Journalism, Karin Chenoweth has dedicated her career to researching and writing about education, specifically in low socio-economic and high minority communities. According to the author's website, www.karinchenoweth.com, she has composed two books, co-authored another book, and has extensive experience writing educational articles for various magazines and news outlets, such as Huffington Post. Chenoweth is an award-winning author, journalist, public speaker, and influencer in the education community. Schools that Succeed: How Educators Marshal the Power of Systems for Improvement is organized in vignettes that highlight the school administration's experiences, both positive and negative, with what the author refers to as "unexpected schools".
NASET Members - Login to Access the Full Article
---
Latest Employment Opportunities Posted on NASET
* Educational Instructional Support Specialists - The Collaborative for Educational Services (CES) is seeking Educational Instructional Support Specialists to assist with onsite coordination of hybrid and/or remote teaching and learning. The Specialist will provide structure, onsite support and the connection to teachers as needed. The Specialist's purpose is to make sure that students have what they need in order to actively, and successfully engage with their learning when done via remote instruction, or through a combination of in person and on-line (hybrid) programming. To learn more- Click here
* FT Special Education Teachers, (K-4, 5-8, 9-12) - PA Virtual has openings for Full Time Special Education Teachers at the Elementary, Middle and High School Levels. All teaching positions are remote and we require candidates to have a current, valid certification to teach in the state of Pennsylvania. The Teacher position is responsible for the planning, organization and implementation of an appropriate instructional program, in an elementary or secondary virtual learning environment. To learn more - Click here
* Special Education Teacher - A local school district in Charleston, SC has partnered with an industry leading healthcare job placement agency, to fill several vacant Special Education Teacher positions in Charleston, SC for the entire 2020-21 School Year. The Special Education Teacher is responsible for planning, coordinating and the provision of special education services to eligible students. This position assures adherence to timelines and federal and state requirements for special education services and the responsibility for monitoring compliance with Individualized Services Plans (ISP) and/or Individualized Education Plan (IEP). To learn more - Click here
* Special Education Teacher - Merakey is seeking a Special Education Teacher to join our Education Services within our Children's and Family division in our school in Chambersburg PA for the 2020-2021 school year. The Merakey Children's and Family Division focuses on a continuum of care throughout the lifespan. The core, fundamental principles of Applied Behavior Analysis (ABA) are incorporated into a specialized approach across all service offerings. To learn more - Click here
* Special Education (Autism) PreK-4 - General responsibilities indlude aiding each student consistent with his or her abilities and educational needs. Develop competence in the basic learning skills, progress on the basis of achievement, and to qualify for further education and/or employment. To learn more - Click here
* Virtual Special Education Teacher Positions - K12 believes in education for everyone. We provide families an online option for a high-quality, personalized education experience. Students can thrive, find their passion, and learn in an environment that encourages discovery at their own pace. In support of this, we are committed to creating and maintaining a culture of inclusion and diversity. To learn more - Click here
* Special Education Teacher - $60,000/school year (185 days), summers off with year-round pay and year round appreciation. Special Education Teachers needed in Arizona (Phoenix and surrounding cities). Needs are in the self-contained and resource settings serving students with emotional disabilities (ED), Autism (A), Severe/Profound (S/P), and Intellectual Disabilities (ID). STARS is the largest school contract agency in AZ. STARS is owned and operated by Occupational Therapists. You will be an employee and receive full benefits - To learn more - Click here
---
Acknowledgements
Portions of this or previous month's NASET's Special Educator e-Journal were excerpted from:
Center for Parent Information and Resources
Committee on Education and the Workforce
FirstGov.gov-The Official U.S. Government Web Portal
Journal of the American Academy of Special Education Professionals (JAASEP)
National Collaborative on Workforce and Disability for Youth
National Institute of Health
National Organization on Disability
Substance Abuse and Mental Health Services Administration
U.S. Department of Education
U.S. Department of Education-The Achiever
U.S. Department of Education-The Education Innovator
U.S. Department of Health and Human Services
U.S. Department of Labor
U.S. Food and Drug Administration
U.S. Office of Special Education
The National Association of Special Education Teachers (NASET) thanks all of the above for the information provided for this or prior editions of the Special Educator e-Journal
---
Download a PDF Version of This e-Journal
NASET Members - Login to Access