April 2019 - Special Educator e-Journal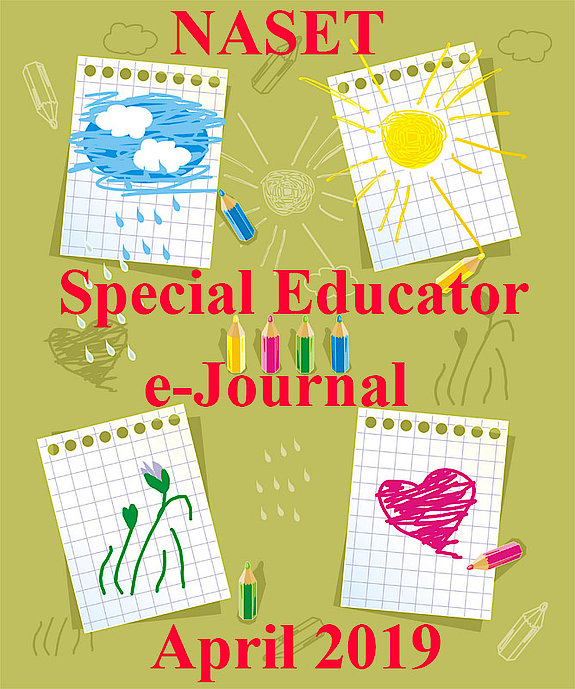 ---
NASET Members - Login Below to access the latest Special Educator e-Journal.
Site visitors: You may access a sample e-Journal - Sample e-Journal
---
Special Education Legal Alert
By Perry A. Zirkel
© March 2019
This month's update concerns issues that were subject to recent officially-published court decisions and are of practical significance: (a) FAPE variations, including ABA methodology and transition services, and (b) child find and eligibility complications, including the IDEA statute of limitations, in the case of a gifted child with school attendance and mental health problems.
NASET Members- Login to Access the Full Article
---
Developmental Milestones
Childhood is a time of tremendous growth and learning. How very exciting to be a baby…or a two-year-old… or get on a school bus for the first time. There's so much to know!
We all come into the world like small waiting sponges, ready to absorb what's around us. Yet we're all different, too—another of life's little marvels. We also develop at different rates. Some children speed along, practically running before they walk. Others take their time–or need more time. And still others may ultimately need four wheels to get around.
Parents, siblings, grandparents, daycare providers, teachers, and friends watch eagerly for each new step and progression in a child's skills. If a skill is not learned "on time," they may worry. Juana's not sitting up yet, but the baby next door is. Hannah should be talking in full sentences by now! Frank and Ahmed aren't learning to read as easily as the rest of the class.
But what's "on time?" What's "normal?" Does "normal" have a range?
NASET Members - Login to Access the Full Article
---
Educational Technology Counts
Every year Education Week publishes an annual report on educational technology. These reports can help Parent Centers, schools, and families learn more about the various technologies in use to support teaching and learning, and to see changes and developments across time. As examples, consider these recent reports:
NASET Members - Login to Access the Full Article
---
Buzz from the Hub
Login to access all articles below
First Steps in the Disability Journey

Guidance from OSERS

In Honor of Black History Month

Accommodations in the Classroom and in State Assessments

School Safety and School Resource Officers
NASET Members - Login to Access the Full Article
---
U.S. Department of Education Letters
WASHINGTON, DC– The U.S. Department of Education released four letters responding to requests for guidance Jan. 29.
The letters address students with disabilities in correctional facilities, discipline procedures, children with disabilities place in private schools by their parents, and response to intervention.
NASET Members - Login to Access the Full Article
---
For Professionals New to Disability
Are you a teacher who has a student with a disability in your class this year? Perhaps you work in daycare or an early childhood program, and the newest kid on the playground uses a wheelchair? Or maybe you run an afterschool program—-which now includes a third grader with serious behavioral challenges. Maybe you're a ….
Well, you get the idea. Your professional life now includes addressing the needs of an individual or individuals with disabilities.
What do you do? What should you do? You don't know, because you're new to disabilities!
NASET Members - Login to Access the Full Article
---
Services in Your State for Infants and Toddlers
Early intervention provides free developmental evaluations of children younger than 3 (that is to say, before their third birthday) and helps families find services for their little one. These services are available through the same law that makes special education services available—the Individuals with Disabilities Education Act.
Finding Early Intervention in Your Area
If you're concerned about possible delays in your baby's development or think your baby or toddler needs special help, you should get in touch with the early intervention system in your area. Here are two suggestions for how to do that.
NASET Members - Login to Access the Full Article
---
Brief for Parent Centers on School Resource Officers
Read This Brief If…
…the school system in your community, district, or state places (or is considering placing) sworn law-enforcement officers in public schools as part of building a safe learning environment for students.
This Brief Expands Upon…
…OSEP's Dear Colleague Letter on the Use of School Resource Officers (SROs) in Schools, released September 8, 201
NASET Members - Login to Access the Full Article
---
---
Latest Employment Opportunities Posted on NASET
*Educational Support Services (ESS) Coordinator, Upper School - Berman Hebrew Academy is seeking an ESS Coordinator who will provide vision and direction for the ESS Program by supporting students with different learning styles; supporting teachers in their efforts to advance students with different learning needs within the classroom; and working with parents, students, and outside professionals in order to better support the needs of the students. To learn more - Click here
*ESP (IEP) Specialist - This position will be responsible for the design and implementation of Educational Support Plans (ESP's), similar to IEP's. To learn more - Click here
*Director, Endowed Chair Laboratory Schools - The Director of Laboratory School is responsible for directing the Laboratory Schools by serving the educational needs of students with learning differences and Down syndrome; serving as a training site for TCU students to become teachers; establishing educational research opportunities for faculty and staff. To learn more - Click here
*Director of Education - Wye River Upper School (WRUS) seeks a full time 12 month Director of Education. WRUS is an independent college and career prep high school serving bright students with learning differences including ADHD, dyslexia or high-functioning autism. To learn more - Click here
*Special Education Teacher - This is an opportunity to work in rural bush Alaska. We offer teacher housing, health benefits, and a competitive salary. We have multiple openings for this position. To learn more - click here
*Curiculum/Special Ed. Coordinator - Responsible for the effective implementation of special education services, testing, certifications of students and related services throughout the district. Serves as the district liaison with the Alaska Department of Education in all Special Education matters. To learn more - Click here
*Director of Special Services - Elmwood Park School District, a K-12 Suburban District, is seeking a Director of Special Services for the 2019-2020 School Year. Starting July 1, 2019. Candidates for this position are required to have New Jersey Supervisor and Principal Certification. To learn more - Click here
*Special Education Teachers - Responsible for providing an educational atmosphere where students have the opportunity to fulfill their potential for intellectual, emotional, physical, spiritual and psychological growth. This person is responsible for organizing and implementing an instructional program that will maximize the learning experience of students with special needs. To learn more - Click here
* Special Education Teacher -Seattle Public Schools is seeking gap-closing, equity-focused educators to lead the way in eliminating opportunity gaps for our students. As an educator in SPS, you have the opportunity to have a profound and lasting positive impact on the lives of Seattle students. To learn more - Click here
* Teacher - Special Education (All Areas) - Approximately 100 positions! -We are looking for highly motivated and skilled talent to join our team at District of Columbia Public Schools (DCPS). We seek individuals who are passionate about transforming the DC school system and making a signifiant difference in the lives of public school students, parents, principals, teachers, and central office employees. To learn more - Click here
*Special Education Teacher - $50,000/school year (185 days), summers off with year round pay and year round appreciation. Special Education Teachers needed in Arizona (Phoenix and surrounding cities). Needs are in the self-contained and resource settings serving students with emotional disabilities (ED), Autism (A), Severe/Profound (S/P), and Intellectual Disabilities (ID). To learn more - Click here
* Physical Education Teacher - Jewish Child & Family Services (JCFS) provides vital, individualized, results-driven, therapeutic and supportive services for thousands of children, adults and families of all backgrounds each year. To learn more - Click here
---
Acknowledgements
Portions of this or previous month's NASET's Special Educator e-Journal were excerpted from:
Center for Parent Information and Resources
Committee on Education and the Workforce
FirstGov.gov-The Official U.S. Government Web Portal
Journal of the American Academy of Special Education Professionals (JAASEP)
National Collaborative on Workforce and Disability for Youth
National Institute of Health
National Organization on Disability
Substance Abuse and Mental Health Services Administration
U.S. Department of Education
U.S. Department of Education-The Achiever
U.S. Department of Education-The Education Innovator
U.S. Department of Health and Human Services
U.S. Department of Labor
U.S. Food and Drug Administration
U.S. Office of Special Education
The National Association of Special Education Teachers (NASET) thanks all of the above for the information provided for this or prior editions of the Special Educator e-Journal
---
Download a PDF Version of This e-Journal
NASET Members - Login to Access