September 2018 - Special Educator e-Journal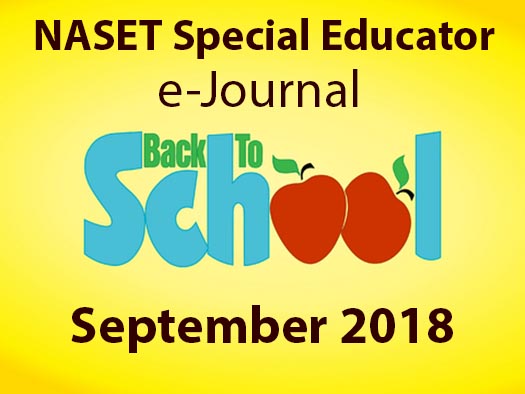 ---
NASET Members - Login Below to access the latest Special Educator e-Journal.
Site visitors: You may access a sample e-Journal - Sample e-Journal
---
Special Education Legal Alert
By Perry A. Zirkel
© August 2018
This monthly legal alert addresses three significant procedural issues under the IDEA—child find when the child is determined not to be eligible; child-identified e-mails that are not part of the child's file; and the removal (or refusal to include) planning time in a child's IEP. For automatic e-mailing of future legal alerts, sign up at perryzirkel.com.
NASET Members- Login to Access the Full Article
---
Book Review: Hacking Leadership
By Nancy Watson
Sanfelippo, J., Sinanis, T. Hacking Leadership. Ohio: Times 10, 2016. 155pp. $18.36.
"Because a school's culture extends to all of its stakeholders, effective interactions are the single most important non-negotiable in creating flourishing schools." The authors, Joe Sanfelippo and Tony Sinanis believe that creating personal relationships with staff, teachers, and students is what makes schools grow and be successful. This book talks about the ways schools can grow, children can learn and the school be successful all around.
NASET Members - Login to Access the Full Article
---
Final Rule: Delay of Compliance Dates for Disproportionality
On July 3, 2018, the U.S. Department of Education issued a final rule that will delay by two years the date for States to comply with the "Equity in IDEA" or "significant disproportionality" regulations. Set to go into effect on July 1, 2018, implementation of those rules are now delayed until July 1, 2020. In the same final rule, the Department also postponed the date for including children ages 3 through 5 in the analysis of significant disproportionality, with respect to the identification of children as children with disabilities and as children with a particular impairment. The initial implementation deadline was July 1, 2020; the deadline is now two years later: July 1, 2022.
NASET Members - Login to Access the Full Article
---
New Special Education Teacher Perceptions of Classroom Assessment Knowledge
By Karen M. Potter
Upper Iowa University
Abstract
This qualitative interview study examined the perceptions of classroom assessment competence and knowledge of five recent graduates of the University of New Mexico Special Education Dual License Program (SEDLP). A two interview (per participant) semi-structured format was used with constant comparative methodology to gain an understanding of three broad questions. First, in what ways do graduates characterize their theoretical understanding and ability to apply classroom assessment for students who receive special education services? Second, in what ways do SEDLP graduates report that they use classroom assessment to inform classroom instruction? Finally, what features of the SEDLP do graduates identify as having positively or negatively impacted their ability to effectively use classroom assessment? Content analysis of the interviews allows discussion of these questions and permits explanation of implications for assessment preparation within the general field of Special Education teacher preparation.
Keywords: classroom assessment, teacher preparation, special education, dual license
NASET Members - Login to Access the Full Article
---
Book Review: Secrets of Great Leaders: 50 ways to make a difference
By Bonnie L. Rosenblum
Secrets of Great Leaders: 50 ways to make a difference. O'Connor, Carol. London, UK: John Murray Learning, 2015. 260. $14.99.
This book awakens your inner soul as O'Connor presents 50 tips to inspire you to maximize a multitude of leadership abilities and steer colleagues toward success. Secrets of Great Leaders: 50 ways to make a difference offers detailed suggestions with real life examples and applicable situations in which they could be implemented. Each of O'Connor's 50 tips is strategically broken down into three components: practical, visionary and connecting to enable the reader to follow the tip from concept to implementation. The author recommends for the reader to identify their personal strengths and weaknesses prior to embarking on this journey. Then, skip around the book and read the tips that are most applicable to strengthening their individual needs. Establishing mindfulness of each tip will facilitate leadership building skills in the order by which the reader establishes.
NASET Members - Login to Access the Full Article
---
Buzz from the Hub
All articles can be accessed once logged into NASET:
The 101 Guide To Telling a Compelling Story With Data
2018 KIDS COUNT Data Book
Opportunity for All? Technology and Learning in Lower-Income Families
The Direct Support Workforce and People with Intellectual, Developmental, and Other Disabilities
2018 State Determination Letters from OSERS
State-level Statistics and Fact Facts
NASET Members - Login to Access the Full Article
---
Book Review: Leading a Culture of Change
By Nathalie Diaz
The book by author Michael Fullan Leading a Culture of Change is a philosophical journey into the world of educational leadership that derives from a business model perspective and connects those points to an educational leader perspective as a school administrator. Fullan in his book provides examples from top leading companies in America and discusses how these companies collaborate and take on their leadership roles in running corporations and how that same concept can be applied to our schools.
NASET Members - Login to Access the Full Article
---
For Parents: Your Child Needs Your Involvement in the School Life
By Sarah AL-Sharif
Abstract
When parents develop a good working relationship with the teachers, they feel supported in their parenting. When a parent feels like she or he has another person who shares the good and the down times of her child makes the parent feel supported. It helps them to reduce their anxiety especially when the children are young. The teacher makes it feel like it is the extended family taking care of the child. A parent always needs someone to talk to about the child any time she has concerns. Having a good relationship with the teacher helps to achieve this. In addition, the relationship helps the parents to develop knowledge and skills. It is clear that parents have been with their children raising them (George & Elshtain, 2010). Therefore, they have an adequate amount of information about them. However, there are some skills that they do not know about their children development.
NASET Members - Login to Access the Full Article
---
Examining Black Male Behavior through a Culturally Reflective Lens
Monique Matute, M.Ed.
University of Nevada, Las Vegas
Abstract
Black males have been disproportionately identified, labeled with, and placed into classrooms for students with emotional and behavioral disorders (EBD). For decades, since the inception of the Education of All Handicapped Children Act (EAHCA), now the Individuals with Disabilities Education Act (IDEA), schools and school personnel have struggled with Black males' overrepresentation in the EBD category. Suggestions have been put forth regarding how to fix this ongoing problem, including encouraging teachers to adopt culturally responsive strategies that are specific to the needs of Black males. This article will discuss (1) the disproportionate representation of Black males with EBD in special education, (2) typical Black male behaviors that contribute to their disproportionate representation, (3) the functional behavior assessment (FBA) and its reconceptualization as a culturally responsive tool, (4) the implementation of culturally responsive strategies in the classroom, and (5) suggestions for teachers to incorporate to create a safe and engaging environment.
Keywords: emotional behavioral disorders, overrepresentation, functional behavior assessment, cultural responsivity
NASET Members - Login to Access the Full Article
---
Latest Employment Opportunities Posted on NASET
*Special Education Coordinator - This position will work from home and can be based anywhere in the state. This is a statewide position and will provide support to districts throughout Wisconsin. This includes day and some overnight travel. The Wisconsin RtI Center works in a virtual office environment. To learn more - Click here
* Special Education Teacher - Chicago, IL - The Invo-Progressus Team has incredible opportunities for Special Education Teachers...or, as we like to call them, Superheroes. If you use your super powers to help ensure that children have access to the best education possible in the least restrictive environment, we would love for you to join the Invo-Progressus team! To learn more - Click here
*Special Education Teacher - Philadelphia, PA - The Invo-Progressus Team has incredible opportunities for Special Education Teachers...or, as we like to call them, Superheroes. If you use your super powers to help ensure that children have access to the best education possible in the least restrictive environment, we would love for you to join the Invo-Progressus team! To learn more - Click here
* Development Intervention (Per/Diem) - The Arc of Union County's Early Intervention Program is in search of Development Intervention Consultants to join our multi-disciplinary team providing services to children ages 0-3 with developmental needs ages in their homes or community settings throughout Union County. Schedules are flexible and based on the needs of the children and families. To learn more - Click here
*Deputy Commissioner of Special Populations - The Texas Education Agency (TEA) is the state agency that provides statewide leadership for the primary and secondary public schools. TEA is proud to announce the position of Deputy Commissioner of Special Populations. The Deputy Commissioner of Special Populations will lead the new, high profile Special Education Review and Support teams as well as the existing Special Populations teams. To learn more - Click here
* Teacher - Special Education (all categories) - Responsible for planning and providing for appropriate learning experiences for students based on the district's AKS curriculum as well as providing an atmosphere and environment conducive to the intellectual, physical, social, and emotional development of individuals. GCPS offers full benefits and 2 Retirement Packages! To learn more - Click here
*Special Education Teacher - Rivermont Schools are now hiring special education teachers at multiple locations throughout Virginia. Sign on bonus of $2,000 and relocation assistance of $5,000 are available for those who qualify. To learn more - Click here
* Special Education Teacher - DCD Center Based at Roosevelt Elementary School - Provides research-based specialized instruction to address the instructional goals and objectives contained within each student's IEP. Assesses student progress and determines the need for additional reinforcement or adjustments to instructional techniques. Employs various teaching techniques, methods and principles of learning to enable students to meet their IEP goals. To learn more - Click here
---
Acknowledgements
Portions of this or previous month's NASET's Special Educator e-Journal were excerpted from:
Center for Parent Information and Resources
Committee on Education and the Workforce
FirstGov.gov-The Official U.S. Government Web Portal
Journal of the American Academy of Special Education Professionals (JAASEP)
National Collaborative on Workforce and Disability for Youth
National Institute of Health
National Organization on Disability
Substance Abuse and Mental Health Services Administration
U.S. Department of Education
U.S. Department of Education-The Achiever
U.S. Department of Education-The Education Innovator
U.S. Department of Health and Human Services
U.S. Department of Labor
U.S. Food and Drug Administration
U.S. Office of Special Education
The National Association of Special Education Teachers (NASET) thanks all of the above for the information provided for this or prior editions of the Special Educator e-Journal
---
Download a PDF Version of This e-Journal
NASET Members - Login to Access