October 2018 - Special Educator e-Journal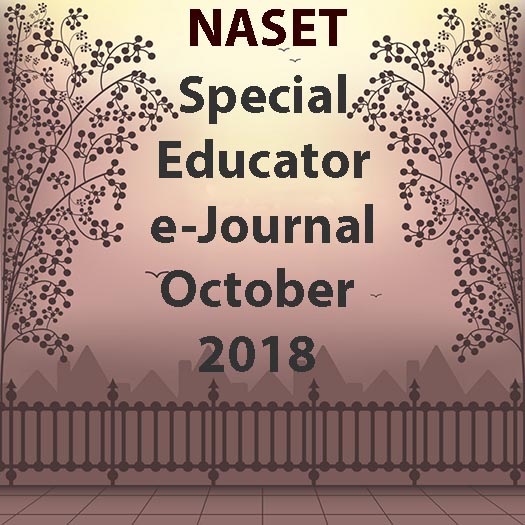 ---
NASET Members - Login Below to access the latest Special Educator e-Journal.
Site visitors: You may access a sample e-Journal - Sample e-Journal
---
Special Education Legal Alert
By Perry A. Zirkel
© September 2018
This monthly legal alert addresses the significant rulings of two recent, officially published federal appeals court decisions under the IDEA— Krawietz v. Galveston Independent School District, which reinforced the ad hoc nature of "child find," and L.H. v. Hamilton County Department of Education, which provided a new twist on both least restrictive environment and reimbursement for private placements. For automatic e-mailing of future legal alerts, sign up at perryzirkel.com
NASET Members- Login to Access the Full Article
---
The Effectiveness of Head Start Program in Early Childhood Education
By Sarah AL-Sharif
Abstract
Head Start program presents information on practices embraced to ensure children, including the ones with disabilities and special needs, get opportunities and benefit from early childhood education. It ensures they get family and community support and as well focus on interactive and responsive practices in enhancing children emotional security, grasp of problem-solving and critical thinking skills. It also avails the focus on the use of individualistic interventions to meet children learning and developmental needs hence optimizing opportunities for their respective cognitive development. The adopted model as well focuses on family engagement and social services and identifies children needs. It has nationwide recognized activities such as 'National Reading Month' which enhances awareness. Other recognized activities include involvement in physical activities, partnerships, and sponsorships which ensure continued support for early childhood learning, educational and developmental needs.
NASET Members - Login to Access the Full Article
---
The Effect of Music on Social and Emotional Learning
By Karina Constantine
Abstract
This paper will examine the idea of using music as a tool to help attain social and emotional well-being during morning meetings, as an adaptation for non-verbal special needs students, while reviewing the following four academic articles obtained from Library.FIU.edu's social and psychological, and educational databases on the topic of music in SEL:
A study of teacher formative influence upon and student experience of Social-Emotional Learning climate in secondary school music settings.
So many lifetimes locked inside: reflecting on the use of music and songs to enhance learning through emotional and social connection in Trainee Clinical Psychologists.
Exploring the rationale for group music activities for parents and young children: Parents' and Practitioners' Perspectives.
Can music enhance school-readiness socioemotional skills?
While the research is varied and data somewhat conflicting due to the varied age groups and settings, it is clear from these experiments and research articles, that adding music to a modified morning meeting can only benefit and help the outcome of establishing healthy and positive Social and Emotional Learning.
NASET Members - Login to Access the Full Article
---
Special Education and Health Care: A Literature Review
By Elizabeth Haddad
Abstract
Are special healthcare needs being implemented effectively in Special Education? When children with severe disabilities and special health care needs are in school, there are many considerations and precautions to be made. The life, health, wellbeing, safety of a child is in the hands of educators, school nurses, and other employees of the school they attend. It is important that all aspects of their health are addressed, documented and shared with their primary care doctors, parents and specialists.
NASET Members - Login to Access the Full Article
---
Book Review: Lead Like a Pirate (Make School Amazing for Your Students and Staff)
By Katherine McMeekin
Abstract
Lead Like a Pirate: Make School Amazing for Your Students and Staff, by Shelley Burgess and Beth Houf is an insightful and motivating read for educational leaders and professionals in the educational system. The review looks at the book and states main themes, key quotes and strong and weak points from the book. The review compares the book to Leading in a Culture of Change, by Michael Fullan, and the similarities both books have regarding empowering educational leaders.
NASET Members - Login to Access the Full Article
---
Book Review: If You Don't Feed The Teachers They Eat The Students!
By Valerie Omans
Neila A. Connors, Incentive Publications Inc., Nashville, Tennessee, Printed by Sheridan Books, Inc., Chelsea, Michigan, www.incentivepublications.com, 2000, 143pp. ISBN 978-0-86530-457-4. US$16.99
If You Don't Feed The Teachers They Eat The Students! is a success guide for administrators and teachers written in a very practical format. This book is written as a guide to choosing the delicious food at restaurants and combing true ingredients for incredibly successful recipes. The author was born in Lexon Dale, Massachusetts. Degrees were obtained from St. Leo College (Bachelor's) in Florida and Florida State University (Master's and Doctorate). Dr. Connors is the founder and president of N.A.C. (Networking and Client) Connections Inc. This corporation promotes positive attitudes and actions for a successful life. Dr. Connor's enthusiasm and positivity invite the reader to an experience of pleasurable cuisine and a fine dining experience.
NASET Members - Login to Access the Full Article
---
Book Review: Working on the Work
By Danielle Williams
Abstract
How can we increase student achievement? This question is the driving force behind everything we do as educators. Phillip Schlechty's Working on the Work proposes that we should focus not on improving teachers or students, but rather on creating tasks for students that inspire curiosity and motivate them to genuine engagement with the content. This book review explores Schlechty's ideas and considers its connections with Michael Fullan's Leading in a Culture of Change. Implications for classroom practice as well as systemwide reform are discussed.
Schlechty, Phillip C. Working on the Work: An Action Plan for Teachers, Principals, and Superintendents. San Francisco: Jossey-Bass, 2002. 128pp. $30.00. ISBN 978-0787961657.
NASET Members - Login to Access the Full Article
---
Buzz from the Hub
All articles below can be accessed through logging in to NASET:
SAMHSA's Disaster App

Preventing Parent Burnout

Financial Planning for Special Needs Families

Integrating Assistive Technology into Adapted Physical Education | Webinar

The 101 Guide To Telling a Compelling Story With Data

2018 KIDS COUNT Data Book

Opportunity for All? Technology and Learning in Lower-Income Families

The Direct Support Workforce and People with Intellectual, Developmental, and Other Disabilities

2018 State Determination Letters from OSERS

State-level Statistics and Fact Facts
NASET Members - Login to Access the Full Article
---
---
Latest Employment Opportunities Posted on NASET
* Special Education Teacher - Chicago, IL - We are currently seeking full-time Special Education Teachers in Chicago, IL where you will be part of a dynamic, collaborative team of professionals focused on driving positive outcomes for students in Chicago area schools. Call 800-434-4686 today to speak with a dedicated Career Services Manager! To learn more - Click here
* Special Education Teacher - Philadelphia, PA - We are currently seeking a full-time Special Education Teachers in Philadelphia, PA where you will be part of a dynamic, collaborative team of professionals focused on driving positive outcomes for students in a high school, charter school setting. For more information, call 800-434-4686 today to speak with a dedicated Career Services Manager! To learn more - Click here
* Director of the Arch Learning Community - The Director of the Arch Learning Community (a comprehensive academic enhancement program for students with diagnosed Learning Challenges). The Arch Learning Community has been widely regarded for 15 years as a premiere program for college students with learning disabilities and/or challenges. As a critical component of the Morton Family Learning Center, the qualified candidate will direct all aspects of the program including vision, staff supervision, development, implementation, budget and evaluation. To learn more - Click here
* Martin Luther School Director - Martin Luther School (MLS) serves students in kindergarten through eighth grade who require full-time emotional support in an out-of-district placement. The School's curriculum closely mirrors that of the public schools, and MLS has a strong record of helping students make sufficient behavioral and academic gains to successfully transition back to their home districts. To learn more - Click here
* Part Time School Social Worker - Under the direction of the Principal and Director of Student Services, perform a variety of social service case management functions involved in identifying, assessing, and counseling students and families with attendance problems; develop referral plans; provide intervention as needed; and participate in the development of programs aimed at improving student attendance, achievement, self-esteem, and behavior. To learn more - Click here
* Special Education Resource Teacher - Full Time Special Education Resource Teacher. Seeking candidates with PEL with Special Education (K-12) endorsement. We offer a competitive salary, health insurance, fully paid TRS pension, flexible benefits, 50K life insurance policy, etc. To learn more - Click here
*Special Education Coordinator - This position will work from home and can be based anywhere in the state. This is a statewide position and will provide support to districts throughout Wisconsin. This includes day and some overnight travel. The Wisconsin RtI Center works in a virtual office environment. To learn more - Click here
* Development Intervention (Per/Diem) - The Arc of Union County's Early Intervention Program is in search of Development Intervention Consultants to join our multi-disciplinary team providing services to children ages 0-3 with developmental needs ages in their homes or community settings throughout Union County. Schedules are flexible and based on the needs of the children and families. To learn more - Click here
* Teacher - Special Education (all categories) - Responsible for planning and providing for appropriate learning experiences for students based on the district's AKS curriculum as well as providing an atmosphere and environment conducive to the intellectual, physical, social, and emotional development of individuals. GCPS offers full benefits and 2 Retirement Packages! To learn more - Click here
*Special Education Teacher - Rivermont Schools are now hiring special education teachers at multiple locations throughout Virginia. Sign on bonus of $2,000 and relocation assistance of $5,000 are available for those who qualify. To learn more - Click here
* Special Education Teacher - DCD Center Based at Roosevelt Elementary School - Provides research-based specialized instruction to address the instructional goals and objectives contained within each student's IEP. Assesses student progress and determines the need for additional reinforcement or adjustments to instructional techniques. Employs various teaching techniques, methods and principles of learning to enable students to meet their IEP goals. To learn more - Click here
---
Acknowledgements
Portions of this or previous month's NASET's Special Educator e-Journal were excerpted from:
Center for Parent Information and Resources
Committee on Education and the Workforce
FirstGov.gov-The Official U.S. Government Web Portal
Journal of the American Academy of Special Education Professionals (JAASEP)
National Collaborative on Workforce and Disability for Youth
National Institute of Health
National Organization on Disability
Substance Abuse and Mental Health Services Administration
U.S. Department of Education
U.S. Department of Education-The Achiever
U.S. Department of Education-The Education Innovator
U.S. Department of Health and Human Services
U.S. Department of Labor
U.S. Food and Drug Administration
U.S. Office of Special Education
The National Association of Special Education Teachers (NASET) thanks all of the above for the information provided for this or prior editions of the Special Educator e-Journal
---
Download a PDF Version of This e-Journal
NASET Members - Login to Access