May 2018 - Special Educator e-Journal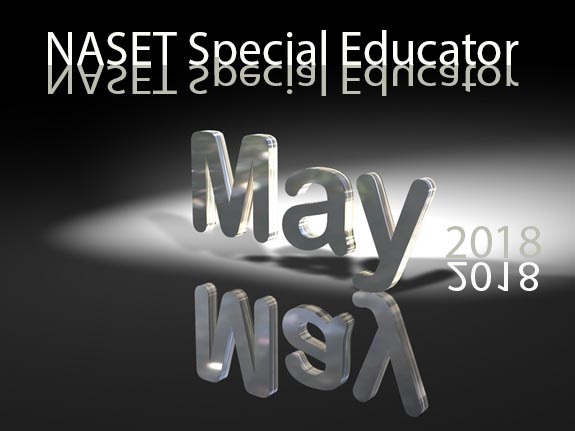 ---
NASET Members - Login Below to access the latest Special Educator e-Journal.
Site visitors: You may access a sample e-Journal - Sample e-Journal
---
Special Education Legal Alert
By Perry A. Zirkel
© April 2018
This monthly legal alert summarizes two recent cases that are officially published federal appeals court decisions, one that illustrates various basic issues under the Individuals with Disabilities Education Act (IDEA) and the other that identifies a potentially significant additional obligation under the Americans with Disabilities Act (ADA). For automatic e-mailing of future legal alerts, sign up at perryzirkel.com; this website also provides free downloads of various related articles
NASET Members- Login to Access the Full Article
---
A Parent-digm Dilemma: Communicating with Parents for better Outcomes of Students with Emotional Behavioral Disorder. By Helane Folske-Starlin, Ph.D
Abstract
Educators and Parent act like natural enemies (Waller, 1932) (Miretzkey, 2004).   I propose that this can be addressed with effective communication from all stakeholders. One problem that presents itself is how do we teach educators to communicate with families (Hradecky, 1994, September/October)? A second problem is families don't always know what to ask educators and administrators when they are concerned for their child.
Keywords:  Communication, Education, Teachers, Parent involvement, Special Education, Parent-Teacher relationships, School- Partnerships, Emotional Impairments
NASET Members - Login to Access the Full Article
---
Administering Special Education: In Pursuit of Dignity and Autonomy (Book Review)
By Rossana Hahn
"Education gives children with disabilities a chance to acquire independence and autonomy (2)" School administrators face many challenges when implementing special education programs that ensure quality education for students with disabilities.
Individuals with disabilities have the right to receive free and appropriate education in the United States, and this requires a high level of leadership and expertise from school administrators. This book addresses many challenges faced by public school administrators when implementing programs for children with disabilities. The chapters in this book cover critical issues related to identification of disabilities, rights of students with disabilities, and educational approaches to respond to student's individual needs.
NASET Members - Login to Access the Full Article
---
Computer Software and Improving Word Problem Skills in Mathematics for Middle School Students: A Review of the Literature
By Marta M. Gonzalez
Students who struggle in mathematics may find that word problems are a mixture of nonsensical words and numbers (Zorfass & Gray, 2014).  It may be difficult for students to perform the appropriate computations when the question is not understood.  In some cases, students can complete computations accurately, but due to the word problem-solving format, they may not be able to understand what the problem is asking and, therefore, perform the incorrect computation.  By providing students with problem-solving strategies, students may be able to increase their understanding of word problems and improve their ability to apply the knowledge to real-world situations.
NASET Members - Login to Access the Full Article
---
Hacking Leadership (A Book Review)
By Linda Pearson
Hacking Leadership delivers a purposeful perspective on how to inspire learning within the school community. The author's Joe Sanfelippo and Tony Sinanis are at the forefront of education, as a district superintendent and a school principal, they have proven the theories by implementing what they preach.
This book is an excellent resource for administrators who don't want to become a victim of the bureaucracy in the school system and anyone wanting to improve their leadership skills.  In reviewing this book, the principal criteria encompassed clear-cut problems and solutions to these issues referred to as "hacks." The author delivers a firm outlook of the education world with the intentions of equipping leaders with the tools necessary to create change within the school. The author's focus on what leaders can do differently instead of embodying change in others.  Furthermore, he illustrates his approach to practical common-sense strategies in a logical order by undertaking difficult issues within the school.
NASET Members - Login to Access the Full Article
---
Underachievement Among Elementary Gifted Students
By Abdulmajeed Alzahrani
Contemporary issues in the scope of gifted education concentrate on learners whose performance does not correspond with their ability level. Underachievement among gifted learners constitutes one of the greatest disappointments for a school culture that contributes to frustration for parents, instructors, education shareholders, and the society in general due to the considerable disparity between the learners' potential and their overall academic achievement. In this review, I concentrate on the issue of underachievement of gifted students in elementary school. This paper presents major challenges in the area of giftedness through a critical review of previous academic literature and their connection with underperformance of learners, under-exploitation of students' potential, as well as teacher education. The review further examines the causes of underperformance such as school, environment, personal and family factors, as well as different strategies to address this problem in elementary schools.
Keywords:underachievement gifted students, elementary school, teacher education, nurturing environment, descriptive praise
NASET Members - Login to Access the Full Article
---
The Least Restrictive Environment and the Development and Implementation of its Concepts
By Nassim Aljohany
Abstract
When in 1990 EHA was replaced by the Individuals with Disability Education Act (IDEA), Least Restrictive Environment (LRE) became one of the six principles the IDEA has since been based upon. LRE consists of a number of concepts and mandates that schools in the United States provide Free Appropriate Public Education (FAPE) to all disabled students according to their individual needs, strengths, and weaknesses.  However, the problems with determining the appropriate settings for disabled children still exist and cause American special education a lot of trouble. The purpose of this project is to show how the concepts of the LRE were developed, what challenges the American education system faced in implementing them and how well they are applied in teaching children with disabilities now.
NASET Members - Login to Access the Full Article
---
Buzz from the Hub
14 articles can be accessed through the link (Login):
Register today for High Expectations and Appropriate Supports: The Importance of IEPs
Everything You Need for the Month of the Military Child
Webinar | Endrew F: A New Tool for Enhancing the Family Voice at the IEP Decision-making Table
Agents of Their Own Success: Self-Advocacy Skills and Self-Determination for Students with Disabilities in the Era of Personalized Learning
Summer Camp Guide 2018
The Kid Zone!
Accommodations for Common Core Tests
At a Glance: 5 Factors of Emotional Intelligence
Teaching Emotional Intelligence in Early Childhood
Self-Awareness Worksheets for Young People
The Importance of Self-Care
Reinforcing Resilience: How Parent Centers Can Support American Indian and Alaska Native Parents
Bouncing Back from Setbacks: A Message for American Indian and Alaska Native Youth
ED's Notice of Proposed Rulemaking
NASET Members - Login to Access the Full Article
---
Latest Employment Opportunities Posted on NASET
*Family Assistant - Working single parent with 5 children, aged 8 through 16, seeks an experienced Family Assistant in Lake Forest to join the household team. The ideal candidate has an active, fun, easy-going personality and will enjoy a bustling household with a pool, tennis court, game room, etc. Education degree or certification in special education required. To learn more - Click here
*Special Education Teacher - Wayfinder Family Services (Wayfinder), formally known as Junior Blind of America, is looking for a Special Education Teacher. Wayfinder's Special Education School provides the best possible services to its students. Our non-public special education school is an individualized, non-academic school for students, ages three through 21, who are multi-disabled and blind or visually impaired. To learn more - Click here
*Teacher of the Visually Impaired - The Teacher for the Visually Impaired is responsible for providing itinerant services to students who are served under contract with schools in the Greater New Orleans area.  In addition, TVI duties include collaboration with VRS team members to provide extracurricular activities for skill development through transition, recreation, and summer camp programs. To learn more - Click here
*Special Education Teacher - This position reports to and is evaluated by the site principal. Special Education teachers plan and provide learning experiences for students with disabilities, including cognitive, emotional, or physical disabilities, in a variety of educational settings.  Special Education Teachers create a flexible program and learning environment that provide specialized instruction; establish effective rapport with students; may modify general education curriculum to meet students' needs with supplemental aides, accommodations, and other needed supports; and establish good relationships with parents and with other staff members. To learn more - Click here
* Assistant Principal / BCBA - We are currently seeking a qualified and enthusiastic Assistant Principal / BCBA for our school in Sherman Oaks. This is an exciting hybrid role that will work directly with our current Assistant Principal, as well as serve as the BCBA. To learn more - Click here
*Special Education Teacher - Jewish Child & Family Services (JCFS) provides vital, individualized, results-driven, therapeutic and supportive services for thousands of children, adults and families of all backgrounds each year. JCFS is currently seeking a Special Education Teacher to work with individuals and small groups of children (K - 12) with emotional and behavior disorders in a therapeutic special education classroom. The Therapeutic Day School is located in West Rogers Park, Chicago, IL. To Learn More - Click here
*Special Education Teacher - Various - $50,000/school year (185 days), summers off with year round pay and year round appreciation.  Special Education Teachers needed in Arizona (Phoenix and surrounding cities). Needs are in the self-contained and resource settings serving students with emotional disabilities (ED), Autism (A), Severe/Profound (S/P), and Intellectual Disabilities (ID).  STARS is the largest school contract agency in AZ. STARS is owned and operated by Occupational Therapists.  You will be an employee and receive full benefits. To learn more - Click here
---
Acknowledgements
Portions of this or previous month's NASET's Special Educator e-Journal were excerpted from:
Center for Parent Information and Resources
Committee on Education and the Workforce
FirstGov.gov-The Official U.S. Government Web Portal
Journal of the American Academy of Special Education Professionals (JAASEP)
National Collaborative on Workforce and Disability for Youth
National Institute of Health
National Organization on Disability
Substance Abuse and Mental Health Services Administration
U.S. Department of Education
U.S. Department of Education-The Achiever
U.S. Department of Education-The Education Innovator
U.S. Department of Health and Human Services
U.S. Department of Labor
U.S. Food and Drug Administration
U.S. Office of Special Education
The National Association of Special Education Teachers (NASET) thanks all of the above for the information provided for this or prior editions of the Special Educator e-Journal
---
Download a PDF Version of This e-Journal
NASET Members - Login to Access