February 2018 - Special Educator e-Journal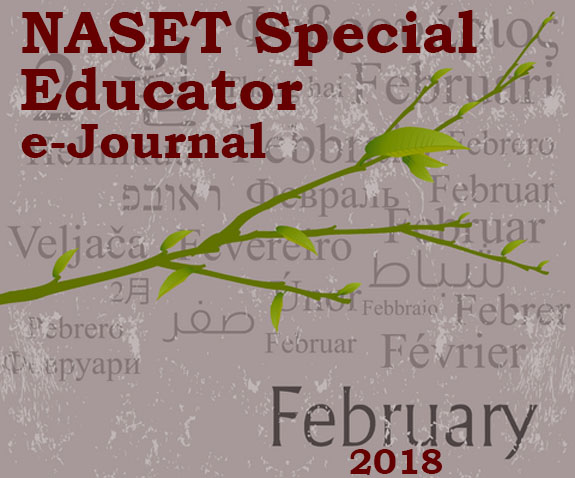 ---
NASET Members - Login Below to access the latest Special Educator e-Journal.
Site visitors: You may access a sample e-Journal - Sample e-Journal
---
To learn more click on the image above or - Click here
---
Special Education Legal Alert
By Perry A. Zirkel
© January 2018
This monthly legal alert, as a wider view to start the new year, provides two over-arching legal developments: (a) a six-month look at the lower court progeny of the Supreme Court's Endrew F. decision, and (b) the latest data on the incidence of students on 504 plans.  The layout follows the usual format of a two-column table, with key rulings on the left and practical implications on the right. For automatic e-mailing of future legal alerts, sign up at perryzirkel.com; this website also provides free downloads of various related articles, including those specific to the complaint procedures avenue under the IDEA.
NASET Members- Login to Access the Full Article
---
Shift in Education Policy under the Trump Administration
Perry A. Zirkel
© 1/15/18
A succession of events in the first year of Donald Trump's presidency signals a shift in education policy as part of a broader conservative agenda to reduce governmental regulations, including civil rights activism.  Akin to the proverbial pendulum, the shift is rather clear and uniform in its immediate direction, but not its ultimate extent, especially for special education.  The immediate effects are evident in the actions and inactions of the U.S. Department of Education's OCR and OSEP. [1] However, the long-range effects on both general and special education are likely to be primarily attributable to the changed complexion of the federal judiciary.  Conservative judges tend to defer to school authorities, but not, for example, in cases of applying the First Amendment's religion clauses or statutes that are clear and specific as to Congressional intent.  Here are the highlights in chronological sequence for this past year:
NASET Members - Login to Access the Full Article
---
CLASS: DECONSTRUCTING THE SCHOOL-BASED, PSYCHO-SOCIAL LEARNING ENVIRONMENT TO SERVE THE 21st CENTURY INCLUSION CLASSROOM
By Kevin J. Quail II, B.S., B.C.S.E.
Building on the academic and philosophical perspectives presented by Neil Postman and Charles Weingartner's in Teaching as a Subversive Activity (1969), the author deconstructs the dominant elements of the post-modern American classroom. This analysis purposes to identify these primary elements in order to examine and clarify the symptoms and characteristics of the low achievement and even lower morale that pervades the American public education system. Examining the social learning environment in which students with and without disabilities are served, stakeholders—educators, parents, students, schools, etc.—are better equipped to utilize empirically-based strategies and interventions and develop dynamic and impactful curricula and programs that meet a broader spectrum of student needs.
NASET Members - Login to Access the Full Article
---
ACTION RESEARCH REPORT PROPOSAL:  DATA CHATS TO FOSTER STUDENT MOTIVATION AND ACADEMIC SUCCESS
Martha Nuñez
Florida International University
Public school students across the state of Florida are required to take the yearly state assessment, known as the Florida Standards Assessment (FSA), which measures students' yearly achievement of education standards. These standards were established to guarantee that students graduate from high school, ready for success. However high school students who score below a Level 3 on the eighth grade FSA in reading are required to take intensive reading classes. These courses are generally comprised of both students who are neuro-typical (general education students) as well as students with disabilities. Many students often feel frustrated at having to lose out on taking a preferred elective that interests them. In 2017, the number of ninth and tenth graders in Florida who scored a Level 1 on the FSA was 25%, and of that number, 61% were students with disabilities (Florida Department of Education, 2017).
NASET Members - Login to Access the Full Article
---
Co-Teaching- What Makes it Work? Teacher Perspectives
Darlene Desbrow and Midori Sanchez
Abstract
The purpose of this article is to present perceptions of the service delivery model, co-teaching, by educators currently working together in a co-teach environment at the elementary, middle, and high school levels.  Co-teaching has become the service delivery model of choice for many school districts across the country, yet, teachers within the co-teach environment are facing many challenges such as making time to collaborate, working together successfully, and determining which educational co-teach techniques are beneficial for achieving student success.  The results of this study are based on an informal anonymous survey voluntarily completed by eight special education and five general education teachers currently working in the co-teach environment from one Orange County school district.
NASET Members - Login to Access the Full Article
---
Buzz from the Hub
4 articles can be accessed through the link (Login):
Stand Up, Sit Tall for Inclusion

Webinar | Assistive Technology Tools to Meet Student Needs in the Classroom

Principal Leadership: Moving Towards Inclusive and High-Achieving Schools for Students with Disabilities

Making Inclusion a Reality
NASET Members - Login to Access the Full Article
---
---
Latest Employment Opportunities Posted on
NASET
* Executive Director of Special Education - Under the direction of the Chief Academic Officer, the Executive Director of Special Education provides vision, leadership, oversight and evaluation for the Department of Special Education. A completed application includes all application materials and three supervisory references. This position is posted until filled, with an initial screening date of February 11, 2018. To learn more - Click here
* Special Education Teacher (secondary) - Linwood Center is currently hiring for Special Education teachers for Grades 9-12. The teacher will guide the educational process and provide specialized instruction at the secondary school level for students with autism and related disabilities in classrooms of four to seven students. S/he will use various techniques to promote learning, including individualized instruction, problem-solving assignments, and small-group work. To learn more - Click here
* High School Special Education Teacher - Tutor individual and small groups of students, reinforcing language and reading concepts. Schedule and conduct IEP meetings, coordinating schedules with parents, general education teacher(s), administrator, and all appropriate special education staff. Communicate with parents regarding individual student progress and conduct. Maintain progress records and record progress toward IEP goals. To learn more - Click here
* Instructional Specialist- The STEPP Program's mission is to provide students with learning disabilities who aspire to achieve a college education and who demonstrate the potential for postsecondary success with access and comprehensive support throughout the university experience. By partnering with these students, their families, and a variety of educational communities, the STEPP Program fosters a network of opportunities and resources to empower and support students from admission to graduation from East Carolina University. To learn more - Click here
* EXECUTIVE DIRECTOR- Criterion Child Enrichment is conducting a search for an Executive Director. Founded in 1985 as a not-for-profit organization, Criterion has served families for over 30 years and is a leading provider of early childhood education and early intervention services. Each year the agency serves over 7000 families through a program network that extends throughout the Commonwealth of Massachusetts. To learn more - Click here
* Director of Special Education- We believe that all of our students, including our most vulnerable, can achieve at a high level.  The Director of Special Education is charged with ensuring that our schools are able to provide our students with disabilities with the supports they need to achieve their full potential. To learn more - Click here
*Program Director ~ Annandale Campus - Applications are being accepted for this key leadership position within PHILLIPS Programs. The PHILLIPS School ~ Annandale Program Director, reporting to the President & CEO, will be responsible for all aspects of operation of a 200 pupil campus for students with emotional & behavior problems, learning disabilities and other school challenges. The Program Director also oversees a staff of 150. To learn more - Click here
*Special Education Teacher - Various - $50,000/school year (185 days), summers off with year round pay and year round appreciation.  Special Education Teachers needed in Arizona (Phoenix and surrounding cities). Needs are in the self-contained and resource settings serving students with emotional disabilities (ED), Autism (A), Severe/Profound (S/P), and Intellectual Disabilities (ID).  STARS is the largest school contract agency in AZ. STARS is owned and operated by Occupational Therapists.  You will be an employee and receive full benefits. To learn more - Click here
*Academic Advisor 1 - Advises and assists current and prospective students regarding interpretation of placement assessment, ascertainment of desired career and academic goals, development of an academic plan, establishment of program requirements related to academic objectives, and course scheduling and registration.Assists in the resolution of individual academic issues. Advises students on academic program changes and resolves issues affecting his/her degree progress and attainment of academic and career objectives. To learn more - Click here
*Director of Special Education -Oversee the development and administration of the District's Individuals with Disabilities Education Act (IDEA) Grants (pre-K and K–12) and the English as a Second Language Grant for English Language Learners (ELL). This includes both managing the budgets for each of the grants as well as developing and maintaining a comprehensive continuum of supports and services for students with disabilities and ELL students from preschool, age three, through high school graduation for both public and nonpublic schools. To learn more - Click here
*Director of Student Services - Located in the village of Kenilworth on Chicago's North Shore, District 38's 500-student, 100-employee, JK-8 Joseph Sears School combines the feel and traditions of a small-town community. Its goal is to prepare students for success through their teenage years and beyond by allowing them to cultivate their passions, develop a genuine love of learning and establish a system of values that will guide them throughout their later stages of life. To learn more - Click here
*Learning Specialist/Learning Program Teacher- Woodlands Academy of the Sacred Heart is seeking a certified learning specialist to teach in the school's Learning Program.  The position is full-time, and the start date is immediately.  Requirements include a master's degree or post-graduate work in education with emphasis in varied exceptionalities or learning disabilities.To learn more - Click here
* Special Education Teacher - The Adolescent Care Unit (ACU) at Tséhootsooí Medical Center on the Navajo Nation seeks a Special Education Teacher to work with 8 to 10 teens aged 13-17 with mild emotional or behavior issues in a subacute 60-day inpatient program. ACU combines western therapy with Native American traditional cultural methods to foster health and Hozho or harmony, and is located in northeastern AZ. To learn more - Click here
*Special Education Teacher - Various Positions Open: 2 positions for Special Education Resource 5th - 8th, Special Education Resource K-3rd, SPED - Social Skills le-4th, SPED - Social Skills 6th - 8th,  Arizona certification required. To learn more - Click here
---
Acknowledgements
Portions of this month's NASET's Special Educator e-Journalwere excerpted from:
Center for Parent Information and Resources
Committee on Education and the Workforce
FirstGov.gov-The Official U.S. Government Web Portal
Journal of the American Academy of Special Education Professionals (JAASEP)
National Collaborative on Workforce and Disability for Youth
National Institute of Health
National Organization on Disability
Substance Abuse and Mental Health Services Administration
U.S. Department of Education
U.S. Department of Education-The Achiever
U.S. Department of Education-The Education Innovator
U.S. Department of Health and Human Services
U.S. Department of Labor
U.S. Food and Drug Administration
U.S. Office of Special Education
The National Association of Special Education Teachers (NASET) thanks all of the above for the information provided for this edition of the NASETSpecial Educator e-Journal.
---
Download a PDF Version of This e-Journal
NASET Members - Login to Access