December 2018 - Special Educator e-Journal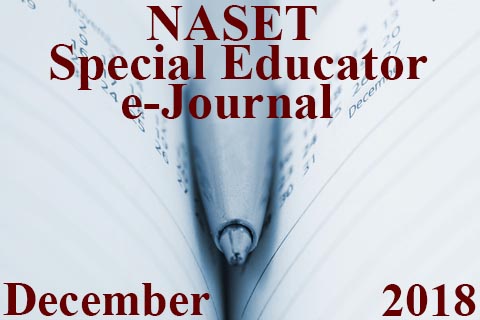 ---
NASET Members - Login Below to access the latest Special Educator e-Journal.
Site visitors: You may access a sample e-Journal - Sample e-Journal
---
Special Education Legal Alert
By Perry A. Zirkel
© November 2018
This month's alert summarizes an unpublished federal district court decision that illustrates various current issues, including the possible child find-RTI connection and a published federal appeals court decision that illustrated the generally nondramatic impact of Endrew F. These various issues are further explained and updated in various articles listed in the "Publications" section of perryzirkel.com.
NASET Members- Login to Access the Full Article
---
Group Work Matters: Reducing Stigma in Special Education Students
By Clara West, DSW
Abstract
Generalizations about special education students are based upon societal constructs. These stigma-induced concepts define these students in terms of their disabilities, as opposed to the strengths, which make them unique. Their social-emotional issues are similar to their non-disabled counterparts with few distinctions. This case study discusses how group intervention with adolescent special education girls reduces stigma and promotes emotional stability in the school. When viewed through the lens of shared narratives, group intervention becomes an enriching experience for students and those working with them.
NASET Members - Login to Access the Full Article
---
The Role of Educators in Using Play to Improve Social Skills Among Children with Autism
By Sarah Al-Sharif
Abstract
Children with ASD express solitary and lonely behavior. Such instincts can be related to their tendency to play a single game or play for a very long time. Again, it can be relating to their 'staring' behavior. Mainly, they have the propensity to stare at the same object such as a toy or direction. They have unusual interests, taste, and preferences. They may have a singular meal of interest, a typical play, playing ground, site, and even posture. They hardly change such behavior if unnecessary medical, psychological, or corrective dimensions are accordingly implied. In this paper I will illustrate the role of educators in using play to improve social skills among children with autism.
NASET Members - Login to Access the Full Article
---
Implementing the LRE Provision of the IDEA: Current Status in Florida Schools
By Gordon Brobbey, Abdulmajeed Alzahrani, and Aliyah Killion
Abstract
One of the key provisions of the Individuals with Disability Act (IDEA), the law governing the education of students with disabilities, is the least restrictive environment principle (LRE). This principle requires that all students with disabilities are educated in least restrictive settings on a continuum of services. While the proportion of students with disabilities receiving their education in the general education classes has increased in recent years, our review of the found that the interpretation and implementation of the LRE provision is beset with some difficulties and controversies including confusion over meaning and interpretation. We reviewed annuals LRE implementation targets for three school districts in Florida and found that districts struggles to meet annuals targets. Implications for practice and recommendations are discussed.
Keywords: special education, least restrictive environment, disability
NASET Members - Login to Access the Full Article
---
Book Review: Leading 21st Century Schools: Harnessing Technology for Engagement and Achievement (Second Edition)
By Judith Tremble
Leading 21st Century Schools: Harnessing Technology for Engagement and Achievement, second edition, by Lynne Schrum and Barbara B. Levin provide schools and district leaders with information and resources to help them be effective leaders of 21st century schools. This second edition suggest ways administrators and other leaders can use technology to enhance the engagement and achievement of students. In reviewing this book, the principal criteria included content, organization and references resources. This second edition have a substantially revised and updated about the 80% of information contained in the 2009 book, including : increasing use of tablets, smartphones, You Tube, and social networking tools in and out of school, the rise of BYOD( Bring your own device); online learning and flipped classrooms, twitter, MOOCs, Skype, digital textbooks, Common Core; innovative Makerspaces, including 3-D printers, fabrication, and goals of the " maker" movements; the importance of STEM; and personalized learning. A new future of this book is a companion website that include active links to all the websites and webpages discussed and recommended through the book. Using this website will save time from typing long URLs and will allow readers to keep these links up-to-date.
NASET Members - Login to Access the Full Article
---
Book Review: Leading in a Culture of Change
By Lisa Johannes
In Michael Fullan's book Leading in a Culture of Change he offers suggestions on how leaders can focus on the five key components of; moral purpose, understanding change, developing relationships, knowledge building, and coherence making. These suggested strategies are designed to offer guidance on how to lead effectively in muddled environments, foster leadership, commitment, and responsibilities in others, in pursuit of developing long-term successful educational and business organizations. He further drives home the point of how "It's important to make people feel part of a success story because that's what they want to be."(19). Here and throughout his book he illustrates how not only is it important to have team members feel empowered by self-accomplishments but leaders as well, and in turn creating a powerful learning community.
NASET Members - Login to Access the Full Article
---
Book Review: What Great Principals Do Differently
By Nicole Phillips
In the book, What Great Principals Do Differently by Todd Whitaker, the author starts the book by highlighting the importance of understanding and studying what makes effective principals successful. The rest of the book focuses on the specific things that set effective principals apart from ineffective ones. The author chose three different perspectives to use while defining his framework; research studies that visited schools with both effective and ineffective principals, personal observations in fifty schools he consults for, and the author's personal core beliefs. The main purpose of this book is to emphasize fifteen trademarks of great principals concentrating on their attitudes, goals, decisions, and practices.
NASET Members - Login to Access the Full Article
---
Buzz from the Hub
All articles below can be accessed through logging in to NASET:
NEW! Resource Collection on Trauma-Informed Care
ESSA Fact Sheets in Spanish!

1…2…3… CPIR Resources to Take Forward

4…Co-Creation with Parent Center Staff

5…Collaborations with TA&D Colleagues and Others

Ending Reflections
NASET Members - Login to Access the Full Article
---
Latest Employment Opportunities Posted on NASET
*Special Education Teacher-Grades K-12 - K12 is a dynamic company on a mission to provide the most compelling, comprehensive, and effective K-12 education available. Our employees are a critical part of an organization that is providing powerful, new options for the way children can be educated. They have a passion for education and a drive to make a difference. We pride ourselves on maintaining the highest level of integrity. To learn more - Click here
*Director of Special Education - Stevenson HS D125 is seeking to hire a Director of Special Education for the 2019-2020 school year. This individual will serve as a member of the school's leadership team and is responsible for leading the school's efforts in the area of Special Education services. The Director is responsible for supervision of special education programming, leading the district's efforts in compliance under legal standards, managing the special education budget, interfacing with parents, and leading staff development efforts in the Division. To learn more - Click here
*Executive Director - The ED works with the Board of Directors to provide leadership for the development and implementation of the strategic vision and plan of CFEC. Within the framework of the goals, objectives and policies established by the Board of Directors, the ED is responsible for the administration of all components of the Corporation. The ED effectively communicates CFEC's plans and policies to broad audiences and develops and nurtures productive relationships and resources deemed essential for the attainment of CFEC's goals and objectives. To learn more - Click here
*Significant Support Needs - Teacher- Special Education: As a collaborative member of the special education team, this person will be responsible for teaching/evaluating and implementing an education program for significant support needs (SSN) students utilizing inclusionary practices whenever possible. Instruct students utilizing evidenced based literacy and math education methodologies and instructional techniques. Integrate children with severe disabilities and modify/adapt curriculum for general classroom. To learn more - Click here
*Reading Tutor - Tutors needed to provide multi-sensory, systematic, phonics-based instruction to students in grades K-12. Effectively utilize multi-sensory structured language instructional techniques, and demonstrate explicit teaching, modeling, guided practice, and consistent review in lessons. Understand the language processes and how they impact the development of proficient readers and writers. To learn more - Click here
*Special Education Teacher K-12 or Preschool - For over 100 years, HeartShare has been dedicated to improving the lives of people in need of special services and supports. The HeartShare team, now 2,100 employees and growing, helps individuals develop to their fullest potential and lead meaningful and enriched lives. To learn more - Click here
*Special Education Instructor (K-12) - Compass Charter Schools is one of California's leading WASC-accredited virtual charter schools of choice. Families from across the state choose us for the 21st century online and home study learning options provided through our cutting-edge curriculum. Success in balancing the development of the whole child is central to our mission and to leading and serving the parents and scholars of California. To learn more - Click here
*SPECIAL EDUCATION TEACHER - Mountainside, NJ - The Arc Kohler School, Mountainside NJ is a leading collaborative private special education school serving student's preschool age through high school. The Arc Kohler School is seeking a Special Education Teacher to work full-time with their unique population. Full-time, 8:30 A to 3:00 P. To learn more - Click here
*Special Education Teacher - Pathways in Education (PIE) is a year round Public Non-Profit Charter School who works alongside their students to design individualized learning plans. We work to effectively meet their unique academic, social-emotional, and scheduling needs through a blended teaching model. The primary responsibility for this position is to provide specialized academic instruction to individual and small groups of students, reinforcing language and reading concepts. To learn more - Click here
*Special Education Teacher - The primary responsibility of the SPED teacher is to provide instruction and other related services to Special Education students. The SPED Teacher will also facilitate diagnostic assessment including administration, scoring and interpretation. SPED teachers will review and revise IEP's as needed. To learn more - Click here
* Special Education Teacher- Chicago - Jewish Child & Family Services (JCFS) provides vital, individualized, results-driven, therapeutic and supportive services for thousands of children, adults and families of all backgrounds each year. JCFS is currently seeking a Special Education Teacher to work with individuals and small groups of children (K - 12) with emotional and behavior disorders in a therapeutic special education classroom. The Therapeutic Day School is located in West Rogers Park, Chicago, IL. To learn more - Click here
---
Acknowledgements
Portions of this or previous month's NASET's Special Educator e-Journal were excerpted from:
Center for Parent Information and Resources
Committee on Education and the Workforce
FirstGov.gov-The Official U.S. Government Web Portal
Journal of the American Academy of Special Education Professionals (JAASEP)
National Collaborative on Workforce and Disability for Youth
National Institute of Health
National Organization on Disability
Substance Abuse and Mental Health Services Administration
U.S. Department of Education
U.S. Department of Education-The Achiever
U.S. Department of Education-The Education Innovator
U.S. Department of Health and Human Services
U.S. Department of Labor
U.S. Food and Drug Administration
U.S. Office of Special Education
The National Association of Special Education Teachers (NASET) thanks all of the above for the information provided for this or prior editions of the Special Educator e-Journal
---
Download a PDF Version of This e-Journal
NASET Members - Login to Access