June 2017 - Special Educator e-Journal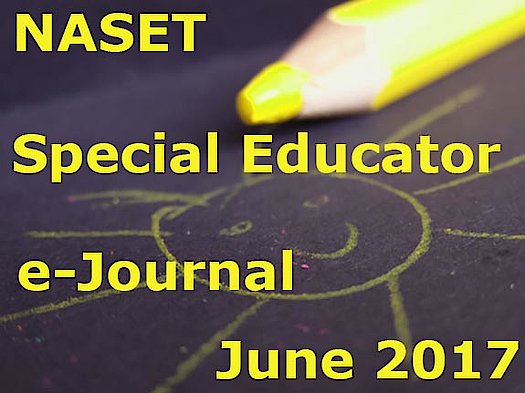 ---
Table of Contents
Lessons from Exceptional School Leaders. By Krista Garcia

Special Women, Special Leaders: Special Educators and the Challenge of Leadership. By Ibis Paneca

Lehigh University Section 504 Coordinators Institute – June 22-23, 2017

Special Education Legal Alert. By Perry A. Zirkel

Handbook For Early Childhood Administrators: Directing With A Mission. By Kellecia West

The Importance of Parent and Teacher Collaboration to Help Students with Disabilities Reach Their Maximum Potential. By Rebecca A. Timmer

Factors That Breakdown Communication Between Families of Children with Disabilities and Schools. By Christopher M. McIntyre
---
---
NASET Members - Login Below to access the latest Special Educator e-Journal.
Site visitors: You may access a sample e-Journal - Sample e-Journal
---
To learn more click on the image above or - Click here
---
To learn more click on the image above or - Click here
---
Latest Employment Opportunities Posted on
NASET
Rockville, Maryland
Description:
The ideal candidate will be a special educator who is fluent in Hebrew and will have expertise in teaching students with diverse learning needs to read Hebrew accurately and fluently, to improve their vocabulary acquisition, language comprehension and written expression in Hebrew. The Hebrew Learning Specialist will play a leadership role in our Judaic Studies Department, collaborating with teachers and providing ongoing professional development in differentiated instruction. The Learning Specialist will be part of a team of other special educators that work at the School through the Educational Support Services Department, providing a variety of strategies and interventions to students with diverse learning needs, both in and out of the classroom setting. In addition to providing direct remedial support to students, other responsibilities include design of individualized education plans, case management, and close collaboration with classroom teachers.
Requirements:
MA in special education or a related field and three to five years of prior demonstrated experience required; expertise in administering Hebrew reading assessments and data driven instruction preferred.
Qualified candidates should submit a cover letter and resume to www.cesjds.org/careers Job Code SE400.
The Charles E. Smith Jewish Day School is an equal opportunity employer. We evaluate all applicants without unlawful consideration of race, color, age, religion, gender, marital status, disability, veteran status or any other characteristic protected by applicable law.
Benefits:
The School offers competitive compensation and a comprehensive employee benefits package.
Contact:
Qualified candidates should submit a cover letter and resume to www.cesjds.org/careers Job Code SE400
*******************************
Lakenheath, UK
Job Category: Early Intervention
Description:
Home-based early intervention program providing services to developmentally delayed infants and toddlers of American military families stationed overseas.
Requirements:
Master's degree in Special Education, a minimum of two years experience within the last five years working with developmentally delayed children in the 0, 1 & 2-year age population in a home-based early intervention capacity, and a current state teaching license/certification to teach in this capacity.
Benefits:
Paid location, health and dental benefits, 401K Plan, generous paid time off, housing stipend.
Contact:
Lynn Romer at LynnR@magnummedicaloverseas.com for 800-852-5678 x.156, or fax resume to 513-984-4909
*******************************
Philadelphia, PA
Job Category: Full Time
Description:
The Invo-Progressus Team has incredible opportunities for Special Education Teachers…or, as we like to call them, Superheroes.  If you use your super powers to help ensure that children have access to the best education possible in the least restrictive environment, we would love for you to join the Invo-Progressus team!  We are currently hiring full-time Special Education Teachers in Philadelphia, PA for the 2017-2018 school year.
Requirements:
Bachelor's degree
Commonwealth of Pennsylvania Instructional Certificate in Special Education
Personal commitment to driving positive outcomes for students
Certification in any of these the areas of English, Math, Science, Autism Spectrum Disorders, Life Skills and Emotional behavior
Collaborative minded professional with strong oral and written communication skills
Ability to work and build strong relationships with parents, teachers and school administrators
Experience working in schools
Benefits:
Competitive compensation with flexible pay options
Medical/Dental/Vision Coverage
Flexible Spending Plan for medical and dependent coverage
Professional Liability Coverage
Licensure reimbursement
Annual Professional Development stipend
Professional membership stipend
Unlimited CEUs through the Progressus Pathways Learning Center
401(k) Retirement Saving Plan with a discretionary company match
Relocation assistance
Many More!
APPLY NOWSEARCH FOR MORE OPP
Contact:
Email your resume to careers@invo-progressus.com or call 800.434.4686 to speak with a dedicated Career Services Manager.
*******************************
Pittsburgh, PA
Job Category: Substitute Teacher
Description:
Substitute teachers are an integral part of education as they provide the classroom continuity needed for effective learning. Source4Teachers, recently named one of Forbes' America's Best Large Employers of 2017, has daily and long-term substitute opportunities each day at the Allegheny Intermediate Unit. In this role, you will provide meaningful instruction to students while the regular teacher is absent. You must adhere to the teacher's lesson plans, maintain a safe and orderly classroom environment, and perform additional duties as directed by school administration.
Requirements:
Valid PA Teaching Certificate in Special Education
PA State Criminal History Clearance (Act 34)
Child Abuse Clearance (Act 151)
Federal Criminal History Clearance (Act 24)
Tuberculosis test reflecting negative results
PA Department of Education Form 6004: Arrest/Conviction Report and Certification
Healthcare, dental & vision
Benefits:
401k
Training & ongoing support
24/7 online access to job openings
Employee discount program & bonus opportunities
Retired PA teachers can substitute through Source4Teachers without impacting PSERS
(EOE)
Contact:
Email Ashley Shaner at AShaner@Source4Teachers.com to learn more or visit www.S4T.jobs
*******************************
RISING SUN FARM AND GARDEN - VERNALIS, CA
Job Category: SPECIAL EDUCATION INSTRUCTOR - ADULT TRANSITIONS PROGRAM
Description:
Pioneers founded the Rising Sun School in 1870 in rural Vernalis, California and the campus operated continuously for 140 years until economic conditions forced its closure. Our district reopened the campus as an Adult Transitions Program, providing job skill training for young adults with developmental disabilities. The 8.5 acre site has now been transformed into a small working farm and plant nursery operation. Over $1 million in facility improvements have been completed in the past thee years. These include: a lavender field, plant propagation garden, state-of-the-art commercial greenhouse, large pond, and much more. We're searching for an innovative special education teacher to work with our wonderful young adults enrolled in the program. The selected candidate must have exceptional organizational skills, creativity, and passion. The special education teacher will be assisted by a full-time facility caretaker, full-time facility operations coordinator, and a team of dedicated paraeducators. See the video link below for more information about this unique program:
https://vimeo.com/72067394
Information and Directions to Apply:
For Complete Information and Directions to Apply, Visit EdJoin:
https://www.edjoin.org/Home/JobPosting/923977
Contact:
If you have any additional questions about this position and the Adult Transitions Program at Rising Sun Farm and Garden, please contact Dr. Philip M. Alfano at (209) 895-7700 ext. 20280. Please see the video below for more information about this exciting program:https://vimeo.com/72067394
*******************************
Severn, Maryland
Job Category: Educational Support
Description:
Do you LOVE helping students learn and succeed according to their unique learning style? We share your passion and have an opening for a full time Educational Support/Special Education teacher at our bustling Upper School (grades 9-12) for the 2017-18 school year.
Annapolis Area Christian School has been serving Christian families in Maryland since 1971, offering a college preparatory academic curriculum, a competitive athletic program, as well as outstanding fine arts in theater, choral, band, and visual arts. AACS serves more than 900 students in grades PreK through 12th on four separate campuses in beautiful Anne Arundel County.
The Educational Support program at AACS is designed to provide additional academic support to students with documented learning challenges as identified through educational testing, response to intervention protocols, individual education plans, and/or 504 plans. Educational Support teachers work closely with students, parents, and the Upper School faculty to facilitate student learning.
Requirements:
Candidates should have a minimum of a Bachelor's degree and hold an endorsement or certification in Special Education. The ideal candidate will have a Master's degree in Special Education and a minimum of 5 years of experience working with learning challenged students at the secondary level. Candidates who can contribute to the school community by coaching a sport, sponsoring a club, or in other similar ways are highly valued.
Benefits:
Health/Dental/Vision insurance, Short-term & Long-term Disability, Life insurance, Flexible Spending plan, Tuition discount, free lunch
Contact:
Please visit our website www.aacsonline.org for more information about us and instructions on how to apply.
*******************************
New Orleans, LA
Job Category: Teaching
Summary:
The Teacher for the Visually Impaired is responsible for providing itinerant services to students who are served under contract with schools in the Greater New Orleans area. In addition, TVI duties include collaboration with VRS team members to provide extra-curricular activities for skill development through transition, recreation, and summer camp programs.
Help Lighthouse Louisiana to build a better tomorrow for our students with vision impairment, while living in an exciting city with food, fun, and festivals galore.
Lighthouse Louisiana is seeking a Certified Teacher of the Visually Impaired who is eager to use his/her skills and creativity to provide itinerant vision services and to develop youth programs for children with vision loss in the Greater New Orleans area.
Lighthouse Louisiana is dedicated to ensuring that our youth are receiving well-rounded opportunities to learn through quality instruction and play. Our programs expand beyond the classroom to include Goal Ball, recreation, transition skills training, and a summer camp. If you want to make a difference in the lives of children who are blind in a holistic environment with an interdisciplinary team, contact Lighthouse Louisiana today.
Requirements:
Applicants who do not meet the following requirements listed need not apply.
1. Education: BA in Education or M.Ed. with VI certification from an accredited university.
2. Special Knowledge or Skills: Proficiency with Braille, Assistive technology for the blind, magnification, and adaptations for children with varying degrees of vision loss; Able to screen for referral to O&M services; excellent written and verbal communications; proficient in use of Internet, email, and standard software applications (i.e. Microsoft Word, Excel, and PowerPoint); proficiency with Nemeth code Braille and methods of teaching math to blind students.
3. Experience: At least 1-year teaching as a TVI. Itinerant experience preferred.
Benefits:
Signing Bonus $3000 / Moving Expenses $2000
Health, Dental, Vision, Flexible Spending Account, Employer paid Life, Voluntary Life, Short & Long-Term Disability, Sick, & Holiday
Contact:
Terri J. Brown, HR Manager
123 State Street
New Orleans, La. 70118
P. 504-899-4501, x229
tbrown@lighthouselouisiana.org
www.lighthouselouisiana.org
*******************************
Washington, DC
Job Category: Teacher
Description:
District of Columbia International School (DCI) is a public charter middle and high school in DC. We aim to provide our students with a world-class education that empowers them to follow their passions and change the world. DCI's education centers on the:
International Baccalaureate curriculum framework
Advanced language learning in Chinese, Spanish and French
A culture focused on student agency supported by 1:1 technology
We currently serve 520 racially and economically diverse students in grades 6-9. We will move to the Walter Reed campus in 2017 where we will grow into a 6-12 middle and high school and serve 1500 students.
While only in our third year DCI has become IB World School and has been rated Tier 1, the highest rating by our authorizer the Public Charter School Board. We are dramatically increasing our staff in 2017-18 and look forward to receiving your application. Come join a great team building a great school!
DCI is hiring full time Special Education Teacher. Please submit your cover letter and resume to resume@dcinternationalschool.org. You will need to pass a background check. No phone calls please.
Position Overview: This position entails both instructional and case management responsibilities for providing special education services and supports to students with exceptional learning needs at DCI during the school year.
Qualifications:
A Master's Degree in secondary education or this content area is preferred (Bachelor's Degree is required). Able to meet HQT requirements under NCLB. Experience with 1:1 technology a plus. Experience as a special education teacher at the secondary level preferred.Essential Attributes:
Faculty and Staff Development/Benefits:
DCI is committed to the principles of servant leadership and to providing faculty and staff with the resources and training they need to provide an excellent education experience for every student and family.
We have a benefits package that includes health and disability insurance and paid leave.
We offer teachers daily planning time, professional development, and reasonable class sizes.
Teachers and staff have the appropriate technology and support to do their work.
DC International School is dedicated to the goal of building a culturally diverse faculty and staff committed to teaching and working in a multicultural and multilingual environment.
Contact:
Please send your resume and cover letter to resume@dcinternationalschool.org
*******************************
Ridgely, MD
Job Category: Teacher
DESCRIPTION:
Come for a job, find a family. Where else but Benedictine? Be inspired to come to work every day knowing that you are making a difference in someone else's life. Our teams of professionals work together to improve the quality of life of adults and children with developmental disabilities by helping them achieve their greatest potential in all aspects of life; school, residential, and vocational.

The Teacher provides instruction to students with developmental disabilities in education, vocational, functional and self-help, social-emotional, and behavioral areas.

Implement each student's current Individual Education Plan (IEP), with updates as necessary.Supervise students in areas assigned and according to behavioral management plans designated. Evaluate each assigned student's attainment of goals as stated in the IEP.Submit progress and other reports as required by the school program or requested by School administrators. Implement strategies and provide materials and equipment as appropriate for the population served. Complete, in advance, and maintain lesson plans, protocol and schedules for daily planning. Attend and participates in faculty meetings, interviews, inservice sessions, Parent conferences and other activities as required. Supervise and document performance of classroom staff with follow-up on goals and outcomes of performance/coaching lessons. Administer state testing to students as directed by School administration and submit documentation in a timely manner.
REQUIREMENTS:
Must have Bachelor's degree and valid teaching certificate in Special Education, meeting the Highly Qualified criteria. A Conditional Certificate, valid for two years, may be requested by the Educational Director for an individual with a BA/BS who does not yet meet the certification requirements for a Standard Professional certificate or Highly Qualified criteria. This individual would be required to meet the requirements for the renewal of the Conditional Certificate until a SPC or APC is obtained and to meet the criteria for Highly Qualified. Classroom experience teaching children with developmental disabilities highly preferred. Must have a passion to specialize in teaching children and adolescents with developmental disabilities. Must be highly organized, creative, and an effective collaborator.
BENEFITS:
Health, Dental, and Vision Insurance; Short-Term Disability, Long-Term Disability, Life Insurance, 403(b) Retirement Plan Dependent Care Benefits, Educational Assistance, Credit Union, Employee Assistance Program.
CONTACT:
Erin, HR Generalist at Benedictine
(410) 364-9616
*******************************
Phoenix Metropolitan Area
Job Category: Special Education Teacher
Description:
$48,000/school year (185 days). Summers off with year round pay. Special Education Teachers needed in Arizona (Phoenix and surrounding cities). Needs are in the self-contained and resource settings serving students with emotional disabilities (ED), Autism (A), Severe/Profound (S/P), and Intellectual Disabilities (ID). STARS is the largest school contract agency in AZ. STARS is owned and operated by Occupational Therapists. You will be an employee and receive full benefits (see below). With a proven track record, STARS is able to offer you an unbeatable support system and resources. STARS is hiring for the 2017-2018 school year. STARS places Special Education Teachers throughout the Phoenix, Tucson and the surrounding area public schools.
Requirements:
Certification through the AZDOE, in Special Education. Arizona Fingerprint Card through AZDPS. We will help you get the credentials needed and reimburse you for the cost.
Benefits:
Salary: $48,000/school year, based on 185 days. STARS also offers a fantastic benefit package including: 16 weeks off, 100% Company paid Health, Dental, Vision, and Life Insurance, $1,000/year Continuing Ed Money, Paid DOE Certification Fees, Paid NASET Dues, Spanish Immersion trip, Hawaii Trip for two, 401K, 125 Plan, Direct Deposit, Evaluation tools and treatment supplies, Two company sponsored parties with professional entertainment, Company newsletter, STARS sponsored dinner meetings with national/local speakers, Yearly raises, Referral bonuses, Moving $, Birthday gifts and other appreciation throughout the year, Genuine Appreciation. YOU WILL FEEL LIKE A STAR!!!
Contact:
Brian Paulsen, COO #480.221.2573; Please email your resume to Jobs@StudentTherapy.com; Apply Online at StudentTherapy.com, we would love to hear from you!
*******************************
New York City, NY
Job Category: Full Time Teaching
DESCRIPTION:
The New York City Department of Education is looking for bright, motivated, and dedicated teachers who are passionate about sparking opportunity for all students. With over 1,800 schools and 1.1 million students, New York City provides endless opportunities for you to hone your craft and build your career.

Whether in Coney Island or the South Bronx, our team of exceptional educators is passionate about urban education and is fiercely committed to success for all students.  Our schools range in size (from 200-4,000 students) and are as diverse as our students and the neighborhoods we serve, allowing you to choose a school community that fits your needs as an educator.  And with more than 200 innovative partnerships with leading arts, science and cultural organizations around the city, you will never run out of ways to expand your curriculum and pique students' interest.

New York City public schools are committed to fostering curiosity and confidence in all students, and jumpstarting the next generation of innovators, leaders and citizens. Now is your chance to help us make that happen.
COMPENSATION AND BENEFITS:
New York City public schools offer competitive starting salaries ranging from $54,000 to $81,694, based on prior teaching experience as well as your undergraduate and graduate education.

You may also become eligible for additional income through a wide array of incentives and school positions that will stretch and challenge you as an educator.  You might earn additional grants by teaching in a select, high-need school as part of our Teachers of Tomorrow program, or by helping your colleagues develop in one of our many teacher leadership roles .
REQUIREMENTS:
To apply to teach in New York City, candidates must first meet the following requirements:
Possess or be on track to earn a New York State Department of Education (NYSED) teaching certification by the start of the 2017-18 school year. If you are not already NYSED-certified, there are several ways to obtain certification .
Complete an online teacher application at TeachNYC.net

Learn more about our application requirements and deadlines and apply to teach in New York City today!
APPLY:
http://teachnyc.net/?utm_source=job-board&utm_medium=job-posting&utm_campaign=2017-applications&utm_term=Spark&utm_content=Naset
*******************************
Multiple Locations
Job Category:
Description:
The primary responsibility of the Special Education Specialist is to provide instruction and other related services to Special Education students. The Special Education Specialist will also facilitate diagnostic assessment including administration, scoring and interpretation. Will review and revise IEP's as needed. Will support instruction in reading, math, and written language for students, tutor individual and small groups of students, administer and score academic testing, write individualized education plans and support other academic programs as needed. The Special Education Specialist will work under the leadership of the Program Specialist and the Director of Special Education. This position will be available to provide direct instruction to students 6 hours a day.
Essential Functions include, but are not limited to the following:*
Provide instruction to students with special needs and identified learning disabilities in a special education program.
Tutor individual and small groups of students, reinforcing language and reading concepts.
Administer and score individual and group tests.
Schedule IEP meetings, coordinating schedules with parents, general education teacher(s), administrator, and all appropriate special education staff.
Conduct IEP meetings.
Communicate and coordinate special needs evaluation and testing with speech teacher, psychologist, and other service providers.
Communicate with parents regarding individual student progress and conduct.
Maintain progress records and record progress toward IEP goals.
Record progress within the independent study program.
Perform other duties in support of the Special Education Specialist program.
Support other academic programs offered within the independent study program.
Various openings in Burbank region, San Gabriel region, Victor Valley region, Inland Empire region, San Bernardino region, and San Juan region.
Knowledge, Skills and Abilities Required:
Special Education Specialist Certificate or ability to obtain Mild/Moderate Certificate.
Ability to teach students of grades K-12.
Ability to work with children of all ages.
Ability to understand, adopt, and support the independent study program, concepts and their philosophies.
Ability to organize and present ideas effectively in oral and written form.
Ability to make skillful decisions.
Ability to work under pressure and meet deadlines.
Ability to operate a PC computer, word processor, copier, FAX, and other office machines.

BA/BS Degree
Valid California Teaching Credential in Special Education (Mild/Moderate)
Education and Experience:
BA/BS Degree
Valid California Teaching Credential in Special Education (Mild/Moderate)
Contact:
Nehia Hearn
Human Resources Assistant
Direct: 626) 204-2552 Fax: 626) 685-9316
nhearn@ofy.org
*******************************