July 2016 - Special Educator e-Journal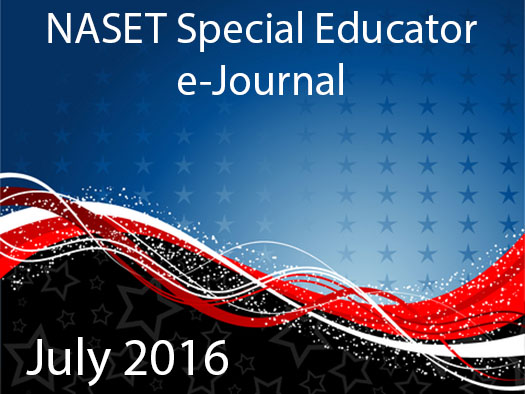 Table of Contents
Update from the U.S. Department of Education

Kick 'Em and Oh Yeah by Craig Parker

Effective Teaching Practices in an Inclusion Classroom. By Paola M. Esquijarosa

NCWD: Intersection: Navigating the Road to Work

Buzz from the Hub

Are We Ready to Have Teachers with Learning Disabilities? A Study of School Principals' Observations. By Heidi Flavian, Ph.D.

Latest Job Postings on NASET

Acknowledgements

Download a PDF or XPS Version of This Issue



---
NASET Members - Login Below to access the latest Special Educator e-Journal.
Site visitors: You may access a sample e-Journal - Sample e-Journal
---
To learn more click on the image above or - Click here
---
To learn more click on the image above or - Click here
---
Latest Employment Opportunities Posted on
NASET
Cleveland, Ohio
Job Category: Special Education Teacher
Description
Breakthrough Schools is looking for Intervention Specialists committed to urban education to join our team at E Prep Woodland Hills.
Teaching at Breakthrough Schools is a rewarding experience where you will work on a staff dedicated to making an impact on the lives of Cleveland students. As a teacher, you will hold primary responsibility for the development and implementation of your school's curriculum and the success of your students. Since teachers play such an important role in student achievement, we provide opportunities for teachers to grow as professionals and build leadership skills to expand their impact in the classroom and within their school or the Breakthrough network.
Our Preparatory Schools (K-8) have motivating school wide routines that create a culture where scholars believe they will succeed. Every teacher, student and staff member commits to giving 100% in everything they do and focus on putting students on a path to college.
Requirements
Bachelor's degree and valid OH teaching certificate/license in subject area to be taught. Candidates are preferred to be highly qualified in ELA, Math, Science and/or Social Studies.
Benefits
Compensation packages are competitive and commensurate with experience. Breakthrough Charter Schools offer a comprehensive benefit package that includes medical, dental and vision, life and disability coverage. Employees are also eligible to participate in the Ohio STRS or SERS (state retirement system).
Contact
Erin Waltz
Talent Acquisition Manager
Email: ewaltz@breakthroughschools.org
Phone: 216-456-2086 ext. 1334
Website:www.breakthroughschools.org/careers
*******************************
Culver City, CA
Job Category: School Administration
Position
Provide leadership to ECF Kayne Eras School staff. The Assistant Principal will work as part of a team along with the Director of School Programs and the Principal to promote, enhance, and effectively manage all school related programs and activities.
Summary of Duties
1. Implement State standard curriculum and ensure State standards are used in the development of weekly lesson plans and check for compliance. Conduct state mandated testing. In conjunction with supervisor, oversee State Certification and WASC Accreditation.
2. Develop, manage, and direct the process for students to transition to the next grade level following diploma guidelines.
3. Coordinate Master Schedule.
4. Continuously evaluate academic curricula and behavioral plans to determine appropriate fit for the current student population and amenable to differentiated instruction. Responsible for identifying new curricula and programs which add value and distinguish the school from other NPS's; bring to leadership team for review.
5. Facilitate the intake process and make placement decisions. Ensure all tests and other enrollment documents are completed and submitted prior to student enrollment/placement.
6. Conduct parent conferences as needed. Manage IEP process including collecting, reviewing, and finalizing all IEP's prior the meeting.
7. Supervise staff which includes developing, evaluating, and setting goals and ensuring that on-site work hours are observed; ECF and school policies are followed and enforced; certifications and licenses are maintained, and all trainings, team and core meetings ,and parent conferences are attended.
8. Ensure that any staff incidents and/or injuries are reported immediately and reviewed with the Principal and related documentation is completed as required.
9. Conduct frequent formal and informal classroom observations to monitor teacher performance, implementation of lesson plans, and classroom management.
10. Participate in school budget development, and monitor general overall budget performance.
Qualifications
Education: Bachelor's degree and current California Special Education Teaching Credential.
Experience: Two years teaching elementary and/or middle school special educations students, and two years supervising and/or mentoring professional level staff.
Knowledge/Abilities/Skills: Knowledge of teaching strategies and current technology in the education field; Proficient in the use of MS Word, EXCEL, Power Point, Welligent and SEIS; and Effective written and verbal communication skills.
Salary
Commensurate with experience.
WORK LOCATION
5350 Machado Road, Culver City, CA
HOW TO APPLY
Qualified applicants may submit an employment application or cover letter and resume by mail, email, or fax to: Exceptional Children's Foundation, 5350 Machado Road, Culver City, CA 90203, hr@ecf.net, (310) 391-1059.
To learn more, visit www.ECF.net and connect on Facebook atwww.facebook.com/ConnectwithECF.
Exceptional Children's Foundation is an equal opportunity employer. All qualified applicants will receive consideration for employment without regard to gender, race, color, religious creed, national origin, age, sexual orientation, gender identity, physical or mental disability, and/or protected veteran status.
*******************************
Memphis, TN
Job Category: Special Education Teacher - High School
Description:
Approved to operate a high school by the Achievement School District, Frayser Community Schools provides local leadership that instills pride, transforms poverty-mindsets, and creates economic avenues for the Frayser community – all through highly compassionate and accountable schools that foster a passion and hunger for learning in students.
MLK Prep High School will conduct summer onboarding in July 2016 and is now accepting applications.
All teachers at MLK Prep will demonstrate:
Aligned to MLK College Prep's mission and vision.
Strong organizational skills with attention to detail and follow-through
Strong analytical and problem-solving skills
Strong communication and negotiating skills
Ability to work well in a team
Exceptional ability to bridge and enhance cooperative working relationships
Ability to create, monitor, and maintain systems that enhance organizational efficiency
Ability to thrive in a fast-paced, entrepreneurial environment; flexible, able to work autonomously as well as take direction as needed
Passion for closing the achievement gap
Ability to motivate, educate and empower all those they serve
All teachers at MLK Prep will demonstrate:
Strong analytical and problem-solving skills
Strong communication and negotiating skills
Ability to work well in a team
Exceptional ability to bridge and enhance cooperative working relationships
Ability to create, monitor, and maintain systems that enhance organizational efficiency
Ability to thrive in a fast-paced, entrepreneurial environment; flexible, able to work autonomously as well as take direction as needed
Passion for closing the achievement gap
Ability to motivate, educate and empower all those they serve
Every teacher at MLK Prep is expected to:
Show cultural competencies for the student population served with a nurturing instinct and empathetic spirit
Collaborate with instructional staff, other school personnel, parents and a variety of community resources to improve the overall quality of student outcomes
Counsel students for the purpose of improving performance, health status, or other personal issues
Demonstrate and differentiate methods required to perform
Successful MLK Teacher candidates possess the following characteristics:
Dedication to educational success for all students.
Proven track record of high achievement in the classroom.
Minimum of two years teaching experience in an urban public school or charter school setting preferred, but not required.
Highest commitment to improving curriculum and instruction through collaboration, best practices, regular assessment and data analysis
Effective communication skills with students, parents, and colleagues
Holds a B.A./B.S. degree with a minimum G.P.A. of 3.0
Degree in subject area intended to teach (preferred)
Valid State Certification is required.
Contact:
Visit our website at http://fraysercs.org/
*******************************
Culver City, CA
Job Category: Full Time
SUMMARY OF DUTIES
CLASSROOM
Manage the educational program for each student in assigned classroom ensuring progress on all IEP goals and district and state requirements.
Maintain communication between the classroom team, the assistant principal/principal and the school administrative staff, especially in regard to student information and attendance, class schedule changes, and the changing needs of the students and the classroom program.
Establish and maintain a behavior management system in the classroom consistent with the school's policies.
Assess individual students in all curriculum areas relevant to the IEP twice a year and document in the progress reports. Establish individual student goals and objectives and coordinate these with other services being provided to the student, using the appropriate school district form.
Develop appropriate and complementary activities (i.e., field trips or presentations) coordinating these with other school programs, and ensure that they comply with school policies.
Maintain student records including progress charts, daily or weekly grades, test scores, behavioral checksheets, incident reports, report cards, graduation worksheets, etc.
PARENT
Communicate with each parent/care provider on a weekly basis for encouragement and support; maintain a parent contact log and submit to direct supervisor every week.
Communicate with each parent prior to the IEP meeting to ensure that they are able to attend; be prepared to discuss and present the student's goals and objectives, current work samples, and test protocols.
Hold at least one progress conference yearly with the family of each student.
SCHOOL
Maintain expertise in subject matter by continuing study, research, and application of new information in the field. Maintain a valid California specialized teaching credential, wavier or permit sign for non-public school billing.
Supervise, train, and assist aides, interns, volunteers, or other trainees serving in assigned classroom. This includes clearly communicating assignments and expectations, maintaining accurate attendance records, completing performance evaluations, and initiating disciplinary actions.
Attend one evening meeting per semester, which are mandatory for parents. Attend monthly faculty meeting, weekly core and team meetings and School staff meetings as directed.
Participate in required trainings including dispensing of medication, mandating reporting, behavior management, confidentiality/HIPAA, etc.
Implement First Aid/CPR as necessary; initiate approved NCI procedures when dealing with students in crisis.
Maintain professional dress code and appearance, demeanor and boundaries.
QUALIFICATIONS
Bachelor's degree from an accredited college or university and a valid Special Education Teaching Credential. Master's Degree preferred. Two years teaching experience in special education classroom; expertise in high school math and science. Knowledge of Welligent and MS Office helpful. Bilingual (English/Spanish) helpful but not required.
WORK LOCATION
5350 Machado Road, Culver City, CA 90230
HOW TO APPLY
Qualified applicants may submit a cover letter, and resume by mail, email, or fax to: Exceptional Children's Foundation, 5350 Machado Road, Culver City, CA 90230, hr@ecf.net, fax: (310) 391-1059.
To learn more, visit www.ECF.net and connect on Facebook atwww.facebook.com/ConnectwithECF
*******************************
Memphis, TN
Job Category: Middle School Special Education Teacher
Description:
Cornerstone Prep seeks highly skilled Special Education teachers to serve students in an urban school, working in a self-contained classroom for students in grades k-5 for the 2015-2016 school year.
Opportunity:
This is a unique opportunity to build a high-performing urban elementary school that does whatever it takes to prepare students for college success. In 2012, Cornerstone Prep joined the Achievement School District, a new program created to transform Priority Schools in the state of Tennessee. Since 2012, Cornerstone Prep has successfully launched one elementary school and one middle school. Last year, Cornerstone Prep was a TVAAS 5 school last year and students showed double digit gains in proficiency over the prior year on TCAP. US Secretary of Education Arne Duncan recognized the school for outstanding student achievement during his visit to Memphis.
Cornerstone Prep will be converting Denver Elementary School to a Cornerstone Prep school, serving grades k-5, for the 2015-2016 school year and seeks founding teachers to lead this work.
Vision:
Cornerstone Prep equips all students with the Wisdom and Knowledge necessary to succeed in college and to become leaders in their community.
Requirements:
Lead the self-contained classroom throughout the school day for students who need a setting outside of the general education classroom setting
Employ special educational strategies and techniques during instruction to improve the development of skills, language, cognition, and memory
Modify the general education curriculum for special-needs students, based upon a variety of instructional techniques and technologies.
Teach personal development skills such as goal setting, independence, and self- advocacy
Observe and evaluate students' performance, behavior, social development, and physical health.
Create and maintain baseline measures and ensure all assessments conducted
Follow up with providers to confirm that IEP attendance, reports, and services are being completed
Be available for Special Education families on an as-needed basis
Maintain accurate and complete student records, and prepare reports on children and activities, as required by laws, district policies, and administrative regulations
Contact:
Visit http://www.cornerstoneprepmemphis.org for more information
*******************************
Memphis, TN
Job Category: Elementary, Middle, and High School Special Education
Description:
GCS is a great place to work, and much of that is due to our scholars as well as the great people who work here who are mission-driven.
We hire talented, diverse staff members and foster a culture of achievement, community, innovation, and leadership. GCS teachers design weekly lesson plans, develop standards-based assessments, analyze assessment data to drive results, and create intervention plans to meet our scholars' needs. In addition, GCS teachers effectively integrate technology in the classroom and implement project-based learning.
All Gestalt Community Schools have an extended day. The start and end times varies by location. However, administrators and teachers can expect to be at school from approximately 7:15 AM to 4:45 PM.
Equal Opportunity Employer:
We are an equal opportunity employer. We do not discriminate against, or in favor of, applicants or employees based upon race, color, religion, sex, national origin, pregnancy, age, non-disqualifying physical or mental disability (or the perception of such disability), veteran status, or any other status.
Contact:
www.gestaltcs.org or Bonnie Harrell bharrell@gestaltcs.org
*******************************
Memphis, TN
Job Category: Special Education Teacher
Description
Scholar Academies is seeking elementary educators who are passionate about teaching Spanish. These educators need to have a record of exceptional student achievement and outstanding classroom culture where students are self-motivated. Candidates for elementary Spanish positions in our network should be data driven and have a strong belief that all students can achieve.
About Scholar Academies
Scholar Academies focuses on improving educational equity with a direct focus on turning around low-performing schools. Our network prides itself on a student-centered culture with 100% mission alignment, dedication to high standards for all students, the drive for taking on the hardest work, and achieving breakthrough results. Our network currently has schools in Philadelphia, Washington, D.C., Trenton, and Memphis, TN.
Your Work
INSTRUCTION AND CLASSROOM MANAGEMENT
Provide excellent Spanish instruction and make every minute count in your classroom by utilizing Scholar Academies' proven school-wide systems
Develop detailed lesson plans, materials, homework assignments, and assessments based on state standards and school-wide goals for student achievement
Receive feedback and coaching from school leaders, develop achievement-oriented school culture, and maximize differentiated instruction
Measure student performance and collaborate with other teachers and leaders to design effective instructional strategies
Reward positive student behavior and hold students accountable using school-wide systems
Provide additional academic support to students after school for at least one hour per week
FAMILY ENGAGEMENT AND COMMUNICATION
Participate in school-wide family engagement activities including home visits, phone calls to family members, and school-based meetings with families
Engage and communicate with family members regularly
Requirements
Outstanding instructional skills, including the ability to motivate students and cultivate a culture of achievement
Two years or more of experience teaching Spanish, preferably in an urban public or charter school
Bachelor's degree
Must have in-state teacher certification for K-6 grade
A belief that all students should be held to high academic standards
Must be resilient, persistent, collaborative, and professional
The ability to communicate effectively with parents
Demonstrated professionalism
A positive, high-energy attitude, the ability to problem solve and a drive for excellence
A strong sense of personal accountability for student achievement
Benefits
Weekly professional development sessions
Opportunities for advancement as Scholar Academies expands toward our goal of serving more than 6,000 students across Philadelphia, DC, Memphis, and Trenton within five years
Professional connections with other expert educators who share your commitment to doing whatever it takes to close the achievement gap
Competitive salaries and benefits
Maximizing your impact by working in schools where we are raising the bar for student achievement.
Contact
To learn more about opportunities with Scholar Academies, please reach out to info atinfo@scholaracademies.org.
*******************************
Multiple locations throughout Virginia
Job Category: Teacher
Description:
The Special Education Teacher provides academic instruction in the Rivermont School program. *We currently have positions available in Lynchburg, VA, Roanoke, VA, Northern VA, Covington, VA, Fredericksburg, VA, and Hampton, VA.
Requirements:
BS/BA degree and current certification or eligible for certification by the Virginia Department of Education with endorsement in either special education general or adaptive curriculum.
Three years teaching experience with children and/or adolescents and endorsed in special education.
Benefits:
Medical, Dental, Vision benefits
Paid Time Off
Retirement Savings Plan
Dependent Life Insurance
Health Care Spending Account
Tuition Reimbursement
and more!
Contact:
Submit resumes to Whitney Clements at whitney.clements@centrahealth.com
OR
submit your application at www.centrahealth.com/careers
http://mentalhealth.centrahealth.com/services/rivermont-schools
*******************************
San Rafael, CA
Job Category: Full Time
Description:
Join a team that is making a difference! Anova, an established leader in special needs education, is currently seeking a Director for our ACE School in San Rafael, CA. This position is responsible for providing oversight and guidance to teaching and clinical staff to ensure a positive and high quality teaching environment. We are looking for an inspiring and committed leader to further our ACE mission to provide innovative educational and behavioral services to children with high functioning autism and related social, emotional, and behavioral challenges.
This is a great opportunity to showcase your management and administrative skills with an established company, in a small private school setting serving approximately 40 children.
Responsibilities include:
Management of staff and contractors
Implementation and oversight of behavioral, educational and therapeutic activities
Ensuring regulatory and policy compliance
Assistance and participation in evaluations, referrals, IEP's, etc.
Oversight of safety and facility management
Ensuring administrative and billing documentation is completed timely
Budget development and oversight
Representation of the school in the community, at events, and to agencies and clients
Requirements:
Bachelor's Degree in Human Services. California Special Education Teaching Credential and/or California Administrative Credential strongly preferred.
Experience working in an administrative and supervisory role in a special education setting.
Experience working with special education students using Applied Behavior Analysis.
Our ideal candidate will be a strong leader of people, a competent administrator, and a passionate promoter of an atmosphere that is conducive to helping students achieve their greatest potential in the least restrictive environment. A strong personal tool kit is a must: communication, administrative and technical skills, as well as current knowledge of educational laws, contracts and institutional billing.
If you meet these requirements and are ready to start a challenging and rewarding career with Northern California's most trusted provider of services to children and families living with autism and learning differences, we'd like to hear from you!
Benefits:
We offer competitive pay and benefits, mentoring, and the personal rewards of mission-based employment, in beautiful Marin by the bay, minutes north of San Francisco.
Contact:
Please email resume and cover letter to research@source-logic.net
Learn more about Anova at www.anovaeducation.org/
*******************************
New York, NY
Job Category: Special Education Teacher
Description:
NYTPS is currently seeking monolingual/bilingual New York State Special Education Teachers to provide Services for Preschool and/or School Age Children. We offer placements throughout the 5 boroughs of New York City (Manhattan, Queens, Brooklyn, Bronx, and Staten Island). Choose the locations and schedules that work for you!
About New York Therapy Placement Services, Inc: New York Therapy Placement Services, Inc. has been a leader in the educational/healthcare services arena for over 30 years. Founded in 1986, the company plays an integral part in both the public and private health care sectors. We are proud of our reputation of "excellence" and commitment to providing services in compliance with local, state and federal guidelines. Our services are diversified and we pride ourselves in working with only the most experienced clinicians that are interested in making a difference in the lives of others.
About the position:
Our office team is YOUR team, working hard to provide you guidance and help with case placement and billing.
We provide numerous workshops which can be used for your professional development units.
Assessment tools are available to you free of charge in our Lending Library.
Clinical Coordinators visit with you out in the field for guidance and support. They are always available in-person, and for phone consultation.
Full-time and part-time opportunities available. Very flexible schedules in both schools and home environments.
Requirements:
NYS Permanent Certification in Special Education or NYS Initial or Professional Certification in Students with Disabilities. (Birth-Grade 2, Grade 1-6, Grade 5-9 and/or Grade 7-12)
ABA experience a plus.
Cannot be concurrently employed by NYC DOE.
Bilingual Certification or passing score on the BEA Exam in any language welcome especially: Spanish, Mandarin/Cantonese, Hindi, Urdu, Punjabi, Russian, Arabic, Hebrew, etc.
Benefits:
Flexible scheduling
Flexibility in selecting case preferences (preschool, school age or home care)
Opportunities are available based upon your geographical preferences
The support of our Placement Coordinators and Clinical Supervisors
Active therapists will receive discount towards our Workshops to earn Professional Development hours and CEU Credits!
Contact:
Please contact for more information:
Annie Demuccio: annie.demuccio@nytps.org
You can also apply through our career center:
http://bit.ly/1YIMopw
*******************************
Brooklyn, NY
Job Category: Upper School Teachers - Math/Science/Spanish
Description:
The Mary McDowell Friends School, a K-12 college preparatory school for students with learning disabilities, is expanding its upper school and is seeking to fill positions for the 2016-17 academic year.
Requirements:
* Upper School Math Teacher MA required, Special Education experience a plus
* Upper School Spanish Teacher MA required, Special Education experience a plus
* Upper School Assistant Science Teacher BA required, Special Education experience a plus
* Assistant Director of College Guidance BA required minimum of three year experience in college admissions or high school college placement
Contact:
Please email cover letter and resume to angelams@mmfsnyc.org or mail to:
Mary McDowell Friends School
c/o Angela Meyer-Sooknarine
20 Bergen Street
Brooklyn, NY 11201
No phone calls or faxes please. EOE
*******************************
Burlingame, CA
Job Category: Special Education Preschool Teacher
Definition:
Under the supervision of the Director of Special Education, the SDC Preschool Teacher will provide specialized academic instruction utilizing appropriate strategies to identified students with moderate to severe learning disabilities.
Essential Functions and Job Duties:
Any one position may not include all of the listed duties nor do all of the listed examples include all the tasks that may be found in positions within this classification.
Familiar with early childhood development including social-emotional, language, physical and school readiness
Provide students with specialized instruction based on their identified needs
Monitors student progress using data that reflects students performance on his or her IEP goals; adjusts instruction as needed
Schedules IEPs within expected timelines
Completes all IEP paperwork in a timely and accurate manner
Prepare and maintain student records
Acts as a case manager for assigned students
Familiar with state preschool framework
Plan, design and implement a comprehensive standards-based curriculum
Ensure proper implementation of educational programs including designing and implementing behavior supports, sensory strategies and other interventions to support student learning
Establish and maintain cooperative and effective working relationships with parents, general education teachers and other service providers and agencies
Communicate effectively with team members, staff and agency representatives
Demonstrate knowledge of special education law and well as SELPA and District policies and procedures
Participate in professional development and maintain a high level of professional competence
Establish and maintain a safe, orderly and child-centered classroom
Perform other duties normally required to be performed by certificated employees as adjunct to the regular teaching assignment
Willingness to toilet train.
Qualifications:
Any combination of education, training and experience which demonstrates ability to perform the duties and responsibilities as described
Experience and Education:
Valid California Education Specialist/ECSE credential (Early Childhood Special Education). Knowledge of Applied Behavior Analysis Principles (ABA) and the ability to implement behavior programs.
Other requirements:
Valid California drivers license and evidence of insurance
Physical demands: Ability to lift up to 30 pounds.
How to Apply:
To apply, please complete district Edjoin application and attach Letter of Intent, Resume, Reference letters, Copy of Credential(s). https://www.edjoin.org/Home/JobPosting/790964
Benefits:
Burlingame School District is located on the beautiful San Francisco Peninsula within easy commuting distance of San Francisco and many other areas serving educational, cultural, and recreational interests.
Burlingame School District features six TK-5 elementary schools (Hoover School is newly opening for 2016/17) and one 6-8 intermediate school totaling an enrollment of approximately 3300 students. These neighborhood schools provide high quality instruction and attention to each child's needs.
Programs, which include a Spanish Immersion program for grades K-8 and Project Base Learning for grades 6-8, are characterized by cooperative learning, small group instruction, and peer tutoring, direct design thinking and 21st Century learning and integration of technology. Excellence is our goal and our schools rank at the highest level in the California State Testing measures.
Contact:
Victoria Ouye
vouye@burlingameschools.org
650-259-3810
www.bsd.k12.ca.us
*******************************
Yuma, AZ
Job Category: Special Education Teacher for grades K-5
Description
Teachers are critical to student success, both academically and personally. Desert View Academy is a character-based school and aspires to teach the whole child. Consequently, DVA seeks to hire educators who embody certain traits. These traits include, but are not limited to: maintaining high expectations of themselves and their students at all times; addressing all students, families, and colleagues with respect; solution-seeking and optimistic mindsets; critical thinking skills; the ability to take and give constructive feedback; the ability to adapt to change and unexpected situations; willingness to adapt to individual students needs.
Essential functions of the job
Provide instruction sufficient to achieve student performance results, while maintaining professionalism with students, co-workers, administrators, volunteers and parents.
Assure instructional integrity within a learning culture consistent with Desert View Academy and state standards.
Comply with all board policies and organizational processes, while supporting the overall mission of the organization.
Maintain all safety rules and expectations throughout the campus.
Multitask, establish and rearrange priorities, and maintain focus in a fast-paced environment
Attend all professional development meetings and opportunities for professional growth and
Demonstrate a continual focus on self-improvement and continuous learning
Know, understand and use digital curriculum in both the student and administrative arenas
Work with parents to build good working relationships with each family
Participate in outdoor activities which may include play ground supervision, safety drills, traffic duties, etc.
Perform all other duties as assigned by Building Leaders or Administration
All tasks associated with serving as a special education teacher are applicable.
Benefits
Desert View Academy is located in Yuma, AZ. We provide excellent benefits, competitive pay and a generous time-off schedule. You will find additional information about our salary and benefits on our website: http://www.desertviewacademy.com/employment/. We offer mentoring for new teachers and teachers who are new to Desert View Academy. We also offer a relocation stipend for those moving to the area.
Contact
Deb Weigel, Principal
928-314-1102
dweigel@desertviewschools.com
In order to apply for a position with Desert View Academy please go to:
http://www.desertviewacademy.com/employment/
There you will find a link to the Applicant Portal. Follow the link to the portal, create an account, and complete the application. Applications for a position cannot be submitted until you have completed your profile.
*******************************
Dhahran, Saudi Arabia
Job Category: Teacher
Description:
As one of the world's largest fully integrated energy enterprises, Saudi Aramco not only looks for individuals who can meet its expectations but for those individuals who can exceed them. Our intent is to become the world's leading integrated energy company by 2020, and to accomplish our goals, we want and encourage you to Dream Big. The professional rewards at Saudi Aramco are amazing, but so, too, are the lifestyle and benefits.
Saudi Aramco Expatriate Schools (SAES) is a well-established American curriculum school owned and operated by Saudi Aramco that opened its doors in 1944 as a one-room schoolhouse. Today, the district is comprised of six schools in four beautiful residential communities that enroll over 4,500 expatriate children who represent more than 80 nationalities. Employees of the Saudi Arabian Oil Company enjoy a highly competitive compensation and benefits package, generous vacation schedule, and a family-friendly lifestyle. SAES strives to be a preeminent school system where students achieve their maximum potential in a culture of continuous improvement. In support of this vision, SAES is seeking highly qualified, accomplished, passionate, and collaborative educators who love to work with children, aspire to learn and grow, and eager to embark on a life-changing opportunity.
Candidates must possess a Bachelor's or a Master's degree with specialization in appropriate subject/grade and hold a valid North American teaching certificate/license that reflects relevant endorsement(s).
SAES Special Education Teachers work collaboratively to plan, implement, and evaluate meaningful and developmentally appropriate interventions aligned to the SAES curriculum using adopted and approved programs, materials, resources, and instructional practices. Special Education Teachers adhere to their professional organization code of conduct and research based educational practice. In addition, Special Education Teachers are responsible for nurturing positive professional relationships and for working collaboratively with students, parents, and colleagues to optimize the educational experience for the entire learning community. Special Education Teachers perform under the supervision of school principals and in frequent partnership with other educators, paraprofessionals, and parent volunteers.
Requirements:
Apply in-depth knowledge of special education, developmental and learning theory. Deliver effective individual, group and classroom learning support as needed. Display classroom management and instructional skill while teaming with colleagues. Promote student responsibility for learning. Provide responsive support through instruction, consultation, and referrals. Demonstrate leadership and advocacy for student learning. Identify appropriate and measurable achievement goals for student progress. Use resources effectively to support individual/group learning differences. Model the collection, interpretation, and use of student learning data to optimize learning. Uphold and enforce Company and School Board policies, administrative procedures, school rules and regulations. Engage actively in ongoing regional, district, school and independent professional learning and development to hone professional knowledge, skills, abilities.
A minimum of six years of full-time experience in a preK-12 school setting is required. Candidates must have worked full-time in an educational setting within the past three years.
Membership in professional organizations preferred.
APPLY HERE:https://krb-sjobs.brassring.com/1033/ASP/TG/cim_jobdetail.asp?partnerid=25270&siteid=5398&AReq=13389BR&Codes=ASC-W-NASET
OR EMAIL:Nicole.hopkins@aramcoservices.com
*******************************