February 2016 - Special Educator e-Journal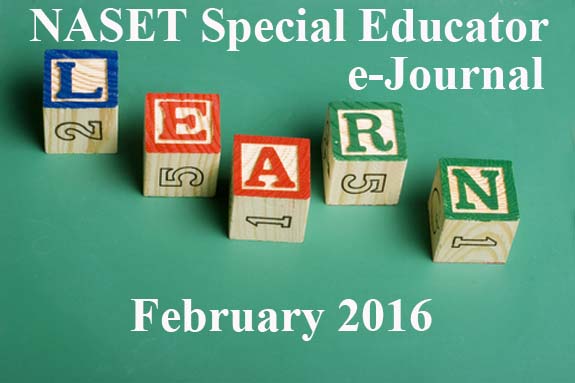 Table of Contents
Update from the U.S. Department of Education

A Review and Educational Application: Cognitive Disability and its Challenge to Moral Philosophy. By Elizabeth E. Williams

Buzz from the Hub

From the Journal of American Academy of Special Education Professionals (JAASEP): Elements of Good Teaching and Good Teachers: A Theoretical Framework and Effective Strategies for Special Educators. By Dr. Vance Austin
Latest Employment Opportunities Posted on NASET

Acknowledements

Download a PDF or XPS Version of This Issue



---
NASET Members - Login Below to access the latest Special Educator e-Journal.
Site visitors: You may access a sample e-Journal - Sample e-Journal
---
To learn more click on the image above or - Click here
---
To learn more click on the image above or - Click here
---
Latest Employment Opportunities Posted on
NASET
Bahrain
Job Category: Early Intervention
Description:
Magnum Medical has openings for Early Childhood Special Educators to work with children of American military families stationed at Bahrain. Position works in a home-based early intervention program, providing services to infants and toddlers of American military families stationed overseas.
Requirements:
Bachelor's or Master's degree in Special Education
US citizenship
Minimum of two years experience within the last five years working with developmentally delayed children in the 0, 1 & 2-year age population in a home-based early intervention capacity
A current state teaching license/certification to teach in this capacity.
Benefits:
Generous paid time off
Relocation
Competitive tax-advantaged compensation provided.
Contact:
LynnR@magnummedicaloverseas.com or fax resume to 513-984-4909
*******************************
Phoenix, AZ and Tucson, AZ
Job Category: Special Education Teacher
Description:
$48,000/school year (180 days). Summers off with year round pay. Special Education Teachers needed in Arizona (Phoenix and surrounding cities). Needs are in the self-contained and resource settings serving students with emotional disabilities (ED), Autism (A), Severe/Profound (S/P), and Intellectual Disabilities (ID). STARS is the largest school contract agency in AZ. STARS is owned and operated by Occupational Therapists. You will be an employee and receive full benefits (see below). With a proven track record, STARS is able to offer you an unbeatable support system and resources. STARS is hiring for the 2015-2016 school year. STARS places Special Education Teachers throughout the Phoenix, Tucson and the surrounding area public schools.
Requirements:
Certification through the AZDOE, in Special Education
Arizona Fingerprint Card through AZDPS
We will help you get the credentials needed and reimburse you for the cost.
Salary:
$48,000/SCHOOL YEAR, BASED ON 180 DAYS
STARS also offers a fantastic benefit package including:
16 weeks off
100% Company paid Health, Dental, and Life Insurance
$1,000/year Continuing Ed Money
Paid DOE Certification Fees
Paid NASET Dues
Spanish Immersion trip
Hawaii Trip for two
401K
125 Plan
Direct Deposit
Evaluation tools and treatment supplies
Two company sponsored parties with professional entertainment
Company newsletter
STARS sponsored dinner meetings with national/local speakers
Yearly raises
Referral bonuses
Moving $
Birthday gifts and other appreciation throughout the year

Genuine Appreciation
YOU WILL FEEL LIKE A STAR!!!
Contact:
Brian Paulsen, COO #480.221.2573; Please email your resume to Jobs@StudentTherapy.com; Apply Online at StudentTherapy.com, we would love to hear from you!
*******************************
Nashville, TN
Job Category: Special Education Teacher
Who We Are
RePublic Schools is a network of high-performing public charter schools based in Nashville, TN and Jackson, MS with a mission to reimagine public education in the South and prepare all of our scholars to graduate from college. In addition to providing a world-class traditional academic curriculum, we empower our students to be change-makers by teaching them to code – starting in the 5th grade.
Despite the fact that our scholars come from traditionally underserved communities (approximately 85% identify as low-income, and nearly 95% as students of color), we have seen them defy the odds to achieve outstanding results. RePublic's schools have scored in the top 5% of all open-enrollment public schools across the state of Tennessee for both student growth and absolute achievement – making ours the first (and only) charter schools in state history to achieve this dual distinction.
At RePublic, we cultivate a cohesive community of families, staff, and scholars committed to doing whatever it takes to ensure our scholars succeed. We are looking for dynamic, determined Special Education Teachers to lock arms with our school teams in Nashville and Jackson for the 2016-2017 school year. Candidates must share our unwavering belief that all children can achieve at high levels and change the world. Sound like you?
What You'll Do
[Bring it] Have stamina and the ability to set and achieve ambitious goals, and handle the intensity required to bring your best self to an extended school day in a very high-performing school environment.
[Own your content] Study RePublic curriculum and Common Core Standards, do the intellectual prep needed to deliver rigorous and inspiring instruction in whole-class and small-group settings, and make necessary modifications and accommodations based on qualitative and quantitative data to meet differentiated student needs.
[Reach higher] Work with stakeholders to set ambitious academic and character development goals for students with IEPs, review student 504 plans and IEPs and lead IEP meetings, and monitor progress of students with IEPs.
[Sweat the small stuff] Develop, uphold, and implement RePublic's values, policies, and systems; Oversee compliance of special education files, track discipline data to ensure special education procedures are implemented, and assist school teams in coordinating, managing, and administering assessments with needed modifications for students with IEPs.
[Never stop growing] Offer and receive constructive feedback from colleagues in order to create a professional working atmosphere that aspires to excellence and is conducive to constant improvement; dive humbly into school-wide and individual professional development, including pre-service training over the summer and weekly sessions during the academic year.
[Spread the love] Build deep relationships with students, families, and staff to foster a culture of joy and community. Maintain strong lines of communication with families about student progress, and go above and beyond to support and collaborate closely with teammates in the united pursuit of RePublic's mission.
Who You Are
A steadfast believer that all students can achieve academic excellence. A growth-minded tinkerer who is constantly learning, improving, and hungry for feedback. A gritty problem-solver who approaches challenges with smart solutions in mind. An eternal optimist who supports and motivates your teammates by having their back. A detail maven who plans backwards to meet timelines and manage complex projects. A data-driven analyst who reflects and takes swift action based on results. A proactive communicator who reaches out to students, families, and teammates
The Fine Print
[Qualifications/Certification] All candidates must have a Bachelor's degree; Master's degree is a plus. All full-time RePublic teachers must have a valid Tennessee or Mississippi teaching license, or willingness/eligibility to pursue state certification in Special Education, if necessary.
[Prior Experience] Prior experience teaching, experience teaching in a low-income community, and a demonstrated ability to raise achievement levels of traditionally underserved students highly preferred.
Student Supports Teachers will serve special education students at either the middle or high school level. Teachers will be placed at one of our schools in Nashville: Liberty Collegiate Academy, Nashville Prep, Nashville Academy of Computer Science, RePublic High School, Smilow Prep, or Reimagine Prep.
Salary is competitive and commensurate based on experience. Compensation at RePublic includes a comprehensive benefits package.
Contact
Kyli Lamar
Associate Director of Talent
klamar@republiccharterschools.org
Apply at: http://grnh.se/rjiyb8
*******************************