February 2015 - Special Educator e-Journal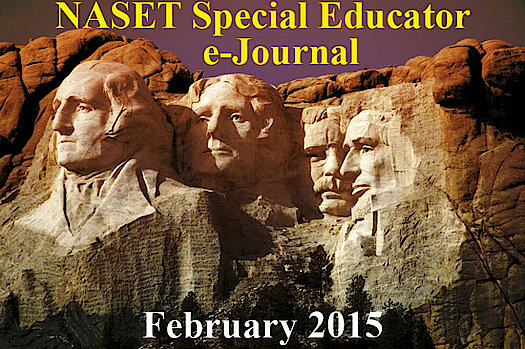 Table of Contents
Update from the U.S. Department of Education

Parent Challenges in Navigating the Special Education System: A Review of the Literature By Alexis L. Gregory

National Collaborative on Workforce and Disability

Legislative Announcements, Calls to Participate and New Projects

Latest Employment Opportunities Post on NASET

Upcoming Conferences and Events

Funding Forecast and Award Opportunities

Acknowledgements

Download a PDF or XPS Version of this Issue
________________________________________________________________________________________
NASET Members - Login Below to access the latest Special Educator e-Journal.
Site visitors: You may access a sample e-Journal - Sample e-Journal
---
To learn more click on the image above or - Click here
---
To learn more click on the image above or - Click here
---
Latest Employment Opportunities Posted on
NASET
New Campus in the City of Surprise, AZ
Job Category: Special Education
EDUCATORS JOB FAIR
Legacy Traditional Schools is opening its 9th campus in Surprise, Arizona! LTS is hiring for all kindergarten, elementary, junior high and special education teacher positions for the 2015-2016 school year. Founded in 2007, the Legacy Traditional School District has been awarded an "A" rating from the AZ Department of Education since the inception of its rating program and is fully accredited by AdvancEd. Legacy Traditional Schools is the largest K-8 charter school district in the state of Arizona and ranked as one of the top Arizona school districts. Using a back-to-basics curriculum in a structured, accelerated classroom environment, our teachers build a legacy of learning and achievement for students.
Please visit us at one of our upcoming job fairs:
Marley Park Heritage Pool House
15210 W. Sweetwater Ave.
Surprise, AZ 85379
Tuesday, January 27th 11:00 a.m. - 6:00 p.m.
Wednesday, January 28th 11:a.m - 6:00 p.m.
Tuesday, February 3rd 11:00 a.m. - 6:00 p.m.
Wednesday, February 4th 2:00 p.m. - 6:00 p.m.
Screening interviews will take place each job fair. For more information or to apply for a position online, please visit http://surprise.legacytraditional.org/.
***************************************************
Phoenix, AZ
Job Category: Special Education Teacher (Public Schools)
Description:
$46,000/year with 16 weeks off. Special Education Teachers needed in Arizona (Phoenix and surrounding cities). Needs are in the self-contained setting serving students with emotional disabilities (ED), Autism (A), Severe/Profound (S/P), and Intellectual Disabilities (ID). STARS is the largest school contract agency in AZ. STARS is therapist owned and operated. You will be an employee and receive full benefits (see below). With a proven track record, STARS is able to offer you an unbeatable support system and resources. STARS is hiring for the 2015-2016 school year. STARS places Special Education Teachers throughout the Phoenix, Tucson and the surrounding area public schools.
Requirements:
AZ Special Education Certification and AZ Fingerprint Card. We will help you obtain these credentials and reimburse you for the cost.
Benefits:
16 weeks off, 100% Company paid Health, Dental, and Life Insurance, $1,000/year Continuing Ed Money, Paid DOE Certification Fees, Paid NASET Dues, Spanish Immersion trip, Hawaii Trip for two, 401K, 125 Plan, Direct Deposit, Evaluation tools and treatment supplies, Two company sponsored parties with professional entertainment, Company newsletter, STARS sponsored dinner meetings with national/local speakers, Yearly raises, Referral bonuses, Moving $, Birthday gifts and other appreciation throughout the year, Genuine Appreciation
Contact:
Brian #480.221.2573; Please email your resume to Jobs@StudentTherapy.com; Apply Online at StudentTherapy.com, we would love to hear from you!
***************************************************
Houston, TX
Job Category: Full Time
ROLE OVERVIEW:
Provide Special Education students with learning activities and experiences designed to help them fulfill their potential for intellectual, emotional, physical, and social growth. Develop or modify curricula and prepare lessons and other instructional materials to student levels. Work in instructional settings as assigned.
QUALIFICATIONS:
Education and Knowledge:
Bachelor's degree from an accredited institution, with a focus on Education, plus a minimum of 1-5 years of teaching experience
Texas Teaching certificate in Special Education
Highly Qualified teacher in accordance with NCLB and the State of Texas qualifications
Knowledge of federal and state Special Education law
INTERVIEW WITH KIPP HOUSTON
Learning Specialist Interview Day
Wednesday, January 28th
For more information, visit
http://kipphouston.org/learning-specialist-sped-interview-day
Contact

:
Danielle LaSaint
Manager of Recruitment
dlasaint@kipphouston.org
832-328-1051
***************************************************
Okinawa, Japan
Job Category: Early Intervention
Description:
Magnum Medical seeks adventurous Early Childhood Special Educator to work with infants and toddlers of American military families stationed overseas, in a home-based early intervention program. The position currently available is located at Okinawa, Japan, a warm tropical island off the southern coast of Japan!
Requirements:
Position requires a degree in Special Education, a minimum of two years experience recently working with developmentally delayed children in the 0, 1 & 2-year age population in a home-based early intervention capacity, and a current state teaching license/certification to teach in this capacity.
Benefits:
Relocation, medical and dental benefits, competitive tax-advantaged compensation.
Contact:
Lynn Romer at LynnR@magnummedicaloverseas.com or 800-852-5678 x.156 or fax 513-984-4909
***************************************************
Boston, MA
Job Category: Early Intervention
Description:
Provides therapeutic intervention with children and their caregivers as needed on assigned cases. Provides service coordination of assigned cases, including home visits, crisis management collateral contacts, and transition planning. Facilitates developmental assessments on all assigned cases and participates in assessments of children assigned to other team members, including doing the written reports of such assessments. Provides group leadership as assigned (parent and /or child groups), including planning, setup, cleanup and playroom maintenance with co-leader Maintains written case records in accordance with QA requirements/ Attends all necessary meetings (such as CORE s) prior to child,s transition out of the program
Requirements:
Master's degree in Clinical Psychology, Mental Health Counseling or Social Work, Master's or Bachelor's Degree in Early Childhood Education, Special Education, or Nursing (plus MA license).
Contact:
Recruiter - recruiter@baycove.org
Bay Cove Human Services
66 Canal Street
Boston,MA 02114
***************************************************
Ann Arbor, MI
Job Category: Clinical Assistant/Clinical Associate/Clinical Full
(Note: This is an open rank, three-year, time-limited appointment with the possibility of renewal)
The School of Education at the University of Michigan prepares elementary and secondary teachers to be proficient in working with all students, including students with special needs. We are seeking an individual who will collaborate with other teacher educators to enhance attention to exceptional children and youth across the teacher education program through instruction, program design, mentoring, and faculty professional development. The appointment is a full-time, 12-month appointment. The position is a Clinical Assistant/Clinical Associate/Clinical Full appointment. The rank of the selected candidate will depend on qualifications.
The School of Education has an ambitious and coherent agenda focused on the study and improvement of practice and the advancement of diversity and equity. We seek to understand what is entailed in equitable instruction and to help professionals learn to enact it in contexts that are demographically diverse and institutionally underserved. In addition to a strong commitment to teaching in our teacher preparation programs, the successful candidate should, through his/her research, teaching, and/or service, contribute to the development of professionals who have the skills necessary to teach effectively in a society that is racially, ethnically, socio-economically, and linguistically diverse and whose schools are inequitably resourced.
Applicants should have deep knowledge of exceptionalities and, ideally, K-12 teaching or comparable field experience, along with expertise in and commitment to teacher education. Because patterns of referral to gifted education and certain categories of special education are highly associated with race, class, and gender, candidates should also be able to bring critical perspectives on issues related to the assignment and outcomes of special education services in schools.
Applicants should be prepared to participate actively in the school's endeavors to:
transform initial teacher preparation;
consider how the university can support teachers' learning across their careers: and
contribute to a program of scholarship of practice that focuses on learning in, from, and for the practice of teaching.
POSITION EXPECTATIONS
The faculty member is expected to work across the entire teacher education spectrum including our undergraduate and master's with certification programs, and at both the elementary and secondary levels. The faculty member will be expected to maintain a strong record in teaching, engage in a  program of scholarship of practice, and demonstrate strong service to the school and wider professional communities. Topics of instruction will include differentiated instruction, instructional accommodations, inclusive instruction, special education law, disability categories and characteristics,  gifted education, Individualized Education Plans (IEPs), and Response- to-Intervention (RTI), among others. In addition, the faculty member must be well versed in issues  related to the inequitable assignment of students to special education and have demonstrated the  ability and knowledge to engage teacher candidates in critical consideration of issues of equity and  social justice with respect to special education services.
Because this faculty member will help provide instruction for all students enrolled in certification programs, we anticipate that this individual will also help identify, work with, and supervise other consultants/instructors in this field.
REQUIRED QUALIFICATIONS
The individual will have the following qualifications:
An earned doctorate in education or related field with evidence of expertise related to exceptionalities
Significant teaching and teacher education experience with undergraduate and/or master's degree students, especially in the area of exceptionalities
Significant teaching or relevant field experience at the elementary and/or secondary level, particularly demonstrating the ability to address the needs of a wide range of learners
A demonstrated interest in or commitment to advancing equity in teaching and learning in demographically diverse and/or underserved settings
Capacity to design and develop new teacher education courses, learning experiences, and larger programs in collaboration with others, including capacity to design alternative learning experiences (e.g., different time frames, different locations, different resources, hybrid or online offerings)
Capacity to relate to and instruct a wide range of students
Capacity to work collaboratively and to build relationships with faculty, staff, and students in the teacher education program as well as public school faculty and leadership
Familiarity and experience with public education systems and policies
Capacity to teach exceptionalities courses in a teacher preparation program
A developing or established program of scholarship of practice in exceptionalities with clear connections to teacher education
Ability to serve as lead faculty in exceptionalities to assist in programmatic work with other faculty members in teacher education
DESIRED QUALIFICATIONS
In addition to the required qualifications, the following are strongly desired qualifications, and can
influence selection:
Ability to draw upon current research in program design and development and teacher preparation
Experience teaching in K-12 schools serving demographically diverse or historically marginalized communities
Experience with and knowledge of the use assistive and adaptive technologies
Ability to develop working relationships with districts to facilitate the use of schools as rich sites for intern learning
Familiarity and experience with the current teacher education programs in the School of Education
Familiarity and experience with teaching/learning resources within the university and wider community
Familiarity with state and federal standards for teachers, and particularly the standards' use of Universal Design for Learning (UDL)
Ability to work with state leaders on issues related to exceptionalities in teacher education
The University of Michigan School of Education is an equal opportunity employer with a strong institutional commitment to the development of a climate that supports equality of opportunity and respect for diversity. The program seeks to be supportive of the needs of dual career families, and is interested in individuals who may have had non-traditional career and academic paths. Nominations and applications will be reviewed beginning February 20, 2015 and the review process will continue until the position is filled. We seek to make an appointment to begin on August 1, 2015.
Candidates are asked to submit a letter of interest, a curriculum vitae, a sample that demonstrates scholarship of practice (such as an article, PowerPoint from a conference presentation, curriculum example, or similar artifact that conveys a focus on advancing knowledge of and/or skill with teaching), and the names of four professional references. In the letter of interest, the candidates should be sure to describe their teaching experience, the focus of their scholarship, and the ways in which their work contributes to the advancement of diversity and equity. Please submit materials electronically to umexceptionalities@umich.eduwith the subject line Exceptionalities Search. For questions or to make arrangements for sending hardcopy materials, please contact the search committee, c/o Ms. Nancy Fleming at the same email address.
***************************************************
Greenville, SC
Job Category: Director
Christ Church Episcopal School has retained STA to run the search for its next Achievement Center Director. The Achievement Center (AC) opened in 2012 after a year of planning by founding director Pam Kaizar and school leaders, faculty, and community members. Today, the year-round program provides learning support, tutoring, enrichment, and ESOL services to approximately 300 CCES students, as well as summer programs for the wider Greenville community.
The Director, a member of the administrative council reporting to the Head of School, will be responsible for ensuring that this model program is guided in all respects by CCES's mission, and that it maintains its strengths and retains the community's confidence. The Director will lead continued growth in the AC Summer Institute in order to broaden the program's reach, to serve more students, and to enhance CCES's local leadership presence. The Director will also further develop the Center's enrichment program, particularly in the Lower School, to provide differentiated instruction for highly capable students.
To accomplish these goals, the Director will cultivate strong relationships with all constituencies in support of student needs: division leadership, faculty, families, students themselves, friends and local supporters, and professional colleagues in the greater community. The Director will facilitate program growth by maintaining a visible presence on campus, in classrooms, and at school events; by communicating and collaborating effectively and often with division leaders, faculty, and families; and by providing consistent oversight of AC services to students. The Director will manage all programs; hire and supervise staff (currently six full-time and two part-time faculty, 32 part-time tutors, and ten outside service providers); serve as a school-wide resource for enrichment and remediation; participate in the admission process across all divisions; and manage the AC budget and finances.
Founded in 1959, CCES enrolls over 1,150 students in primer (kindergarten) through grade twelve. CCES is an International Baccalaureate (IB) World School, offering 29 IB courses. The Upper School also offers 22 AP courses and is a member of the Global Online Academy. As an Episcopal school, CCES is committed to developing the full range of students' abilities and interests: intellectual, artistic, athletic, spiritual, and the critical character traits that ensure a satisfying life. Greenville is the North American headquarters for Michelin and home to the BMW NA Plant and Visitor Center (the largest output of any BMW plant worldwide), the International Center for Automotive Research (ICAR), and Furman University. Just 35 minutes away is Clemson University. The Peace Center for the Arts is a hub for visiting performers, Broadway productions, and the Greenville Symphony Orchestra. The Bon Secours Wellness Center attracts such major artists as the Rolling Stones, James Taylor, and Elton John. Greenville offers a high quality of life in an internationally diverse community.
Please visit www.SouthernTeachers.com for a full position profile and application instructions. Please do not contact the school, but feel free to direct questions or suggestions for candidates to Mr. Jamie Estes at Estes@SouthernTeachers.com or 434-295-9122.
***************************************************
Washington DC
Job Category: Full Time
Description:
The Assessment Program at the American Institutes for Research (AIR) is a well regarded organization that is growing rapidly. We focus on providing our clients with customized assessments that not only measure student achievement against state standards, but also provide meaningful score reports that can help students, parents, and educators address any areas of student weakness. Our environment is fast-paced and requires people at all levels who are willing to roll up their sleeves to get the work done on time while maintaining high quality. We are currently seeking a Program Manager to join our Alternate Assessments team in Washington, DC.
The responsibilities of the Program Manager (Alternate Assessment) include:
Working with internal staff and subcontractors to develop processes, procedures, and schedules for meeting project deliverables and client needs.
Working with state clients to ensure that all plans and schedules are viable, that the state understands their roles and deadlines, and that clear lines of communication are established.
Developing meeting agendas, chairing meetings, and documenting decisions.
Ensuring that a master schedule is developed and maintained of deadlines and deliverables and making sure that all project staff are aware of the parts of the master schedule that affect them, and are aware of all changes that are made to the schedule.
Providing information, support, direction, and problem-solving to the clients, as needed, in a manner that provides positive solutions, and if needed, adjusts current processes to improve the delivery, coordination, or quality of the product.
Managing changes of scope so that all necessary changes to contracts, budgets, and activities, and schedules are in place.
Making sure that other members of the project team are aware of any changes to the project scope.
Coordinating among the senior staff members who manage the various project teams (item development, technical, reporting, website, databases, etc.) and making sure that each team receives what it needs from the other teams.
Keeping AIR senior management informed of any potential project problems, including issues with a client or another stakeholder and any potential for missed deadlines or budget over-runs.
Managing subcontractors.
Monitoring budgets.
Qualifications:
Minimum education: Masters degree or equivalent, preferably in special education or a related field.
Experience instructing students (K-12) with significant cognitive disabilities in academic content areas.
Minimum of 4 years of progressively increasing responsibility managing tasks and projects in a fast-paced environment.
Ability to travel 25-40%, the peak being in the January-February timeframe.
Experience working in large-scale assessment or a related field, such as publishing or large-scale surveys is a plus.
Experience working with clients.
To apply please go to:
https://jobs-airdc.icims.com/jobs/7794/program-manager-%28alternate-assessment%29/job
***************************************************
Washington, DC
Job Category: School Year 2015-16
Opening Date: School Year 2015-16
Number of openings: Varies by content area
Our students need your expertise, passion and leadership.
We are looking for highly motivated and skilled talent to join our team at the District of Columbia Public Schools (DCPS). We seek individuals who are passionate about transforming and improving educational outcomes for our students.
In DCPS, 4,000 teachers serve the needs of 47,000 students across 110 schools. As part of a comprehensive reform effort to become the best urban school system in America, DCPS intends to have the highest-performing, best paid, most satisfied, and most honored educator force in the nation whose work drives significant achievement gains for DCPS students.
Responsibilities
Develop and implement curricula to meet academic standards
Thoughtfully plan daily lessons and implement specific strategies to meet the needs of all students, providing extra support, enrichment, or variation of work when necessary
Be accountable for students' academic growth and increase each individual student's achievement
Design and implement assessments that measure progress towards academic standards and diagnose areas of student misunderstanding
Use assessment data to refine curriculum and inform instructional practices
Create a positive, achievement-oriented learning environment
Reflect on successes and areas of growth as a teacher, seek to improve performance, and respond to feedback
Participate in collaborative curriculum development, grade-level activities, and school-wide functions
Invest parents and families in their children's academic success through regular communication
Perform other related duties as assigned.
Qualifications
Bachelor's degree
Possesses or is eligible for a valid District of Columbia Teaching License (for more information on DC Teacher Licensure, please visit the website of the Office of the State Superintendent of Education at osse.dc.gov/service/teacher-licensure)

Successful completion of Praxis I and II exams (unless holding a standard teaching license)
Meets Highly Qualified status as defined by the NCLB mandates
Strong instructional skills and classroom management
Ability to self-reflect on teaching practices and be responsive to feedback
Personal Qualities of Top Candidates
Commitment to Equity: Passionate about closing the achievement gap and ensuring that every child, regardless of background or circumstance, receives an excellent education.
Leadership: Coaches, mentors, and challenges others to excel despite obstacles and challenging situations.
Focus on Data-Driven Results: Relentlessly pursues the mastery of instruction based on student performance, and is driven by a desire to produce quantifiable student achievement gains.
Innovative Problem-Solving: Approaches work with a sense of possibility and sees challenges as opportunities for creative problem solving; takes initiative to explore issues and find potential innovative solutions.
Adaptability: Excels in constantly changing environments and adapts flexibly in shifting projects or priorities to meet the needs of a dynamic transformation effort; comfortable with ambiguity and non-routine situations.
Teamwork: Increases the effectiveness of surrounding teams through collaboration, constant learning and supporting others; sensitive to diversity in all its forms; respects and is committed to learning from others
How to apply
To apply, visit our website at www.joindcpublicschools.com, and complete our online application.
Questions
If you have any questions, please email us at dcpscareers@dc.gov, or call us at 202-299-2145.
Stay Informed!
Follow us on Twitter at @dcpsjobs, or become a fan of DCPS Jobs on Facebook.
CRIMINAL BACKGROUND CHECK
In accordance with the Criminal Background Checks for the Protection of Children Act of 2004, this position has been designated and identified as one which requires a criminal background check and/or traffic record check. If you are tentatively selected for the position, a criminal background check will be conducted. A final offer of employment is contingent upon the receipt of a satisfactory criminal background check.
NOTICE OF NON-DISCRIMINATION
In accordance with Title VI of the Civil Rights Act of 1964, Title IX of the Education Amendments of 1972, Section 504 of the Rehabilitation Act of 1973, the Age Discrimination Act of 1975, Title II of the Americans with Disabilities Act of 1990 and the D.C. Human Rights Act of 1977, as amended, District of Columbia Official Code Section 2-1401.01 et seq. (Act), the District of Columbia Public Schools (DCPS) does not discriminate (including employment therein and admission thereto) on the basis of actual or perceived race, color, religion, national origin, sex, age, marital status, personal appearance, sexual orientation, gender identity or expression, family status, family responsibilities, matriculation, political affiliation, genetic information, disability, source of income, status as a victim of an interfamily offense, or place of residence or business. Sexual harassment is a form of sex discrimination, which is prohibited by the Act. In addition, harassment based on any of the above-protected categories is prohibited. Discrimination in violation of the aforementioned laws will not be tolerated. Violators will be subject to disciplinary action. Inquiries regarding the non-discrimination policies of DCPS will be handled as follows:
Employees with inquiries regarding non-discrimination policies related to employment and employees should contact:
Equal Employment Opportunity Specialist
Office of Labor Management & Employee Relations
District of Columbia Public Schools
1200 First St, NE, 10th Floor, Washington, DC 20002
(202) 442-5424
***************************************************
Palo Alto, California
Job Category: Teacher
Sand Hill School
A Great Place to Work!
The Sand Hill School Classroom teacher possesses a passion for teaching children who learn differently and team-teaches a class of about 12 students with learning, attention and social challenges. The Classroom teacher is responsible for designing a personalized program for each student that leads to increased student outcomes and a successful transition to a more typical classroom. The Classroom teacher collaborates effectively with their teaching partner in the classroom to deliver instruction, assess and track student progress, and effectively communicate with parents.
Requirements:
Know students well.
Adapt instruction.
Ensure all students meet or exceed expected growth.
Act professionally.
Work with teaching partner to develop instruction and monitor student progress.
Communicate effectively & frequently with parents.
Effectively team and collaborate with all professionals.
Communicate and plan with teaching partner.
Genuinely enjoy being with students.
Make the classroom a joyful place.
Recognize students' strengths.
Be expert in working with students who struggle with learning, attention and social challenges. Know the best intervention to use given the situation.
Manage the classroom well.
Be explicit with student expectations and boundaries.
Know when and how to intervene to ensure positive results.
Model exemplary classroom management skills.
Deliver instruction that is developmentally appropriate, direct & explicit, multisensory, appropriately paced, structured & systematic.
Set individual student goals.
Regularly monitor and track student learning.
Use technology to support learning, instruction and productivity.
Seek out opportunities to grow professionally.
Benefits for regular employees working at least 30 hours per week:
Medical Health Care Coverage
Dependents' health Care Coverage (at employee's expense)
Dental Care Coverage
Vision Care Coverage
Group Term Life Insurance Accidental Death & Dismemberment Insurance
Long Term Disability Insurance
401(k)
Section 125 Cafeteria Plan-Pretax Flexible Benefit Plan
Eleven paid holidays each calendar year
Sick Leave
Contact:
Interested parties should send cover letter and resume to jobs@chconline.org
www.sandhillschool.org
www.chconline.org
***************************************************