April 2015 - Special Educator e-Journal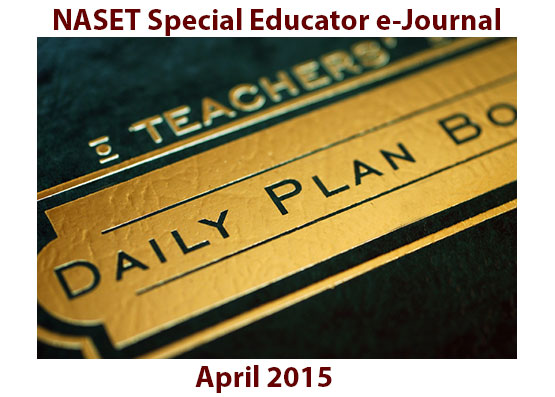 Table of Contents
Update from the U.S. Department of Education

Literature Review -- Disproportionate Representation of Minorities in Special Education Programs By Cindy Morris

National Collaborative on Workforce and Disability

Legislative Announcements, Calls to Participate and New Projects

Latest Employment Opportunities Post on NASET

Upcoming Conferences and Events

Funding Forecast and Award Opportunities

Acknowledgements

Download a PDF or XPS Version of this Issue
________________________________________________________________________________________
NASET Members - Login Below to access the latest Special Educator e-Journal.
Site visitors: You may access a sample e-Journal - Sample e-Journal
---
To learn more click on the image above or - Click here
---
Buzz from the Hub
To access everything below in this section from Buzz from the Hub, visit:
http://www.parentcenterhub.org/repository/buzz-feb2015/
Welcome to the February 2015 edition of Buzz from the Hub, the newsletter of the Center for Parent Information and Resources—the CPIR. This issue premieres several resources of import to the Parent Center network, most especially the 2014-15 Parent Center Data Collection Form and the latest training module on Part C of IDEA, Introduction to Procedural Safeguards.
Premiering the New Data Collection Form
The rumor is finally reality! The data collection form that Parent Centers use to report on their fabulous work has been revised. The form now includes definitions of key terms, so PTIs and CPRCs will have a common understanding of the data they need to record and report for the 2014-2015 program year (October 1, 2014 to September 30, 2015).
Because we're already midway through the reporting period,this year will be a pilot year for the new form. This gives Parent Centers the opportunity to learn how the terms are defined, what to report where and about whom, and how to revise their data collection systems.
We've posted the new data collection form and definitions key on a Webinar page we created to house the form, the key to definitions, and the 40-minute webinar we pre-recorded to introduce the form and the definitions key to the network. Come and get 'em!
Find the form and the definitions key at:
http://www.parentcenterhub.org/repository/webinar-datacollectionform/


New Resources in the Hub
What's new in the resource library? Here are several newbies.
Overview of the Workforce Innovation and Opportunity Act.
WIOA is designed to help job seekers (including youth with disabilities) access employment, education, training, and support services to succeed in the labor market and to match employers with the skilled workers they need.
Bureau of Indian Education National Directory.
This resource gives Parent Centers a list of Bureau of Indian Education (BIE) funded schools in their state. The BIE is responsible for the 183 elementary and secondary schools located on 63 reservations in 23 states representing 238 different tribes. With this list, Parent Centers can identify which schools are publicly funded or funded by the BIE, in order to help Native American families access their due process rights through the appropriate agency (either the BIE or the state department of education, depending on how the school is funded).
New Part C training module: Introduction to Procedural Safeguards.
Hot off the press! You can use Module 10 of NICHCY's training curriculum on Part C of IDEA to acquaint families and other stakeholders with the procedural safeguards in early intervention. The module comes with a slideshow, trainer's guide, handouts, and an activity sheet for participants.



_______________________________________________________________________
Spotlight on … Resources to Support Involvement in Your State's SSIP
Parent Centers are important stakeholders in the Systemic State Improvement Plan (SSIP) their state is writing. The resources listed below can help support Parent Center informed involvement in discussions of their state's SSIP.
Distinguishing difference from disability: The common causes of racial/ethnic disproportionality in special education.
This Equity In Action is intended to provide educators and researchers with comprehensive information on identifying and reducing disproportionality in schools. The brief describes a data-driven process for identifying root causes as well as the driving forces (internal and external to district) of those root causes. From the Metropolitan Center for Research on Equity and the Transformation of Schools at New York University.
Impact of family involvement on the education of children ages 3 to 8.
This 2013 literature review includes 95 studies on the impact of parent engagement on young children's literacy, math, and socio-emotional skills. The authors examine the effects of various aspects of parent engagement, including parent involvement at school and schools' and teachers' efforts to engage parents.
Family engagement tool.
The web-based Family Engagement Tool (FET) guides a school team (including parents) in assessing every aspect of its family engagement programs and practices and creating and monitoring an improvement plan based on indicators of effective practice. The needs assessment phase is completed in about 5 hours by the school team. FET's two-year process helps the school determine needs, set priorities, develop a plan, monitor the plan, and strengthen the school community.


___________________________________________________________________
Resources You Can Share with Families
This section of the newsletter identifies useful resources that you might share with families or mention in your own news bulletins.
Milestones | Videos in English and Spanish.
Milestones is a free online collection of videos aimed at helping parents understand grade-level expectations in grades K-5. Milestones show students demonstrating what success looks like in reading, writing and math, grade by grade.
Social Security benefits for children with disabilities.
A child with a disability who is younger than 18 years of age may be eligible for Supplemental Security Income (SSI). Have a look at SSA's Child Disability Starter Kit, which includes a factsheet on the application process, a child disability interview preparation checklist, and a Medical and School Worksheet.  Also available in Spanish.
Info brief on autism spectrum disorder.
The IRIS Center has a new information brief comparing the diagnostic criteria of the DSM-5 to those of the DSM-IV-TR and to the definition of autism found in IDEA. The brief also summarizes research findings regarding changes in the number of individuals diagnosed with autism spectrum disorders when the DSM-5 criteria were used, compared to those same numbers under the DSM-IV-TR.
___________________________________________________________________
Resources Just for Parent Centers
This section of the CPIR's newsletter focuses on the many priority areas that Parent Centers have, with a special emphasis on the 14 topics that OSEP has identified as important for Parent Centers and the CPIR to address.
This month, we're focusing on effective educational practices for improving student outcomes. These resources may also be relevant in your state's work on the SSIP in 2015, so keep them in mind for the future.
Culturally responsive differentiated instruction strategies.
This brief addresses what differentiated instruction is and how it applies to teaching and learning for diverse learners. Differentiated instruction recognizes students' varying background knowledge, readiness, language, preferences in learning, and interests, and assists teachers in knowing how to differentiate instruction given these various learning areas.
Evidence-based practice summaries.
From the IRIS Center, these summaries of research about the effectiveness of instructional strategies and interventions contain links to research reports and include information about an intervention's level of effectiveness and the age groups for which it is designed. Pick your topic of interest—assessment, behavior and classroom management, content instruction, diversity, early intervention/early childhood, learning strategies, mathematics, reading and literacy, RTI, school improvement, and transition.
Latest Employment Opportunities Posted on
NASET
New York
Job Category: Teaching
Description:
Earn a $125,000 salary and join a team of master teachers at The Equity Project (TEP) Charter School, recently featured on the front page of the New York Times: (http://www.tepcharter.org/nytimes.php).
TEP is a 480-student 5th through 8th grade middle school in the Washington Heights neighborhood of New York City.
Open Positions:
Science Teacher
Social Studies Teacher
English Language Arts Teacher
Special Education Teacher
Mathematics Teacher
Physical Education Teacher
Music Teacher
Learn more and apply today at: http://www.tepcharter.org/apply.php
Also, we invite you to learn more about TEP Charter School and about teaching at the school on our Live Online Information Session (link below):
http://www.tepcharter.org/info-session-for-teachers.php
Benefits:
$70,000 - 125,000 salary (commensurate with experience + potential annual bonus, full benefits package)
To Apply:
http://www.tepcharter.org/apply.php
***************************************************
Boston
Job Category: Director of Special Education
Description:
RePublic is searching for passionate, bold, and gritty Directors of Student Supports (Special Education) ready to lock arms with the teams at Liberty Collegiate, Nashville Prep and RePublic High for the 2015-16 school year. Candidates must share our unwavering belief that every child in our school can and will graduate from college.
The Director of Student Supports will both own the school-wide Student Supports program and provide classroom support and interventions directly to students. The Director will ensure compliance with IEPs, communicate with families and service providers to keep all stakeholders actively involved, coordinate supports so that students are consistently and meaningfully set up for success, serve students by providing classroom instruction, and coach teachers on how to best reach all learners.
Who You Are:
A genuine believer that all students can achieve academic excellence
A growth-minded tinkerer who is constantly learning and hungry for feedback
A data-driven analyst who reflects and takes action based on results
An optimist who supports and motivates your teammates by having their back
A proactive communicator who reaches out to students, families, and teammates
What You'll Do:
Bring it: Arrive at school by 7 a.m., stay at school until 5 p.m., and be reliably present and engaged by bringing your best every day.
Own your content: Develop and manage a sustainable, compliant, and effective special education program.
Reach higher: Consistently lead students to meet the high expectations set across our school for both behavior and academics by faithfully implementing our systems.
Clear eyes, full hearts: Dive into all team professional development with an open mind and humility.
Joyful rigor: Dynamically lead groups of students in full group classroom learning and smaller guided reading or tutoring groups for targeted interventions.
Team and family: Collaborate with teammates in the united purpose of promoting student learning and building student character.
Sweat the small stuff: Build and uphold the culture of the school by learning, mastering, and implementing all values, policies, and systems.
Never stop learning: Deliver high-quality instruction that propels student achievement, and work with your coach to grow as a classroom leader.
Mine that data: Track and analyze student data in a transparent and consistent way, and constantly adjust and revise your teaching in response to that data
About RePublic Schools:
RePublic leads public charter schools that reimagine what's possible in public education. In 2013, our two founding schools -- Nashville Prep and Liberty Collegiate Academy -- were the first two charter schools in Tennessee history to reach the top 5% of public schools in the state for growth and performance. This fall, RePublic launched the Nashville Academy of Computer Science, where scholars learn to code starting in 5th grade. Next year, we will open Reimagine Prep -- the first public charter school in Mississippi.
Contact:
Annie Kurdziel
Director of Talent
Building Excellent Schools
akurdziel@buildingexcellentschools.org
***************************************************
Washington, DC
Job Category: School Year 2015-16
Opening Date: School Year 2015-16
Number of openings: Varies by content area
Our students need your expertise, passion and leadership.
We are looking for highly motivated and skilled talent to join our team at the District of Columbia Public Schools (DCPS). We seek individuals who are passionate about transforming and improving educational outcomes for our students.
In DCPS, 4,000 teachers serve the needs of 47,000 students across 110 schools. As part of a comprehensive reform effort to become the best urban school system in America, DCPS intends to have the highest-performing, best paid, most satisfied, and most honored educator force in the nation whose work drives significant achievement gains for DCPS students.
Responsibilities:
Develop and implement curricula to meet academic standards
Thoughtfully plan daily lessons and implement specific strategies to meet the needs of all students, providing extra support, enrichment, or variation of work when necessary
Be accountable for students' academic growth and increase each individual student's achievement
Design and implement assessments that measure progress towards academic standards and diagnose areas of student misunderstanding
Use assessment data to refine curriculum and inform instructional practices
Create a positive, achievement-oriented learning environment
Reflect on successes and areas of growth as a teacher, seek to improve performance, and respond to feedback
Participate in collaborative curriculum development, grade-level activities, and school-wide functions
Invest parents and families in their children's academic success through regular communication
Perform other related duties as assigned.
Qualifications:
Bachelor's degree
Possesses or is eligible for a valid District of Columbia Teaching License (for more information on DC Teacher Licensure, please visit the website of the Office of the State Superintendent of Education at osse.dc.gov/service/teacher-licensure)
Successful completion of Praxis I and II exams (unless holding a standard teaching license)
Meets Highly Qualified status as defined by the NCLB mandates
Strong instructional skills and classroom management
Ability to self-reflect on teaching practices and be responsive to feedback
Personal Qualities of Top Candidates:
Commitment to Equity: Passionate about closing the achievement gap and ensuring that every child, regardless of background or circumstance, receives an excellent education.
Leadership: Coaches, mentors, and challenges others to excel despite obstacles and challenging situations.
Focus on Data-Driven Results: Relentlessly pursues the mastery of instruction based on student performance, and is driven by a desire to produce quantifiable student achievement gains.
Innovative Problem-Solving: Approaches work with a sense of possibility and sees challenges as opportunities for creative problem solving; takes initiative to explore issues and find potential innovative solutions.
Adaptability: Excels in constantly changing environments and adapts flexibly in shifting projects or priorities to meet the needs of a dynamic transformation effort; comfortable with ambiguity and non-routine situations.
Teamwork: Increases the effectiveness of surrounding teams through collaboration, constant learning and supporting others; sensitive to diversity in all its forms; respects and is committed to learning from others
How to apply:
To apply, visit our website at www.joindcpublicschools.com, and complete our online application.
Questions
If you have any questions, please email us at dcpscareers@dc.gov, or call us at 202-299-2145.
Stay Informed!
Follow us on Twitter at @dcpsjobs, or become a fan of DCPS Jobs on Facebook.
Criminal Background Check
In accordance with the Criminal Background Checks for the Protection of Children Act of 2004, this position has been designated and identified as one which requires a criminal background check and/or traffic record check. If you are tentatively selected for the position, a criminal background check will be conducted. A final offer of employment is contingent upon the receipt of a satisfactory criminal background check.
Notice of Non-Discrimination
In accordance with Title VI of the Civil Rights Act of 1964, Title IX of the Education Amendments of 1972, Section 504 of the Rehabilitation Act of 1973, the Age Discrimination Act of 1975, Title II of the Americans with Disabilities Act of 1990 and the D.C. Human Rights Act of 1977, as amended, District of Columbia Official Code Section 2-1401.01 et seq. (Act), the District of Columbia Public Schools (DCPS) does not discriminate (including employment therein and admission thereto) on the basis of actual or perceived race, color, religion, national origin, sex, age, marital status, personal appearance, sexual orientation, gender identity or expression, family status, family responsibilities, matriculation, political affiliation, genetic information, disability, source of income, status as a victim of an interfamily offense, or place of residence or business. Sexual harassment is a form of sex discrimination, which is prohibited by the Act. In addition, harassment based on any of the above-protected categories is prohibited. Discrimination in violation of the aforementioned laws will not be tolerated. Violators will be subject to disciplinary action. Inquiries regarding the non-discrimination policies of DCPS will be handled as follows:
Employees with inquiries regarding non-discrimination policies related to employment and employees should contact:
Equal Employment Opportunity Specialist
Office of Labor Management & Employee Relations
District of Columbia Public Schools
1200 First St, NE, 10th Floor, Washington, DC 20002
(202) 442-5424
***************************************************
San Francisco, CA
Job Category: Teaching + Coaching
Description:
Position: Learning Specialist
Reports to: Director, Curriculum & Instruction
Location: San Francisco, CA
Website:www.newschoolsf.org
SCHOOL OVERVIEW:
The New School of San Francisco will open our doors fall of 2015 with 88 kindergarten and first grade students from communities across San Francisco. We are a K-12 public charter school, demonstrating a "hands-on, minds-on" approach to learning that harnesses each student's curiosity and encourages learners to construct their own meaning and knowledge through hands-on experiences. With an extended school day, there is explicit time for community building, play, exploration, arts and Spanish instruction. The model is diverse by design, meaning we not only draw students from all neighborhoods in the city, but we practice equity in all we do – ensuring every child is able to access and receive an individualized education that builds off their unique strengths, skills and passions. With a thirteen-year commitment to kids and families, our approach will foster a deep love of learning in students and prepare them with the problem-solving and critical-thinking skills necessary to meet the challenges and opportunities of the 21st century. To learn more about our school, please visit:newschoolsf.org.
One of the pillars of our school is diversity and we know how important it is that our staff to reflect the diversity of our students and their families. We strongly encourage leaders and teachers of color and LGBTQ candidates to apply.
POSITION OVERVIEW: LEARNING SPECIALIST
The Learning Specialist is a full time position that reports to the Director of Curriculum & Instruction. He/she will work directly with all Lead and Resident teachers to ensure every child's unique needs are being met through IEPs or Individualize Learning Plans (ILPs). The Learning Specialist will develop learning strategies and modifications to be implemented both within the classroom and in small groups outside of the classroom. S/he will administer or coordinate the administration of appropriate assessments that align to IEP goals and school values to monitor progress. We are looking for someone with deep special education expertise, knowledge of effective ELD strategies and other, targeted interventions to ensure all special learners are being met with the right supports. The Learning Specialist will be responsible for helping our school in its founding years develop appropriate procedures and policies to ensure effective faculty collaboration, create a transparent and inclusive environment for families and ensure we are compliant at all times with the law. Finally, we are looking for someone who will bring their passions, identities, curiosities and quirks into the school each day; who is excited to work in a start-up environment; who teaches to learn and fuel more learning; who teaches to build bridges with students, families and the community; and finally, who teaches to change lives and the world around us.
Requirements:
Please visit our website: www.newschoolsf.org/careers/ for a full job description including qualifications and requirements.
Compensation:
Salary reflects education degrees, years of teaching experience, National Board Certification and special credentials (i.e. SPED, BCLAD)
Competitive benefits package including health coverage and retirement
Contact:
For more information please visit our website: www.newschoolsf.org or contact elizabeth (at) newschoolsf (dot) org  (elizabeth@newschoolsf.org)
***************************************************
Doha Qatar
Job Category: Director - New School for Autistic Students
Description:
IT WILL BE THE DIRECTOR'S RESPONSIBILITY TO:
Establish in consultation with others the vision, mission and mandate for the school
Develop, coordinate and facilitate the implementation of strategic and action plans intended to accomplish that vision and mission, and specific goals and objectives.
Build relationships with other agencies offering support in the community to students diagnosed with autism.
Partner with local and international universities in the development of effective practices.
Recruit and hire faculty and staff for the new school
Establish policies and procedures to guide the efficient and effective operation of the school
Oversee the development of the school's educational programs in regard to curriculum and instruction and make recommendations for instructional improvements and adjustments.
Supervise and evaluate administrative, instructional, and non-instructional personnel in the business management and instructional activities of the institution.
Prepare and administer the school's operational budget.
Develop and maintain good public relations with parents, parent-teacher association(s) and with the community.
Desired Qualities and Experience:
QUALITIES AND EXPERIENCE SOUGHT FOR THIS POSITION INCLUDE:
At least 5 years of experience as head of school or special education Director, working in a special education environment that focuses on the delivery of educational services to students diagnosed with autism.
A strong academic background, including a minimum Master's degree in the field of special education, preferably a doctorate in a related field.
Experience with the accreditation requirements for special education schools
Skill and understanding in serving second language learners.
Salary and Benefits:
The salary and benefits package will be competitive and will depend on the qualifications and experience of the successful candidate.
Application Procedure:
The deadline for application is April 30, 2015. The review of files will begin as soon as applications are received. Candidates are asked to submit a letter of interest and the requested materials as early as possible to:
Mr. Peter Corcoran
Executive Director
Qatar Foundation Schools
pcorcoran@qf.org.qa
***************************************************
Cincinnati, Ohio
Job Category: Full Time
Description:
UC Clermont invites applications for tenure-track faculty position beginning August 15, 2015 unless otherwise indicated. UC Clermont is an open admissions regional campus thirty miles east of the University of Cincinnati in Batavia, Ohio with an enrollment of approximately 3,500 students. The college offers a variety of certificates, transfer programs, two-year technical degrees, and a baccalaureate degree.
Tenure-track faculty responsibilities include teaching 12-credit hours for two semesters and availability for both day and evening classes, unless otherwise indicated; ongoing scholarship/research; and service to the department, college, university, and community. All candidates must demonstrate/provide evidence of effective teaching and professional development. All candidates must have appropriate degrees and/or certifications awarded by time of appointment.
Assistant Professor of Education - Position 215UC0317: Responsibilities include teaching day and evening classes in an education program that caters to the needs of Early Childhood, Middle Education, Secondary Education, and Special Education degrees, along with four office hours per week.
Qualifications:
Required Qualifications: Earned doctorate in the field of Education with a minimum of one year of public school teaching and one year equivalent college teaching.
Preferred Qualifications: Special Education and/or Education Psychology and teaching experience in an open access environment.
Contact:
To apply for this position, go to www.jobsatuc.com and in the "Search Positions" box, enter the applicable number in the "Position Number" field, (Position Number 215UC0317). Only applications received through this web site will be considered. Review of Applications to begin March 15, 2015
All positions require a cover letter, current CV, official copies of transcript for highest degree held required prior to interview (these can be mailed), three names of professional references (include contact information), a brief statement of teaching philosophy, and a summary of evidence of excellent training, teaching effectiveness and professional development.
The University of Cincinnati is an affirmative action/equal opportunity employer/ M/F/Vet/Disabled. UC is a smoke-free work environment.
***************************************************
Oconomowoc, WI
Job Category: Special Education Teacher
Description:
Genesee Lake School is an accredited, nationally recognized leader providing therapeutic educational services to children and adolescents diagnosed with developmental disabilities and emotional/behavioral disorders. We have received the National Association of Special Education Teachers (NASET) award for three consecutive years. Join our team and become an important person in the lives of our students. Our 160-acre campus in the countryside near Oconomowoc provides an ideal setting for our students to learn, develop and achieve their potential.
Position Overview:
Ensures that classroom environment and activities are conducive to student development of independence, competence, and sense of self-worth
Prepares assessment information, develops and provides progress updates on the Individual Education Plan (IEP)
Implements new instructional models and new assessment techniques
Provides classroom orientation and supervision to Instructional Aides and Direct Care Staff
Teaching in a classroom with 8-10 students


Requirements:
Bachelor's Degree from an accredited college or university

Certified in Cross Categorical in Early Adolescence/Adolescence Grades 6-12
Training and experience in high school transition and vocational programming preferred
Previous training and experience working with children with Autism or Emotional Disabilities preferred.
Candidates should be prepared to articulate how they support students' learning as well as participate in a collaborative school-based team.
Benefits:
Health, Dental, Vision Coverage
Short-Term Disability and Life Insurance
Paid Time Off following school calendar
401(k)
Employee Stock Ownership Plan
Contact:
Please submit cover letter and resume to:
Chris Naylor, Education Coordinator, via email: chris.naylor@geneseelakeschool.com or apply online at www.geneseelakeschool.com
EOE/MFDV
***************************************************
Oconomowoc, WI
Job Category: Special Education Teacher
Description:
Genesee Lake School is an accredited, nationally recognized leader providing therapeutic educational services to children and adolescents diagnosed with developmental disabilities and emotional/behavioral disorders. We have received the National Association of Special Education Teachers (NASET) award for three consecutive years. Join our team and become an important person in the lives of our students. Our 160-acre campus in the countryside near Oconomowoc provides an ideal setting for our students to learn, develop and achieve their potential.
Position Overview:
Ensures that classroom environment and activities are conducive to student development of independence, competence, and sense of self-worth
Prepares assessment information, develops and provides progress updates on the Individual Education Plan (IEP)
Implements new instructional models and new assessment techniques
Provides classroom orientation and supervision to Instructional Aides and Direct Care Staff
Teaching in a classroom with 7-8 students
Requirements:
Bachelor's Degree from an accredited college or university
Certification in Cross Categorical, Emotional Behavior Disorder, or Cognitive Disabilities
Previous training and experience working with children and young adults using "DIR", "SCERTS", SRA Direct Instruction, or experience as a line therapist a plus
Candidates should be prepared to articulate how they support students' learning as well as participate in a collaborative school-based team.
Benefits:
Health, Dental, Vision Coverage
Short-Term Disability and Life Insurance
Paid Time Off following school calendar
401(k)
Employee Stock Ownership Plan
Contact:
Please submit cover letter and resume to Chris Naylor, Education Coordinator, via email:chris.naylor@geneseelakeschool.com
or apply online at www.geneseelakeschool.com.
EOE/MFDV
***************************************************
Washington, DC
Job Category: Full Time
Description:
The Assessment Program at the American Institutes for Research (AIR) is a well regarded organization that is growing rapidly. We focus on providing our clients with customized assessments that not only measure student achievement against state standards, but also provide meaningful score reports that can help students, parents, and educators address any areas of student weakness. Our environment is fast-paced and requires people at all levels who are willing to roll up their sleeves to get the work done on time while maintaining high quality. We are currently seeking a Program Manager to join our Alternate Assessments team in Washington, DC.
Responsibilities:
The Program Manager (Alternate Assessment) will assist with managing all aspects of state testing projects, especially for special education students. They must be able to work collaboratively in a fast paced environment; anticipate problems and come up with creative methods of solving them; develop strong, positive, constructive relationships with clients; coordinate among the various project teams; and make sure that quality control procedures are adhered to in order to produce high quality assessments within deadline and budget. They must be able to work in an environment where project requirements often change and evolve, and must be comfortable seeking out information and advice, when necessary. They must be able to conceptualize how all the parts of a complex project fit together and what a change to one part will mean for the other parts. Successful candidates will create a proactive culture in which the efficient creation of high quality products is second nature.
The responsibilities of the Program Manager (Alternate Assessment) include:
Working with internal staff and subcontractors to develop processes, procedures, and schedules for meeting project deliverables and client needs.
Working with state clients to ensure that all plans and schedules are viable, that the state understands their roles and deadlines, and that clear lines of communication are established.
Developing meeting agendas, chairing meetings, and documenting decisions.
Ensuring that a master schedule is developed and maintained of deadlines and deliverables and making sure that all project staff are aware of the parts of the master schedule that affect them, and are aware of all changes that are made to the schedule.
Providing information, support, direction, and problem-solving to the clients, as needed, in a manner that provides positive solutions, and if needed, adjusts current processes to improve the delivery, coordination, or quality of the product.
Managing changes of scope so that all necessary changes to contracts, budgets, and activities, and schedules are in place.
Making sure that other members of the project team are aware of any changes to the project scope.
Coordinating among the senior staff members who manage the various project teams (item development, technical, reporting, website, databases, etc.) and making sure that each team receives what it needs from the other teams.
Keeping AIR senior management informed of any potential project problems, including issues with a client or another stakeholder and any potential for missed deadlines or budget over-runs.
Managing subcontractors.
Monitoring budgets.
Qualifications:
Minimum education: Masters degree or equivalent, preferably in special education or a related field.
Experience instructing students (K-12) with significant cognitive disabilities in academic content areas.
Minimum of 4 years of progressively increasing responsibility managing tasks and projects in a fast-paced environment.
Ability to travel 25-40%, the peak being in the January-February timeframe.
Experience working in large-scale assessment or a related field, such as publishing or large-scale surveys is a plus.
Experience working with clients.
Benefits:
AIR offers an excellent compensation and benefits package, including a fully funded retirement plan, generous paid time off, commuter benefits, and tuition assistance.
Contact:
For more information, please visit our website at www.air.org.
To apply, please go to:
https://jobs-airdc.icims.com/jobs/7794/program-manager-%28alternate--assessment%29/job
EOE
***************************************************
Honolulu, HI
Job Category: Director, Full Time
Description:
Easter Seals Hawaii, a growing CARF accredited Non-Profit, is committed to provide exceptional, individualized, family- centered services to empower people with disabilities and other special needs to achieve their goals and live independent fulfilling lives. We have been providing services to infants, children and other special needs, and support to their families since 1946.
The Early Intervention Program Director is a Senior Staff member responsible for the leadership and operation of Easter Seals Hawaii statewide Early Intervention Programs, providing services to children birth to age three (3).
The Program Director represents ESH at the State and National level, has responsibility for fiscal/financial management, building and enhancing of existing programs, research and implementation of new programs/services statewide and continued focus on ensuring quality CARF Accredited Services. We are seeking an experienced, successful leader to fill this Senior Management Position. Experience in successfully leading Early Intervention Programs is preferred.
Responsibilities:
Leads and supervises statewide El Program Managers who oversee all early intervention programs and services.
Facilitates and promotes effective communications and coordination, to include development and maintenance of all policies/procedures, including program regulations, contracts and CARF (Commission on Accreditation of Rehabilitation Facilities) requirements.
Supports managers in overseeing departmental fiscal/financial responsibilities to include billing, reporting and annual program budgets.
Represents Easter Seals Hawaii in Early Intervention committees with Department of Health, contractual agencies statewide and national.
Responsible to develop program managers and facilitate staff development and training to remain current and in their fields and delivering the highest level of service to clients/families.
Responsible for leading Program Managers and holding accountable for partnering with Human Resources in recruitment, orientation, training, counseling, disciplinary action, performance reviews and salary administration of staff.
Supports managers in coordinating volunteer opportunities and student practicum for university/college and high students as they participate in training programs established with their educational institutions.
Establishes and maintains cooperative and collaborative relationships with community agencies, public relations, legislative advocacy, education, community relations and internal ESH programs regarding information and referrals.
Responsible to lead and participate in events and fundraising for the organization.
Requirements:
Bachelor's degree in health related field. Master's degree highly preferred.
Current CPR/First Aid certification
Three (3) to five (5) years of progressive experience working with persons with disabilities in early intervention and/or children age birth - 5 years of age.
Five (5) years' experience in leading/managing managers/supervisors and multi-disciplinary teams
Experience managing statewide locations and multiple governmental contracts/grants. Business experience in contracts, billing, budgeting, purchasing, data gathering and research.
Legislative advocacy, grant writing and administration, contract negotiation/administration preferred.
Contact:
Human Resources - apply@eastersealshawaii.org
Easter Seals Hawaii
Attention: Human Resources Manager 710 Green St.
Honolulu, HI 96813
***************************************************