September 2014 - Special Educator e-Journal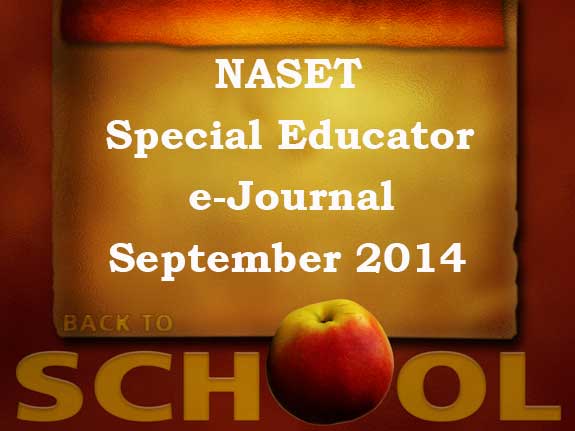 Table of Contents
Update from the U.S. Department of Education

Legislative Announcements, Calls to Participate and New Projects

Special Education Resources - - SUMMER REVIEW

Navigating the Road to Work: SUMMER REVIEW of the National Collaborative Workforce and Disability

Latest Employment Opportunities Post on NASET

Upcoming Conferences and Events

Funding Forecast and Award Opportunities

Acknowledgements

Download a PDF or XPS Version of this Issue
________________________________________________________________________________________
NASET Members - Login Below to access the latest Special Educator e-Journal.
Site visitors: You may access a sample e-Journal - Sample e-Journal
---
Latest Employment Opportunities Posted on
NASET
Baltimore, MD
Description:
SESI is a private company that provides comprehensive special education services for students identified with emotional and behavioral disabilities. We are currently seeking two teachers (HS Math and HS Science) for the 2014 -2015 school year. Our school, New Hope Academy is a unique public-private partnership with Baltimore City Public Schools serving students in grades 6-12. Currently in its sixth school year, New Hope Academy has created a therapeutic academic setting that includes positive behavioral supports, highly structured student protocols, and modified access to the Common Core Curriculum. Potential employees should be highly motivated, flexible, open to giving and receiving feedback, enjoy working as part of a team, and feel comfortable working an environment where students display severe behavioral issues.
Requirements:
MSDE certified, or eligible for certification, in secondary special education and/or who holds content certification in one or more of the following areas: Science or Mathematics
Benefits:
Competitive Salary
Tuition Reimbursement
Health Insurance
401(k) enrollment
Opportunity for growth
Structure, support, and supervision
Opportunity to join leading, national special education organization operating over 55 programs in 11 states and DC
Contact:
Keith Seymour
Director of Growth and Development
Specialized Education Services, Inc.
(301) 807-2393
(301) 807-2393
KSeymour@highroadschool.com
***************************************************
Chicago, IL
Job Category: Teacher
Description:
Special Education teachers at Intrinsic provide a mix of co-taught and separate class support for students. Our school has 1:1 technology and a unique 21st century learning environment.
Job Responsibilities:
100% commitment to preparing every student for a rigorous four-year university.
Facilitate student learning by designing lessons, leading small groups and conferencing with students, Provide direct instruction based on student need.
Lead and own results of an advisory that meets daily.
Constantly review student level data to inform instruction and student groupings.
Collaborate with other teachers (gen ed and special ed) across content areas and vertically by content area. Curate lessons via a mix of teacher created lessons and on-line
supports/programs.
Support student learning outside the classroom â€" facilitate clubs, after-school tutoring, attend school/community events, etc.
Requirements:
Certified to teach Special Education in IL High School.
Benefits:
We offer a chance to make huge impact in urban education by creating an academic model that leverages great teaching and the precision of technology to personalize education for each student.
Our team has a unique mix of charter and deep CPS experience that creates a broad range of perspectives. Our special education team will also have access to mentors with 60 years of collective special education experience including district leadership, teacher training and coaching and IEP development.
Finally, we offer a chance to be a part of an elite peer group. We collaborate with some of the most successful traditional charter and district schools and the most innovative schools nationally as we refine our model. The transformations we see starting at our new campus will be shared across the city, the state and the nation to every school ready to install blended classrooms.
***************************************************
Okinawa, Japan
Job Category: Early Intervention
Description:
Positions available for Early Childhood Special Educators to work with children of American military families stationed overseas! Positions available at Okinawa, Japan. The position works with children in the 0, 1 & 2-year age population in a home-based early intervention program. Relocation, housing stipend, excellent benefits, and generous compensation with tax advantages. Apply Today!
Requirements:
Bachelor's or Master's degree in Special Education, a minimum of two years experience recently working with developmentally delayed children in the 0, 1 & 2-year age population in a home-based early intervention capacity, and a current state teaching license/certification to teach in this capacity
Benefits:
Relocation, health & dental benefits, 401K Plan, four weeks paid time off & ten federal holidays.
Contact:
LynnR@magnummedicaloverseas.com or 800-852-5678
800-852-5678 x.156. Fax 513-984-4909
***************************************************
Houston, TX
Job Category: Teacher
MAJOR RESPONSIBILITIES AND DUTIES:
The Learning Specialist will:
1. Prepare for and lead the Admission, Review, and Dismissal (ARD) committee meeting
a. Prepare documentation through district data-management system
b. Coordinate and lead all ARD meetings
c. Assist in developing strategies for implementing Individualized Education Plans (IEPs) in the student's least restrictive environment
d. Present students' levels of performance, transition plans, goals, accommodations, modifications and services with input from the students' general education teachers
e. Review records of students for Special Education eligibility and obtaining Special Education records from previous school settings or outside evaluators
f. Effectively maintain the Special Education database and communicate any changes to the PEIMS data clerk
g. Compile, maintain, and file all physical and computerized reports, records, and other documents as required
2. Assist students in the implementation of IEPs
a. Provide instruction and support for special needs students as appropriate
b. Use technology as part of the teaching/learning process
c. Plan and use appropriate instructional and learning strategies, activities, materials, and equipment that reflect understanding of the learning styles and needs of individual students
d. Ensure open communications with parents of students with disabilities in their understanding of Special Education policies and procedures and ways in which to support their child at home
e. Work cooperatively with classroom teachers to monitor the use of accommodations and/or modifications within the regular class setting
f. Assist in monitoring and administering testing accommodations and modifications for students
g. Coordinate service delivery with the appropriate educational specialists
3. Evaluate students' progress on Individualized Education Plans
a. Ensure clear communication with teachers to track each student's progress in reaching his/her IEP goals
b. Conduct ongoing assessment, progress monitoring, of student achievement through formal and informal testing. Use progress-monitoring tools to analyze student results for the purpose of modifying and adjusting strategies, programming, and IEPs
d. Grade students as appropriate and provide progress reports/report cards of student IEP goals and benchmarks to parents and teachers in accordance with the school's grading cycle at the end of every marking period
e. Review and compile documentation for student records
4. Planning and Data Collection
a. Meet with general education teachers to review IEPs, answer questions, provide strategies, and summarize each student's IEP before the school year starts and review the plan with teachers at least once each marking period
b. Adapt and differentiate general education teachers' weekly lesson plans, assessments, classwork and homework to meet individual student goals. Plans should include IEP goals, accommodations, modifications, and what in-class supports will be provided.
5. Professional Development and Departmental Growth
a. Assist in the coordination, planning, and delivery of in-services to meet identified needs of teachers and faculty
b. Purposefully continue to learn and increase understanding in special education law, disabilities, teaching strategies, response to intervention, and special education procedures
c. Be an active participant in the regional Special Education Team and attend monthly meetings
d. Strengthen Special Education services in accordance with legal requirements
e. Establish and maintain professional relationships with colleagues, students, parents, and community members
6. Other
a. Monitor student timelines and effectively communicate with stakeholders
b. As appropriate, supervise the work of Special Education paraprofessionals by providing direction and guidance
c. Other duties as assigned
Education and Knowledge:
Bachelor's degree from an accredited institution, with a focus on Education, plus a minimum of 1-5 years of teaching experience
Texas Teaching certificate in Special Education
Highly Qualified teacher in accordance with NCLB and the State of Texas' qualifications
Knowledge of federal and state Special Education law
Contact:
Interested candidates please send resumes to jobs@kipphouston.org .
***************************************************
Mesa, Tolleson & Casa Grande, Arizona
Job Category: Special Education Teacher
Description:
Special Education Teachers needed for full time school based opportunities. One school is in Mesa, one in Tolleson and one in Casa Grande. Each teacher is responsible for 1 classroom. The caseload ranges from a variety of physical, mental and emotional disabilities. The cases can be moderate to severe.
Requirements:
Must be a certified special education teacher in the state of Arizona and they also must have their AZ fingerprint clearance card.
Benefits:
Full benefits, PTO and more!
Contact:
***************************************************
Millbrae & Redwood Shores California
Job Category: Special Education Teacher
Description:
We have a few great Special Ed Teacher openings. One in Millbrae and another in Redwood Shores both in CA.
Candidate must be well versed in: facilitating IEP meetings conducting assessments/report writing preparing IEP paperwork using a computerized program all aspects of case management. Immediate openings, full benefits.
Requirements:
All candidates must: hold a current CA teaching special education credential with the added Autism Authorization (if not already embedded in their credential). Minimum of 2 years SpEd teaching experiencing required.
Contact:
***************************************************
Chicago, IL
Job Category: Special Education Teacher
Description:
About Perspectives:
As one of the first charter schools in Illinois, Perspectives Charter Schools has a long record of preparing students for success in college and beyond. Our five schools across the South Side of Chicago offer students an education that combines character development and academic rigor through the A Disciplined Life education model-with impressive results. Our students come from some of the most disadvantaged neighborhoods in the country, but they graduate from high school, enroll in college and persist in college at a rate above the national average for all students, regardless of background.
The keys to our success are our dedicated, hard-working, creative and compassionate teachers.  At Perspectives, teachers help our students learn to live the 26 principles of A Disciplined Life, while also providing high-quality, rigorous instruction in their subject areas.  Perspectives teachers make meticulous plans for units and lessons that focus on higher-order thinking skills, use formative assessment to guide their instruction, provide differentiated support to all students, and build meaningful and professional relationships with students and families. They are ambassadors for A Disciplined Life and believe passionately in the potential of our students.
Requirements:
Experience/Training:
Type 10 or Type 09 with LBS1 Endorsement Must be Highly Qualified in relevant subject areas according to the Illinois State Board of Education Evidence of success working in an urban school environment strongly preferred
Core Competencies:
A strong commitment to live by the 26 principles of A Disciplined Life and a belief that all students in Chicago deserve an excellent education A willingness to do whatever it takes to achieve outstanding student outcomes Strong classroom management skills with the ability to inspire and motivate students A commitment to life-long learning with the desire to take advantage of professional development and coaching to constantly improve Mastery of content knowledge and the ability to communicate clearly to students
Contact:
1530 S State Street, Suite 200 Chicago, IL 60605
- Visit our website for more information on A Disciplined Life and Perspective Charter Schools www.pcs.org
- You may also apply using the following link:  http://bit.ly/JoinPCS
***************************************************
Los Angeles, CA
Job Category: Special Education Teacher - Secondary
Description:
Camino Nuevo Charter Academy offers exciting once in a lifetime opportunities to teach in a K-12 charter school.  CNCA seeks candidates who will use innovative curriculum and teaching methodologies to establish a culture of educational excellence through great professional development opportunities and team teaching.  Teachers must be visionaries, eager to be in the forefront of educational practices and must embrace the challenge of demonstrating that public education in a low-income, primarily immigrant, multilingual area can succeed.  Teachers will receive a competitive salary and health care and retirement benefits.
Responsibilities:
Teachers will perform a full range of duties, including but not limited to:
Preparing/implementing lesson plans that lead to student mastery of curriculum content, including Spanish Language Arts, English Language Arts, English Language Development, and Math
Developing /implementing integrated curriculum units, differentiating and scaffolding as needed
Regularly assessing student progress to refine instruction and meet student needs
Participating regularly in professional development opportunities and collaborative meetings
Communicating frequently with students, students families, colleagues and other stakeholders
Working closely with children and their families to promote personal growth and success
Maintaining regular, punctual attendance
Adhering to all laws and guidelines set forth by the Individuals with Disabilities Education Act and the Modified Consent Decree -Drafting IEPs for all designated students on caseload in advance of the given deadline in accordance with federal, state, district, and CNCA guidelines
Participating in IEP meetings in a student-centered approach with parents as partners
Providing IEP goal progress reports in conjunction with school reporting periods
Administering academic assessments for designated students as a part of initial, three-year, or re-evaluation IEPs and preparing an academic report in advance of the given timeline in accordance with federal, state, district, and CNCA guidelines
Accurately tracking services on a weekly basis in the Welligent system
Qualifications:
Applicants who possess the following skills will make the strongest candidates:
California Teaching Credential or equivalent, meeting all NCLB highly qualified standards
CLAD/BCLAD certification (Spanish)
Demonstrated ability to implement varied classroom instructional strategiesEducational vision for and experience with low-income and /or minority studentsDemonstrated track record with English language learners
Welligent trained preferred
Passion for working with children and their families
Bilingual (Spanish/English)
To apply please send resume and letter of interest to: https://careers-caminonuevo.icims.com
For more information www.caminonuevo.org and www.pueblonuevo.org
* Camino Nuevo Charter Academy intends that all qualified persons shall have equal opportunities for employment and promotion.
Benefits:
Medical, Dental, Vision benefits
CalSTERS Retirement System
403(b)
Paid Sick Time
Contact:
To apply please send resume and letter of interest to: https://careers-caminonuevo.icims.com
***************************************************
Washington
Job Category: Special Education Professional Opportunities
Description:
Come to the beautiful Pacific Northwest and join ESD 112's Special Education ESA, the largest Special Education service provider in Washington!
We invite you to apply to be part of our dynamic team, which provides quality education to children, schools and communities in 28 districts.
The ESA provides special education and related services with focused knowledge and expertise in research-based, best practices in special education. We are recognized for educating students in the most effective, efficient way possible with valuable resources and support from our dedicated staff, regional coordinators and leaders. In addition, the ESA works closely with districts and partners with communities to equalize educational opportunities for children in small and rural locations.
ESD 112's ESA hires highly qualified professionals and supervises all special education staff including:
Teachers
Paraeducators
Coordinators
Occupational Therapists
Physical Therapists
Speech Language Pathologists
School Psychologists
Twenty-eight school districts in SW Washington and other parts of the state have joined the ESA under the umbrella of ESD 112 to provide special education services to 2,200 students. You will be a part of an organization that celebrates the diversity of our staff, students and families and strives to meet our mission to provide equal educational opportunities for all students.
For more information about the ESA visit: http://web3.esd112.org/specialized-services-birth-21/special-education-esa
Apply online today to be a part of our dynamic team! (www.esd112.org/hr/jobopenings)
Benefits:
ESD 112 offers a comprehensive benefits package, which includes insurance benefits, retirement, and paid leave. For more information: http://www.esd112.org/hr/benefits
Contact:
Patti Romines, Employment Manager
patti.romines@esd112.org
hr.dept@esd112.org
360-750-7503
360-750-7503
***************************************************
New York
Job Category: Special Education Teacher
Apply to teach at TEP!
Featured in The New York Times and on 60 Minutes, The Equity Project (TEP) Charter School is the school that pays its teachers a $125,000 salary to work on a team of master practitioners in an environment that values and develops teaching excellence. TEP is a 5th through 8th grade middle school serving low-income students in the Washington Heights neighborhood of New York City. In each of the past 2 years, TEP has earned an overall grade of "A" from the NYC Department for Education and placed in the top 10% of all public middle schools in New York City.
TEP is currently hiring 5th-8th grade teachers in Music, Science, English, Social Studies, Special Education, Math, Debate, and Physical Education.
Learn more at www.tepcharter.org/apply.php. To apply, please follow the specific instructions on our website.
Benefits:
www.tepcharter.org/benefits.php
Learn more at:www.tepcharter.org/apply.php.
***************************************************