September 2013 - Special Educator e-Journal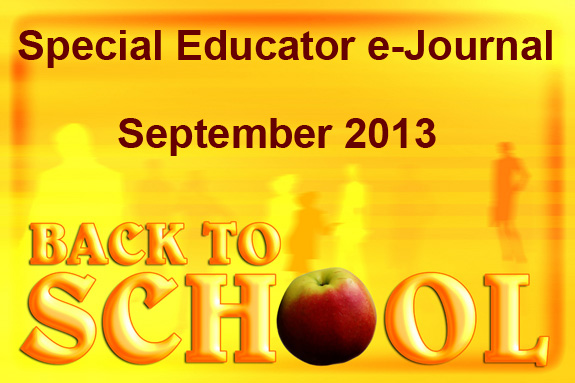 Table of Contents
Update from the U.S. Department of Education
Special Education Resources

Update From The National Dissemination Center for Children with Disabilities

Latest Employment Opportunities Posted on NASET

Upcoming Conferences and Events

Funding Forecast and Award Opportunities

An In-Depth Look at RtI: Using Current Research to Examine Its Effectiveness and Areas for Growth

By Eilyn Sanabria, Florida International University
Acknowledgements

Download a PDF or XPS Version of This Issue
---
NASET Members - Login Below to access the latest Special Educator e-Journal.
Site visitors: You may access a sample e-Journal - Sample e-Journal
---
Latest Employment Opportunities Posted on
NASET
Chicago, Illinois
Job Category: Special Education Teacher
Description:
UNO's educational philosophy is grounded in the principle that the key to student success is the powerful presence of adults in each child's life. Our organization believes in a call to service and a call for service, the type of service that reflects pride, passion, and respect. Because of this, UNO aims to recruit only the most talented, dedicated, and visionary professionals that are capable of creating and cultivating genuine relationships with our key stakeholders; students, parents, and the community.
UNO educators believe in not only establishing the highest expectations for our students, but also taking on the critical responsibility to ensure they are met. To reach this end, we employ strategic evaluative techniques to assess student learning and use this data to drive instructional decision-making. Furthermore, we utilize a variety of instructional methods and interventions in order to ensure that all students achieve mastery of both skills and content knowledge across the curriculum.
UNO educators have urgency for student growth and achievement and rely on our innovation to ensure all students meet the rigorous individual goals set for them. We are results-oriented and regard student learning as the measure of effectiveness of our teaching. Ultimately, we know that we are responsible for the academic and personal growth of our students, and we are willing to do whatever it takes to ensure success. UNOteachers are unique in that they realize success is built on relationships. They focus their work on student learning. Furthermore, they whole-heartedly believe that all students can learn and demonstrate that by engaging principles of distributed leadership and distributed counseling. UNO ensures that all staff understands that it is our shared responsibility to develop our students, both personally and academically.
Classroom teachers in UNO high schools lead the curriculum, instruction, and assessment for students to which they are assigned. They relentlessly pursue student growth and achievement through diligent planning, careful instructional execution, and on-going collaboration with colleagues and the school leadership team.
Requirements:
Education: Bachelor's degree (required), Masters degree (preferred)
Experience: At least one year of teaching experience; co-teaching experience (preferred) • Experience working with children who have been educationally underserved • Strong technology skills and familiarity with electronic IEP systems preferred • Candidate must be able to demonstrate the academic progress of students under his/her leadership and articulate the methods used to achieve those results
Certification: Valid Illinois Type 9, Type 10 or equivalent (required)• ISBE issued LBSI endorsement or equivalent (required) • National Board Teaching Certification (optional)
Benefits:
Salary Commensurate with Experience, Competitive Benefits Package
Location: UNO Soccer High School, 5025 S St. Louis Ave, Chicago
***************************************************
Avondale, ARIZONA
Job Category: Special Education 9-12th Grade Teachers Needed
Description:
Agua Fria Union High School District was established in 1955. Today, the district serves the communities of Litchfield, Goodyear, Avondale, Buckeye and part of Glendale with its four high schools. Come be a part of our district, we offer competitive salaries, eligible for health benefits and additional compensation. Visit our website to view our job openings.
Apply at :www.aguafria.org/jobopenings
For questions email: HR@aguafria.org
Minimum Qualifications:
1. A valid Arizona teaching certificate for the position to which the individual is assigned.
2. A valid DPS Fingerprint Clearance Card.
3.Must possess either a Provisional SEI endorsement, a full ESL endorsement, or a full Bilingual     endorsement.
4.Must be highly qualified in the core content for the position to which the individual is assigned.
Benefits:
Eligible for Health Care Benefits
Competitive Salary Schedule
Eligible for Additional Compensation for High Needs Position.
Contact:
***************************************************
Raleigh, North Carolina
Job Category: Head of a private LD school
Description:
The Fletcher Academy: A School of Achievement was founded in 1981 by Dr. Leon Silber as the first school in North Carolina dedicated solely to students with learning differences. For the past decade, under the excellent leadership of Ms. Junell Blaylock, Fletcher has thrived as a local resource and a national leader in helping exceptional children discover their unique minds and styles of learning.
With Ms. Blaylock's recent announcement that she will retire in June 2014, Southern Teachers Agency has been retained to conduct the search for Fletcher Academy's next Headmaster.
The Headmaster will inherit a unique and effective program, a committed and experienced faculty, and a dedicated board that fully supports Fletcher's mission as an unparalleled, comprehensive private school for students with attention and learning challenges. The new Headmaster will be expected to learn and sustain the Fletcher approach, to continue recruiting and supporting outstanding teachers and staff, to assess needs and provide tools for 21st century learning, and to preserve and enhance the school's very caring, nurturing environment.
Requirements:
As prospective leaders of a closely-knit community, candidates must be approachable, attentive, and clearly committed to students with learning differences. The Headmaster must be organized and creative, knowledgeable about special education, and authentic. Most important, he or she must lead with love, compassion, and a profound desire to help all at Fletcher achieve their very best.
Benefits:
Salary and benefits for this position are above the national median for schools of this type.
Contact:
Interested applicants should submit via email an STA application (available atwww.SouthernTeachers.com), current resume, cover letter list of references, and educational philosophy to
Mr. Jamie Estes
Estes@SouthernTeachers.com.
This position begins in July 2014. For the full position profile, please visitwww.SouthernTeachers.com.
***************************************************
New York, NY
Job Category: Master Middle School Teacher
Master Middle School Teachers - $125,000 Salary - TEP Charter School
$125,000 Salary for Master Middle School Teachers!
Earn a $125,000 salary and join a team of master teachers at The Equity Project (TEP) Charter School, recently featured on the front page of the New York Times:http://www.tepcharter.org/nytimes.php. TEP is a 480-student 5th through 8th grade middle school in the Washington Heights neighborhood of New York City.
Learn more and apply today at:http://www.tepcharter.org/apply.php
Open positions:http://www.tepcharter.org/open-teaching-positions.php
Social Studies Teacher
English Language Arts Teacher
Special Education Teacher
Mathematics Teacher
Science Teacher
Physical Education Teacher
Music Teacher
About TEP Charter School
TEP aims to put into practice the central conclusion of a large body of research related to student achievement: teacher quality is the most important school-based factor in the academic success of students, particularly those from low-income families. In singling out teacher quality as the essential lever in educational reform, TEP is uniquely focused on attracting and retaining master teachers. To do so, TEP uses a three-pronged strategy that it terms the 3 R's: Rigorous Qualifications, Redefined Expectations, & Revolutionary Compensation. For more information, visit us online at http://www.tepcharter.org
Info Session @ TEP
Thinking about applying for a teaching position at TEP? Attend an in-person information session with TEP's Principal, Zeke Vanderhoek. Take a tour of the school, and learn more about the teacher application process and teaching at TEP.
Learn how to RSVP for the event by clicking the following link:http://www.tepcharter.org/session-for-teachers.php
We also have a Live Online Info Session too!
Click here for more information: http://www.tepcharter.org/info-session-for-teachers.php
***************************************************