October 2013 - Special Educator e-Journal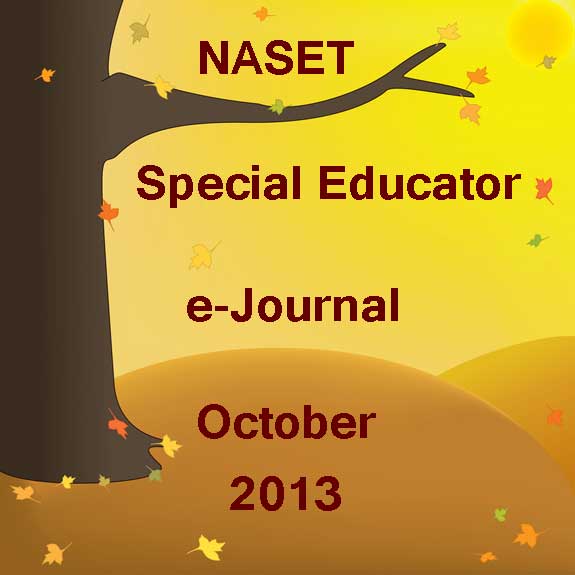 Table of Contents
Update from the U.S. Department of Education
Special Education Resources

Update From The National Dissemination Center for Children with Disabilities

Latest Employment Opportunities Posted on NASET

Upcoming Conferences and Events

Funding Forecast and Award Opportunities
Acknowledgements

Download a PDF or XPS Version of This Issue
---
NASET Members - Login Below to access the latest Special Educator e-Journal.
Site visitors: You may access a sample e-Journal - Sample e-Journal
---
Latest Employment Opportunities Posted on
NASET
New York, NY
Job Category: Middle School Teacher
$125,000 Salary for Master Middle School Teachers!
Earn a $125,000 salary and join a team of master teachers at The Equity Project (TEP) Charter School, recently featured on the front page of the New York Times:http://www.tepcharter.org/nytimes.php. TEP is a 480-student 5th through 8th grade middle school in the Washington Heights neighborhood of New York City.
Learn more and apply today at http://www.tepcharter.org/apply.php
Open positions: http://www.tepcharter.org/open-teaching-positions.php
Social Studies Teacher
English Language Arts Teacher
Special Education Teacher
Mathematics Teacher
Science Teacher
Physical Education Teacher
Music Teacher
About TEP Charter School
TEP aims to put into practice the central conclusion of a large body of research related to student achievement: teacher quality is the most important school-based factor in the academic success of students, particularly those from low-income families. In singling out teacher quality as the essential lever in educational reform, TEP is uniquely focused on attracting and retaining master teachers. To do so, TEP uses a three-pronged strategy that it terms the 3 R's: Rigorous Qualifications, Redefined Expectations, & Revolutionary Compensation. For more information, visit us online at www.tepcharter.org
Info Session @ TEP
Thinking about applying for a teaching position at TEP? Attend an in-person information session with TEP's Principal, Zeke Vanderhoek. Take a tour of the school, and learn more about the teacher application process and teaching at TEP.
Learn how to RSVP for the event by clicking the following link:http://www.tepcharter.org/session-for-teachers.php
We also have a Live Online Info Session too!
Click here for more information: http://www.tepcharter.org/info-session-for-teachers.php
Contact
Email:jobs@tepcharter.org
***************************************************
Somerville, Massachusetts, United States, 02144
Job Category: Full Time
Description:
Tufts Educational Day Care Center is an innovative year-round, full-day educational preschool and kindergarten program for children from within the Tufts community and surrounding cities. TEDCC serves as a laboratory site for the University and is affiliated with the Department of Child Development, in the School of Arts and Sciences at Tufts University. The center enrolls approximately 82 children ages 2.9-6.
The Teacher's responsibilities include providing a dynamic, developmental, inclusive program for preschool or kindergarten age children, working with families, therapists, and team-teaching. Beginning the second year, teachers coordinate a center wide program, initiative, or service and may supervise University undergraduate and graduate students.
THE TEACHER WILL:
In collaboration with your teaching team, plan and execute an educational program and physical environment which are developmentally sound, multi-culturally relevant, and sensitive to the range of individual differences reflected in your student, staff, and family populations. Adhere to referral procedures when concerned about child/family development.
Work with your Mentor Teacher to develop an effective teaching team which usually includes the Mentor Teacher, two full-time teachers, a graduate teaching assistant and student teacher or field worker;
Attend and contribute to weekly or bi-weekly supervision meetings with your Mentor Teacher and in monthly staff meetings; Communicate regularly with the Parent Coordinator, School Coordinator, Special Needs Coordinator and specialists through regularly scheduled meetings, and on an as-needed basis, and let them know well in advance of changes in classroom and child schedules (field trips, special projects, vacation weeks, etc;)
Meet with every family prior to or shortly after school starts in the fall. Make every effort to attend school events like picnics, fund-raisers, and evening parent meetings; Communicate regularly with families via daily verbal contact, bi-monthly emails, progress reports, family conferences and telephone calls. Plan Fall Curriculum Open House and other all-classroom parent meetings as warranted. Prepare and present twice yearly evening Child Study meetings for contact children with special needs; as directed, keep the Director, Parent Coordinator, School Coordinator, or Special Needs Coordinator informed of any vital child/family development and information, safety issues, classroom/teacher related issues, buildings and grounds and maintenance concerns.
Maintain a safe environment both in the classroom, throughout the school and on the playground. Follow policy related to injuries, accidents and incidents by completing accident/incident logs for the Director's signature. Post all appropriate policies and relevant classroom information in a visible place, including child allergies, emergency response procedures, health and illness policy, attendance sheets, hand washing and toileting procedures, location of first-aid/evacuation bag, and child attendance log. Maintain team meeting minutes and team communication log.
Create documentation to make learning visible, inform curriculum projects, and encourage collective inquiry and reflection among children, teachers and parents. Use technology (digital cameras and computers) to support the documentation process.
Collaborate with Director to define and fulfill responsibilities required for the successful coordination of a center wide program, initiative or service (e.g. special friends, research, playground, etc;)
Basic Requirements:
Bachelor's degree in Early Childhood Education and/or related field OR a Bachelor's Degree in an unrelated field and EEC Lead Teacher Qualification.
Minimum of one (1) year teaching experience with children who have a wide range of individual differences, including special needs.
Excellent communication skills, both oral and written and oral and written; excellent classroom management and organizational skills; proven competence in behavior management; knowledge of and experience implementing developmentally appropriate curriculum for young children; flexible in approach to working with children, families and colleagues.
Must successfully complete all appropriate background checks as required
Preferred Qualifications:
Skill in designing classroom environments.
Experience supervising University students.
Knowledge of and experience with the ideas of Reggio Emilia Schools, Italy.
Experience with the Project Approach to Curriculum Development.
Experience with documentation and making learning visible for parents, children, and teachers.
Experience using media and technology in the classroom.
Knowledge of and experience with the principles of Anti-Bias Education.
Special Work Schedule Requirements:
Attendance at monthly evening staff meetings, monthly evening parent meetings, twice-yearly individual parent conferences, child study meetings, and SPED meetings - many of which are after shift hours; flexibility in shift hours (8-3, 8:30-3:30, or 10:30-5:30) and the ability to work extended hours when necessary to meet the requirements of the position.
Tufts University is an AA/EO employer and actively seeks candidates from diverse backgrounds.
***************************************************
Pennsylvania, United States
Job Category: Special Education Teacher, Emotional Support
The Southeast Delco School District fosters a student-centered learning environment in which students are problem-solvers, informed decision makers, as well as collaborative and cooperative learners. All students have access to powerful technological tools which enable them to make connections between knowledge and understanding. In this stimulating atmosphere, access to information and communication with others is unlimited. This nurturing environment provides a quality education by which all our students can achieve academic excellence.
We are seeking a Special Education Teacher for an Emotional Support class at Academy Park High School in the Southeast Delco School District. This contracted position will teach emotional support high school students. Block scheduling is used in our high school. This is a challenging assignment so only candidates who truly want to work with emotional support students should apply.
The position begins on August 21, 2013. Candidates must hold a valid and active PA certification in Special Education (N-12) and English (7-12).
Interested candidates should send their letter of interest, resume, PA Standard Teaching Application, copy of PA certification, copy of Praxis test scores, Act 34, 114, 151 clearances, college transcripts, three letters of recommendation to the Southeast Delco School District at:  https://sedelco.schoolrecruiter.net/index.aspx
Deadline: September 18th EOE
Contact: Human Resources
***************************************************
Phoenix, AZ
Job Category: (Special Education)
Description:
Works collaboratively with parents and fellow educators in nurturing the student to academic and behavioral excellence.
Develop IEP's for students who qualify for SPED services and annually update them.
Design a program that meets the identified student needs as listed in IEP's.
Consult with regular education teachers and other support personnel to ensure that the needs of the students with disabilities are being met in the inclusion classroom.
Coordinate required psychological services within the required deadlines.
Coordinate related services (speech, OT, etc.) as outlined in student's IEP's.
Schedule, attend and lead all IEP and SPED meetings.
Prepare required documents and notices for SPED meetings.
Continue professional growth through educational meetings, visiting related facilities, reading professional literature, and exchanging ideas among the teachers and staff.
Assist RTI staff in the pre-identification process.
Use appropriate formative assessment instruments pertinent to instructional areas to assess on-going student progress and maintain required assessment documentation.
Maintain a positive environment conducive to effective learning.
Provide varied instructional techniques and technology through individual and/or group sessions designed to meet the educational, social and emotional needs of the students.
Assist in the selection of books, equipment and other materials for SPED students.
Effectively utilize interns and community partners to enhance instruction.
Coordinate with other support staff (Gifted, SEI, RtI, Tutors, and Mentors) to maximize student learning.
Public Relations/Communication:
Establish and maintaining cooperative relations with other employees.
Assist in providing information to community groups and parents concerning special education programs as requested.
Work to establish and maintain open lines of communication with students and their parents concerning the academic and behavioral progress of all assigned students.
Monitoring and Reporting:
Ensure that each student in the program has required evaluation records in his/her permanent SPED folder.
Maintain individual student special education files in compliance with federal and state regulations.
Quarterly evaluate student progress on IEP goals and report to parents and teachers.
Assure that all students with disabling conditions receive the accommodations listed in IEP's to successfully participate in classroom instruction and assessments.
Complete the Annual SPED Data Collection Report for students with disabilities.
Assist the Leadership Team in all activities that relate to SPED monitoring.
Other Job-related Responsibilities:
Complete all required surveys in a timely manner.
Requirements:
Bachelor degree and certification in special education, Current Arizona Security Clearance Card, hold and maintain current CPR and first aid certification.
Excellent experience in teaching and working with diverse students in the field of special education
Experience teaching struggling students of diversity
Working knowledge of Arizona state standards
Ability to work collaboratively in a high-stakes environment
Outstanding instructional skills, including the ability to motivate and challenge students and maintain an orderly classroom environment
Demonstrated expertise in special education processes and instruction
Strong sense of personal accountability for student achievement
Belief that all students should be held to high academic and content standards
Ability to communicate effectively with students, parents, and other staff members
Demonstrated professionalism, responsibility, and a strong work ethic
Positive attitude and a drive for personal excellence
Problem solving ability
***************************************************
Chicago, Illinois
Job Category: Special Education Teacher
Description:
( Apply online athttp://www.applitrack.com/uno/onlineapp/default.aspx )
UNO's educational philosophy is grounded in the principle that the key to student success is the powerful presence of adults in each child's life. Our organization believes in a call to service and a call for service, the type of service that reflects pride, passion, and respect. Because of this, UNO aims to recruit only the most talented, dedicated, and visionary professionals that are capable of creating and cultivating genuine relationships with our key stakeholders; students, parents, and the community.
UNO educators believe in not only establishing the highest expectations for our students, but also taking on the critical responsibility to ensure they are met. To reach this end, we employ strategic evaluative techniques to assess student learning and use this data to drive instructional decision-making. Furthermore, we utilize a variety of instructional methods and interventions in order to ensure that all students achieve mastery of both skills and content knowledge across the curriculum.
UNO educators have urgency for student growth and achievement and rely on our innovation to ensure all students meet the rigorous individual goals set for them. We are results-oriented and regard student learning as the measure of effectiveness of our teaching. Ultimately, we know that we are responsible for the academic and personal growth of our students, and we are willing to do whatever it takes to ensure success. UNO teachers are unique in that they realize success is built on relationships. They focus their work on student learning. Furthermore, they whole-heartedly believe that all students can learn and demonstrate that by engaging principles of distributed leadership and distributed counseling. UNO ensures that all staff understands that it is our shared responsibility to develop our students, both personally and academically.
Classroom teachers in UNO high schools lead the curriculum, instruction, and assessment for students to which they are assigned. They relentlessly pursue student growth and achievement through diligent planning, careful instructional execution, and on-going collaboration with colleagues and the school leadership team.
Requirements:
Education: Bachelor's degree (required), Masters degree (preferred)
Experience: At least one year of teaching experience; co-teaching experience (preferred) • Experience working with children who have been educationally underserved • Strong technology skills and familiarity with electronic IEP systems preferred • Candidate must be able to demonstrate the academic progress of students under his/her leadership and articulate the methods used to achieve those results
Certification: Valid Illinois Type 9, Type 10 or equivalent (required)• ISBE issued LBSI endorsement or equivalent (required) • National Board Teaching Certification (optional)
Benefits:
Salary Commensurate with Experience, Competitive Benefits Package
Apply online athttp://www.applitrack.com/uno/onlineapp/default.aspx )
Location:

UNO Soccer High School, 5025 S St. Louis Ave, Chicago
***************************************************
Avondale, ARIZONA
Job Category: Special Education 9-12th Grade Teachers Needed
Description:
Agua Fria Union High School District was established in 1955. Today, the district serves the communities of Litchfield, Goodyear, Avondale, Buckeye and part of Glendale with its four high schools. Come be a part of our district, we offer competitive salaries, eligible for health benefits and additional compensation. Visit our website to view our job openings.
Minimum Qualifications:
1. A valid Arizona teaching certificate for the position to which the individual is assigned.
2. A valid DPS Fingerprint Clearance Card.
3. Must possess either a Provisional SEI endorsement, a full ESL endorsement, or a full Bilingual     endorsement.
4. Must be highly qualified in the core content for the position to which the individual is assigned.
Benefits:
Eligible for Health Care Benefits
Competitive Salary Schedule
Eligible for Additional Compensation for High Needs Position.
Contact:
***************************************************
Raleigh, North Carolina
Job Category: Head of a private LD school
Description:
The Fletcher Academy: A School of Achievement was founded in 1981 by Dr. Leon Silber as the first school in North Carolina dedicated solely to students with learning differences. For the past decade, under the excellent leadership of Ms. Junell Blaylock, Fletcher has thrived as a local resource and a national leader in helping exceptional children discover their unique minds and styles of learning. With Ms. Blaylock's recent announcement that she will retire in June 2014, Southern Teachers Agency has been retained to conduct the search for Fletcher Academy's next Headmaster.
The Headmaster will inherit a unique and effective program, a committed and experienced faculty, and a dedicated board that fully supports Fletcher's mission as an unparalleled, comprehensive private school for students with attention and learning challenges. The new Headmaster will be expected to learn and sustain the Fletcher approach, to continue recruiting and supporting outstanding teachers and staff, to assess needs and provide tools for 21st century learning, and to preserve and enhance the school's very caring, nurturing environment.
Requirements:
As prospective leaders of a closely-knit community, candidates must be approachable, attentive, and clearly committed to students with learning differences. The Headmaster must be organized and creative, knowledgeable about special education, and authentic. Most important, he or she must lead with love, compassion, and a profound desire to help all at Fletcher achieve their very best.
Benefits:
Salary and benefits for this position are above the national median for schools of this type.
Contact:
Interested applicants should submit via email an STA application (available atwww.SouthernTeachers.com), current resume, cover letter list of references, and educational philosophy to
Mr. Jamie Estes
Estes@SouthernTeachers.com.
This position begins in July 2014. For the full position profile, please visitwww.SouthernTeachers.com.
***************************************************