November 2014 - Special Educator e-Journal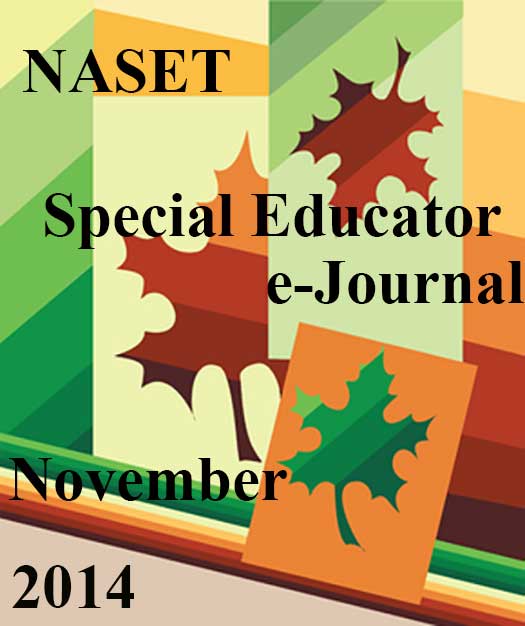 Table of Contents
Update from the U.S. Department of Education

Making the Grade: Written by Jessie S. Thacker-King

Intersection: Navigating the Road to Work

Legislative Announcements, Calls to Participate and New Projects

Latest Employment Opportunities Post on NASET

Upcoming Conferences and Events

Funding Forecast and Award Opportunities

Acknowledgements

Download a PDF or XPS Version of this Issue
________________________________________________________________________________________
NASET Members - Login Below to access the latest Special Educator e-Journal.
Site visitors: You may access a sample e-Journal - Sample e-Journal
---
To learn more click on the image above or - Click here
---
Latest Employment Opportunities Posted on
NASET
Bellingham, WA
Job Category: Assistant Professor in Special Education
Responsibilities:
Teach undergraduate and graduate courses in Special Education.
Work with department and college to align department curriculum with state and professional performance-based standards.
Maintain an active and visible program of scholarship, including presentations and publications.
Participate in service within the department, college, university, community, and professional organizations.
Advise undergraduate and graduate students.
Supervise students in community-based or school settings.
Required Qualifications:
Earned doctorate or doctoral specialization in special education or school psychology by September 2015.
Evidence of commitment to continuing scholarly activity in special education or school psychology.
Experience working with children and youth with disabilities.
Excellent written and oral communication skills.
Experience working with diverse populations and a commitment to advancing matters of equity and inclusion.
Present or past credential in special education or school psychology.
Experience in schools (P-12).
Demonstrated potential for excellence in teaching at the university level.
Preferred Qualifications:
Evidence of active, applied, collaborative scholarship in special education.
Teaching and scholarship in bilingual and/or multicultural special education.
Expertise in high incidence disabilities, including methods for teaching reading to at-risk populations and children with disabilities.
Expertise in universal design for learning.
Experience aligning university curriculum with state and national standards for special education.
Experience in collaborating with general educators, families, other professionals, and/or community.
Evidence of successful university teaching.
Salary:
Salary is commensurate with experience and qualifications.
Bargaining Union:
United Faculty of Western Washington
To Apply:
Please submit your application via WWU's Electronic Application System for Employment (EASE) at https://jobs.wwu.edu/. Note: You will need to use Internet Explorer to fully utilize WWU's online application system. Materials may be attached as noted on the EASE application.
Application materials should include:
Cover letter addressing the position qualifications
Vita
Two scholarly writing samples
For further information on this position please contact Dr. Gail Coulter by emailGail.coulter@wwu.edu or phone 360-650-2667.
***************************************************
Irving, Texas
Job Category: Education Therapist for Brain Injured Patients
SPECIAL ED TEACHER!
EDUCATION THERAPIST
THE POSITION IS FULL TIME, M-F ONLY WITH PAID HOLIDAYS! EXCELLENT BENEFITS!
Tests and evaluates patients using formal and informal methods.
Develops and implements individual educational goals and treatment plans for assigned
Employs academic courses of study and methods to enhance academic levels.
Reviews and revises programs as deemed necessary.
Attends and reports verbally or in writing in conferences
Prepares conference summaries/reports for each assigned patient as needed per month.
E-mail: hrtx@neuroskills, Tel:972-580-8500, Fax: 972-255-3162,
1320 W. Walnut Hill, Irving
SPECIAL KNOWLEDGE, SKILL AND ABILITY REQUIREMENTS:
Teaching Credential, preferably in Special Education is preferred.
Experience in rehabilitation or with developmentally disabled is preferred.
EDUCATION REQUIRED:
Bachelors degree in Education or related field.
Benefits:
Health, Life and Dental insurance options
Paid Time Off Accrual
Holiday Pay
Continuing Education opportunities
401k
Contact:
Send resume to hrtx@neuroskills.com or fax to 972-871-5327.
***************************************************
Washington, DC
Job Category: Teacher
Facilitate Learning
Understand developmental levels of scholars and appropriately differentiate instruction
Understand and use variety of data and data sources for lesson planning
Monitor and modify lesson plans to heighten learning
Effect variety of strategies to meet learning styles of scholars Integrate and use technology in instruction
Help scholars to develop critical thinking and problem-solving skills
Seek and collaborate with specialists who can support special needs of scholars.
Establish and Maintain Effective Learning Environment
Set and maintain high expectations for academic performance and behavior
Foster nurturing, respectful, and positive classroom environment
Collaborate with peers and instructional leaders to ensure rigorous and appropriate instruction
Treat scholars as individuals
Ensure scholar engagement and learning.
Know Content Area and Apply Interdisciplinary Content Knowledge
Align instruction with Common Core Standards and Chavez Curriculum Guide Bring richness and depth of understanding to classroom
Demonstrate interconnectedness of content areas/disciplines
Make instruction relevant
Integrate public policy into coursework
Take responsibility for scholar progress
Grow and learn: work collaboratively to create learning community
Promote confidence and build partnerships within school community e.g. parents, guardians, community stakeholders, etc.
Innovate
Actively participate in professional development programs
Assume role in school improvement beyond the classroom
Keep current on trends, legislation and developments related to education.
Core Requirements:
Passion for educating traditionally underserved scholars Intense commitment to high standards and excellence
Bachelor's Degree
2+ years of relevant teaching experience
Demonstrated content expertise
Achievement of NCLB's Highly Qualified standard (successful completion of the appropriate Praxis content test; or undergrad/grad major or equivalent in content area)
Contact:
Pamela Merkerson
Talent Acquisition Manager
Chavez Schools
pamela.merkerson@chavezschools.org
***************************************************
New York, NY
Job Category: Teaching
Job Overview:
TEP's Part-Time Literacy Specialist (approximately 15 hours per week) will work one-on-one with students identified as struggling readers in both push-in and pullout capacities, spiraling effective literacy interventions into the student(s)' existing curriculum. The Literacy Specialist will design, implement and track interventions for the focus student(s) to develop decoding, fluency, and reading comprehension skills. The major aim is to facilitate substantial growth in the focused student(s)' reading ability.
Start Date:
Immediate opening. Start date is flexible.
Accountability:
The Part-Time Literacy Specialist will report directly to the TEP Special Education Coordinator to develop and track and progress towards specific objectives set by the Literacy Specialist.
Compensation & Schedule:
The Literacy Specialist will be paid $20 to $25 per hour, based on instructional experience and expertise. The Literacy Specialist will work approximately 3 hours per day (15 hours per week).
Application:
To apply, please submit a resume and cover letter to jobs@tepcharter.org. The subject line of your email should read Part-Time Literacy Specialist. Your cover letter must detail your specific experience and expertise in literacy instruction, including specific curricular materials or interventions you have successfully used to support struggling readers. Applications submitted without a cover letter will NOT be considered.
Deadlines & Notifications:
TEP is currently reviewing applications on a rolling basis. Applications will be reviewed in the order that they are received. If you submit both a cover letter and resume, you will receive a response from us as to whether or not you will be invited to the next stage in the process. (If you only submit a resume, without a cover letter, you will NOT receive a response from us.)
Responsibilities:
Details:
1. Goal Setting and Tracking (a) Create and track specific, measurable goals for reading growth, based on diagnostic assessment and observations
(b) Report progress to student(s), families, other teacher(s) and administrators
2. Reading Interventions and Instruction (a) Design and implement reading instruction and interventions
(b) Use data to drive instructional shifts
(c) Coordinate with grade-level teachers to incorporate intervention within the existing curriculum
3. Behavior Management & Support (a) Develop, refine, and maintain management systems that engage and inspire
Qualifications & Personal Attributes:
Details:
1. Experience & Expertise (a) Significant experience as an ELA or Literacy or Special Education Instructor or Related Service Provider, preferably in an upper elementary or middle school setting
(b) Significant knowledge of research-based and/or classroom-tested literacy instruction strategies and interventions
(c) Ability to engage and motivate a struggling reader
2. Interpersonal (a) Exhibits strong leadership, interpersonal and communication skills (b) Treats others with respect, regardless of gender, race, sexual orientation, background, or ability
3. Work Ethic (a) Sets the highest standard of excellence for himself/herself (b) Enjoys the challenge of, and works well in, a dynamic, fast-paced environment (c) Works well in a collaborative, team-oriented work environment
4. Philosophy (a) Adheres to the belief that all students can learn given the appropriate supports (b) Is committed to the vision and philosophy of the TEP organization
5. Character (a) Is committed to acting with honesty and integrity in all matters involving TEP students, parents, staff, and community members
Compensation & Schedule:
The Literacy Specialist will be paid $20 to $25 per hour, based on instructional experience and expertise. The Literacy Specialist will work approximately 3 hours per day (15 hours per week).
Contact:
Please visithttp://www.tepcharter.org/Part-Time-Literacy-Specialist.php for details.
***************************************************
New York, NY
Job Category: Teaching
Description:
The Equity Project Charter School is now hiring for Social Studies/ History, ELA and Special Education Teaching positions.
Featured in The New York Times and on 60 Minutes, TEP is the school that pays its teachers a $125,000 salary to work on a team of master practitioners in an environment that values and develops teaching excellence. We are currently hiring teachers in Social Studies/ History, ELA and Special Education.
Teacher Apprenticeship positions are also available. The Equity Project Charter School is a 5th through 8th grade middle school serving low-income students in the Washington Heights neighborhood of New York City.
TEP Charter School is designed and structured around the belief that teachers are the key personnel in achieving educational success for its students. In singling out teacher quality as the essential lever in educational reform as opposed to other reforms such as class size reduction or pre-packaged curricular models TEP builds on an extensive body of research that shows that teacher quality is the most important educational input predicting student achievement.
Requirements:
Please visit our website at http://www.tepcharter.org/apply.php for specific details on requirements and how to apply.
Benefits:
Please visit this link for detailed information on revolutionary compensationhttp://www.tepcharter.org/revolutionary-compensation.php.
Contact:
Visit:http://www.tepcharter.org/apply.php for details on how to apply.
***************************************************
Los Angeles, CA
Job Category: Director of Special Education
Responsibilities:
Curriculum:
Supervise and provide leadership for the Special Education program at multiple schools
Develop and implement appropriate educational curriculum
Provide leadership in the timely assessments of students including completion of Individualized Education Program (IEP) and 504 related paperwork
Report progress on students with IEPs and 504 plans to various constituents.
Collaborate with other staff to manage and organize the physical classroom environments to promote learning, including the development of classroom management systems
Use effective teaching and behavior management strategies
Follow all required program accommodations and modifications indicated in each student's IEP
Advise teachers about means of altering, accommodation, and, or modifying teaching methods when working with students with diverse abilities in their classrooms
Provide faculty with program and testing needs from each student's IEP.
Provide direct instruction to individuals and small groups in a professional development setting as needed.
Ensure special education staff and as needed general education staff are able to assess how students with diverse abilities learn best and then adapt teaching methods to fit students unique learning styles
Establish classroom climates that encourage student growth and development in areas of knowledge, skills, and attributes as delineated in the educational mission
Administer diagnostic tests as needed.
Student Services:
Function as liaison and advocate for students with diverse abilities on various school teams as needed between home, school, and, or agencies as needed.
Proactively and effectively communicate and collaborate with other members of the faculty on issues regarding concerns about individual students
Monitor student progress towards achieving instructional objectives and goals on the IEPs and report service hours on Welligent
Parent Communications:
Maintain regular contact with parents of students receiving special education services
Meet with parents/guardians as needed to communicate IEP services, supports, and, or results of assessments.
Contribute to creating a welcoming environment for parents, including participating in any meetings with school personnel regarding student performance
Report on student progress through quarterly updates of progress on IEP goals/benchmarks
Initiate and conduct individual parent meetings for students receiving IEP services
Conduct at least two parent education meetings/workshops on special education related topics
Program Implementation:
Develop, maintain, and lead in Student Support Team meetings for students identified as potentially having special needs
Work with the administrative staff and other faculty members to ensure the implementation of a cohesive educational program
Manage data base systems such as Welligent for all special education staff and administration
Train and develop all special education teachers
Manage and help develop all school psychologists
Organizational/Administrative:
Report special education related statistics as they become available
Complete IEP paperwork as required by federal and state laws
Maintain the confidential files for special education students
Participate in determining appropriate classroom placement for incoming and transitioning students
Supervise all special education staff and partnerships with outside staffing agencies
Coordinate Special services as required by each student's IEP
Qualifications and Experience:
California Teaching Credential with Special Education/Educational Specialist Clear (Level II) Credential.
Successful manager of an urban classroom who has used structure and high expectations to drive student success • Experienced classroom teacher with demonstrated quantifiable and objective student performance gains with English Language Learners • Ability to work with a variety of learning abilities, including those with special needs and low skill level in a heterogeneously grouped classroom setting
Demonstrated ability to work well in a team, especially with parents and community members
Analytical problem solver • Basic understanding of data analysis
Minimum three years of urban teaching preferred
Bilingual (Spanish) Preferred
Salary and Benefits:
Salary: Salary based on education and experience
Status: Full Time
Start Date: An exceptional candidate will assume a full time role as soon as possible
Location: Los Angeles, CA
Benefits:Health, dental, vision, life insurance, 403b plan, personal time off, holidays
Contact:
Olga Ramos
Human Resources Coordinator
Bright Star Schools
oramos@brightstarschools.org
***************************************************
California: Burbank, San Gabriel, Inland Empire, San Bernardino and Hesperia
Job Category: High School, Special Education
Description:
Options For Youth is a guided independent study public charter school serving students in grades 7 through 12. We are currently looking for a Resource Specialist (RSP Teacher) to join our dynamic team.
General Summary:
The primary responsibility of the RSP teacher is to provide instruction and other related services to Special Education students. The RSP teacher will also facilitate diagnostic assessment including administration, scoring and interpretation. RSP teachers will review and revise IEP's as needed. The Resource Specialist will support instruction in reading, math, and written language for students, tutor individual and small groups of students, administer and score academic testing, write individualized education plans and support other academic programs as needed. The Resource Specialist will work under the leadership of the Program Specialist and the Director of Special Education.
Essential Functions include, but are not limited to the following:*
Provide instruction to students with special needs and identified learning disabilities in a resource specialist program
Tutor individual and small groups of students, reinforcing language and reading concepts
Administer and score individual and group tests
Schedule IEP meetings, coordinating schedules with parents, general education teacher(s), administrator, and all appropriate special education staff
Conduct IEP meetings
Communicate and coordinate special needs evaluation and testing with speech teacher, psychologist, and other service providers.
Communicate with parents regarding individual student progress and conduct
Maintain progress records and record progress toward IEP goals
Record progress within the independent study program
Perform other duties in support of the Resource Specialist program
Support other academic programs offered within the independent study program
Knowledge, Skills and Abilities Required:
Resource Specialist Certificate or ability to obtain Mild/Moderate Certificate
Ability to teach students of grades K-12
Ability to work with children of all ages
Ability to understand, adopt, and support the independent study program, concepts and their philosophies
Ability to organize and present ideas effectively in oral and written form.
Ability to make skillful decisions
Ability to work under pressure and meet deadlines
Ability to operate a PC computer, word processor, copier, FAX, and other office machines.
Education and Experience:
Minimum BA degree or equivalent.
Valid California Teaching Credential in Special Education (Mild/Moderate)
*The specific statements shown in each section of this description are not intended to be all inclusive. They describe the general nature and level of work being performed and/or represent typical elements and criteria considered necessary to successfully perform the job. The Company retains the discretion to add to or change the duties of the position at any time.
Visit our website at ofy.org to learn more about our company!
Requirements:
A valid California Teaching Credential in Special Education (Mild/Moderate).
Benefits:
Full-time and temp-on-call positions available. Full-time positions include benefits, retirement plans, holiday and vacation pay and potential incentives.
Contact:
Sophia Montiel
HR Generalist
Options For Youth | Pathways Management Group
Office:626.204.2525 | Email: smontiel@ofy.org
Website:http://www.ofy.org/
***************************************************
Bridgeport, CT
Job Category: Special Education Teacher
Description:
The mission of the Great Oaks Charter School is to prepare its students to succeed in college. We will do this by instilling in students the scholarship, discipline, and honor necessary to be successful in college and to pursue a career of their choice.
Position Summary:
Great teachers are at the heart of what we do, and are the key to our students' college success. The Special Education Teacher is responsible for ensuring that every student at Great Oaks is supported in their academic development. He/she will be responsible for providing IEP services in the following settings: general education classroom, resource room, and tutorial groups. He/she will be the primary person responsible for ensuring that students with special needs receive the proper accommodations within the classroom and during tutorial sessions. He/she will also oversee progress monitoring for his/her caseload. This teacher will work closely with the Special Services Coordinator and tutors to ensure all students have access to a quality education. All teachers will also take on additional responsibilities around the school such as advisory, lunch duty, enrichment classes, and after school activities. Our most successful teachers are those who operate with a team mindset; we are all in this work together and it will take each and every one of us to achieve college success for our students.
Outcomes:
THROUGHOUT THE YEAR, THE SPECIAL EDUCATION TEACHER WILL:
Ensure that the school is meeting the needs of all students by:
Monitoring student performance data and progress towards IEP goals
Providing services in the general education setting, resource room setting, and tutorial block setting
Maintaining consistent communications with families regarding student progress
Participating in the evaluation/reevaluation process
Communicating with all general education teachers, tutors, and the Special Services Coordinator regarding the needs and progress of his/her students with special needs
Regularly contribute to the Student Support Team
Maintain a strong classroom culture by:
Clearly and consistently communicating and upholding school rules, values, and expectations in and out of the classroom
Setting an urgent, respectful, and positive tone in the classroom
Displaying extraordinary time management to maximize student learning and sense of urgency
Building relationships with students that communicate that succeeding in college is important, that the student can do it, and that we will not give up on a student
Plan a rigorous curriculum and deliver strong instruction by:
Demonstrating solid knowledge and understanding of the content matter
Using a multitude of instructional strategies that are academically rigorous and highly engaging
Working with the Special Services Coordinator to create and implement quarterly interventions
Executing detailed lesson plans mapped to specific IEP goals and objectives
Taking responsibility for student progress; constantly working to respond to students' needs
Contribute to the creation of a data-driven culture by:
Tracking and analyzing student data both publicly and internally to identify learning needs
Using student achievement data to set ambitious goals for the students
Planning and implementing strategies to achieve targets related to student learning outcomes
Collaborating with other teachers to develop and revise curriculum based on assessment data
Competencies:
GRIT - must have the ability to persevere and succeed at a challenging task
Relationship-building - must show evidence of building and leveraging strong relationships
Relentlessness - must be willing to do whatever it takes to constantly improve student achievement, including occasional evening and weekend commitments
Communicate Effectively - must be able to clearly communicate with peers and supervisors
Qualifications:
A strong academic record with a bachelor's degree from a competitive college or university required; advanced degree in subject area preferred
At least two years of experience improving student achievement at an urban school
Extremely strong classroom management abilities
A strong belief in the importance of a no excuses school culture; experience preferred
A strong belief that all students can succeed
Connecticut teaching certification preferred
Exceptional ability to respond well to feedback and implement it immediately
Compensation:
GO Bridgeport provides a competitive compensation and benefits package; exact compensation will vary based on experience and education
To Apply:
Please send your resume and cover letter to bridgeportcareers@greatoakscharter.org
***************************************************
Sherman Oaks, CA & Culver City, CA
Job Category: Full Time Teaching
The Help Group is now hiring special education TEACHERS!
The Help Group's nine specialized day schools offer pre-K through high school programs for more than 1,450 students. Its broad range of mental health and therapy services, child abuse and residential programs extends its reach to more than 6,000 children and their families each year. With more than 950 staff members, The Help Group's state-of-the-art schools and programs are located on seven campuses in the Los Angeles area.
We are hiring for our Autism schools located on our Sherman Oaks and Culver City campuses.
Must have one of the following credentials:
Current or expected enrollment in a University internship special education program
Level I or II Mild/Moderate credential with the Added Autism Authorization
Level I or II Moderate/Severe credential
Level I or II Early Childhood Special Education credential
The Help Group offers:
Excellent benefits, including 100% employer sponsored plans and partial tuition reimbursement.
Outstanding work environment.
We pay our Level I/Level II teachers according to the LAUSD pay scale.
Generous sign on bonuses based on credential:
$2,500 sign on bonus for teachers with Level I/II mild/moderate credential AND the autism added authorization
$3,500 sign on bonus for teachers with Level I/II moderate/severe credential
$1,500 sign on bonus for moderate/severe intern teachers - those who are in university-approved moderate/severe intern programs
Contact:
Please submit your cover letter and resume to careers@thehelpgroup.org or fax to 818-779-5242. Please include your special ed credential in the subject line.
For more information about The Help Group please visit our website at www.thehelpgroup.org No calls please!
***************************************************
San Rafael and Concord, CA
Job Category: Special Education Teacher
Description:
Join a team that is making a difference in the community! Anova is Northern California's most trusted provider of educational, behavioral, and therapy services for children with autism and all types of disabilities. This is a full-time, Contracted (Exempt) position and is based on the number of school calendar days.
The Special Education Teacher is responsible for planning, structuring, implementing and evaluating the behavioral and educational components of their classroom. This position oversees the daily operations of their classroom and assumes responsibility for the design and implementation of IEP goals and objectives. This position supervises and offers guidance to classroom staff to ensure a positive and high quality teaching environment, and ensures compliance with agency policies and procedures and other appropriate regulations and standards.
Requirements:
Must hold a valid CA Special Education Teaching Credential or Intern Credential.
At least two years of experience working with developmentally disabled and / or emotionally disturbed students in an environment utilizing an Applied Behavior Analysis approach.
Must have computer access with internet capabilities.
Supervisory experience is highly preferred.
Benefits:
Anova benefits include Health, Dental, and Vision Insurance, Term Life Insurance, 403(b) plan, and the Employee Assistance Plan (EAP). All Anova employees also participate in training and professional development.
With campuses in three North Bay counties and administrative offices in beautiful wine country, Anova employees enjoy the climates, communities, and scenery that make Northern California one of the most desirable places in the world to live and work.
Contact:
Please go to http://www.anovaeducation.org/careers to download and submit an employment application. You may also send a cover letter, employment application, and resume via email to Kelly Obremski at kobremski@anovaeducation.org or call 707-527-7032 for more information.
***************************************************