November 2013 - Special Educator e-Journal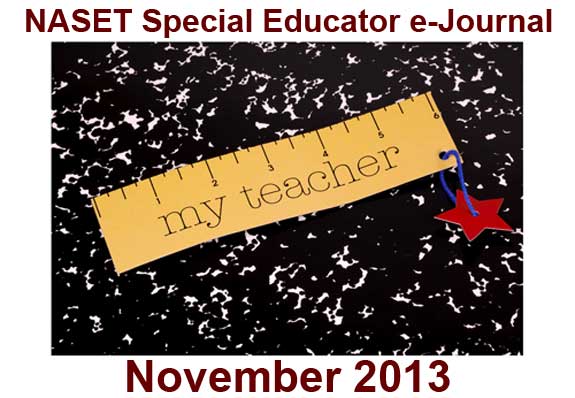 Table of Contents
Update from the U.S. Department of Education
Special Education Resources

Update From The National Dissemination Center for Children with Disabilities
Article: Successful Transition Models for Youth with Mental Health Needs: A Guide for Workforce Professionals
Latest Employment Opportunities Posted on NASET

Upcoming Conferences and Events

Funding Forecast and Award Opportunities
Acknowledgements

Download a PDF or XPS Version of This Issue
---
NASET Members - Login Below to access the latest Special Educator e-Journal.
Site visitors: You may access a sample e-Journal - Sample e-Journal
---
To learn more click on the image above or - Click here
---
Latest Employment Opportunities Posted on
NASET
Indianola, IA
Job Category: Educator at Liberal Arts College
Description
Simpson College, a private, nationally recognized regional college grounded in the liberal arts tradition and affiliated with the United Methodist Church invites nominations and applications for the position of Special Education Assistant/Associate Professor. This full-time, tenure track position requires a Ph.D. or Ed.D. with course work in special education (ABD candidates may be considered), successful K-12 special education teaching experience, exemplary college teaching, and support of the department mission.
Simpson College does not unlawfully discriminate and aims to employ persons of various backgrounds and experiences to help constitute a diverse community. We are particularly interested in receiving applications from members of underrepresented groups.
Requirements
The position will begin August 19, 2014, and requires a Ph.D. or Ed.D. (ABD candidates may be considered), interdisciplinary interest, and experience and/or expressed interest in working at a primarily residential, liberal arts institution. Candidates for the position must demonstrate potential for excellence in teaching and a willingness to engage students in scholarship, research and/or creative work. Faculty members at Simpson College are expected to participate in faculty governance, student advising, new student recruitment and in other ways that demonstrate support of the mission of the institution. Successful applicants will demonstrate a commitment to cultural diversity and the ability to work with individuals from diverse backgrounds. Employment will require a criminal background check, which may include, but is not limited to, criminal history, national sex offender search and motor vehicle history.
Benefits
Simpson College encourages innovative teaching and seeks colleagues who will help its students of all ages develop critical intellectual skills, nurture values which foster personal worth and individuality for the purpose of living lives of leadership within a creative, diverse, and just community. The main campus in Indianola, Iowa is located just 12 minutes from the capital city of Des Moines, Iowa. Additional facilities are located in West Des Moines and Ankeny. To learn more about Simpson College please visit: www.simpson.edu
Contact
Review of complete applications will begin on November 15, 2013 and continue until the position is filled. Submit application letter, curriculum vita, transcripts, and three letters of recommendation by email or U.S. mail to:
Dr. Barb Ramos, Chair
Department of Education
Simpson College
701 North C Street
Indianola, IA 50125
barb.ramos@simpson.edu
***************************************************
Boise, ID
Job Category: Management
Excelon Associates has an immediate need for a Manager of Special Education for a fully-accredited provider of high-quality, highly accountable virtual education solution for students in grades K-12 in Idaho.
As a Manager of Special Education working at an office in Boise, Idaho, theManager of Special Education, who reports to the School Principal, will oversee all aspects of educational service delivery for our students with special education needs. The Manager will ensure that the school operates in compliance with all state and federal regulations, and data are being collected, stored, and updated in a manner that meets all compliance expectations.
The Manager of Special Education will ensure that the school is providing appropriate programs in the least restrictive environment for all students with special needs. This will include management of the pre-referral and IEP processes, maintain student data, communicate with parents, locate and contract with service providers throughout the state, and ensure that the school operates in compliance with special education law and procedures at all times. The Manager may also have a reduced teaching load.
Requirements
Masters Degree in Special Education or related Education Field.
Special Education certification in Idaho.
Teaching experience in Special Education
Expertise in special education law and compliance.
Excellent communication skills, both oral and written.
Customer focused approach.
High degree of flexibility.
Demonstrated ability to work well in fast paced environment.
Technologically proficient (especially with Microsoft Office products).
Occasional travel.
Experience in policy (IDEA) and/or administration with Special Education.
Experience with contract negotiations.
If your skill-set meets or exceeds the above requirements, then please forward a copy of your resume and certification to susan@excelonassociates.com.
Benefits
This opportunity is working with a leader in education. Excellent benefits, and relocation assistance from anywhere in Idaho.
Contact
For more information, please contact Susan Forman atsusan@excelonassociates.com.
***************************************************
The American School in Japan, Tokyo, Japan
Job Category: International School Learning Support Teacher
Description
The Upper Grade Learning Support specialist leads the identification and remediation of students who are at greatest risk for not acquiring foundational literacy and numeracy skills in the upper elementary grades. This work is performed through a process of referral, assessment, and identification for learning support instruction in areas such as phonics, decoding, reading fluency, and reading comprehension. Direct instruction of students in small pull out groups is the primary vehicle for service delivery. The specialist also collaborates and consults with teachers at assigned grade levels to provide instruction, administer grade level assessments, and monitor student achievement. The specialist consults with parents--providing reports of student progress at parent-teacher conferences, strategies for supporting their children, and materials to aid understanding of diagnosed learning differences. Teacher also works as a member of a student support team.
Requirements
1. Successful experience as a learning support specialist serving high functioning learners with varied needs
2. Flexibility in working with varied models of service delivery including classroom based and pullout
3. Experience in using varied diagnostic strategies and tools to identify learning difficulties and ability to convey a clear picture of results to key audiences
4. Skillful in providing targeted direct instruction in key areas of literacy and numeracy development
5. Proven ability to collaborate and consult with teachers to support differentiated instruction, administer and analyze assessments, and monitor student achievement
6. Effective written and verbal communication skills
7. Experience as a member of a multi-disciplinary Student Support Team
8. Experience in supporting the elementary admissions process through on-going consultation and admissions screening of applicants.
Benefits
Competitive Salary & Benefits
$60,000 Starting Salary
Moving/Relocation Allowance
Housing Allowance
Retirement
Health Insurance
Home Leave Allowance
Contact
Edwin Ladd, Head of School: jobs@asij.ac.jp
Tel. 81-422-34-5300
Fax: 81-422-34-5303
School website:www.asij.ac.jp
***************************************************
Phoenix, AZ
Job Category: (Special Education)
Description:
Cumberland Therapy Services has immediate needs for Special Education Teachers in Phoenix, AZ area elementary schools. All qualified candidates must be AZ K-12 Cross Categorical SPED Certification and AZ Fingerprint card eligible.
We specialize in school based placements. As always, we are offering a competitive salary and outstanding benefits: health coverage from Day 1, including a free option, dental and vision insurance, generous paid time off, continuing education, 401K, full reimbursement for your licensure, and the unique personal attention, mentoring and support we offer every member of the Cumberland team.
We have openings in lots of other places too, so if you're looking to move out of state CALL! Or if you're all set with work or maybe not looking to move but you know someone that might be interested don't forget about our $1000 referral bonus program! Please contact me immediately for more information!
Requirements:
AZ K-12 Cross Categorical SPED Certification and AZ Fingerprint card eligible.
Benefits:
Cumberland Therapy Services, LLC is an Equal Opportunity Employer
Contact:
Nikki Eswein
Recruiter
Cumberland Therapy Services LLC.
Phone: 1-800-337-5965 x 608
Fax: 1-800-822-8287
neswein@cumberlandtherapy.com


Website:www.cumberlandtherapy.com
***************************************************
Cambridge, MA
Job Category: Special Education
DUTIES AND RESPONSIBILITIES:
The Special Needs/Inclusion Facilitator will provide direct support in adapting and modifying programs to meet the needs of a specific child or children enrolled in Department of Human Service Programs (DHSP) /Out of School (OST) Programs. The Special Needs/Inclusion Facilitator will be supervised directly by the head supervisor in each program with support and guidance provided by the Inclusion Specialist for the Department of Human Services.
Help children transition into and out of DHSP/ OST programs
In conjunction with other team members maintain a positive, inclusive environment for both children and adults at all times.
Share in classroom responsibilities as assigned by site supervisor (activity planning, set up and break down and classroom maintenance/classroom cleaning)
Provide proximity support to identified children at all times
In conjunction with the Inclusion Specialist and other team members, develop and implement accommodations to meet the needs of identified children.
Perform related duties involving identified children as may be designated by the Head Supervisor of the program
Maintain constant communication with supervisor within program as well as with Inclusion Specialist
Participate in all classroom and on site staff meetings
Reasonable accommodations may be made to enable individuals with disabilities to perform essential functions.
MINIMUM REQUIREMENTS:
Practical experience working with children with special and diverse needs.
Demonstrate verbally, basic clinical/diagnostic understanding of children's needs
Have a basic understanding and/or willingness to be trained in Positive Behavior Support techniques.
Excellent verbal and written communication skills.
PHYSICAL DEMANDS:
While performing the duties of this job, the employee is frequently required to sit, talk, walk, and hear.  The employee is occasionally required to run, during play or responding to an emergency.  Employees are frequently required to engage with children on the floor and at their eye level.  Employees are frequently required to use their hands and arms to handle and manipulate objects as well as reach.  The employee must occasionally lift and/or move a child.  Vision abilities are required for supervision of children.
WORK ENVIRONMENT:
The noise level in work environment is moderate to very loud.  The work environment includes classroom and outdoor playgrounds and occasional field trips.
HOURS OF WORK:
Position begin immediately and continue through the school year.
19.50 hrs/wk.   Monday-Friday within afterschool schedule between  2:00pm-6:00pm.  Occasional full days.
RATE:
$ 14.51 - $15.00/hr.
APPLICATION PROCEDURE:
External applicants submit both your resume and letter of interest via email to:employment@cambridgema.gov or to Personnel Dept, Room 309, City Hall, 795 Massachusetts Avenue, Cambridge MA  02139. Fax 617-349-4312.  Candidates may also apply by going to schoolspring.com and apply for job id #508702 or to gohttp://www.schoolspring.com/employer/jobs/job.cfm?j_id=508702
THE CITY OF CAMBRIDGE IS AN AFFIRMATIVE ACTION/EQUAL OPPORTUNITY EMPLOYER. WOMEN, MINORITIES, VETERANS, AND PERSONS WITH DISABILITIES ARE ENCOURAGED TO APPLY. CITY OF CAMBRIDGE RESIDENTS ARE ESPECIALLY ENCOUARGE TO APPLY.
***************************************************
New York, NY
Job Category: Middle School Teacher
$125,000 Salary for Master Middle School Teachers!
Earn a $125,000 salary and join a team of master teachers at The Equity Project (TEP) Charter School, recently featured on the front page of the New York Times:http://www.tepcharter.org/nytimes.php. TEP is a 480-student 5th through 8th grade middle school in the Washington Heights neighborhood of New York City.
Learn more and apply today at http://www.tepcharter.org/apply.php
Open positions: http://www.tepcharter.org/open-teaching-positions.php
Social Studies Teacher
English Language Arts Teacher
Special Education Teacher
Mathematics Teacher
Science Teacher
Physical Education Teacher
Music Teacher
About TEP Charter School
TEP aims to put into practice the central conclusion of a large body of research related to student achievement: teacher quality is the most important school-based factor in the academic success of students, particularly those from low-income families. In singling out teacher quality as the essential lever in educational reform, TEP is uniquely focused on attracting and retaining master teachers. To do so, TEP uses a three-pronged strategy that it terms the 3 R's: Rigorous Qualifications, Redefined Expectations, & Revolutionary Compensation. For more information, visit us online at www.tepcharter.org
Info Session @ TEP
Thinking about applying for a teaching position at TEP? Attend an in-person information session with TEP's Principal, Zeke Vanderhoek. Take a tour of the school, and learn more about the teacher application process and teaching at TEP.
Learn how to RSVP for the event by clicking the following link:http://www.tepcharter.org/session-for-teachers.php
We also have a Live Online Info Session too!
Click here for more information: http://www.tepcharter.org/info-session-for-teachers.php
Contact
Email:jobs@tepcharter.org
***************************************************
Phoenix, AZ
Job Category: (Special Education)
Description:
Works collaboratively with parents and fellow educators in nurturing the student to academic and behavioral excellence.
Develop IEP's for students who qualify for SPED services and annually update them.
Design a program that meets the identified student needs as listed in IEP's.
Consult with regular education teachers and other support personnel to ensure that the needs of the students with disabilities are being met in the inclusion classroom.
Coordinate required psychological services within the required deadlines.
Coordinate related services (speech, OT, etc.) as outlined in student's IEP's.
Schedule, attend and lead all IEP and SPED meetings.
Prepare required documents and notices for SPED meetings.
Continue professional growth through educational meetings, visiting related facilities, reading professional literature, and exchanging ideas among the teachers and staff.
Assist RTI staff in the pre-identification process.
Use appropriate formative assessment instruments pertinent to instructional areas to assess on-going student progress and maintain required assessment documentation.
Maintain a positive environment conducive to effective learning.
Provide varied instructional techniques and technology through individual and/or group sessions designed to meet the educational, social and emotional needs of the students.
Assist in the selection of books, equipment and other materials for SPED students.
Effectively utilize interns and community partners to enhance instruction.
Coordinate with other support staff (Gifted, SEI, RtI, Tutors, and Mentors) to maximize student learning.
Public Relations/Communication:
Establish and maintaining cooperative relations with other employees.
Assist in providing information to community groups and parents concerning special education programs as requested.
Work to establish and maintain open lines of communication with students and their parents concerning the academic and behavioral progress of all assigned students.
Monitoring and Reporting:
Ensure that each student in the program has required evaluation records in his/her permanent SPED folder.
Maintain individual student special education files in compliance with federal and state regulations.
Quarterly evaluate student progress on IEP goals and report to parents and teachers.
Assure that all students with disabling conditions receive the accommodations listed in IEP's to successfully participate in classroom instruction and assessments.
Complete the Annual SPED Data Collection Report for students with disabilities.
Assist the Leadership Team in all activities that relate to SPED monitoring.
Other Job-related Responsibilities:
Complete all required surveys in a timely manner.
Requirements:
Bachelor degree and certification in special education, Current Arizona Security Clearance Card, hold and maintain current CPR and first aid certification.
Excellent experience in teaching and working with diverse students in the field of special education
Experience teaching struggling students of diversity
Working knowledge of Arizona state standards
Ability to work collaboratively in a high-stakes environment
Outstanding instructional skills, including the ability to motivate and challenge students and maintain an orderly classroom environment
Demonstrated expertise in special education processes and instruction
Strong sense of personal accountability for student achievement
Belief that all students should be held to high academic and content standards
Ability to communicate effectively with students, parents, and other staff members
Demonstrated professionalism, responsibility, and a strong work ethic
Positive attitude and a drive for personal excellence
Problem solving ability
Send resume to:
lrodriguez@paideiaacademies.com
***************************************************
*