March 2014 - Special Educator e-Journal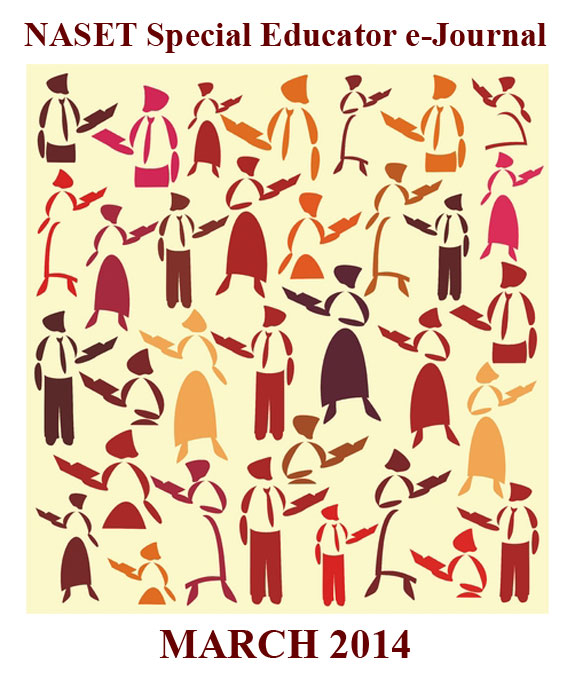 Table of Contents
Update from the U.S. Department of Education
Calls to Participate and New Projects
Special Education Resources
Latest Employment Opportunities Posted on NASET

Upcoming Conferences and Events

Funding Forecast and Award Opportunities
Acknowledgements

Download a PDF or XPS Version of This Issue
---
NASET Members - Login Below to access the latest Special Educator e-Journal.
Site visitors: You may access a sample e-Journal - Sample e-Journal
---
To learn more click on the image above or - Click here
---
To learn more click on the image above or - Click here
---
Latest Employment Opportunities Posted on
NASET
Special Education Teacher
Chicago, Illinois
Job Category: Full Time
General Summary:
The primary responsibility of the Special Education Teacher (RSP) is to provide instruction and other related services to Special Education students. The RSP Teacher will also facilitate diagnostic assessment including administration, scoring and interpretation. RSP teachers will review and revise IEPs as needed. The Resource Specialist will support instruction in reading, math, and written language for students, tutor individual and small groups of students, administer and score academic testing, write individualized education plans and support other academic programs as needed. The Resource Specialist will work under the leadership of the Program Specialist and the Director of Special Education.
ESSENTIAL FUNCTIONS INCLUDE, BUT ARE NOT LIMITED TO THE FOLLOWING:*
· Provide instruction to students with special needs and identified learning disabilities in a resource specialist program· Tutor individual and small groups of students, reinforcing language and reading concepts· Administer and score individual and group tests· Schedule IEP meetings, coordinating schedules with parents, general education teacher(s), administrator, and all appropriate special education staff· Conduct IEP meetings· Communicate and coordinate special needs evaluation and testing with speech teacher, psychologist, and other service providers.· Communicate with parents regarding individual student progress and conduct· Maintain progress records and record progress toward IEP goals· Record progress within the independent study program· Perform other duties in support of the Resource Specialist program· Support other academic programs offered within the independent study program
KNOWLEDGE, SKILLS AN

D ABILITIES REQUIRED

:
·Resource Specialist Certificate or ability to obtain Mild/Moderate Certificate
·Ability to teach students of grades K-12
·Ability to work with children of all ages
·Ability to understand, adopt, and support the independent study program, concepts and their philosophies
·Ability to organize and present ideas effectively in oral and written form.
·Ability to make skillful decisions
·Ability to work under pressure and meet deadlines
·Ability to operate a PC computer, word processor, copier, FAX, and other office machines.

EDUCATION AND EXPERI

ENCE:
·Minimum BA degree or equivalent.
·Valid California Teaching Credential in Special Education (Mild/Moderate)

EDUCATION AND EXPERI

ENCE:
·Minimum BA degree or equivalent.
·Valid Illinois Credential in Special Education -LBS1-(K-12)

BENEFITS

:
We offer a full benefit package including Medical, Dental, 401K.
CONTACT:
Lisa Arnold626-921-8259
***************************************************
SEN Specialist
Abu Dhabi, UAE
Job Category: Special Education Teacher
Description
Teachers required for American, British and Indian curriculum Private schools in Abu Dhabi and Dubai in the UAE. Ability to teach any of the above curriculums and excellent English a must. Progressive and friendly schools, competitive salaries, and an excellent life-style. Send a letter of interest with your resume, degree and teaching license to the following email address to receive an application form.
Requirements
Minimum requirement B.Ed with teaching license or certificate.
Benefits
Excellent salary, plus housing, airfare and health insurance.
Contact
Nellie AmerieVP -Operationsnjarrett@aidcinc.com
***************************************************
Special Needs Category Buyer
Monterey, CA
Job Category: Special Needs Educator -Career change
SUMMARY
Responsible for managing the assortment, selection, vendor negotiation, catalog page layout and pagination of the Achievement Products catalog, the DSS catalogs Special Needs categories, and related web sites. Specific category responsibility includes margin improvement, sales growth/business trend analysis, new product development, and product training to grow the Special Needs knowledge base of company personnel. Position requires excellent ability to work independently, to meet deadlines and manage multiple details at once.
· Accelerate category growth and results by sourcing and developing new product opportunities.· Analyze the competitive environment to identify trends and pricing strategies,· Paginate and lay out the Achievement Products catalog and the Special Needs sections of our catalogs using data to optimize placement on product page sizes.· Manage vendor negotiations including pricing, payment and freight terms, discounts and minimum order quantities.
Education and Experience
4-year college degree required plus at least 2-3 years in merchandising that includes specific product selection/buying responsibilities. Knowledge of Special Needs issues and catalog merchandising preferred. However, someone with excellent knowledge of Special Needs education will be seriously considered. Must be able to demonstrate success at acting on business trend results and developing new products.Up to 25% travel is required for trade shows and conferences.
Exciting opportunity to help grow a business and still contribute to your passion to help those with special needs.
Salary, medical, dental, vision, life, 401K and a great working environment in a park like setting in beautiful Monterey, CA.
Contact
Julie Fraser
jfraser@excelligence.com
www.achievement-products.com
***************************************************
Principal Executive/Manager H
Salem, OR
Job Category: Program Director
The Oregon Department of Human Services is recruiting for a Principal Executive/Manager H (Developmental Disabilities Program Director) position located in Salem, OR. position provides an exciting and challenging opportunity to impact the development, implementation and provision of services to people with disabilities across Oregon. Benefits include a competitive salary, leave accrual, family health plan and retirement. Please consider joining a team committed to providing exceptional services! ). This position closes February 9th, 2014. DHS is an AA/EOE.
Application instructions and a detailed job announcement are available at www.oregonjobs.org(refer to job code# DHS14-0046
***************************************************
Special Education Senior Leader
Well established education management company seeks senior leader with a strong background and experience in special education programming, law, and fiscal oversight. The immediate task is to lead a Midwest-based, urban special education initiative receiving national attention. Excellent compensation package provided commensurate with experience. Doctoral-level degree preferred. If interested, please send cover letter and resume to: specialeducationleader@gmail.com
***************************************************
STEM Teacher
Washington, DC
Our students need your expertise, passion andleadership
We are looking for highly motivated and skilled talent to join our team at theDistrict of Columbia Public Schools(DCPS). We seek individuals who are passionate about transforming and improving educational outcomes for our students in the areas of science, math, engineering, and technology.
In DCPS, 4,000 teachers serve the needs of 46,000 students across 110 schools, including 6 Catalyst elementary schools with a specific focus on STEM instruction. As part of a comprehensive reform effort to become the best urban school system in America, DCPS intends to have the highest-performing, best paid, most satisfied, and most honored educator force in the nation whose work drives significant achievement gains for DCPS students.
Responsibilities
· Develop and implement STEM curricula to meet academic standards· Thoughtfully plan daily lessons and implement specific strategies to meet the needs of all students, providing extra support, enrichment, or variation of work when necessary· Be accountable for students' academic growth and increase each individual student's achievement· Design and implement assessments that measure progress towards academic standards and diagnose areas of student misunderstanding· Use assessment data to refine curriculum and inform instructional practices· Create a positive, achievement-oriented learning environment
· Reflect on successes and areas of growth as a teacher, seek to improve performance, and respond to feedback· Participate in collaborative curriculum development, grade-level activities, and school-wide functions· Invest parents and families in their children's academic success through regular communication· Perform other related duties as assigned
Qualifications
· Bachelor's degree· Possesses or is eligible for a valid District of Columbia Teaching License in the respective subject area (for more information on DC Teacher Licensure, please visit the website of the Office of the State Superintendent of Education at osse.dc.gov/service/teacher-licensure)· Successful completion of Praxis I and II exams (unless holding a standard teaching license)· Meets Highly Qualified status as defined by the NCLB mandates· Strong instructional skills and classroom management· Strong science, math, or engineering background or experience· Knowledge of technology and how to incorporate into instructional practice· Ability to self-reflect on teaching practices and be responsive to feedback
Personal Qualities of Top Candidates
· Commitment to Equity: Passionate about closing the achievement gap and ensuring that every child, regardless of background or circumstance, receives an excellent education.· Leadership: Coaches, mentors, and challenges others to excel despite obstacles and challenging situations.· Focus on Data-Driven Results: Relentlessly pursues the mastery of instruction based on student performance, and is driven by a desire to produce quantifiable student achievement gains.· Innovative Problem-Solving: Approaches work with a sense of possibility and sees challenges as opportunities for creative problem solving; takes initiative to explore issues and find potential innovative solutions.· Adaptability: Excels in constantly changing environments and adapts flexibly in shifting projects or priorities to meet the needs of a dynamic transformation effort; comfortable with ambiguity and non-routine situations.· Teamwork: Increases the effectiveness of surrounding teams through collaboration, constant learning and supporting others; sensitive to diversity in all its forms; respects and is committed to learning from others
How to apply:
To apply, visit our website atwww.joindcpublicschools.com, and complete our online application.
Questions
If you have any questions, please email us at dcpscareers@dc.gov, or call us at (202) 299-2145.
Stay Informed!
Follow us on Twitter at@DCPSJobs, or become a fan ofDCPS Jobson Facebook.
Criminal Background Check
In accordance with the Criminal Background Checks for the Protection of Children Act of 2004, this position has been designated and identified as one which requires a criminal background check and/or traffic record check. If you are tentatively selected for the position, a criminal background check will be conducted. A final offer of employment is contingent upon the receipt of a satisfactory criminal background check.
Notice of Non-Discrimination
In accordance with Title VI of the Civil Rights Act of 1964, Title IX of the Education Amendments of 1972, Section 504 of the Rehabilitation Act of 1973, the Age Discrimination Act of 1975, Title II of the Americans with Disabilities Act of 1990 and the D.C. Human Rights Act of 1977, as amended, District of Columbia Official Code Section 2-1401.01 et seq. (Act), the District of Columbia Public Schools (DCPS) does not discriminate (including employment therein and admission thereto) on the basis of actual or perceived race, color, religion, national origin, sex, age, marital status, personal appearance, sexual orientation, gender identity or expression, family status, family responsibilities, matriculation, political affiliation, genetic information, disability, source of income, status as a victim of an interfamily offense, or place of residence or business. Sexual harassment is a form of sex discrimination, which is prohibited by the Act. In addition, harassment based on anyof the above-protected categories is prohibited. Discrimination in violation of the aforementioned laws will not be tolerated. Violators will be subject to disciplinary action. Inquiries regarding the non-discrimination policies of DCPS will be handled asfollows:
Employees with inquiries regarding non-discrimination policies related to employment and employees should contact:
Equal Employment Opportunity SpecialistOffice of Labor Management & Employee RelationsDistrict of Columbia Public Schools1200 First St, NE, 10th Floor, Washington, DC 20002(202) 442-5424
***************************************************
Master Middle School Teachers -$125,000 Salary
New York, NY
Job Category: Middle School Teacher
$125,000 Salary for Master Middle School Teachers!
Earn a $125,000 salary and join a team of master teachers at The Equity Project (TEP) Charter School, recently featured on the front page of the New York Times:www.tepcharter.org/nytimes.php. TEP is a 480-student 5th through 8th grade middle school in the Washington Heights neighborhood of New York City.
Learn more and apply today atwww.tepcharter.org/apply.php
Open positions:www.tepcharter.org/open-teaching-positions.php
·Social Studies Teacher

·English Language Arts Teacher

·Special Education Teacher

·Mathematics Teacher

·Science Teacher

·Physical Education Teacher

·Music Teacher
About TEP Charter School
TEP aims to put into practice the central conclusion of a large body of research related to student achievement: teacher quality is the most important school-based factor in the academic success of students, particularly those from low-income families. In singling out teacher quality as the essential lever in educational reform, TEP is uniquely focused on attracting and retaining master teachers. To do so, TEP uses a three-pronged strategy that it terms the 3 R's: Rigorous Qualifications, Redefined Expectations, & Revolutionary Compensation. For more information, visit us online atwww.tepcharter.org
Info Session @ TEP
Thinking about applying for a teaching position at TEP? Attend an in-person information session with TEP's Principal, Zeke Vanderhoek. Take a tour of the school, and learn more about the teacher application process and teaching at TEP.
Learn how to RSVP for the event by clicking the following link:www.tepcharter.org/session-for-teachers.php
We also have a Live Online Info Session too!Click here for more information:www.tepcharter.org/info-session-for-teachers.php
Contact:jobs@tepcharter.org
***************************************************
Autism Intervention Program Supervisor
Los Angeles to start then Riyadh , Saudi Arabia
JobCategory: Permanent full-time, Contractual
Description:
A position is available for a special educator or a speech-language pathologist , to provide oversight of a private multidisciplinary intervention program for an 18-year-old male with moderate autism in Riyadh, Saudi Arabia. The first month or two to be spent in Los Angeles .Contract duration is negotiable (either 6 months or annual renewable). This professional will liaise between the Senior Intervention Consultants in the USA and the professionalswho are implementing the intervention program. Instruction will be provided within a homeschool environment, as well as in community settings.
Duties may include, but are not limited, to:
·Ensure that the intervention designed by the Consultant team is being implemented as intended.

·Observe the intervention team in their implementation of the intervention within the home-school setting, community settings, and in activities of daily living.

·Assist the intervention staff in troubleshooting and making fine-tuned adjustments to the intervention plan and lessons (as needed) to achieve optimal levels of client motivation and learning.

·Assist the intervention team in creating weekly lesson plans.

·Assist the personal care staff in implementing the intervention goals related to activities of daily living.

·Take data during intervention sessions and in activities of daily living, and summarize these data to monitor progress on all intervention goals.

·Report, in a timely fashion, progress monitoring data to the Consultant team.

·Meet at least bi-weekly with the consulting team via Skype or other tele -health systems.

·Meet weekly with other members of the educational and therapeutic team.

·Submit weekly lesson plans and progress results to Educational Supervisor.

·Be available for meeting with the family as requested.

·Be prepared to substitute for an intervention team member in the direct delivery of instruction if one of the intervention team members should be on leave or absent.
Requirements:
·Master's degree in special education or speech-language pathology.

·At least 2 years of experience teaching teens with autism.

·Familiar with implementation of intervention using principles of applied behavior analysis.

·Able to flexibly adapt curriculum to meet the individualized learning needs of students.

·Extremely organized.

·Flexible.

·Good communication skills.

·Team player.

·Willing to travel with the family.
Benefits:
·Tax free salary $8000/month.

·Full health coverage.

·Fully furnished accommodation plus utilities.

·Transportation.

·Relocation expenses. 35 days paid annual leave with return tickets.

·Service award at contract completion.
Contact:
Dr. M. Adnan Mughrabi+(966)509250629 or in USA (310)994-4309.mmughrabi@yahoo.com
***************************************************
Special Education Teacher (moderate-severe)
Santa Clara CA
Job Category: Special Education Teacher (moderate-severe)
PACE'sSpecial Education Teacher is responsible for maintaining a learning environment for students with Autism and related developmental disabilities.
Essential Functions
·Plan instruction and design learning experiences.

·Organize lesson plans.

·Create and maintain effective learning environments.

·Supervise classroom aides daily activities

·Work with an interdisciplinary team including occupational and speech therapists.
Requirements
·Bachelors degree with a certified L1 teaching credential in moderate-severe special education is a minimum. Masters in special education with an L2 credential in moderate-severe special education is preferred. )

·California credential preferred

·A minimum of 5 years experience in special education teaching is highly preferred.

·Dept. of Justice and FBI fingerprints will be required after job offer has been accepted.
Benefits
·Medical, Dental, Vision insurance

·Paid time off during school breaks and holidays

·403(b)plan

·Interdisciplinary team environment

·Dedicated staff

·San Francisco Bay Area location
Contact
Barbara Johnsonhr@pacificautism.orgwww.pacificautism.org
Pacific Autism Center for Education(PACE) provides high quality programs for individuals with Autism and associated developmental disabilities in the San Francisco Bay Area.
***************************************************