July 2014 - Special Educator e-Journal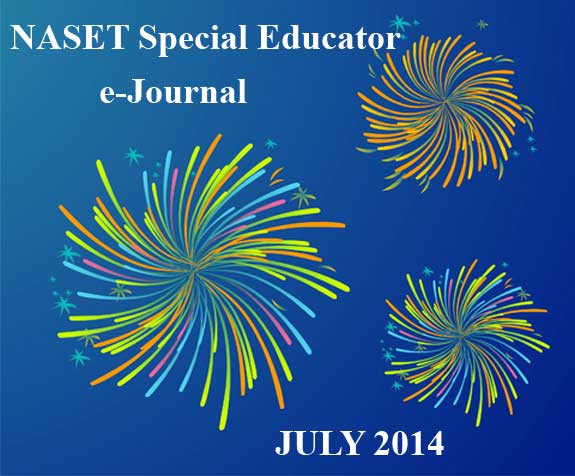 Table of Contents
Update from the U.S. Department of Education
Legislative Announcements, Calls to Participate and New Projects
Special Education Resources Review for 2014
Latest Employment Opportunities Posted on NASET

Upcoming Conferences and Events

Funding Forecast and Award Opportunities
Acknowledgements

Download a PDF or XPS Version of This Issue
---
NASET Members - Login Below to access the latest Special Educator e-Journal.
Site visitors: You may access a sample e-Journal - Sample e-Journal
---
Latest Employment Opportunities Posted on
NASET
Boston, MA
Job Category: Special Education Teacher
BLUEPRINT SCHOOLS NETWORK
Overview
Blueprint Schools Network (Blueprint) is a nonprofit organization based in Massachusetts. Our work with schools around the country has shown that positive change is possible when five core strategies for school improvement are implemented together as a comprehensive package. These strategies include:
1. Ensuring every student has an excellent teacher and a school leader committed to their success;
2. Setting clear, consistent standards for academic achievement and establishing a school-wide focus on preparing all students for college;
3. Increasing instructional time;
4. Providing daily, small group tutoring to students using highly qualified and well-trained instructors; and
5. Collecting assessment data frequently to monitor each student's academic progress and tailoring instruction to meet the needs of all learners.
In late January 2014, Commissioner of Elementary and Secondary Education Mitchell D. Chester selected Blueprint to become the receiver for Paul A. Dever (Dever) Elementary School in Boston. As receiver, Blueprint will assume full responsibility for the day-to-day implementation of our five core strategies in order to provide an excellent education to all students who attend.
We are seeking highly-skilled teachers to serve students in the Therapeutic Learning Community (TLC) program. The TLC program is a substantially separate setting designed to support the needs of students identified with emotional disabilities. The program (also known as a Learning Applied Behavior (LAB) cluster), consists of 4 classrooms (8-9 students per class) servicing students in Grades 1-5. Each classroom is taught by a special education teacher and a full-time paraprofessional, with part-time support provided through a contract with Wediko Children's Services.
A Clinical Coordinator provides direct counseling services, family/community outreach, and as-needed crisis support for all students within the program.
TLC teachers are responsible for delivering high-quality instruction aligned to grade-level expectations and Common Core frameworks while also supporting students' social and emotional needs.
Our turnaround teachers:
Are focused on results and have proven success in increasing student achievement;
Influence and motivate others to reach their potential;
Are solution-oriented and creative problem solvers with experience in data analysis;
Understand, communicate and effectively interact with people across cultures;
Continually reflect and seek feedback to improve their practice;
Have demonstrated perseverance in their career and education;
Thrive in a fast-paced, change-oriented environment;
Possess strong pedagogical skills and are highly effective in delivering content; and
Create systems and routines that ensure strong classroom management.
Qualifications:
• Bachelor's degree or higher from an accredited institution required
• Major/minor in specific teaching content area preferred
• Massachusetts teaching licensure required
• Certification in SPED required, Dual certification in SPED and/or ELL preferred
• CPI Certification required
• Experience working as a Special Education teacher in a substantially separate classroom and/or supporting students with emotional impairment strongly preferred
• Demonstrated experience in English Language Development (ELD) and Sheltered English Immersion (SEI) strategies strongly preferred
• Experience in urban, high-poverty, and/or turnaround schools preferred
Interested candidates should apply through the Blueprint Schools Network online system. To apply, please submit resume, cover letter, and two professional references at http://blueprintschools.theresumator.com/apply/.
NOTE: Please indicate within your cover letter if you are a current staff member of Dever A. Elementary School.
Blueprint Schools Network is an equal opportunity employer. M/F/D/V
***************************************************
San Diego, CA
Job Category: Education/Teaching
Description
ACES is dedicated to enhancing the quality of life for individuals and families impacted with Autism or other special needs. We provide comprehensive, professional services to maximize individuals' potential in the home, school and community, throughout their lifespan.
ACES is currently looking to hire a Teacher for the day class at ACES Academy NPS (moderate to severe). The hours would be M-F from 7am to 3pm*.
Must Meet the Following Requirements
CA credential authorizing instruction for moderate to severe population or be enrolled in appropriate credential program and eligible for an internship credential
Knowledge of ABA, TEACCH, and assistive technology
Able to write, implement, and oversee implementation of behavior intervention plans -able to complete all IEP documents
Successful at collaborating with other teachers, directors, SLPs, OTs, district case managers, and behavioral interventionists
Demonstrate leadership skills -create and maintain a safe classroom environment
Demonstrate skill in working with students in a positive, supportive manner
Have knowledge of a variety of instructional strategies and curriculum that are effective with students across a variety of disabilities
Benefits
Employee Benefits for eligible employees (Medical, Dental, and Vision), PTO and competitive salary.
Contact
If you believe you have the dedication and desire to help create change for our clients, then we invite you to apply right away. You may submit your resume tocareers@acesaba.com Please include a brief introduction & attach resume in .doc format. Please be sure to put "ACES Academy Teacher" in the subject line. You may visit our website at www.acesaba.com to learn more about ACES.
No Phone Calls Please. Due to the volume of resumes, we will contact only those candidates whose experience, education, availability and location match the current needs of ACES. Thank you for your interest and understanding.
***************************************************
Mult. Locations in Southern Nevada
Job Category: K - 12 Special Education Teaching
Description
Clark County is home to Las Vegas, a southwestern oasis and one of the most exciting and diverse cities on the planet, featuring world class shows, concerts, and dining experiences. With the third highest number of sunny days in the nation, Clark County is an outdoor enthusiasts' paradise, with opportunities to enjoy Lake Mead, the Colorado River, Red Rock Canyon National Conservation Area, or the mountains and pine trees of nearby Mt. Charleston. Centrally located in the heart of the southwest, Clark County is only four hours away from the beaches of southern California, and McCarran International Airport averages about 980 daily flights to connect with the rest of the nation and the world.
Our focus on innovation makes us an ideal home for teachers in the high need areas of Math, Science and Special Education. During years of rapid growth, CCSD has built more than 110 new schools since 2000, including six new Career & Technical Academies and some of the top magnet schools in the nation. No matter your background or area of specialty, you will find a school that will be a perfect fit.
If you're ready to pursue one of our Licensed positions, you can create and complete an application online. An e-mail address is required to apply. Once your account has been created, you may return to update your application, add attachments, or view your application.
Requirements
http://vegasteaching.org/application-instructions
Benefits
Health, Dental and Vision
Early Retirement
***************************************************
Ross, CA
Job Category: Certified Special Education Teacher
Job Description
To provide direct diagnostic and instructional services to students with disabilities in the core curriculum and to students who don't show adequate progress toward grade level goals; serve as an educational consultant to general education teachers by specifying what supplementary supports and aids are necessary for students to access and progress in the core curriculum; and meet the needs of accelerated students by offering enrichment groups with thematic lessons; project-based learning; and fieldwork.
Instruction: Teach access strategies to students and provide intensive intervention through differentiated activities. Promote greater independence for students progressing in the general education curriculum and accelerate the rate of achievement. Elicit greater student engagement; reinforce curriculum; and offer remediated instruction. Knowledge in the use of technology for skill building centers.
Case Management: Use results of diagnostic, evaluative and testing procedures to identify students, assess student progress and monitor growth. Participate in Data Decision Making (DDM) team meetings. Serve as case manager for special education eligible students by assessing and observing student progress on a regular basis and making changes to the IEP if student is not making appropriate progress. Develop goals appropriate to meet individual student's needs and keep updated progress on goals. Conduct individual academic assessments for initial and triennial evaluations. Interpret and write meaningful reports. Facilitate or participate in IEP team meeting. Train and direct instructional aides.
Educational Consultant: Share knowledge, resources and skills through collaboration with general education teachers. Assist, model and train classroom teachers on effective accommodations and modification techniques. Share joint responsibility for planning, assessment and instruction for students participating in the learning center. Incorporate more co-teaching opportunities in the service delivery model of instruction. Assist in how tech programs and applications can be generalized into general education classrooms. Assist administration and staff (in-services, workshops, etc.) in the development of new and innovative programs to assist in meeting the needs of students in the general education classroom. Establish and maintain channels of communication with home and related agencies as necessary.
Job Requirements
Credential Requirements: Multiple Subject Credential and Mild to Moderate Special Education Credential. Masters Degree in special education and additional single subject credential in math preferred.
Job Benefits
Full-time position. Salary determined by years of experience and education. Employee-only benefits.
Contact Information
Please apply via EDJOIN: http://www.edjoin.org/viewPosting.aspx?postingID=580182 If questions, please call Sarah Hornstein at 415-457-2705 x.210.
***************************************************
New York
Job Category: Master Middle School Teacher
$125,000 Salary for Master Middle School Teachers!
The Equity Project Charter School is a 5th through 8th grade middle school serving low-income students in the Washington Heights neighborhood of New York City. In each of the past 2 years, TEP has earned an overall grade of "A" from the NYC Department for Education and placed in the top 10% of all public middle schools in New York City.
Featured in The New York Times and on 60 Minutes, TEP is the school that pays its experienced teachers a $125,000 salary to work on a team of master practitioners in an environment that values and develops teaching excellence.
Learn more and apply today at: www.tepcharter.org/apply.php
Benefits:
$125,000 Salary
Contact:
Email:jobs@tepcharter.org
Telephone: 646-254-6451
Website:www.tepcharter.org
***************************************************
Mesa, Arizona
Job Category: Special Education Teacher
Mesa Public Schools is committed to providing unprecedented excellence in education. We believe in holding all students to high academic expectations and providing the resources and support to ensure that each student is equipped with the skills, attitudes and values necessary for success in life.
A community that cares about education, a quality staff and exceptional students make Mesa Public Schools one of the finest public school districts in the nations.
Mesa Public Schools is located in Mesa Arizona. Mesa is just a few miles away from Phoenix. Mesa is the largest school district in Arizona with an enrollment of over 64,000 students. We have 51 elementary, nine junior high, six comprehensive high schools and 16 choice and succeed schools in a 200 square mile district.
Mesa Public Schools has a nationally recognized Special Education Department. Please visit our website at www.mpsaz.org/hr for our on-line application process. We are currently hiring for next school year. We have openings in all areas of Special Education. Candidates must be highly qualified and properly certified to teach in the state of Arizona. We have a competitive salary and benefits package and excellent support for our new and experienced teachers.
For further information please contact Liz Biggs at eabiggs@mpsaz.org.
***************************************************
Nashville, TN
Job Category: Teacher and Interventionist
Description:
At the core of Intrepid College Prep's vision is the unwavering belief that all students, regardless of their socioeconomic status or educational background, deserve a high-quality, college preparatory education. With this core belief, we are targeting a student population that faces academic adversity based on factors such as income level or home language. Intrepid College Prep has approached development of the educational program very deliberately to meet prepsters where they are instructionally and accelerate them to achieve mastery at and above grade level.
The Prepster Support Teacher works with Blue Chip Teachers, the Director of Academic Achievement and Prepster Support Coordinator to ensure our prepsters have the academic supports necessary to excel.
This position requires:
At least one year teaching in an urban setting.
B.A., B.S. or other bachelors degree from a four-year institution
Special Education certification
Grit: A commitment to do whatever it takes to achieve aggressive gains for students who are academically behind.
Responsibilities include:
Draft IEPs, monitor progress toward academic and behavior goals, issue parent communication about IEP meetings
Ensure teachers are utilizing best practices and implementing effective and appropriate curricula
Work with the leadership team to organize professional development workshops regarding delivery of special education instruction and services
Accommodate student work packets, and homework to ensure students have the right amount of scaffolded to reach common learning objectives.
Collaborate with Prepster Support Team to ensure that instruction is always meeting the needs of all learners
Support advisory duties for a group of students, including home check and consistent family communication.
Reflect and grow as an educator by engaging with peers and leaders constantly through frequent in person and video observations and implementing feedback
Have structured planning time built into the school day to plan the highest quality lessons.
Follow RTI protocols to identify students that may have a learning disability.
Benefits:
We offer a generous compensation package. All staff members are equipped with the tools needed to succeed, including a dedicated work space, laptop computer, email, high-speed internet access, and all necessary supplies. Compensation is highly competitive; teachers are eligible to participate in the MNPS Retirement System.
Contact:
Mia Howard
Executive Director
(615) 810-8443
mhoward@intrepidcollegeprep.org
http://intrepidcollegeprep.org
***************************************************