July 2013 - Special Educator e-Journal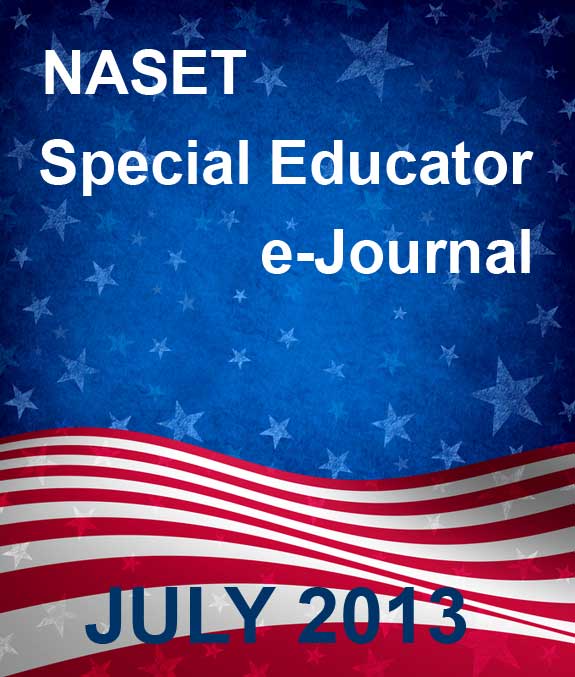 Table of Contents
Update from the U.S. Department of Education
Book Review: Parents and Professionals Partnering for Children with Disabilities: A Dance that Matters By: Grace Taylor
Special Education Resources

Update From The National Dissemination Center for Children with Disabilities

Latest Employment Opportunities Posted on NASET

Upcoming Conferences and Events

Funding Forecast and Award Opportunities

Acknowledgements

Download a PDF or XPS Version of This Issue
---
NASET Members - Login Below to access the latest Special Educator e-Journal.
Site visitors: You may access a sample e-Journal - Sample e-Journal
---
Latest Employment Opportunities Posted on
NASET
Darien, Connecticut
Job Category: Special Education Teacher
The Southfield Center for Development is a family-centered, interdisciplinary practice dedicated to providing comprehensive evaluation and care across a wide range of ages and challenges. The Southfield Center seeks an Education Specialist to join our team of more than 20 skilled practitioners who offer an integrated approach to the learning, emotional, behavioral, and medical issues that impact our children.
Job Description
Perform educational assessments to identify strengths and needs of a student, and design remediation programs for the school and home settings
Provide individualized reading support using evidence-based, systematic, and multisensory instruction
Provide individualized written language tutorial support using evidence-based instruction
Provide Executive Functions Coaching services and collaborate with Managing Director and Clinical Director on development of coaching team
Attend school meetings at parental request to explain client's academic profile and make recommendations for instruction
Collaborate with Center's advocacy team. Provide suggestions for IEP goals/objectives and appropriate reading programs for children with literacy challenges
Collaborate with Center's testing psychologists on recommendations for psychoeducational evaluations
Provide progress monitoring services to schools and parents through record review and targeted assessment
Provide review and analysis of RTI/SRBI programs targeting literacy challenges, to determine effectiveness of programming
Attend required staff and supervisory meetings
Give presentation once yearly at Center's grand rounds meeting
Collaborate with Managing Director to do community outreach to promote education specialist services
Additional responsibilities as determined by supervisor
Requirements
Master's Degree in Special Education
Expertise in conducting educational assessments and development of literacy intervention programs
Extensive training in, and experience utilizing, research-based methodologies for reading and writing instruction
Ability to work effectively with minimal supervision and prioritize responsibilities
Exemplary organizational skills
Excellent interpersonal skills with ability to professionally interface with clients, Center staff, and Center management
Contact
Ann McCarthy, Managing Director
203-202-7654 ext. 112
ann.mccarthy@southfieldcenter.com
***************************************************
Long Island City, NY
Job Category: Education/Teaching
Description
Review and comply with the guidelines of students' IEP's.
Create rigorous and engaging lesson plans in both detailed long-term and daily lesson plans that follow curriculum maps.
Set clear short-term and long-term goals to drive instruction.
Access resources of the VOICE community; pro-actively seek assistance or advice when faced with challenging teaching situations.
Infuse school values into daily lessons.
Coordinate all instructional planning and activities with grade-level teachers, coaches, and push-in and pull-out teachers.
Uphold all school policies within the classroom.
Maintain a productive, safe, focused and disciplined learning environment.
Create, administer, and analyze meaningful and frequent assessments from which re-teaching is then planned.
Provide necessary differentiation, accommodations and modifications for growth and success of all students.
Effectively teach English (as a content area including grammar, literature, phonics, reading comprehension, spelling, and oral and written communication skills), mathematics, science, physical education, health, social studies, and art.
Maintain rich classroom environment including classroom library, teaching points, process charts, and publication of student work.
Go above and beyond to ensure all students are meeting appropriate standards.
Keep parents well-informed of student performance and progress.
Model strong written and verbal skills of students I.E.P.s
Follow IDEA reporting requirements, including providing information about student performance and services received.
Maintain records and ensure their confidentiality.
Requirements:
A Bachelor's degree
NYS teaching certification and qualify as "highly qualified" under No Child Left Behind
Special Education certification
Pass criminal background check
Computer literate, able to use Microsoft Office, including Word and Excel, and access and load documents onto the VOICE shared drive; prompt with e-mail communication.
Though not required, the following experience will enhance applications:
Master's degree
Content area knowledge
At least two years of full-time teaching experience in an urban school
Leadership experience
Ability to teach enrichment classes (e.g. music, dance, sports, art)
Counseling or social work experience in a work or volunteer capacity
Multilingual
Experience in working with high needs students
Benefits:
The school offers a competitive salary and benefits package.
Contact:
All applications must be submitted via e-mail (voiceemployment@gmail.com). We are not able to respond to any mailed or faxed applications or phone calls regarding employment.
An application must include an updated professional resume and a letter that is specific to VOICE Charter School. The letter should reflect genuine interest in and familiarity with our school, mission, goals, population of students, etc (please visit our website for information about our school, www.voicecharterschool.org).
Please also note the following:
1) The full VOICE-specific cover letter must within the text of the e-mail.
2) Try not to exceed 300 words with the letter.
3) An updated professional resume/CV must be attached.
4) Please include your last name & position in the subject line (ie,"Smith: Assistant" or "Jones: Sp Ed").
Again, due to the large number of applicants, we are not able to respond to mailed or faxed applications or phone calls regarding employment. We will only review e-mailed materials.
***************************************************
New York, NY
Job Category: Middle School Teacher
$125,000 Salary for Master Middle School Teachers!
Earn a $125,000 salary and join a team of master teachers at The Equity Project (TEP) Charter School, recently featured on the front page of the New York Times:http://www.tepcharter.org/nytimes.php. TEP is a 480-student 5th through 8th grade middle school in the Washington Heights neighborhood of New York City.
Learn more and apply today at http://www.tepcharter.org/apply.php
Open positions: http://www.tepcharter.org/open-teaching-positions.php
Social Studies Teacher
English Language Arts Teacher
Special Education Teacher
Mathematics Teacher
Science Teacher
Physical Education Teacher
Music Teacher
About TEP Charter School
TEP aims to put into practice the central conclusion of a large body of research related to student achievement: teacher quality is the most important school-based factor in the academic success of students, particularly those from low-income families. In singling out teacher quality as the essential lever in educational reform, TEP is uniquely focused on attracting and retaining master teachers. To do so, TEP uses a three-pronged strategy that it terms the 3 R's: Rigorous Qualifications, Redefined Expectations, & Revolutionary Compensation. For more information, visit us online at http://www.tepcharter.org
Info Session @ TEP
Thinking about applying for a teaching position at TEP? Attend an in-person information session with TEP's Principal, Zeke Vanderhoek. Take a tour of the school, and learn more about the teacher application process and teaching at TEP.
Learn how to RSVP for the event by clicking the following link:http://www.tepcharter.org/session-for-teachers.php
We also have a Live Online Info Session too!
Click here for more information: http://www.tepcharter.org/info-session-for-teachers.php
***************************************************
The Archer School for Girls - Los Angeles, CA
Job Category: Learning Services
The Archer School for Girls is an educational community that supports and challenges young women to discover their passions and realize their true potential.
We provide a rigorous, integrated college preparatory curriculum that fosters critical thinking and intellectual curiosity.
We create and sustain a collaborative teaching and learning environment that explores and refines the ways girls learn best.
We help girls to become leaders and life-long learners, strengthening their capacity to contribute positively to their communities.
We strengthen girls' voices in a diverse and culturally rich environment.
We embrace possibility, promote challenge-seeking and support risk-taking.
We encourage girls to develop meaningful relationships with peers and faculty rooted in honesty, respect and responsibility.
We graduate courageous, committed and ethical young women who take responsibility for their own physical, financial and emotional well-being.
Archer has an opening, starting in August 2013, for a Director of Learning Services to support students in Grades 6-12 who have documented learning differences. The Director of Learning Services collaborates with faculty on effective teaching strategies and differentiated instruction in the classroom. Responsibilities include serving as a key liaison between students, teachers, parents, tutors, educational therapists, and administrators for team collaborations, diagnoses, and practical solutions for success, writing up preliminary assessments for students who are recommended for testing, and creating and updating Individualized Education Programs for students with documented learning differences. This position entails regular student observations, leading SST meetings, offering individual student support, and potentially teaching a class. The Director of Learning Services makes frequent calls to parents to facilitate communication and foster healthy school connections and meets daily with administrators and other school counselors.
Candidates should have a minimum of 5-7 years of experience as an educational therapist, a MA degree and prior experience working in independent schools. The ideal candidate has a strong educational background, exemplary counseling and teaching skills, a desire for ongoing professional development, and a passion for supporting young people in an ambitious learning environment. Candidates should also have demonstrated expertise in student-centered, collaborative, and inquiry-based teaching methodologies. The ideal person for this position has a desire to collaborate with colleagues, the flexibility to work with multiple grade levels and adults, and a track record as a proactive leader. Also essential are superior interpersonal skills; excellent organizational, time management, oral and written communication skills; the ability to set priorities while maintaining flexibility; attention to detail and accuracy; and a good sense of humor and enthusiasm for a high-energy work environment.
Responsibilities include supporting teachers with final exams and general test taking, handling paperwork and filing requirements of College Board and ACT for students with disabilities, and administering AP Exams, ReadiStep Tests, and SATs for students who get extended time. The Director of Learning Services should be prepared to consult with local professionals and educational consulting services to secure resources for Archer students, create a resource list for parents who are looking for outside support, and work with the School Counselor to support students from the counseling office.
Excellent benefits, retirement, vacation, holiday pay and professional development.
Resumes should be sent by email to Human Resources at hr@archer.org. No phone calls, please. More information on Archer can be found at www.archer.org.
***************************************************
Washington, DC
Job Category: 2013-14 School Year
Our students need your expertise, passion and leadership.
We are looking for highly motivated and skilled talent to join our team at the District of Columbia Public Schools (DCPS). We seek individuals who are passionate about transforming and improving educational outcomes for our students.
DCPS has a significant special education population across over more than 100 schools, and we aim to be recognized as a leader in urban special education. We are determined to do whatever it takes to ensure that students with disabilities become successful adults.
As part of a comprehensive reform effort to become the best urban school system in America, DCPS intends to have the highest-performing, best paid, most satisfied, and most honored educator force in the nation whose work drives significant achievement gains for DCPS students.
Responsibilities
Develop and implement curricula to meet academic standards for students with special needs
Develop, review, and revise Individual Education Programs (IEPs) for students with special needs when necessary
Meet with IEP Teams at least once a year to discuss student progress and IEP revisions
Thoughtfully plan daily lessons and implement specific strategies to meet the needs of all students
Work across a grade-team or content area with general education teachers to meet the needs of all students
Be accountable for students' academic growth and increase each individual student's achievement
Design and implement assessments that measure progress towards academic standards and diagnose areas of student misunderstanding
Use assessment data to refine curriculum and inform instructional practices
Create a positive, achievement-oriented learning environment
Reflect on successes and areas of growth as a teacher, seek to improve performance, and respond to feedback
Participate in collaborative curriculum development, grade-level activities, and school-wide functions
Invest parents and families in their children's academic success through regular communication
Perform other related duties as assigned
Qualifications
Bachelor's degree
Possesses or is eligible for a valid District of Columbia Teaching License in Special Education (for more information on DC Teacher Licensure, please visit the website of the Office of the State Superintendent of Education at http://osse.dc.gov/service/teacher-licensure)
Experience working with students with learning and emotional disabilities
Successful completion of Praxis I and II exams (unless holding a standard teaching license)
Meets Highly Qualified status as defined by the NCLB mandates
Strong instructional skills and classroom management
Ability to self-reflect on teaching practices and be responsive to feedback
Personal Qualities of Top Candidates
Commitment to Equity: Passionate about closing the achievement gap and ensuring that every child, regardless of background or circumstance, receives an excellent education.
Leadership: Coaches, mentors, and challenges others to excel despite obstacles and challenging situations.
Focus on Data-Driven Results: Relentlessly pursues the mastery of instruction based on student performance, and is driven by a desire to produce quantifiable student achievement gains.
Innovative Problem-Solving: Approaches work with a sense of possibility and sees challenges as opportunities for creative problem solving; takes initiative to explore issues and find potential innovative solutions.
Adaptability: Excels in constantly changing environments and adapts flexibly in shifting projects or priorities to meet the needs of a dynamic transformation effort; comfortable with ambiguity and non-routine situations.
Teamwork: Increases the effectiveness of surrounding teams through collaboration, constant learning and supporting others; sensitive to diversity in all its forms; respects and is committed to learning from others.
How to apply
To apply, visit our website at www.joindcpublicschools.com, and complete our online application.
Questions
If you have any questions, please email us at dcpscareers@dc.gov, or call us at (202) 299-2145.
View or Download a brochure about this position - Click here
Stay Informed!
Follow us on Twitter at @DCPSJobs, or become a fan of DCPS Jobs on Facebook.
Criminal Background Check
In accordance with the Criminal Background Checks for the Protection of Children Act of 2004, this position has been designated and identified as one which requires a criminal background check and/or traffic record check. If you are tentatively selected for the position, a criminal background check will be conducted. A final offer of employment is contingent upon the receipt of a satisfactory criminal background check.
Notice of Non-Discrimination
In accordance with Title VI of the Civil Rights Act of 1964, Title IX of the Education Amendments of 1972, Section 504 of the Rehabilitation Act of 1973, the Age Discrimination Act of 1975, Title II of the Americans with Disabilities Act of 1990 and the D.C. Human Rights Act of 1977, as amended, District of Columbia Official Code Section 2-1401.01 et seq. (Act), the District of Columbia Public Schools (DCPS) does not discriminate (including employment therein and admission thereto) on the basis of actual or perceived race, color, religion, national origin, sex, age, marital status, personal appearance, sexual orientation, gender identity or expression, family status, family responsibilities, matriculation, political affiliation, genetic information, disability, source of income, status as a victim of an interfamily offense, or place of residence or business. Sexual harassment is a form of sex discrimination, which is prohibited by the Act. In addition, harassment based on any of the above-protected categories is prohibited. Discrimination in violation of the aforementioned laws will not be tolerated. Violators will be subject to disciplinary action. Inquiries regarding the non-discrimination policies of DCPS will be handled as follows:
Employees with inquiries regarding non-discrimination policies related to employment and employees should contact:
Equal Employment Opportunity Specialist
Office of Labor Management & Employee Relations
District of Columbia Public Schools
1200 First St, NE, 10th Floor, Washington, DC 20002
(202) 442-5424
***************************************************
Southern New Jersey/Philadelphia
Job Category: Vocational Trainer of young adults with developmental and intellectual disabilities
Description:
Ken's Krew, Inc. is a nonprofit agency that places and trains young adults with developmental and intellectual disabilities (DD/ID) in competitive employment. We currently operate from Long Island, NY to Baltimore, MD. Through our partnership with a variety of companies, including the largest home improvement retailer in the U.S. and the largest retail drugstore chain in the U.S., Ken's Krew has been able to support the employment and independence goals of over 280 individuals with ID/DD in the 15 years since its inception.
We are seeking a motivated, energetic professional, former special ed teacher or similar, to join us as a part-time vocational trainer. This person must be comfortable working independently, although with the support and collaboration of everyone in the organization.
The position is for coverage of the Southern New Jersey to Philadelphia area.
Responsibilities include working with the managers at the stores in which we already operate to obtain more positions; networking with state agencies, school programs, parent groups and community affairs to find appropriate candidates; assessing applicants' suitability for available positions, including assessing all information in our Application Package for new applicants, interviewing the applicants and their parents/legal guardians, obtaining IEPs (Individualized Education Program) and completing an in store assessment, communicating with store managers and associates to ensure that there is a successful match between the needs of the store and needs of the individuals we serve; working side by side at the job site to train the successful candidates to work independently. Our training is generally 4 hours per session 3 days per week over a 6 week period; providing ongoing support to individuals currently in the program by regular spot checks at their jobs; documenting services provided; conducting our ongoing social/education program for those in the program. The Krew meetings are held in local areas 7 times per year for approximately 2 hours per session; cultivating relationships with store managers and Human Resources staff of our partner corporations to open more stores to our participants.
The position will be for approx. 15 - 20 hours per week initially. We estimate that there is the potential for either full-time work or, once established, another part-time staff member would be hired to be under your supervision.
The organization was founded and is still run by parents of children with special needs. The staff is very dedicated to the population we serve and provide advice and support to each other whenever needed. This dedication to our population is a fundamental requirement for anyone coming into the organization.
Requirements:
Dedication to special needs population is a must.
Applicant must have own car.
Benefits:
Compensation is extremely competitive.
Travel expenses are reimbursed.
No benefits are provided to part-time staff.
Contact:
Karen LaPera
klapera@kenskrew.org
Website:www.kenskrew.org
***************************************************
Alexandria and Fredericksburg, VA
Job Category: 12 month, Full-time Contract
Description
Employee's duties include, but are not limited to:
Develop and implement Individualized Education Plan (IEP) based on results of psycho-educational and other assessments, including implementing strategies developed by speech, occupational, physical therapists, or other IEP mandated service providers
Develop lesson plans on a weekly and monthly basis for each student based on their IEP goals/objectives and in keeping with state requirements (i.e., Standards of Learning/Alternate Assessment)
Included with the plans will be a list of materials (i.e., books, manipulative, puzzles, etc.) needed for each lesson
Turn in monthly lesson/program plans to the Educational Supervisor on the first of the month. The lesson plans should also demonstrate how each student's IEP objectives are linked to the activity and Standards of Learning and/or Aligned SOLs.
Ensure that all materials are available at time of lesson in accordance with lesson plans and plans are disseminated to appropriate staff
Carry out behavioral strategies, including crisis intervention in keeping with APTS policies and procedures and regulations governing private special education day schools
Process with staff daily to ensure awareness of schedule and instructional activities
Administer Standards of Learning and other diagnostic testing as appropriate for level of training and student need
Conduct alternate assessments for students requiring them
Coordinate and attend IEP and IDT meetings, parent/teacher conferences, and meetings with other professionals, as appropriate and/or required
Write quarterly progress reports which include graphs for each student's progress
Collect data based on each student's functional assessment and IEP
Provide input in the development of each student's Behavior Intervention Plan
Requirements
Bachelor's Degree required, Master's Degree preferred or 30 credits accrued towards Master's degree in education or a related field from an accredited university
Collegiate level or Post-Graduate level preferred. Provisional required.
Must Possess a Virginia teaching certificate with a Special Education endorsement. In lieu of a complete endorsement, a conditional license may be granted if the teacher is actively working towards completing the endorsement.
Physical Requirements
While performing the duties of this job, the employee is regularly required to walk; stand; sit; run; use hand-to-finger, handle or feel objects, tool and student supplies; reach with hands and arms; climb or balance; stoop, kneel, crouch, or crawl; see, talk, and hear. The employee must be able to provide physical crisis management and will occasionally lift and/or move 50 pounds or more with or without assistance.
Salary/Benefits
APTS offers a competitive salary. APTS offers medical/dental health benefits, as well as additional incentives for our employees.
We are proud to be an EEO employer M/F/D/V. We maintain a safe and drug-free workplace and require a pre-employment background screening.
Ask about our free or discounted gym membership as well!!!
Contact
Chelsea Alves
Human Resources
703.766.8708 x112
703.504.2893 fax
calves@aptsprograms.org
***************************************************
District of Columbia Public Schools
Job Category: Master Teacher
Position Overview
We are looking for highly motivated and skilled talent to join our team at the District of Columbia Public Schools (DCPS). We seek individuals who are passionate about transforming the DC school system and making a significant difference in the lives of public school students, parents, principals, teachers, and central office employees.
The DCPS Office of Human Capital establishes and implements the strategic priorities for the recruitment, selection, evaluation, development, and retention of outstanding employees across DCPS, including school-based leaders, educators and administrators, and central office staff members. The Office of Human Capital consists of four divisions focused on Principal Effectiveness, Teacher Effectiveness, Central Office Effectiveness, and Human Resources.
The Division of Teacher Effectiveness works to ensure that a highly effective teacher is in every DCPS classroom. Comprised of two teams – Teacher Effectiveness Strategy and IMPACT – this division is on the cutting edge of the national education policy landscape, looking at teacher and school-based staff quality across our schools.
As part of the IMPACT team, Master Educators work to operationalize the IMPACT performance assessment system by evaluating the instructional performance of teachers in the district. Master Educators have three primary responsibilities: 1) to serve as impartial, third-party evaluators of teacher performance, 2) to provide teachers with targeted, content-specific feedback and resources and 3) to provide instructional capacity to support DCPS reform initiatives.
DCPS is currently hiring for master educators for the 2013-2014 school year in the following content areas:
Dual Languages/Bilingual Education
Early Childhood Education
Elementary (Grades 1-6)
English as a Second Language
Secondary Math
Secondary Social Studies
Special Education
World Languages
Responsibilities
Specific responsibilities of the master educator role include, but are not limited to the following:
TEACHER OBSERVATIONS
Evaluating teacher practice through classroom observations. Each master educator will complete approximately 100 30-minute observations per observation cycle (2 observation cycles per academic year).
Maintaining detailed observational records, thoroughly documenting and rating evidence from each observation.
Writing detailed reports to accompany each observation. Reports will include explanations of the teacher's ratings, evidence, and suggestions for growth.
Conducting one-on-one post-observation conferences with all observed teachers which allow opportunity to dialogue about specific areas of development.
INSTRUCTIONAL CAPACITY
Providing targeted professional development to teachers by providing clear and direct feedback, leading content-specific professional development workshops, and connecting teachers with professional development resources.
Collaborating with other DCPS departments to further support implementation of the DCPS academic plan, including curricular and professional development design.
Collaborating with other members of the Teacher Effectiveness team to reach programmatic goals, including school outreach and master educator recruitment and selection efforts.
Attending meetings and on-going trainings as required.
Performing other duties as assigned.
Qualifications
At least 5 years of teaching experience in a low-income school;
Documented evidence of success raising student achievement in a low-income school;
Exceptional writing and oral communication skills;
The ability to work effectively with others at all levels of an organization and to consistently display a high level of professionalism in all interactions;
An ability to critically assess challenges and identify appropriate solutions;
Strong organizational skills, including keen attention to detail and the ability to adhere to strict deadlines;
Excellent time-management and a willingness to work non-standard hours;
Ability to work in ambiguous situations, while maintaining a sense of possibility;
Previous experience developing and providing support and training to other educators (preferred);
Knowledge of adult learner theory (preferred);
Comfort working with Microsoft Office suite (preferred).
Compensation/Other Information
The Master Educator is a DCPS employee who primarily works in the field, conducting observations of, and conferencing with, teachers across the District of Columbia Public Schools system. The position therefore requires significant travel within the city. Master Educators will also work as 12-month employees of DC Public Schools.
The starting salary for the Master Educator role is $90,000. In addition, Master Educators receive a comprehensive benefits package through the Council of School Officers union, which includes health, dental, and vision benefits.
How to Apply
In order to submit your application, please visit our website -http://dcps.force.com. Only applications received online will be considered for the position.
***************************************************