January 2014 - Special Educator e-Journal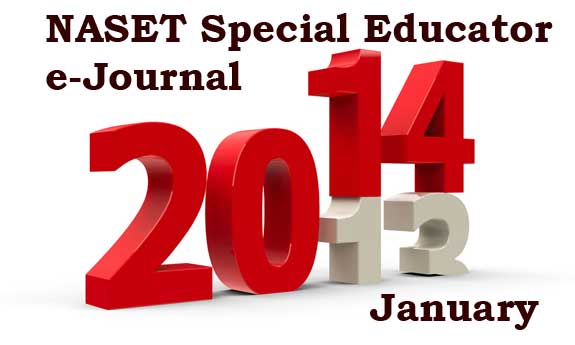 Table of Contents
Update from the U.S. Department of Education
Calls to Participate and New Projects
Special Education Resources
Latest Employment Opportunities Posted on NASET

Upcoming Conferences and Events

Funding Forecast and Award Opportunities
Acknowledgements

Download a PDF or XPS Version of This Issue
---
NASET Members - Login Below to access the latest Special Educator e-Journal.
Site visitors: You may access a sample e-Journal - Sample e-Journal
---
Latest Employment Opportunities Posted on
NASET
Los Angeles to start then Riyadh , Saudi Arabia
Job Category: Permanent full-time, Contractual.
Description:
A position is available for a special educator or a speech-language pathologist , to provide oversight of a private multidisciplinary intervention program for an 18-year-old male with moderate autism in Riyadh, Saudi Arabia. The first month or two to be spent in Los Angeles .Contract duration is negotiable (either 6 months or annual renewable). This professional will liaise between the Senior Intervention Consultants in the USA and the professionals who are implementing the intervention program. Instruction will be provided within a homeschool environment, as well as in community settings.
Duties may include, but are not limited, to:
Ensure that the intervention designed by the Consultant team is being implemented as intended.
Observe the intervention team in their implementation of the intervention within the home-school setting, community settings, and in activities of daily living.
Assist the intervention staff in troubleshooting and making fine-tuned adjustments to the intervention plan and lessons (as needed) to achieve optimal levels of client motivation and learning.
Assist the intervention team in creating weekly lesson plans.
Assist the personal care staff in implementing the intervention goals related to activities of daily living.
Take data during intervention sessions and in activities of daily living, and summarize these data to monitor progress on all intervention goals.
Report, in a timely fashion, progress monitoring data to the Consultant team.
Meet at least bi-weekly with the consulting team via Skype or other tele -health systems.
Meet weekly with other members of the educational and therapeutic team.
Submit weekly lesson plans and progress results to Educational Supervisor.
Be available for meeting with the family as requested.
Be prepared to substitute for an intervention team member in the direct delivery of instruction if one of the intervention team members should be on leave or absent.
Requirements:
Master's degree in special education or speech-language pathology.
At least 2 years of experience teaching teens with autism.
Familiar with implementation of intervention using principles of applied behavior analysis.
Able to flexibly adapt curriculum to meet the individualized learning needs of students.
Extremely organized.
Flexible.
Good communication skills.
Team player.
Willing to travel with the family.
Benefits:
tax free salary $8000/month. Full health coverage. Fully furnished accommodation plus utilities. Transportation. Relocation expenses. 35 days paid annual leave with return tickets. Service award at contract completion.
Contact:
Dr. M. Adnan Mughrabi
+(966)509250629 or in USA (310)994-4309.
mmughrabi@yahoo.com
***************************************************
Saint Paul, MN
Job Category: Full-time, permanent
Description
This position is located in the Commission of Deaf, DeafBlind and Hard of Hearing for Minnesotans. This position exists to advance the education collaborative for children who are deaf and hard of hearing. The incumbent will provide leadership and advocacy for a statewide education plan for students who are deaf, deafblind and hard of hearing by engaging diverse cross agency, cross-sector stakeholders, including parents and disability advocates, teachers, schools and administrators to improve outcomes.
Requirements
Bachelor's degree in a related field.
A teacher of the Deaf and Hard of Hearing with a current or past license.
3 years of related advanced-professional experience.
Proficiency in ASL at an intermediate or Level 3 in the SLIPI.
Benefits
The State of Minnesota offers a comprehensive benefit package including low cost medical and dental insurance, employer paid life insurance, short and long term disability, pre-tax flexible spending accounts, retirement plan, tax-deferred compensation, generous vacation and sick leave, and 11 paid holidays each year.
Contact
Contact pamela.hughes@state.mn.us for complete vacancy announcement including instructions on how to apply.  Deadline is January 6, 2014.
***************************************************
Santa Clara, CA
Job Category: Special Education Teacher (moderate-severe)
PACE's Special Education Teacher is responsible for maintaining a learning environment for students with Autism and related developmental disabilities.
Essential Functions
Plan instruction and design learning experiences.
Organize lesson plans.
Create and maintain effective learning environments.
Supervise classroom aides daily activities. Work with an interdisciplinary team including occupational and speech therapists.
Requirements
Bachelors degree with a certified L1 teaching credential in moderate-severe special education is a minimum. Masters in special education with an L2 credential in moderate-severe special education is preferred. )
California credential preferred
A minimum of 5 years experience in special education teaching is highly preferred.
Dept. of Justice and FBI fingerprints will be required after job offer has been accepted.
Benefits
Medical, Dental, Vision insurance
Paid time off during school breaks and holidays
403(b)plan
Interdisciplinary team environment
Dedicated staff
San Francisco Bay Area location
Contact
Barbara Johnson
hr@pacificautism.org
www.pacificautism.org
Pacific Autism Center for Education (PACE) provides high quality programs for individuals with Autism and associated developmental disabilities in the San Francisco Bay Area.
***************************************************
Memphis, TN
Job Category: Full Time
Company Overview
Youth Villages has been a national leader in the implementation of research-based treatment philosophies in the field of children's mental and behavioral health. Our commitment to helping troubled children and their families find success spans 20+ years and includes a comprehensive array of programs and services.
If you are looking for a positive career move where you are meeting the challenges of life and striving to make a positive difference, then Youth Villages is the place for you. We are looking for people with a strong sense of purpose and focus to continually build confidence in yourself and our organization.
Program Overview
Youth Villages Residential Treatment programs serve children with emotional and behavioral problems. Our residential campuses provide the setting for an intensive treatment program that combines the unique balance of structure and freedom. This enables children and their families to identify, understand and cope with their individual needs and develop the skills necessary to succeed in less restrictive settings. We have three different types of facilities Intensive Residential Centers, Open Campuses, and Group Homes. Located in Tennessee, Georgia, Oregon, and Massachusetts, all of these facilities utilize the Re-Education of Emotionally Disturbed Children therapy model (Re-Ed). The majority of these youth attend the fully accredited schools which are located on our residential treatment campuses.
Position Overview
Lead Teacher in a fully accredited school setting
Plan for individual and group activities to stimulate growth in language, social, and other skills.
Participate in training and in-service activities.
Administer and interpret testing to determine academic needs
Develop and use a variety of teaching techniques
Produce lesson plans that reflect the individual educational needs of students
Prepare reports in compliance with school guidelines
Maintain progress notes, attendance records, and grade scores in a timely manner
Work with other campus staff as part of the Treatment Team focused on the success of the youth
Other essential duties as needed
Candidates may have the opportunity to teach in specialized subjects
Teachers work Monday-Friday, 7:30am to 3:30pm.
Small Class Sizes to allow more one on one attention to individual students and their educational needs
The standard Youth Villages class size ranges from 8-15 children
Tuition & Licensure reimbursement
Training for your career growth and advancement
Our schools operate year-round with smaller breaks throughout the year instead of one long break in the summer.
A Bachelor's degree in education with appropriate certification is required Certification in Special Education is required
Active Licensure in TN is strongly preferred
A Highly Qualified teacher is strongly preferred
Experience in special education or teaching experience in a clinical environment is preferred
Experience working with at-risk youth a major plus Experience working with youth is required
Excellent written, verbal, and oral skills Ability to manage multiple priorities simultaneously
Basic computer knowledge
Additional Information:
Small Class Sizes to allow more one on one attention to individual students and their educational needs
The standard Youth Villages class size ranges from 8-15 children
Tuition & Licensure reimbursement
Training for your career growth and advancement
Our schools operate year-round with smaller breaks throughout the year instead of one long break in the summer.
Requirements:
Experience growth and development through our continuous training, as well as tuition and licensure reimbursement, or pursue opportunities to advance both clinically and administratively with Youth Villages.
Additional Benefits:
Medical, Dental, Prescription Drug Coverage and Vision Retirement Savings Pension Plan
403 (b)
2 weeks paid vacation
12 paid sick days per year
9 paid holidays
Mileage & Cell Phone Reimbursement (when applicable)
EOE
Click below to apply
http://youthvillages.hodesiq.com/job_detail.asp?JobID=4094853&user_id=
***************************************************
Bogota, Colombia, South America
Job Category: Special Education Teacher
Description:
The Moderate-Severe Special Education Teacher will provide individualized instruction, assessment, and program planning for students who have moderate-severe disabilities. Instruction will emphasize acquisition of functional and academic skills in the least restrictive manner and setting as specified in the IEP. S/he will monitor and evaluate student progress and behavior and identify appropriate teaching strategies and curriculum to best meet the individual needs of his/her student(s). S/he will serve as a resource for students, parents, teachers and administrators. S/he will report to the Director of Special Education, Colegio Nueva Granada School, Bogota, Colombia.
Requirements:
Possession of a Bachelors Degree from an accredited institution of higher learning
5 or more years of successful, full time teaching experience, working with Moderate-Severe Needs population preferred
Excellent organizational, planning, and implementation skills
Ability to manage the ambiguity and multiple priorities inherent in a newly developed program
Possession of a developmental, holistic, child-centered approach to education
Experience working with students with Autism Spectrum Disorders, Cerebral Palsy, Down Syndrome, Traumatic Brain Injuries, and Mental/Emotional Health issues
Team player, with the ability to communicate and interact effectively with entire team
Excellent written communication skills
Able to stay positive through challenges
Detail-oriented
Hard working
Previous international and/or cross cultural experience preferred
Spanish language skills preferred
Benefits:
Compensation Package as an international hire.
For further information, visit the web page: www.cng.edu
Contact:
Colegio Nueva Granada
Bogota, Colombia
Claudia Gama
Director of Professional Growth and Management Systems cgama@cng.edu
571-212-3511
www.cng.edu
***************************************************
New York, NY
Job Category: Middle School Teacher
$125,000 Salary for Master Middle School Teachers!
Earn a $125,000 salary and join a team of master teachers at The Equity Project (TEP) Charter School, recently featured on the front page of the New York Times:http://www.tepcharter.org/nytimes.php. TEP is a 480-student 5th through 8th grade middle school in the Washington Heights neighborhood of New York City.
Learn more and apply today at http://www.tepcharter.org/apply.php
Open positions: http://www.tepcharter.org/open-teaching-positions.php
Social Studies Teacher
English Language Arts Teacher
Special Education Teacher
Mathematics Teacher
Science Teacher
Physical Education Teacher
Music Teacher
About TEP Charter School
TEP aims to put into practice the central conclusion of a large body of research related to student achievement: teacher quality is the most important school-based factor in the academic success of students, particularly those from low-income families. In singling out teacher quality as the essential lever in educational reform, TEP is uniquely focused on attracting and retaining master teachers. To do so, TEP uses a three-pronged strategy that it terms the 3 R's: Rigorous Qualifications, Redefined Expectations, & Revolutionary Compensation. For more information, visit us online at www.tepcharter.org
Info Session @ TEP
Thinking about applying for a teaching position at TEP? Attend an in-person information session with TEP's Principal, Zeke Vanderhoek. Take a tour of the school, and learn more about the teacher application process and teaching at TEP.
Learn how to RSVP for the event by clicking the following link:http://www.tepcharter.org/session-for-teachers.php
We also have a Live Online Info Session too!
Click here for more information: http://www.tepcharter.org/info-session-for-teachers.php
Contact:
Email:jobs@tepcharter.org
***************************************************