January 2013 - Special Educator e-Journal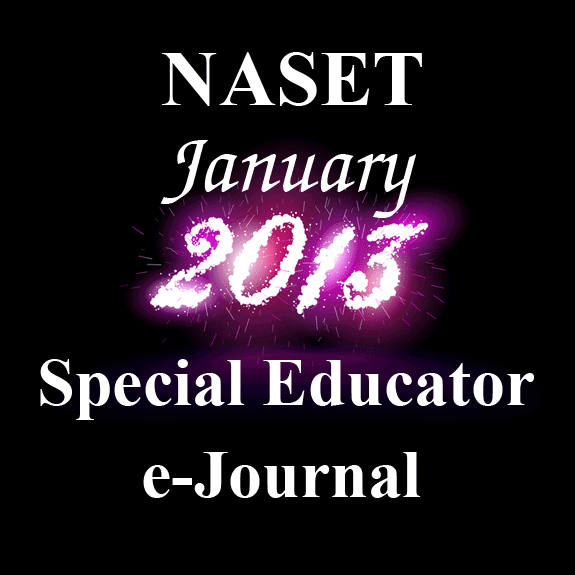 Table of Contents
Calls to Participate

Special Education Resources

Update From The National Dissemination Center for Children with Disabilities

Upcoming Conferences and Events

Funding Forecast and Award Opportunities

Parenting Strategies for Promoting Self-Confidence in Children with Disabilities. Dr. George Guiliani and Dr. Roger Pierangelo, Executive Directors of NASET
Acknowledgements

Download a PDF or XPS Version of This Issue
---
NASET Members - Login Below to access the latest Special Educator e-Journal.
Site visitors: You may access a sample e-Journal - Sample e-Journal
---
Latest Employment Opportunities Posted on
NASET
Flexible Location
Job Category: Seasonal
Video Feedback Reviewers – Tools for Teacher Excellence Flexible location
TNTP seeks part-time Video Feedback Reviewers with certification in elementary education and special education to review online teacher videos and provide detailed and concrete feedback to teachers to help them improve their practice. Reviewers will be TNTP employees based out of a home office anywhere in the United States (flexible location). These part-time positions are available immediately and are expected to last through June 2013 with the possible option to extend. This role requires approximately six hours of work per week from mid January 2013 until mid June 2013.
Tools for Teacher Excellence
TNTP's Tools for Teacher Excellence department will work to expand TNTP's impact through a number of "open source tools" for teachers, school leaders, district officials and policymakers, to help them support improvements in teacher effectiveness. Examples of "open source tools" we have already created include: Evaluation 2.0, a blueprint for better evaluations that can help every teacher succeed in the classroom, Rating a Teacher Observation Tool, a resource that identifies five simple questions that can help policymakers decide whether an observation framework is likely to produce fair and accurate results, and the School Leaders Toolbox, a collection of school-tested strategies and resources to grow great teaching teams.
Requirements
Strong education background and instructional skill set with at least three years K-12 teaching experience (required), preferably in high-need schools or with high-need populations
Track record of raising student achievement
Certification and experience teaching and/or supporting teachers in one of the following areas (required): elementary education or special education
Previous experience observing, evaluating, or mentoring teachers (preferred)
Ability to critically assess challenges and identify effective solutions
Access to high speed internet connection to complete video review at flexible times
Ability to work independently and manage multiple responsibilities simultaneously
Computer skills, specifically Microsoft Office suite and comfort learning and navigating an online platform
A willingness to commit to logging in daily, completing approximately six hours of work per week which may be non-standard hours and weekends
Compensation
The salary for this position is $25 per hour. TNTP offers a motivated team of dynamic colleagues, a collegial atmosphere that values professional development and valuable feedback, and the chance to impact the direction of a growing, mission-driven company that is committed to the success of our nation's children.
To Apply
Write a detailed cover letter that addresses the following prompts:
1. Briefly describe what you consider to be highly effective teaching. When you observe a highly effective teacher's classroom what do you expect to see?
2. Summarize your experience observing and evaluating teachers.
Please submit your resume and tailored cover letter online at:
http://ch.tbe.taleo.net/CH05/ats/careers/requisition.jsp?org=THENEWTEACHERPROJECT&cws=1&rid=1366
***************************************************
Los Angeles, CA
Job Category: Director
Description
Lead Green Dot's department of special education and psychological services vision and drive the effort to create an innovative approach to enhancing the educational outcomes for students with disabilities.
Coordinate a comprehensive system for using data to improve special education programs and psychological services.
Develop and implement a strategic plan for providing support to all of Green Dot's schools in the areas of Special Education and 504 compliance and services.
Continue to refine Green Dot's school psychology program that supports active involvement in academic/behavior interventions, progress monitoring and streamlined testing based on need.
Oversee psychological services program.
Oversee the implementation of and monitor the progress of intervention programs in the areas of literacy and mathematics for all special education programs.
Supervise and support Green Dot's team of Special Education Administrators > Provide guidance and support with Green Dot's teacher effectiveness initiatives, particularly for special education teachers > Supervise and coach school psychologists.
Supervise and coach special education program administrators.
Work collaboratively with program administrators to provide direction and support for sites in all areas of special education, including staff development.
Direct sites in the proper implementation of 504 legislature and services. Support school psychologists in use of CBM based assessments, interventions and progress monitoring.
Understanding of Response to Intervention as related to School Psychology is preferred.
Serve as a liaison between Green Dot and the Los Angeles Unified School District and the Southwest SELPA.
Negotiate with LAUSD regarding systemic issues pertaining to service delivery.
Collaborate with SELPA directors to improve service delivery to Green Dot.
Collaborate with other charter organizations to drive policy as it relates to working with the SELPA.
Travel to school sites on a daily basis to monitor program implementation.
Collaborate and negotiate with outside agencies and Green Dot Home Office departments.
Minimum of a Master's degree in Education, Special Education, or School Counseling and Guidance.
Valid teaching credential and administrative credential or equivalent required. Pupil Personnel Credential strongly recommended.
Strong background in special education is required.
Experience supervising employees is required.
Demonstration of skills in long-term planning and staff development.
Ability to prioritize and manage multiple projects simultaneously.
Excellent interpersonal skills, including verbal and written communication skills > Ability to be flexible and adapt in a fast-paced, constantly changing environment.
A strong ethical base and good judgment.
Strong computer skills with software programs such as MS Word, Excel, PowerPoint, Outlook and the Internet.
Benefits
The salary for this position is $95,000 - $110,000, based on experience.
We also offer a comprehensive benefits plan as well as the opportunity to impact a growing, mission-driven organization that is committed to the success of Los Angeles students.
Contact
We require all candidates to complete an online application at http://www.greendot.org/careers.
Only applicants chosen for an interview will be contacted. We are looking to fill this position ASAP.
***************************************************
Chicago, IL
Job Category: Teacher
Description:
The Academy for Urban School Leadership, a not-for-profit organization, will assume responsibility for the operation of this CPS performance school. For more information about AUSL, see www.ausl-chicago.org. As a Performance School, all teachers at the AUSL Turnaround School of Excellence are employees of CPS. The terms of the Board of Education/Chicago Teachers Union collective bargaining agreement shall apply unless waived in accordance with the collective bargaining agreement or in accordance with State law.
Our turnaround elementary and high schools are seeking full-time Special Education Teachers who are highly qualified to teach students with varying needs and a performance record for collaborating with general education teachers on meetings students' needs in accordance with their LRE. Applicants with a positive experience with the Education Connection or the ISBE 40 process are encouraged to apply.
The teacher hours include the regular school day - start and end times vary by school site. In some AUSL schools, some staff may be asked to teach after-school programs for one hour, three days a week; and attend after-school staff professional development for teachers one day per week. Compensation for after-school hours will be paid according to the CTU collective bargaining agreement. AUSL Turnaround elementary schools operate on the CPS Track E calendar, except in the first year of the AUSL turnaround.
In order to be considered for a position or an interview, applicants must:
1. Submit online application with an attached Letter of Intent;
2. Permit classroom observation/s by members of the teacher selection committee (if applicable);
3. Permit one or more interviews by a selection committee
CONTENTS OF LETTER OF INTENT. Address how the successful applicant:
Setting goals for the individualized education plan benchmarks that are achievable and comparable to a non-special education student's peers in accordance with the State of Illinois IEP that supports a guaranteed and viable curriculum; Working collaboratively with the case manager to determine instructional and social needs of students that ensure success while also participating on the multidisciplinary team to promote students' well being; Advocating for students with special needs; Using informal and formal assessments to support the development of students; Collaborating with fellow teachers to create a data-driven, learner-centered, friendly and safe environment demonstrating shared responsibility for achievement; Designing engaging and personalized instruction that nurtures and empowers the whole child resulting in improved student achievement.
APPLICANT MUST:
Possess current IL Type 10 teaching certificate and LBS 1 special education endorsement. Additional endorsement in Science preferred.
To apply, please visit: https://www.applitrack.com/ausl/onlineapp/_application.aspx?posjobcodes=255&posfirstchoice=high+school+teaching&posspecialty=
Legal Statement (Title IX): It is the policy of the Board of Education of the City of Chicago not to discriminate on the basis of race, color, creed, religion, national origin, sexual orientation, age, disability or sex. Inquiries concerning the application of Title IX of the Education Amendments of 1972 and the regulations promulgated thereunder concerning sex discrimination should be referred to the Title IX Officer, Chicago Public Schools, 125 S. Clark St., Chicago, Illinois 60603, 773-553-2688 (TTY-773-553-2699).
Contact:
Please contact Nick Courtney at ncourtney@ausl-chicago.org if you have any questions.
***************************************************
New York, NY
Job Category: Master Middle School Teacher
Description:
$125,000 Salary for Master Middle School Teachers!
Earn a $125,000 salary and join a team of master teachers at The Equity Project (TEP) Charter School, recently featured on the front page of the New York Times: http://www.tepcharter.org/nytimes.php. TEP is a 480-student 5th through 8th grade middle school in the Washington Heights neighborhood of New York City.
About TEP Charter School:
TEP aims to put into practice the central conclusion of a large body of research related to student achievement: teacher quality is the most important school-based factor in the academic success of students, particularly those from low-income families. In singling out teacher quality as the essential lever in educational reform, TEP is uniquely focused on attracting and retaining master teachers. To do so, TEP uses a three-pronged strategy that it terms the 3 R's: Rigorous Qualifications, Redefined Expectations, & Revolutionary Compensation.
For more information, visit us online at http://www.tepcharter.org
Learn more and apply today:http://www.tepcharter.org/apply.php
Open positions:http://www.tepcharter.org/open-teaching-positions.php
Info Session @ TEP
Thinking about applying for a teaching position at TEP? Attend an in-person information session with TEP's Principal, Zeke Vanderhoek. Take a tour of the school, and learn more about the teacher application process and teaching at TEP.
When: Tuesday, December 4, 2012 at 6PM (For online options, click here)
Where: TEP Charter School
Learn how to RSVP for the event by clicking the following link: http://www.tepcharter.org/session-for-teachers.php
We also have a Live Online Info Session too!
Click here for more information: www.tepcharter.org/info-session-for-teachers.php
Requirements:
http://www.tepcharter.org/overview-the-3Rs.php
Benefits:
http://www.tepcharter.org/overview-the-3Rs.php
Contact:
***************************************************
Philadelphia, PA
Job Category: Special Education Teacher
Description
The Special Education Teacher will be responsible for creating a flexible grade program and a class environment favorable to learning and personal growth; to establish effective rapport with students; to motivate students to develop skills, attitudes and knowledge needed to provide a good foundation for education in accordance with each student's ability; to establish good relationships with parents and other staff members.
Requirements
Must have PA Teacher's Certification in Special education N-12. Must have experience working with students in need of special education.
ASPIRA, Inc. of Pennsylvania is an EEO Employer.
Benefits
Eligible for PSERS retirement, Paid health, dental, vision, Short-Term Disability, Long-Term Disability and Life Insurance.
Contact
Please send resume and cover letter to the Director of Human Resources @ mmorales@aspirapa.org
***************************************************
Milford, MA
Job Category: Executive
Criterion Child Enrichment is conducting a nationwide search for a Senior Vice President of Early Childhood Services. Founded in 1985 as a not-for-profit organization, Criterion has served families for over 25 years and is a leading provider of early childhood education and early intervention services. Each year the agency serves over 5000 families with a program network that extends throughout the Commonwealth of Massachusetts. The Senior Vice President will be responsible for implementation of Criterion's Mission and Strategic Plans and will supervise a Divisional Director who is responsible for the day to day operation of programs and services. Criterion's corporate office is located within a 40 minute drive of downtown Boston.
This recruitment is specifically focused on identifying an individual with the capacity to enhance and expand the agency's participation in professional education and applied research in the fields of early childhood education, early intervention and family-centered service delivery. Applicants must possess a doctoral degree in a discipline relevant to the agency mission and substantial clinical experience. Experience in fiscal and personnel management is preferred but not required as substantial training and support in these areas will be provided for the successful applicant. Applicants will receive a detailed prospectus describing agency programs and operations upon submission of a letter of interest and vitae.
Criterion Child Enrichment is an Equal Opportunity Employer. Applicants and employees are considered for positions without regard to mental or physical disability, handicap, race, color, religion, gender, gender identity and expression, ancestry, national origin, age, genetic information, military or veteran status, sexual orientation, marital status or other categories protected by law.
Confidential applications may be submitted to:
Robert F. Littleton Jr. Ed.D., President
Criterion Child Enrichment
321 Fortune Boulevard
Milford, Massachusetts 01757
***************************************************