December 2014 - Special Educator e-Journal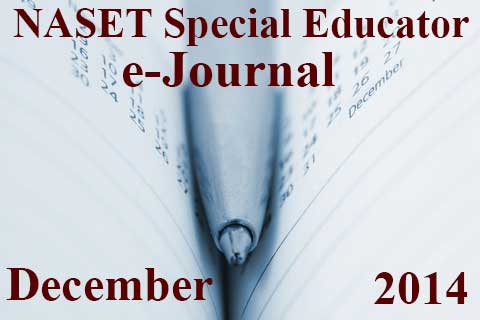 Table of Contents
Update from the U.S. Department of Education

National Collaborative on Workforce and Disability: Bullying and Disability Harassment in the Workplace: What Youth Should Know

Legislative Announcements, Calls to Participate and New Projects

Resources - Buzz from the Hub

Latest Employment Opportunities Post on NASET

Upcoming Conferences and Events

Funding Forecast and Award Opportunities

Acknowledgements

Download a PDF or XPS Version of this Issue
________________________________________________________________________________________
NASET Members - Login Below to access the latest Special Educator e-Journal.
Site visitors: You may access a sample e-Journal - Sample e-Journal
---
To learn more click on the image above or - Click here
---
To learn more click on the image above or - Click here
---
---
Middle School Special Education/Math Intervention Teacher
*Middle School Special Education/Math Intervention Teacher - Pro-Vision Educational Services, Inc. seeks full-time Middle School Special Education/Math Intervention Teacher for its established all male grades 5-12 charter school in Houston, TX. The Special Education/Math Intervention Teacher will provide students with appropriate educational programs and activities that will enable them to fulfill their potential for intellectual, emotional, physical, and social growth. Plan, organize, and assign activities that are specific to each student's abilities. Maintain accurate and complete student records. Prepare student reports and activities. Be familiar with Response to Intervention (RTI) process and Tier'd Instruction. Collaborate with the math teacher and assigned classroom teacher(s) for instructional planning and delivery. Provide instruction to small groups of students. Assist in the scheduling and assignment of students to the program. Participate in training as required during school schedule and additional training outside designated schedule. Discuss with parents, teachers, counselors, and administrators individual educational plans and students' progress. Coordinate and manage extracurricular duties as assigned. Sponsor outside activities approved by the Pro-Vision Academy Principal. Required: B.S degree or M.S. degree in Any Major and Certification by the Texas Education Department in Special Education. 5 years progressive special education experience if B.S. or 3 years progressive special education experience if M.S. Knowledge of the following software/programs: Accelerated Math Renaissance Learning Program; Think Through Math; Fastt Math; and Istation. Reading/Intervention strategies. Research Based Instructional Strategies. Send Resumes to: Pro-Vision Educational Services, Inc. Attn: Carrie Tate, 4590 Wilmington Street, Houston, TX 77051.
---
Latest Employment Opportunities Posted on
NASET
Wilimington, DE
Job Category: Special Education - Non-Public
Description:
SESI is a private company that provides comprehensive special education services for students identified with various disabilities including, emotional/behavioral disabilities, intellectual disabilities, and autism spectrum disorders. Additionally, SESI provides alternative educational services for school districts needing assistance with students who display disciplinary issues. Often referred to as High Road Schools, our programs have created a therapeutic academic setting that includes positive behavioral supports, highly structured student protocols, and modified access to the Common Core Curriculum. The High Road School of Delaware is currently seeking one special educator for a newly opened elementary classroom. Special educator responsibilities include delivering and modifying the general education curriculum, administering formal and informal assessments, analyzing data, implementing school-wide behavior management protocols, home-school communication, development of academic IEP goals and objectives, and supervision of a teacher's assistant. Potential employees should be highly motivated to achieve student outcomes, flexible, have a good sense of humor, open to giving and receiving feedback, enjoy working as part of a team, and feel comfortable working an environment where students display severe behavioral issues.
Requirements:
Applicants who are currently certified or eligible for certification in Special Education through the Delaware Department of Education will receive preferential consideration.
Benefits:
Competitive Salary
Tuition Reimbursement
Health w/dental and vision
401(k)
Life Insurance
Opportunity for personal and professional growth!
Contact:
If interested, please contact Keith Seymour: (301) 807-2393 or e-mail @KSeymour@highroadschool.com
***************************************************
Okinawa, Japan
Job Category: Early Intervention
Description:
Works with developmentally delayed children of American military families stationed overseas, in a home-based early intervention program.
Requirements:
Bachelor's or Master's degree in Special Education, a minimum of two years experience recently working with developmentally delayed children in the 0, 1 & 2-year age population in a home-based early intervention capacity, and a current & application state teaching license/certification
Benefits:
Excellent compensation (tax-advantaged); relocation provided; medical, dental and retirement benefits; generous paid time off
Contact:
LynnR@magnummedicaloverseas.com or 800-852-5678 x.156 or fax 513-984-4909
***************************************************
Washington, DC
Job Category: Executive
Description:
The Episcopal Center for Children (ECC) is a private, nonprofit, non-denominational day treatment facility for emotionally troubled children and their families from the greater Washington, DC area.  The program is designed for children between the ages of 5 to 11 years and with sufficient cognitive ability to benefit from the program.  Acceptance is based on the needs of the children and families, regardless of religious affiliation, race, or financial status.  The goal of treatment, therapeutic milieu, and individualized special education programming is to empower each child to function productively within his/her family and the community, to return to his/her public school, and have a real opportunity for a successful, emotionally healthy, and productive future.  The ECC's programming is based on the core belief in children, their strengths, and in what they can be.
Scope:
The incoming Executive Director will report to and work collaboratively with the Board of Directors in leading ECC to sustain its fundamental purpose while focusing on its long-term vision.  The incoming Executive Director will succeed Mr. Alan Korz who is retiring after many years of dedication and excellence.  The ECC is seeking an effective leader to continue and build on the work of the past five decades, engaging in a comprehensive strategic plan and advancing ECC's mission.

The successful candidate will function as a development and operational leader, providing strategic direction in seven key areas:
1) Strategic Vision and Leadership;
2) Governance and Legal;
3) Communications;
4) Development and Fundraising;
5) Organization Infrastructure and Staffing;
6) Financial Management; and
7) Program Development.
The successful candidate will be a consummate relationship builder and serve as the voice and face of the organization.
Requirements:
Candidates must have a master's degree in social work, clinical psychology, special education, or a related field with demonstrated knowledge of child development and growth, at least 10 years experience in child and/or adolescent mental health delivery, at least five years experience in an administrative or supervisory capacity, and demonstrated leadership, management, and fundraising success.


Contact:
To apply, email a cover letter, resume, and salary requirements to barbara.ramundo@gmail.com at RCG Executive Search (email applications are required).  Please include ECC Executive Search in the Subject Line of email messages.  The Executive Director job description will be emailed upon request.
***************************************************
Irving, Texas
Job Category: Education Therapist for Brain Injured Patients
SPECIAL ED TEACHER!
EDUCATION THERAPIST
THE POSITION IS FULL TIME, M-F ONLY WITH PAID HOLIDAYS! EXCELLENT BENEFITS!
Tests and evaluates patients using formal and informal methods.
Develops and implements individual educational goals and treatment plans for assigned
Employs academic courses of study and methods to enhance academic levels.
Reviews and revises programs as deemed necessary.
Attends and reports verbally or in writing in conferences
Prepares conference summaries/reports for each assigned patient as needed per month.
E-mail: hrtx@neuroskills, Tel:972-580-8500, Fax: 972-255-3162,
1320 W. Walnut Hill, Irving
SPECIAL KNOWLEDGE, SKILL AND ABILITY REQUIREMENTS:
Teaching Credential, preferably in Special Education is preferred.
Experience in rehabilitation or with developmentally disabled is preferred.
EDUCATION REQUIRED:
Bachelors degree in Education or related field.
Benefits:
Health, Life and Dental insurance options
Paid Time Off Accrual
Holiday Pay
Continuing Education opportunities
401k
Contact:
Send resume to hrtx@neuroskills.com or fax to 972-871-5327.
***************************************************