August 2014 - Special Educator e-Journal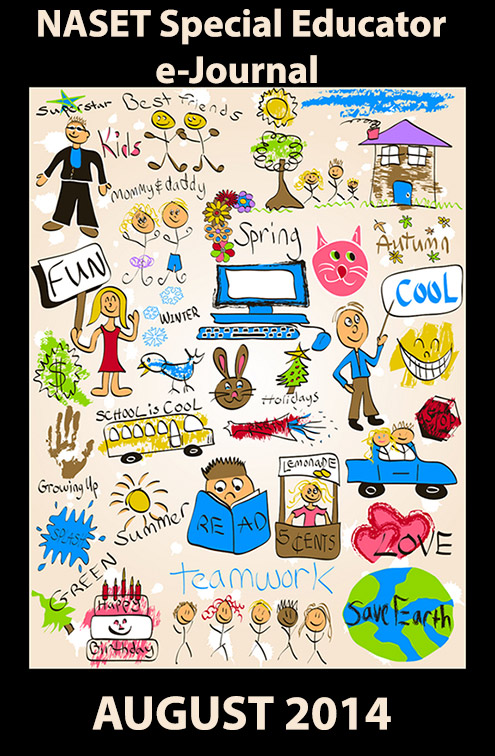 Table of Contents
Update from the U.S. Department of Education

Legislative Announcements, Calls to Participate and New Projects

Special Education Resources Review for 2014

Navigating the Road to Work: What's New at the National Collaborative Workforce and Disability

Latest Employment Opportunities Post on NASET

Upcoming Conferences and Events

Funding Forecast and Award Opportunities

Acknowledgements

Download a PDF or XPS Version of this Issue
________________________________________________________________________________________
NASET Members - Login Below to access the latest Special Educator e-Journal.
Site visitors: You may access a sample e-Journal - Sample e-Journal
---
Latest Employment Opportunities Posted on
NASET
Pasadena, CA
Job Category: Full-time Faculty
Description:
CALIFORNIA APPLICANTS PREFERRED. The Assistant Professor - Education Specialist (Special Education) is a full-time Faculty position. The incumbent is responsible for the coordination, planning, preparation, presentation, and evaluation of classroom instruction and related activities. The faculty member is responsible for performing assigned duties during the day, evening, or weekend on any Pacific Oaks College campus as assigned. At a minimum, the related activities include instruction, instructional counseling, academic advising, serving on various committees, participating in local, state, regional, and national professional activities and organizations. The faculty member reports directly to the Director, School of Education.
Requirements:
An earned doctorate in Education with an emphasis on special education or related field from an accredited university.
Appropriate k-12 teaching credential and special education teaching credential preferred.
A minimum of 5 years' experience in the field of special education with demonstrated teacher and /or administrator of special education.
A minimum of 3 years' of successful teaching experience of special education courses at a California college or university.
Appropriate credentials to supervise interns and student teachers.
Record of service to previous institution(s), the profession, and the community.
A minimum of 2 years' experience in course and program assessment.
Demonstrated ability to work collaboratively as part of a professional team.
Excellent communication and interpersonal skills.
Commitment to the principles of progressive, social-justice and culture-centered education.
Maintain proficiency in and make use of available college online resources (eCollege or Canvas, home page, office hour posting, syllabi posting, grade book, Instructional Policy Manual, etc.) to improve student learning and instructional effectiveness.
Benefits:
Pacific Oaks College offers a generous compensation and benefits package, as well as the opportunity to work for a leader in the field of diversity and social justice. Some of our key benefits include: generous paid time-off, medical and dental coverage, company-paid life and disability insurance, 403b with employer contribution, multiple flexible spending accounts (FSA), and tuition discounts.
Contact:
Pacific Oaks College is an affiliate of TCS Education System. To apply for this position or others, visit our Careers' Page at: www.pacificoaks.edu
***************************************************
Los Angeles, CA
Job Category: Teaching

Job Description:
Resource Specialist Teacher Reporting to: Principal
Bright Star Schools will comply with the California Charter Schools Act with respect to teacher certification. All certified teachers teaching core subjects, and uncertified teachers teaching non-core subjects, will comply with subject matter competency and all other requirements of the No Child Left Behind Act. Teachers will help develop and implement the curriculum. All teachers report to the Principal.
Responsibilities:
Whole School Responsibilities
Uphold Bright Star Schools' mission and values
Demonstrate genuine care for all students
Embrace existing school-wide management systems and promote high standards of behavior
Collaborate with school leaders, providing input to improve Bright Star programs
Actively participate in professional development sessions
Communicate professionally with peers and supervisors
Participate in 20 BSS after school/evening activities: I.e., Parent conferences, overnight trips
Enthusiastically participate in school-wide culture events (i.e., Songfest, academic assemblies, and Field Day)
Perform other duties as assigned
Commit to a longer school day and calendar year
Adhere to Bright Star's professional attire guidelines
Supervise bathroom breaks and participate in rotating detention supervision
Uphold attendance procedures each period using School Information Systems (SIS)
Instructional Responsibilities
Create weekly lesson plans/overviews
Manages Student IEPs (Including working towards, tracking, and communicating student learning goals)
Holds IEP meetings for all stakeholders
Plan rigorous lessons aligned to the California State and/or California Common Core standards
Differentiate lesson plans for a variety of learners (kinesthetic, gifted students and/or students with IEPs, etc.)
Implement feedback from administrator(s) regarding lesson plans and/or execution
Establish and maintain positive classroom environment
Implement Bright Star's Expected School Learning Results
Support instruction with school-wide supplemental programs (i.e., Reading Counts/Study Island)
Maintain grade books and meet reporting deadlines (i.e., OT/CU or progress reports)
Communicate with families regarding student academics and behavior
Collaborate with General Education Team
Use planning periods for the advancement of student academics
Tutor students in need of remediation
Perform other adjunct duties
Qualifications & Experience:
Bachelor's degree
Bilingual Spanish preferred
California Level I/II Education Specialist Instruction Credential
Two years of urban teaching experience preferred
Possession of either Bilingual, Cross-Cultural, Language and Academic Development (BCLAD) certificate; Cross-Cultural, Language and Academic Development (CLAD) certificate; Bilingual Certificate of Competence (BCC); or Language Development Specialist (LDS) certificate desirable
Teacher Traits:
Belief that every child is deserving an excellent education which prepares him/her for college and life beyond
Demonstrated ability to teach whole child in an inclusive setting using modifications and accommodations
Willingness to receive feedback, engage in frequent dialogue and ability to self-reflect
Life-long learner
Belief in data-driven instruction
Firm, kind approach to managing student behavior
Technologically competent
Entrepreneurial spirit and creative problem solver
Sense of humor and love of teaching
Salary and Benefits:
Salary: In consideration of the longer school day and school year, BSS salary is based on experience and education (5% over LAUSD pay scale).  Bright Star Schools will honor up to 5 years on the LAUSD salary scale.
Status: Full Time
Location: Los Angeles, CA
Benefits: Health, dental, vision, life insurance, short-term disability, 403b plan, personal time off, holidays
Must submit an online application using the link below:
http://www.brightstarschools.org/pages_inc/join_our_team/application.jsp
***************************************************
San Diego, CA
Job Category: Education/Teaching
Description
ACES is dedicated to enhancing the quality of life for individuals and families impacted with Autism or other special needs. We provide comprehensive, professional services to maximize individuals' potential in the home, school and community, throughout their lifespan.
ACES is currently looking to hire a Teacher for the day class at ACES Academy NPS (moderate to severe). The hours would be M-F from 7am to 3pm*.
Must Meet the Following Requirements
CA credential authorizing instruction for moderate to severe population or be enrolled in appropriate credential program and eligible for an internship credential
Knowledge of ABA, TEACCH, and assistive technology
Able to write, implement, and oversee implementation of behavior intervention plans -able to complete all IEP documents
Successful at collaborating with other teachers, directors, SLPs, OTs, district case managers, and behavioral interventionists
Demonstrate leadership skills -create and maintain a safe classroom environment
Demonstrate skill in working with students in a positive, supportive manner
Have knowledge of a variety of instructional strategies and curriculum that are effective with students across a variety of disabilities
Benefits
Employee Benefits for eligible employees (Medical, Dental, and Vision), PTO and competitive salary.
Contact
If you believe you have the dedication and desire to help create change for our clients, then we invite you to apply right away. You may submit your resume tocareers@acesaba.com Please include a brief introduction & attach resume in .doc format. Please be sure to put "ACES Academy Teacher" in the subject line. You may visit our website at www.acesaba.com to learn more about ACES.
No Phone Calls Please. Due to the volume of resumes, we will contact only those candidates whose experience, education, availability and location match the current needs of ACES. Thank you for your interest and understanding.
***************************************************
New York
Job Category: Master Middle School Teacher
$125,000 Salary for Master Middle School Teachers!
The Equity Project Charter School is a 5th through 8th grade middle school serving low-income students in the Washington Heights neighborhood of New York City. In each of the past 2 years, TEP has earned an overall grade of "A" from the NYC Department for Education and placed in the top 10% of all public middle schools in New York City.
Featured in The New York Times and on 60 Minutes, TEP is the school that pays its experienced teachers a $125,000 salary to work on a team of master practitioners in an environment that values and develops teaching excellence.
Learn more and apply today at: www.tepcharter.org/apply.php
Benefits:
$125,000 Salary
Contact:
Email:jobs@tepcharter.org
Telephone: 646-254-6451
Website:www.tepcharter.org
***************************************************
Mesa, Arizona
Job Category: Special Education Teacher
Mesa Public Schools is committed to providing unprecedented excellence in education. We believe in holding all students to high academic expectations and providing the resources and support to ensure that each student is equipped with the skills, attitudes and values necessary for success in life.
A community that cares about education, a quality staff and exceptional students make Mesa Public Schools one of the finest public school districts in the nations.
Mesa Public Schools is located in Mesa Arizona. Mesa is just a few miles away from Phoenix. Mesa is the largest school district in Arizona with an enrollment of over 64,000 students. We have 51 elementary, nine junior high, six comprehensive high schools and 16 choice and succeed schools in a 200 square mile district.
Mesa Public Schools has a nationally recognized Special Education Department. Please visit our website at www.mpsaz.org/hr for our on-line application process. We are currently hiring for next school year. We have openings in all areas of Special Education. Candidates must be highly qualified and properly certified to teach in the state of Arizona. We have a competitive salary and benefits package and excellent support for our new and experienced teachers.
For further information please contact Liz Biggs at eabiggs@mpsaz.org.
***************************************************
Nashville, TN
Job Category: Teacher and Interventionist
Description:
At the core of Intrepid College Prep's vision is the unwavering belief that all students, regardless of their socioeconomic status or educational background, deserve a high-quality, college preparatory education. With this core belief, we are targeting a student population that faces academic adversity based on factors such as income level or home language. Intrepid College Prep has approached development of the educational program very deliberately to meet prepsters where they are instructionally and accelerate them to achieve mastery at and above grade level.
The Prepster Support Teacher works with Blue Chip Teachers, the Director of Academic Achievement and Prepster Support Coordinator to ensure our prepsters have the academic supports necessary to excel.
This position requires:
At least one year teaching in an urban setting.
B.A., B.S. or other bachelors degree from a four-year institution
Special Education certification
Grit: A commitment to do whatever it takes to achieve aggressive gains for students who are academically behind.
Responsibilities include:
Draft IEPs, monitor progress toward academic and behavior goals, issue parent communication about IEP meetings
Ensure teachers are utilizing best practices and implementing effective and appropriate curricula
Work with the leadership team to organize professional development workshops regarding delivery of special education instruction and services
Accommodate student work packets, and homework to ensure students have the right amount of scaffolded to reach common learning objectives.
Collaborate with Prepster Support Team to ensure that instruction is always meeting the needs of all learners
Support advisory duties for a group of students, including home check and consistent family communication.
Reflect and grow as an educator by engaging with peers and leaders constantly through frequent in person and video observations and implementing feedback
Have structured planning time built into the school day to plan the highest quality lessons.
Follow RTI protocols to identify students that may have a learning disability.
Benefits:
We offer a generous compensation package. All staff members are equipped with the tools needed to succeed, including a dedicated work space, laptop computer, email, high-speed internet access, and all necessary supplies. Compensation is highly competitive; teachers are eligible to participate in the MNPS Retirement System.
Contact:
Mia Howard
Executive Director
(615) 810-8443
mhoward@intrepidcollegeprep.org
http://intrepidcollegeprep.org
***************************************************