September 2008 - Special Educator e-Journal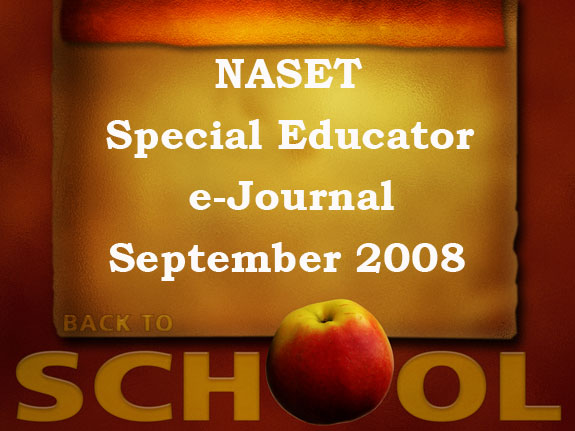 Table of Contents
Message from the Executive Directors
News You Can Use
This Just in…. Common Treatment to Delay Labor Decreases Preterm Infants' Risk for Cerebral Palsy
Calls to Participate
Special Education Resources
Questions and Answers on Highly Qualified Teachers Serving Children with Disabilities
Funding Forecast and Award Opportunities
Acknowledgements
Download a PDF Version of This Issue
---
NASET Members - Login Below to access the latest Special Educator e-Journal.
Site visitors: You may access a sample e-Journal - Sample e-Journal
---
---
For more information click on the image or CLICK HERE
---

Upcoming Conferences,
Workshops and Events
September
2008
SABE 2008 National Self-Advocacy Conference
Conference
Date: September 4, 2008 - September 7, 2008
Location: Indianapolis, IN
Website:http://www.sabe2008.org
Abstract: The 9th National Self-Advocacy Conference, sponsored by Self-Advocates Becoming Empowered (SABE), is in Indianapolis, IN.
Breakthrough Strategies to Teach and Counsel Troubled Youth
Workshop
Date: September 9, 2008 - September 10, 2008
Location: Portland, OR
Website:http://www.youthchg.com
Abstract: This workshop, sponsored by Youth Change Workshops, offers answers to turnaround problems like violence, apathy, truancy, defiance, ADD, school failure, bad attitudes, and poor motivation, with a special focus on children with challenges and disabilities. The class is for teachers, youth workers, counselors, psychologists, court workers, social workers, justice workers, foster parents, and school administrators. There is no registration deadline but early registration is encouraged. Free Sample Interventions from the course are available. Financial Aid is offered, plus $50 college credit and free CEUs are available. The class is also available on DVD with college credit and CEUs. In addition to the presentation in Portland in October, the workshop will be in Kansas City, MO, Nov. 13-14, 2008; Los Angeles, CA, Dec. 4-5, 2008; Phoenix, AZ, Dec. 11-12, 2008; and Seattle, WA: May 7-8, 2009.
It's September! Getting Your Kids Organized for the School Year
Webinar
Date: September 10, 2008 - 9:00 PM - 10:00 PM (Eastern)
Website:http://www.add.org/TeleClass/Schedule.aspx
Abstract: Sponsored by the Attention Deficit Disorder Association (ADDA), this teleclass is "Getting Your Kids Organized for the School Year," with speaker Carrie Greene, ACC.
Employment First! A Manifesto for Change
Forum
Date: September 17, 2008 - September 18, 2008
Location: Kansas City, MO
Website:https://www.regonline.com/builder/site/Default.aspx?eventid=628912
Abstract: Sponsored by the Institute for Community Inclusion, "Employment First!," the 5th Annual Organizational Change Forum, will discuss policy and system change, leadership and management, transition and career development, integrated employment and establishing a National Agenda on Organizational Change and Employment First.
Mayor's Academy on Asset Development for Persons with Disabilities
Conference
Date: September 17, 2008 - September 18, 2008
Location: Chicago, IL
Abstract: Sponsored by the National Disability Institute and its partner IRS SPEC. For more information contact Judy Stengel, REI Tour Resource Manager, National Disability Institute, 316-619-2776 or by e-mail, jstengel@ndi-inc.org.

The Contours of Inclusion: Universal Design for Learning for Arts in Education
Date: Friday, September 19, 2008 - 8:30 a.m. – 3:30 p.m.
Location: Holiday Inn Capitol - Washington, DC
Abstract: VSA arts is convening arts educators for a full-day conference that explores the application of Universal Design for Learning (UDL) to arts curriculum, instruction, and assessment.Dr. Tracey Hall, Center for Applied Special Technology (CAST), will provide a keynote to frame UDL principles and practices. Participants will then engage with examples of UDL in presentation workshops and discussion groups facilitated by expert practitioners from the VSA arts affiliate and program networks.
Information: Leah Barnum - 202-628-2800 or LJBarnum@vsarts.org
2008 Global Summit on Education for All: Inclusive Practices for Students with Disabilities
Policy Summit
Date: September 19, 2008 - September 20, 2008
Location: Washington, DC
Abstract: This summit is sponsored by the U.S. Department of Education and held in Washington, DC. For more information contact Melissa Storm with the American Institute for Research, at mstorm@air.org or (202)403-5363.
October
20
08
Expanding Inclusion: The Business Strategy (USBLN Annual Conference and Career Fair)
Conference
Date: October 5, 2008 - October 8, 2008
Location: Portland, OR
Website:http://www.usbln.org/
Abstract: Sponsored by the U.S. Business Leadership Network (BLN), this conference is a national event for business, community leaders, and BLN chapters that have an interest in hiring, retention and marketing to people with disabilities.
Autism Spectrum Symposium
Date: October 10, 2008
Location: Washington, DC
Website:http://gwired.gwu.edu/dss
Abstract: Sponsored by the George Washington University Office of Disability Support Services, the symposium aims to provide academic, student affairs, and rehabilitation professionals with a framework for understanding students with autism spectrum diagnoses and to share best practices when working with these students.
National Conference Disability Inclusion & National Service: Acting Today to Shape the Future
Conference
Date: October 16, 2008 - October 18, 2008
Location: Alexandria, VA
Website:http://www.serviceandinclusion.org
Abstract: This event invites the national service and disability communities to convene in a setting that fosters the development of innovative ideas and strong partnerships. With opportunities for learning, reflection and celebration, the conference will inspire current and tomorrow's leaders to direct disability inclusion in national service and enhance the ethic of service and volunteerism in the disability community.
Brewing Best Practices in Transition
Conference
Date: October 16, 2008 - October 17, 2008
Location: Milwaukee, WI
Website:http://www.dcdt.org/pdf/MilwaukeeConfBrochure.pdf
Abstract: This conference on aspects of best practices in transition is sponsored by the Division on Career Development and Transition, Council for Exceptional Children. Available in pdf (2 pages, 382 KB).
November
2008
Opening Doors: Adventure, Connection, Solutions
Conference
Date: November 10, 2008 - November 11, 2008
Location: Bethesda, MD
Website:http://www.openingdoorsforyouth.org/sos
Abstract: "Opening Doors" is a state-of-the-science conference on accessing services for children and youth with disabilities and special health care needs from traditionally underserved communities, sponsored by Opening Doors for Youth.
National Association for Multicultural Education 18th International Conference
Conference
Date: November 12, 2008 - November 16, 2008
Location: New Orleans, LA
Website:http://www.nameorg.org/conferences.html
Abstract: NAME's 2008 Conference is "Beyond Celebrating Diversity: ReACTivating the Equity and Social Justice Roots of Multicultural Education." Registration deadline is August 15, 2008.
Empowering Youth Achievement in a New Economy
Conference
Date: November 17, 2008 - November 20, 2008
Location: Chicago, IL
Website:http://www.greenmoonsolutions.com/nawdp/
Abstract: The goal of the 9th Annual National Youth Development Symposium is to provide best practices and program guidance to workforce development professionals who serve youth, and leadership growth opportunities for the youth they serve. Workshop proposals must be submitted online by August 11.

December
2008
Social Justice in the 21st Century: 33rd Annual TASH Conference
Conference
Date: December 3, 2008 - December 6, 2008
Location: Nashville, TN
Website:http://www.tash.org/2008tash/
Abstract: The conference theme is Social Justice: achieving the full and equal participation of every member of society in a way that is shaped to meet each member's unique needs, with all persons valued, physically and psychologically safe, and able to participate in all aspects of life in their community. This year's TASH conference will focus on the issues and trends in today's world as they relate to the bringing about social justice for people who have significant disabilities and their families.
January 2009
TRLD 2009 - Technology, Reading & Learning Diversity Conference
Date: January 22-24, 2009
Location: Hyatt Regency Hotel, San Francisco, CA
Abstract: TRLD (http://www.trld.com/) celebrates its 27th year and will focus on professional development opportunities that "Open the Door to Universal Learning". Educators will gather to pursue the realities of providing equitable and flexible access to learning concepts and ideas for all students. Share and learn how to apply new strategies to empower students to become active learners in this digital age. David Warlick is the keynote speaker, who among other outstanding speakers and trainers will design hands-on workshops and interactive sessions to focus on the critical issues facing K-12 and higher education. TRLD is recognized for bringing together leading educators in a unique think-tank environment to leverage the collective intelligence of many thought leaders. Learn more about successful intervention models, discuss ways to implement systematic reform, strategize ideas to prepare tomorrow's teachers, explore innovative technologies to enhance literacy skills and implement validated instructional models. TRLD is hosted by Don Johnston.
---
For more information click on the image above or CLICK HERE
---