October 2010 - Special Educator e-Journal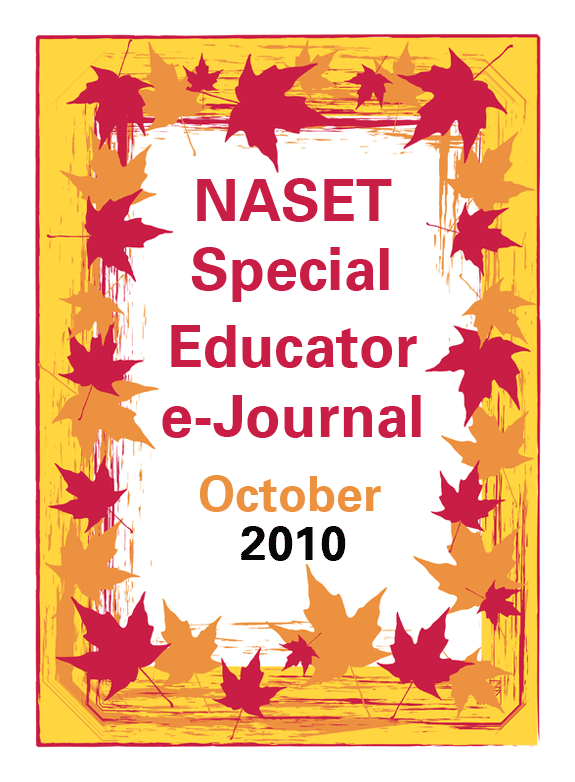 NASET Members - Login Below to access the latest Special Educator e-Journal.
Site visitors: You may access a sample e-Journal - Sample e-Journal
---
Table of Contents
Update from the U.S. Department Education

Children with Autism Go to School: Easing the Transition

Children with Autism Go to School: A Mom's View

When Working with Adolescent Struggling Readers, Skip At, Bat, and Cat:

A Reading Strategy for Content-Area Teachers

Calls to Participate

Update From The National Dissemination Center for Children with Disabilities

Latest Employment Opportunities Posted on NASET

Special Education Resources

Upcoming Conferences, Workshops, and Events

Funding Forecast and Award Opportunities

Acknowledgements

Download a PDF Version of This Issue
---
To learn more click on the image above or - Click here
---
NASET

Sponsor - HEINLE, part of Cengage Learning
Latest Employment Opportunities Posted on
NASET
Assistant Director - Special Education


Dover, NH
Position Summary
The Assistant Director will assist the assistant vice president and director in providing leadership and managing the work of the department from developing proposals and budgets to assigning, supervising, motivating, and evaluating staff/resources to fulfill contract requirements. A primary responsibility includes assisting in overseeing program management staff and working across divisions to ensure quality deliverables. The assistant director will provide leadership support to program managers and special education specialists in handling clients' representatives. Additional responsibilities include the following:
Assist in selecting, hiring, training, and mentoring staff.
Supervise program management staff as assigned.
Assist in managing quality, timelines, and work assignments for staff.
Monitor contract budgets and assist program management staff in fiscal management.
Represent the company with client representatives in support of program managers and specialists.
Attend and present as needed at statewide technical advisory committee, advisory and leadership meetings.
Advise client representatives on technical aspects and compliance with federal laws that relate to statewide alternate assessment programs.
Understand and balance psychometric, political, policy, and content consideration issues associated with individual contract development activities.
Establish and maintain internal and external relationships conducive to achieving the company's objectives.
Coordinate and play an active role in developing proposals and their associated budgets.
Assist in all aspects of test design, including creating test blueprints and field test designs.
Assist the assistant vice president and the management team in developing new business ideas and strategies.
Travel to client sites and state departments of education, up to 40% travel required.
Requirements
Master's degree in education or a directly applicable discipline with a minimum of seven (7) years of combined special education experience (preferably with students with significant cognitive disabilities) and/or state level alternate assessment experience, and/or alternate assessment experience with an educational testing company, with at least four (4) years direct special education experience and two (2) years of experience supervising and directing professional staff. District-and/or state-level experience preferred.
Benefits
Individually and collectively, the people at Measured Progress make a difference. Our K-12 assessment and professional development programs help improve the achievement of students nationwide. As a not-for-profit organization, we are able to truly embrace our mission "to improve teaching and learning."
Located in the beautiful Seacoast area of NH, Measured Progress provides a generous benefits package, and work/life balance.
If you would like to become part of a national, values-driven organization, we encourage you to look to Measured Progress as your destination employer.
To apply, please visit our login to self-service Website at www.measuredprogress.org.
Contact
Pamela Ford
Human Resource Representative
Measured Progress
100 Education Way
Dover, NH 03820
Tel: 603-749-9102 x2285
Fax: 603-516-1136
Email: ford.pam@measuredprogress.org
Website: www.measuredprogress.org
******************************
Assessment Specialist, Special Education


Princeton, NJ & San Antonio, TX
Description
ETS (Educational Testing Service), with headquarters in Princeton, NJ, is a global $1.3B not for profit organization. Our mission is to advance quality and equity in education by providing fair and valid assessments, performing educational research and influencing policies that promote learning, performance, education and professional development. As a nonprofit corporation and an innovator in developing tests for clients in education, government and business, we are dedicated to advancing educational excellence for the communities we serve.
We presently have opportunities that can be based in either our Princeton, NJ or San Antonio, TX locations for Special Education Assessment Specialists. In this key role, you will develop tests and related products in the field of education, including special education and pedagogy. Duties will include writing, reviewing and revising test questions as well as assisting in design/development of new assessments and innovative products and services. This position further offers the opportunity review and revise program publications and interpretive test preparation materials and participate in teacher training activities.
Qualifications
Master's degree in education
At least three years of increasingly responsible professional experience, including experience in educational measurement, applied statistics, teaching, or editing
Teaching experience and certification in elementary education is required, along with knowledge of strong pedagogical practices across K-12 levels
Knowledge of special education in the area of high incidence disabilities is highly desired
Comprehensive knowledge of the field of education in order to develop tests and to serve as resource person for peers, committees, and clients
Benefits
We offer a competitive salary and excellent compensation package including medical, dental, vision, 403(b) retirement plan, life and disability insurance, paid time off and an employee assistance program. Please apply online at:
http://ets.pereless.com/careers/index.cfm?fuseaction=83080.viewjobdetail&CID=83080&JID=83799&type=&cfcend
Equal Opportunity Employer
Apply Here
http://ets.pereless.com/careers/index.cfm?fuseaction=83080.viewjobdetail&CID=83080&JID=83799&type=&cfcend
******************************
Achievement Center Director


Greenville, SC
Description
Southern Teachers Agency is assisting Christ Church Episcopal School (CCES) in a search for their first Achievement Center Director. Founded in 1959, CCES enrolls approximately 1,000 students in primer (kindergarten) through grade twelve. CCES is an International Baccalaureate (IB) World School, and is one of the few independent schools in North America offering the full continuum of IB programs K-12. As an Episcopal school, CCES is committed to developing the full range of students' abilities and interests, not only their intellectual, athletic, and artistic potential.
Located in the Piedmont region of South Carolina in the foothills of the Blue Ridge Mountains, Greenville is the North American headquarters for Michelin and BMW. Greenville offers a high quality life within an internationally diverse community.
The Achievement Center Director is a new 12-month position for CCES. The director will have the benefit of spending the 2011-12 school year working at the school to learn its culture and assess its learning support needs. The Achievement Center will officially open in the 2012-13 school year. The Director will report directly to the Headmaster and will be charged with stating the vision for the Center, fostering a culture of inclusivity, creating a communications plan, designing professional development programs, managing the budget, and designing and implementing the Achievement Center's academic program.
This is an exciting and rare opportunity to design and initiate a program within the framework of a well established and supportive school. Because of the nature of this project and the time allotted to its design and implementation, candidates should view this opportunity as a multi-year commitment.
Requirements
The most successful candidates will be familiar with approaches to learning differences and will have demonstrated leadership experience, excellent communication skills, and a personal style that engenders trust.
Interested applicants should submit (preferably by e-mail) an STA application, current resume, list of references, and educational philosophy to Mr. Jamie Estes at Estes@SouthernTeachers.com.
For more information, including a full position profile and an application, please visit www.SouthernTeachers.com.
Contact
Mr. Jamie Estes
Estes@SouthernTeachers.com
Southern Teachers Agency
7 Elliewood Ave., Suite 2A
Charlottesville, VA 22903
******************************
Assistant Professor of Education and Child Study


Northampton, MA 01063
Description/Requirements
The Smith College Department of Education and Child Study invites applications for a full-time, tenure-track Assistant Professor of Education and Child Study to begin Fall 2011. We seek a candidate with:
strong background and research interests in teaching and learning
expertise in teaching courses in individual differences among learners
language diversity
special education and learning differences in the K-12 classroomcurriculum and instruction in these areas
commitment to designing and implementing high quality teacher education in a liberal arts setting that emphasizes the relationship of theory and practice
Also required is previous experience as a K-12 teacher and/or a record of working with teachers in a professional development context. Ph.D. or Ed.D. required by September 2011.
About the Department
The Department of Education and Child Study at Smith College is deeply rooted in a liberal arts model of teacher education, offering a rigorous, interdisciplinary major and minor and stressing the critical importance of subject-area preparation. The Department's nationally-renowned, K-6 laboratory school stands as a model for teacher preparation; the facility is a rich resource for experimentation and innovation, and for linking research to practice. Community engagement, urban education, and an overall commitment to public education PreK-12 are also critical aspects of the Department's program for teacher preparation.
Smith College is a member of the Five College Consortium with Amherst, Hampshire, and Mount Holyoke Colleges and the University of Massachusetts Amherst. Smith College is an equal opportunity employer encouraging excellence through diversity.
Contact
Submit application at http://jobs.smith.edu with cover letter, curriculum vitae, statements of teaching philosophy and research plans, and graduate transcript. Three confidential letters of recommendation should be mailed directly to Christine Barbuto, Department of Education and Child Study, Smith College, Morgan Hall, 37 Prospect Street, Northampton, MA 01063. Review of applications will begin November 15, 2010.
---
To learn more click on the image above or - Click here
---