May 2012 - Special Educator e-Journal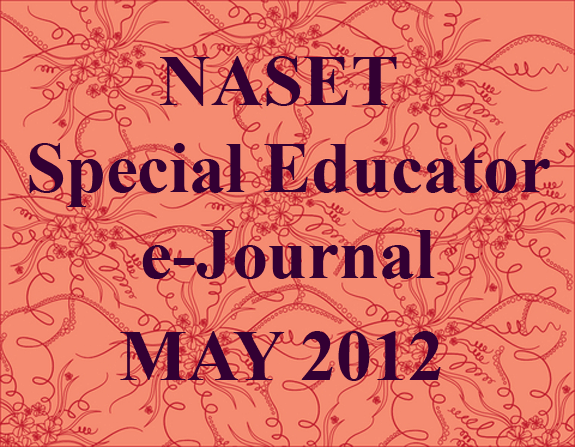 Table of Contents
Update from the U.S. Department of Education

Legal Issues in Special Education: Recent Court Decisions of Significant Interest to Special Education Teachers

Calls to Participate

Special Education Resources

Update From The National Dissemination Center for Children with Disabilities

Upcoming Conferences and Events

Funding Forecast and Award Opportunities

Acknowledgements

Download a PDF or XPS Version of This Issue
---
To learn more click on the image above or - Click here
---
To learn more click on the image above or - Click here
---
NASET Members - Login Below to access the latest Special Educator e-Journal.
Site visitors: You may access a sample e-Journal - Sample e-Journal
---
---
Latest Employment Opportunities Posted on
NASET
Seattle, WA
Job Category: Director of Special Education
About the Position
This position is a District Leadership Team position with responsibility to manage and coordinate assigned operations and functions of Special Education within the division of Learning and Teaching and provides innovative leadership in the service delivery integration of these operations/functions with all other District programs and services.
ABOUT SEATTLE PUBLIC SCHOOLS
Seattle Public Schools is a diverse community of 93 schools serving 48,500 students. As the largest school system in the state of Washington, we offer a broad range of programs and learning opportunities.
Seattle students and staff represent many cultures and ethnic groups. More than 80 languages are spoken in our schools. Our work is driven by our mission of helping every student achieve.
ABOUT SEATTLE
Seattle is a great place to live, visit, or work. In 2010, we were named one of the "Ten Best Cities for the Next Decade" by Kiplinger and we are delivering on that promise with strong schools, friendly neighborhoods, a thriving arts and cultural scene, great shopping, abundant opportunities for outdoor adventure, and a year-round mild climate.
We are the home of REI, Starbucks, Microsoft, and Amazon. We have a thriving high tech industry, an innovative bio-technology sector, and one of the top public universities in the nation.
Seattle is a hub for professionals from all over the world, who are drawn here by the opportunity to pursue their dreams in a beautiful and thriving place. We are one of the most highly educated cities in the nation, with more college graduates per capital than any other major city.
Job Requirements
Education:
Master's degree in Education, or a closely-related field
Years of Experience:
Five (5) years of administrative or supervisory experience, plus three to five (3-5) years of classroom teaching experience.
Preferred:
Degree in Special Education
Teaching experience, preferably in Special Education, and in an urban school system with a culturally and ethnically diverse student population.
Preference given to candidates holding, or qualified to hold, one of the following Washington State certificates: Special Education Program Administrator or Principal.
Certification & Licenses:
Valid Washington State Teaching certificate
Clearances:
Criminal Justice Fingerprint and Background check
Job Benefits
Position is eligible for District benefit plans including medical, dental, vision, life and disability insurance, and flexible spending plans. District contribution to benefit coverage is prorated by FTE, .5 and above.
Essential Functions
1) Manages and oversees the administration of assigned departmental programs and services; establishes program goals and objectives and applicable instructional strategies and delivery models; coordinates with building principals regarding the development of programs within individual schools; and directs the project management of the Special Education Review and other District priorities. (15% of the time)
2) Identifies student needs and positions required to meet those needs; coordinates and teams with school principals and Human Resources staff to recruit, select and hire candidates. Supervises, assigns, evaluates and disciplines department staff; makes presentations to District administrators and convenes District administrators and staff to discuss issues regarding areas of assignment. (15% of the time)
3) Works collaboratively with all District administrative offices to ensure compliance with applicable employment laws, District procedures and processes, and federal and state requirements governing areas of assignment. Maintains familiarity with educational trends, research and best practices in special programs, as well as general education. Works cooperatively within the Department for Teaching and Learning on implementation of Washington State reform mandates, including collaboration across the K-12 general education and special programs. (10% of the time)
4) Participates in District budget development and staffing processes; provides background and research data, monitors reports and is responsible for management of assigned budget. Reviews building plans for program and fiscal compliance and feasibility; serves as a resource in the development of plans which include, but are not limited to, academic achievement, service delivery, parent involvement and professional development; integrates ways to assess and evaluate effectiveness of services and instruction. (10% of the time)
5) Represents the department in identifying program needs and authorizing program resources and monitors use of such resources; works collaboratively with other departments to determine program placements and projects enrollments of eligible students; coordinates with District administrators, school principals and staff regarding the instruction and support services for areas of assignment. (10% of the time)
6) Develops integrated service delivery models and expanded outreach to students and families; coordinates with community agencies, schools, Enrollment Services and other District departments to ensure that student needs are appropriately assessed and that services meet student needs; works with other District administrators to coordinate summer school and other special programs and services; negotiates building sites and room space, hires and assigns staff, coordinates transportation and child nutrition support. (10%)
7) Serves as a project leader; facilitates/participates on various District and department committees; works as a team member within department and with other District staff to coordinate integrated services, identify professional development needs, and coordinate professional development opportunities that will enhance program, staff and student success. Coordinates and conducts workshops, orientations and professional development regarding areas of assignment; serves as a resource to staff on program and compliance issues.
8) Develops and oversees efforts to increase opportunities for family and community partnerships and involvement; ensures appropriate communication with parents regarding the education of their children with special needs; meets regularly with the Seattle Education PTSA and Special Education Advocacy and Advisory Committee parent groups. (10%)
9) Responds to staff and parent questions and concerns regarding special education services and serve as an articulate, informed spokesperson for the District at both formal and informal speaking engagements and in the development of written documents describing District program services; provides leadership in maximizing utilization of all resources to achieve high quality learning and working environments. (10%)
Contact Information
Please contact Nate Fitzpatrick at ntfitzpatric@seattleschools.org, 206-252-0378.
To Apply
Applications must be completed online. Please visit http://bit.ly/speded2012 for the full job posting and description.
*******************
New York, New York
Job Category: Master Middle School Teacher (Including Special Education)
$125,000 Salary for Master Middle School Teachers!
Earn a $125,000 salary and join a team of master teachers at The Equity Project (TEP) Charter School, recently featured on the front page of the New York Times:http://www.tepcharter.org/nytimes.php
TEP is a 480-student 5th through 8th grade middle school in the Washington Heights neighborhood of New York City.
Learn more and apply today at www.tepcharter.org/apply.php
You can learn more about teaching at TEP by participating in our Live Online Information Session (link below):
http://www.tepcharter.org/info-session-for-teachers.php
About TEP Charter School
TEP aims to put into practice the central conclusion of a large body of research related to student achievement: teacher quality is the most important school-based factor in the academic success of students, particularly those from low-income families. In singling out teacher quality as the essential lever in educational reform, TEP is uniquely focused on attracting and retaining master teachers. To do so, TEP uses a three-pronged strategy that it terms the 3 R's: Rigorous Qualifications, Redefined Expectations, & Revolutionary Compensation. For more information, visit us online at http://www.tepcharter.org
Info Session @ TEP
Thinking about applying for a teaching position at TEP? Attend an in-person information session with TEP's Principal, Zeke Vanderhoek. Take a tour of the school, learn more about the teacher application process and teaching at TEP, and have an opportunity to ask questions
When: Monday, April 23, 6PM
Where: TEP Charter School
Please RSVP with David Weinreb by calling us at 646.254.6451
*******************
Los Angeles, CA
Job Category: Special Education Teacher, Certified Teacher, Special Education Full Time High School, Resource Spec. Teachers - PT & Full Time, SPECIAL EDUCATION TEACHERS - MULTIPLE OPENINGS, SPED
Description:
ABOUT GREEN DOT: Green Dot Public Schools (www.greendot.org) is the leading charter school operator in Los Angeles, one of top three largest in the nation, and an important catalyst for education reform in the State of California. We are the only charter school operator in the country to lead the wholesale take-over and turn-around of a 3,000-plus student high school. The U.S. Department of Education featured Green Dot as a national leader in school turnarounds. Green Dot currently employs over 700 dedicated mission-driven personnel to serve more than 10,000 students.

Green Dot's mission is to transform public education in Los Angeles so that every student can graduate, prepared for college, leadership, and life.  We achieve this mission by running a network of middle and high schools in low-income communities and influencing the Los Angeles school district to transform its failing secondary schools into clusters of small successful schools.


Opportunity:
We are seeking talented SPED educators (RSP, SDC/MM and SDC/MS), with a desire to foster high levels of achievement in urban high schools.  Our staff is committed to continuing their own learning and refining their practice to stay current in the field ensuring a quality education for all.  We offer small class sizes, and weekly professional development days, a Teacher Buddy system, monthly observations, summer training, new teacher support meetings, and opportunities for teachers to attend conferences. To learn more about what it's like to be a teacher at Green Dot, please visit: http://www.greendot.org/careers/teachers.
Requirements:
Bachelor's degree> California Education Specialist, Level I or II credential in SPED – Mild/Moderate or Moderate/Severe; OR verifiable, relevant subject-matter competency in order to qualify for a Provisional Internship Permit or Short-Term Staff Permit (proof of competency can be met by a degree in SPED OR at least 18 units in appropriate SPED coursework) and passage of the CSET.)  At least 2 years of teaching experience is highly desirable
Contact:
We require all candidates to complete an online application athttp://www.greendot.org/careers.
Only applicants chosen for an interview will be contacted. We are looking to fill these positions by July 1, 2012.
*******************
Laguna Beach, California
Job Category: Learning Coach, Teacher (Early Childhood), Teacher (K - 12), Curriculum and Teacher Preparation, (Special Education)
Description:
Anneliese Schools is a progressive, independent school that teaches children from preschool through sixth grade.  It is a place where minds and hearts come alive with the wonder of learning.  Anneliese Schools is looking for a learning coach to assist our students who may learn somewhat differently while remaining consistent with our philosophical beliefs regarding the ways in which children learn most effectively.  We are looking for someone to assess student abilities and learning preferences using a variety of validated learning tools including stardardized tests. An ability to develop and interpret existing IEPS is important. In addition, this individual would assist with triaging, placement and interfacing with outside agencies when appropriate.  Creating a learning environment that motivates students intrinsically while resonating with their inner strengths and does not incorporate extrinsic reward systems is critical.  This individual should demonstrate a strong familiarity with Multiple Intelligence Theory and employ inquiry based learning to motivate learning.  This individual would work in alignment with the school values and philosophy.  The ability to work well with others is mandatory.
Requirements:
Minimum of a B.A, Education Specialist Certification, Familiarity with efficacious programs such as LIPS, and a proven track record of successful classroom or individualized instruction.
Benefits:
Anneliese offers a competitive compensation package including medical and dental insurance and 401K program.  In addition to training and professional development, our teachers are equipped with all necessary instructional supplies and technology.
Contact:
Corinne Manetto, Ph.D. Director of Admissions; c.manetto@annelieseschools.com
Maria Onesi, MA  Director of Instruction and Curriculum;m.onesi@annelieseschools.com
949-497-8310 phone, 949-497-7332 fax
90062 Laguna Canyon Rd, Laguna Beach, CA  92651
*******************
Vancouver, Washington
Job Category: Teacher of the visually impaired, Teacher (Elementary), Teacher (K - 12), Special Education Teacher, (Special Education)
Description:
The Washington State School for the Blind currently has a full-time Teacher of the Visually Impaired/Orientation and Mobility. This position reports directly to the Director of Education and will be providing education instruction to blind and visually impaired children.The position will have, but will not be limited to, the following responsibilities:
The successful candidate will

:

work in conjunction with work with other WSSB staff to provide educational services to students on campus, may perform a variety of assessments, participate in IEP development and implementation, act as an integral member of the student's educational team and teach compensatory skills.

These may include but aren't limited to:

• Daily Living Skills

• Assistive Technology

• Braille

• Use of low vision devices

• Self-help skills

• Work Experience

• Develop and plan teaching lessons for visually impaired students

• Supervises visually impaired students in variety of school settings

• Communicate with visually impaired students, families, legal guardians, and staffs about individual student IEP plans and goals

• Evaluate, prepare, instruct, and provide appropriate low vision devices for visually impaired students

• Teach and assist in Braille to visually impaired students


Requirements:
Education, Training, and Experience:
• Graduate of an accredited school of specializing in blindness, Orientation and Mobility and/or Visually Impaired; AND
• A current Washington State Teaching Certification or can obtain a Washington State Teaching certificate; AND
• Must pass the Braille Competency examination

Desirable Qualifications:
• Dual certification (TVI and, Math,  Language Arts, Social Studies , Handicapped Learner); AND
• Certified Orientation and Mobility Specialist certification; AND• 2 years of teaching experience; AND
• Masters in education or related field
Knowledge, Skills, and Abilities
• Strong interpersonal, communication, and listening skills with the visually impaired students, families, and staffs
• Strong written and verbal communication skills
• Strong knowledge of all applicable rules, regulations, laws, and policies
• Proficiency in use of Braille
• Proficiency in use of low vision devices
• Proficiency in use of basic Microsoft Office Software (Outlook, Excel, Microsoft Words, and internet)
Benefits:
This position is a Washington State government position.  Some of the outstanding state benefits include retirement plans,  health, dental, life and long-term disability insurance, 8 hours of sick leave accrual per month, one personal holiday per calendar year, military and civil leave, dependent care assistance program, employee assistance program; deferred compensation plans, professional development funds, training, and state retirement plans.


Contact:
How to apply:  Please send a letter of interest, detailed resume and references to the address or email listed below.  If you are interested in this position and would like more information please call Karen Mowry, Director of Education at (360)696-6321 ext 140. jessica.sydnor@wssb.wa.gov
Subject: TVI application or WSSBAttn: Human Resources2214 E 13th StVancouver, WA 98661Phone: 360-696-6321 ext 129Fax: 360-737-2120
*******************
Faribault, Minnesota
Job Category: Administrator, Administration, Director, Full Time, Education Director, Superintendent, Education
Description:
The Minnesota State Academies (MSA) is a state agency made up of the Minnesota State Academy for Deaf (MSAD) and Minnesota State Academy for Blind (MSAB). MSA is governed by a seven member Board appointed by the Governor. The superintendent manages the operation, is accountable for learning and serves as its ambassador with the legislature.


Requirements:
Successful candidates must hold or be eligible for the State of Minnesota School Superintendents License, possess experience in administration of schools, and  experience working with disabled children. The position is full time year around with a personal leave package.
Benefits:
Successful candidates will received the State benefit package with a salary top of $120,269.
Contact:
Submit applications and inquiries to: Dr. Brian Boettcher, BKB Associates, 421 Diamond Creek Road, Mankato, MN 56001. brian.boettcher@mnsu.edu
*******************
River Forest, IL
Job Category: Department of Curriculum, Language, and Literacy
Description:
The Department of Curriculum, Language, and Literacy, within the College of Graduate and Innovative Programs at Concordia University Chicago, invites applications for a tenure-track faculty position at the rank of Assistant or Associate Professor in Special Education. The appointment will begin on July 1, 2012, or later. Applications will be accepted until the position is filled. Interviews begin the week of April 23, 2012.
The Position: Duties include teaching graduate-level Special Education courses for PreK-12 SPED teacher education endorsement, advising graduate students, conducting research, and providing local, state, and national service. The successful candidate is expected to conduct an active research agenda that addresses the issues that P-12 educators and learners face.
Key Job Elements
Provides competency-, standards-based education which aligns with the Concordia University conceptual framework, Council on Special Needs standards, as well as supports the Concordia University style and system of learner-centered instructional delivery.
Guides student learning in the facts, skills, dispositions, and appreciations pertaining to the course.
Designs and delivers class instruction through the development of instructional plans to meet course competencies, the development of activities which support course objectives, and delivers the instruction as approved.
Considers the general and special needs of the graduate students, assists them in meeting those needs, and when necessary, seeks additional help from other college services.
Cooperates with the Department Chairperson and Program Leaders, department members, and the appropriate administrators in the development of the curriculum, in the preparation and update of course syllabi, course outlines, and selection of textbooks and other curricular materials.
Recommends texts, instructional materials, and other resources as needed.
Consults with Program Leaders and/or Department Chairperson on matters pertaining to departmental issues or concerns; observes proper channels of communications.
Work to continuously improve the curriculum, instructional delivery, and assessment of all program requirements in accordance with NCATE and IBHE requirements.
Submits midterm and final grade reports, NCATE data, and any other reports pertaining to the assigned course.
Manages the learning environment through keeping accurate records, submitting attendance and grades and other reports on time, and enforcing school/college academic and attendance policies.
Participates in faculty and professional organizations. Relates professional/life/industry experience to learning by the introduction of industry perspectives into courses, and the active awareness of professional/industry trends, research, and opportunities.
Attends scheduled semi-annual professional development program meetings.
Required Education
Candidates must hold an earned doctorate or be ABD in special education, special needs populations, curriculum and instruction with an emphasis in special or gifted education, or a related field of research.
Required Experience
Must have teaching experience at some level of PreK-12 special education and/or involvement with PreK-12 special education teacher education. ABD candidates must complete the doctorate in one year by the time of start date. Applicants must show potential for developing, or have earned, a strong scholarly record as well as commitment to teaching and service. Documentation of the following will strengthen an application: knowledge and experience of special education education; engagement with high-needs schools; and experience or potential to work collaboratively and across disciplines.
Contact
To apply for the position, include a letter of interest; a curriculum vitae; official copies of transcripts; a list of three references including their name, addresses, and telephone numbers/e-mail addresses; and, if available, a sample publication or manuscript that reflects the applicant's scholarly work. Application reviews will begin immediately and will continue until the position is filled. For more information, email Dr. Carol Schefelbein at carol.schefelbein@cuchicago.edu.
Dr. Carol Schefelbein, Associate Professor Department of Curriculum, Language, and Literacy Concordia University Chicago
7400 Augusta Street CC339C
River Forest, IL 60305
Fax: 708.209.3571
Phone: 708.209.3158
Email: carol.schefelbein@cuchicago.edu
*******************
Washington, DC
Job Category: Full Time
Description
DC Bilingual is recruiting a special education teacher to provide academic services to our students with special needs within a self-contained classroom. Content areas include reading, writing, and math with integrated science and social studies. He or she will also support DC Bilingual's mission through the implementation of an inclusion/resource model and support of our dual language program. DC Bilingual is seeking motivated staff that is committed to the belief that all children can learn. All teachers receive weekly coaching by an experienced educator and are a part of the professional learning community.
Requirements
Bachelor's degree in Special Education or equivalent, DC Praxis Passing Score in Special Education; Two or more years of experience (preferably in an urban setting); Bilingual preferred but not required (Spanish/English); Native Spanish speakers for Spanish Classrooms, required; Demonstrated ability to work with students and families from diverse backgrounds.
Benefits
Salary commensurate with experience. Benefits, including health care, retirement plan, short- and long-term disability and life insurance, are provided for full-time staff.
Contact
Cynthia Mercado-HR Recruitment Specialist
email:dcbilingualjobs@centronia.org
Website:dcbilingual.org
Application Available
English Version - Click Here
SpanishVersion - Click Here
*******************
Washington, DC
Job Category: Full Time
Description
DC Bilingual is recruiting a special education/inclusion teacher to provide academic services to our students with special needs. They will also support DC Bilingual's mission through the implementation of an inclusion/resource model and support of our dual language program. DC Bilingual is seeking motivated staff that is committed to the belief that all children can learn. All Inclusion Co-Teachers are expected to work jointly with the General Education Co-Teacher assigned to the same classroom.
Requirements
Bachelor's degree in Special Education or equivalent, DC Praxis Passing Score in Special Education; Two or more years of experience (preferably in an urban setting); Bilingual preferred but not required (Spanish/English); Native Spanish speakers for Spanish Classrooms, required; Demonstrated ability to work with students and families from diverse backgrounds.
Benefits
Salary commensurate with experience. Benefits, including health care, retirement plan, short- and long-term disability and life insurance, are provided for full-time staff.
Contact
Cynthia Mercado-HR Recruitment Specialist
email:dcbilingualjobs@centronia.org
Website: dcbilingual.org
Application Available
English Version - Click here
Spanish Version - Click here
*******************
New York, NY
Job Category: Teaching, Coordinators
What makes Harlem Village Academies different?
At Harlem Village Academies, we emphatically believe that excellent teachers are the most important element of excellent schools. Therefore, we have thoughtfully designed every aspect of our schools to support, develop, respect, and empower our teachers. We are people-driven, not program-driven — and the difference is profound. We're not replicating a particular program; we are deliberately and carefully setting out to create an ideal environment and rich intellectual life for teachers. By building a system of schools designed for teachers, we ensure an excellent education for all children.
RESPONSIBILITIES
Communicate regularly with the Center for Special Education regarding special education students' needs
Write and update Individualized Education Plans (IEPs)
Refer students for initial and repeat evaluations
Ensure compliance with all pertinent special education laws and policies
Establish classroom routines and follow through consistently
Develop and teach rigorous, engaging lessons
Develop effective assessments, lesson plans, materials
Analyze assessment data and use data to inform instruction and develop tutoring plans
Collaborate with colleagues to share best practices and ensure student mastery of standards
Maintain close relationships with students' families
Qualifications
Minimum two years full-time elementary classroom experience as a special education teacher, preferably in an urban setting
New York State certification strongly preferred
Outstanding instructional skills, including the ability to motivate and challenge students
Strong background in elementary literacy
Demonstrated ability to create and maintain a warm, strict, orderly classroom environment
Personal accountability for student achievement
A belief that all students can learn at a high level and should be held to high academic standards
The ability to communicate effectively with parents
The ability to work effectively with colleagues as a positive, professional member of a team
Competitive salary and benefits
Contact
Interested candidates should apply through our website. (http://www.harlemvillageacademies.org/pages/careers)
If you are unable to apply through our website, you may email your resume and cover letter, including how you heard about the position, toteach@harlemvillage.org with "Special Education" in the subject line. Applications will be reviewed as received, though due to the high volume of applications we receive, we are only able to notify those candidates who meet our selection criteria. If you have questions about your application, you may contact us atteach@harlemvillage.org or 646-812-9300 ext. 1382.