March 2012 - Special Educator e-Journal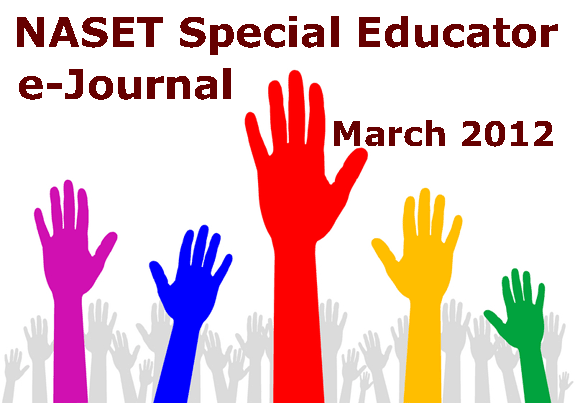 Table of Contents
Update from the U.S. Department of Education

Calls to Participate and New Projects

Special Education Resources

Update From The National Dissemination Center for Children with Disabilities

Upcoming Conferences and Events

Funding Forecast and Award Opportunities

Acknowledgements

Download a PDF or XPS Version of This Issue
---
To learn more click on the image above or - Click here
---
NASET Members - Login Below to access the latest Special Educator e-Journal.
Site visitors: You may access a sample e-Journal - Sample e-Journal
---
---
Latest Employment Opportunities Posted on
NASET
Bradenton, FL
Job Category: Private Teacher
Posted on Sunday 26. of February 2012
Description
My son has several diagnoses... SPD, ASD and Aspergers. Who knows which is most acurate. Not sure it matters. I need someone that understands he is moving so he can pay attention not because he is being disobient. He also makes vocal sounds on a regular basis. You will have to be tolerant. His need for moving is like the need for oxygen. We have a playground and trampoline, plenty of area to fun and climb or swim. It doesn't matter in which fashion he learns (while swimming, running, etc) as long as he is having fun.
As you can imagine he has had difficulty in typical private schools, so that is why we have chosen to home school. Learning can be fun... handson... I just need to find that person capable of doing that.
He is an 8 year old boy that is ALL boy. He is our angel.. and we love him beyond belief.
I would like someone to push him beyond grade level in Math. That's the good thing about homeschool, you can be on different grade levels in different subjects.
He is in several therapies which could take place after school, or before.
I am thinking that perhaps 4 hours may be all that is needed to teach curriculum.
He has advanced remarkably in FastForward. I have tons of equipment and supplies for the new teacher.
Times are flexible but I do prefer early mornings to early afternoons. (perhaps 8-11 or 12) Please email questions and salary requirement.
Requirements
The person we seek will be a Christian, have a huge amount of patience, and someone that will make learning a fun adventure.
Benefits
Flexible hours. Nice home to work in.
Contact
Email is best:
Lee@Santilli.us
************************************************************
Brooklyn, NY
Job Category: Special Education teacher for pre-school 2.6-5 yrs
Posted on Tuesday 14. of February 2012
Description
A not-for-profit pre schoool for special needs children ages 2.6-5 looking for a special needs classroom teacher.
Requirements
NY State Certificate
Benefits
Medical, Dental, Long Term Care, Vacation, Paid Sick Leave.
Contact
Janet Williams - Director
Phone: 718-854-3710
Fax: 718-854-3740
Email:jwilliams@childstudycenterofnewyork.org
Website:www.childstudycenterofnewyork.org
**************************************************************
Geneva, Illinois
Job Category: Full Time
Posted on Wednesday 08. of February 2012
Description
Play a key leadership role in the success of the Marklund Day School!
With emphasis on a highly sensory-driven, multi needs program, that includes serving those on the autism spectrum, the professional we seek will be responsible for all day-to-day administrative operations, assuring quality of program curriculum, budget development and maintaining the school's financial viability.
Primary duties will include
Partnering with school districts
Expanding school services to allow for additional students
Touring parents and new district representatives
Coordinating the development of the School Improvement Plan.
Conducting all staff In-service and Teacher meetings
Assisting in overall smooth function of the facility by working together with the Leadership
Team (Therapy Supervisor, Registered Nurse, and Administrative Assistant)Establishing and maintaining compliance with all governmental regulations concerning education
Acting as liaison between Day school and appropriate state officials
Keeping abreast of special education issues
Developing budgets and educating staff on monitoring budgets
Attending all IEPs and 3-year re-evals
Type 75 Administrative Certificate
Must possess a minimum of 5 years' experience as a principal or administrator, in a non-public school preferred
Requirements
About the Marklund Organization...
Our Mission: Marklund enriches the lives of those with special healthcare needs by honoring the unique purpose of each individual. Those we serve are able to enjoy a full and meaningful life supported by a compassionate, nurturing environment; a strong partnership with the community; and an unmatched dedication to personal growth.
The Marklund Day School is a non-public state-certified school located in Bloomingdale, IL that provides a highly specialized education experience for individuals ages 3-22 with medical, developmental, physical disabilities and those on the autism spectrum. Our program is appropriately designed to foster growth in all essential areas.
Response Information
We offer a competitive salary and benefits, and a caring and compassionate team environment. To begin your rewarding career with Marklund, send your resume to:
Marklund
1S450 Wyatt Drive
Geneva, IL 60134
Fax: 630-397-5095
Email:jnelson@marklund.org
Or apply online at:www.marklund.org
No phone calls, please.
Marklund
Rising Above Limitations
EOE
************************************************************
Chicago, IL
Job Category: Elementary Special Education Teacher Coach
Posted on Friday 03. of February 2012
Description
AUSL is a nonprofit school management organization partnering with Chicago Public Schools, and currently manages a network of 19 schools. At AUSL, it is our mission to improve student achievement in Chicago's high-poverty, chronically failing schools through our disciplined transformation process. For more information about AUSL, go to http://www.ausl-chicago.org.
The Elementary Special Education Teacher Coach will provide outstanding, individualized coaching and professional development to the dedicated special education teachers and case managers in AUSL elementary turnaround schools. Coaches work closely with teachers to deepen the teachers' repertoire of classroom strategies, understanding and implementation of special education laws and practices, and using student data to drive differentiated instruction to bring relentless focus to accelerating student learning, especially in the areas of literacy and critical thinking. The Coach will also collaborate with other AUSL coaches to develop and deliver professional development to teachers across AUSL's network, and to participate in recruitment and other network-wide initiatives. All candidates must possess a commitment to deep levels of educational change and reform, resilience of spirit, and an earnest respect and fondness for the children of our schools.
Responsibilities
Provide real-time classroom coaching and outstanding, individualized professional development to special education teachers.
Use a repertoire of strategies for adult learners including real-time, side-by-side classroom coaching, co-planning and co-teaching of lessons, modeling of best practice strategies, analysis of student work, IEP consultation, and classroom observation & feedback.
Implement the AUSL coaching model.
Collaborate with administrators and teachers to establish teacher performance goals and coach teachers as necessary to meet those goals.
Complete projects related to the implementation of high-quality curricular initiatives at individual schools or across the AUSL elementary school network.
Demonstrate commitment to increasing student achievement with data-driven instruction by managing and supporting school-based teachers and administrators.
Collaborate in the design and delivery of Summer Turnaround Training teacher workshops.
Monitor student assessment data and create reports.
Collaborate and support case managers in first year turnarounds with IEP writing, scheduling, and other case management duties as needed.
Master's degree in an education-related field, preferably special education; current IL teaching certificate.
Experience as a successful and innovative special education teacher and teacher coach. Minimum five years of successful K-8 special education classroom teaching experience, including the development and implementation of IEPs and FA/BIPs.
Extensive experience in urban educational settings.
Skills and prior experience coaching or mentoring adult learners.
Excellent time-management, organization, and interpersonal skills.
Strong collaborative, interpersonal, and teamwork skills in working with a diverse group of school and network-based stakeholders.
Strong written and oral communication skills.
Requirements
This is a full-time (40 hours/week), year-round position as an employee of AUSL; it is not a CPS position.
To Apply
Go to:  http://www.applitrack.com/ausl/onlineapp/ and click "View Open Positions" -> "AUSL Staff Positions" to select this position, complete a brief online application, and upload your resume and cover letter.
************************************************************
Mesa, AZ
Job Category: Teacher
Posted on Friday 20. of January 2012
Job Description
Mesa Public Schools is looking to hire Special Education Teachers in various categories. The role of these teachers is to provide appropriate special education programming for all students with educational disabilities and to promote programming that will accomplish transition of disabled students from school to post school activities, including post-secondary education, independent living and community participation.
Job Requirements
BS Degree. Arizona Teaching Certificate with Special Education endorsement required.
Job Benefits
Health and life insurance plan. Salary starting at $35,569. Excellent support for teachers with Professional Development and mentoring.
Contact Information
Qualified applicants should go to Mesa Public Schools websitehttp//www.mpsaz.org/hr/job_openings/
For information on the application process call Liz Biggs at 480-472-0406 or email to eabiggs@mpsaz.org
************************************************************
New York, NY
Job Category: Master Middle School Teacher
Posted on Friday 20. of January 2012
Description
Earn a $125,000 salary and join a team of master teachers at The Equity Project (TEP) Charter School, recently featured on the front page of the New York Times: (http://www.tepcharter.org/nytimes.php).
TEP is a 480-student 5th through 8th grade middle school in the Washington Heights neighborhood of New York City.
Learn more and apply today at http://www.tepcharter.org/apply.php
Also, we invite you to learn more about TEP Charter School and about teaching at the school on our Live Online Information Session (link below):
http://www.tepcharter.org/info-session-for-teachers.php
About TEP Charter School
TEP aims to put into practice the central conclusion of a large body of research related to student achievement: teacher quality is the most important school-based factor in the academic success of students, particularly those from low-income families. In singling out teacher quality as the essential lever in educational reform, TEP is uniquely focused on attracting and retaining master teachers. To do so, TEP uses a three-pronged strategy that it terms the 3 R's: Rigorous Qualifications, Redefined Expectations, & Revolutionary Compensation. For more information, visit us online at  http://www.tepcharter.org
Compensation
$125,000 salary + potential annual bonus, full benefits package
Contact
Email:jobs@tepcharter.org
---