March 2009 - Special Educator e-Journal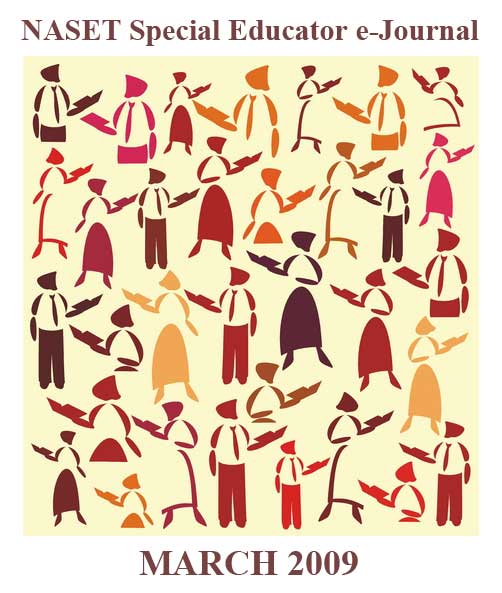 Table of Contents
Message from the Executive Directors
What's Happening at NASET
Update from the U.S. Department Education

District/School memberships in NASET
Update From The National Dissemination Center for Children with Disabilities
Calls to Participate
Special Education Resources
Upcoming Conferences, Workshops, and Events
Get Wired!—The Latest on Websites and Listservs
Intersection: Navigating the Road to Work
Funding Forecast and Award Opportunities
Acknowledgements
Download a PDF Version of This Issue
---
NASET Members - Login Below to access the latest Special Educator e-Journal.
Site visitors: You may access a sample e-Journal - Sample e-Journal
---
---
---
NASET District /
School Memberships
A District or School membership in NASET is considered to be the most economical method to provide your entire staff with the full benefits of NASET Membership.
Membership in NASET provides unlimited access to our vast resources, special education/disability information, useful tools for special educators, mulitple e-Publications and the latest news about special education.
Another important feature for School Districts is our extensive list of online staff development courses. We now offer a reporting structure for your Special Education Administrative staff. These reports can provide accountability for individual access to the website and staff development course completion for each staff member.
Download a Guide to District Membership - Click Here (left click to open, right click to save).
How much does District or School Membership Cost?
NASET provides a sliding scale based price which is dependent upon the number of special education staff within your district or school. To receive a quote for your district or school, use the link below and fax or email your quote request to us (fax and email address are provided on the request form).
Request a Quote for District or School Membership - Click Here
Reasons for Your District or School to Join
NASET
SIMPLE, EASY MEMBERSHIP REGISTRATION (EACH STAFF MEMBER CREATES THEIR OWN MEMBERSHIP ACCOUNT)
ECONOMICAL STAFF / PROFESSIONAL DEVELOPMENT (ONLINE COURSES WITH TESTS - REPORTS ARE AVAILABLE FOR ADMINISTRATIVE STAFF)
STAFF ACCESS TO NASET 24 HOURS A DAY (ALWAYS AVAILABLE FOR RESEARCH, COURSE STUDY AND TEST COMPLETION)
PRACTICAL SPECIAL EDUCATION INFORMATION FOR YOUR ENTIRE STAFF (EVERYTHING FROM HOW TO MANAGE A CLASSROOM TO HANDOUTS EXPRESSLY DESIGNED FOR PARENTS OF CHILDREN WITH SPECIAL NEEDS)
REPORTING OF WEBSITE ACCESS AND COURSE COMPLETION AVAILABLE FOR STAFF ACCOUNTABILTY (YOUR DESIGNATED STAFF CAN ACCESS REPORTS OF SITE USAGE AND COURSES COMPLETED BY EACH STAFF MEMBER)
---

Upcoming Conferences,
Workshops and Events
March
2009
Family Literacy – Family Progress, 18th Annual National Conference on Family Literacy
Conference
Date: March 1, 2009 - March 3, 2009
Location: Orlando, FL
Website:http://tinyurl.com/7pv2mh
Abstract: Presented by the National Center for Family Literacy and held in Orlando, FL, this conference for family literacy professionals and advocates will feature presentations on recent research and findings.
National Training Institute: Addressing Challenging Behavior
Date: March 22-25, 2009
Locattion: Sheraton Sand Key Resort - Clearwater Beach, FL
Sponsors: Technical Assistance Center for Social and Emotional Intervention; Center on the Social and Emotional Foundations for Early Learning; Division for Early Childhood (DEC)
Email:nti@dec-sped.org
Abstract: This conference will focus on behavioral issues and effective practices in Early Childhood students.
International Conference on Positive Behavior Support
Date: March 26-28, 2009
Location: Hyatt Regency Hotel - Jacksonville, FL
Sponsor: Association for Positive Behavior Support (APBS)
Website:www.apbs.org
Telephone: (570) 389-4081 Fax: (570) 389-3980
Email:tknoster@bloomu.edu
April
2009
Council for Exceptional Children's 2009 Convention and Expo
Conference
Date: April 1, 2009 - April 4, 2009
Location: Seattle, WA
Website: - Click Here
Abstract: CEC's 2009 Convention and Expo will discuss the latest issues in special and gifted education, share teaching strategies, and explore the latest special education legislation and trends and in new products and services in the exhibit hall, for those working with children with exceptionalities and their families.
Abilities Expo
Expo
Date: April 17, 2009 - April 19, 2009
Location: Edison, NJ
Website:http://www.abilitiesexpo.com/
Abstract: In addition to featuring new technology, products and services for people with disabilities, this year's expo features education and training seminars, a career fair, and a networking reception. In addition to the Edison session in April, the Abilities Expo will be held this year May 29-31 in Anaheim, CA; June 25-27 in Chicago, IL; and November 5-7 in Atlanta, GA.

Middle Level Essentials Conference.
Date: April 23-24, 2009,
Location: Las Vegas, Nevada
Website: Click Here
May
2009
International Conference on Self-Determination.
Date: May 3-5
Location: Winston-Salem NC
Website:http://www.self-determination.com/csd/component/content/article/105.html
Abstract: The Center for Self-Determination will hold the 2nd Annual International Conference on Self-Determination in Winston-Salem NC, May 3-5, 2009. More information, and registration are at the website.

June
2009
21st Annual Postsecondary Disability Training Institute
training
Date: June 2, 2009 - June 6, 2009
Location: Pittsburgh, PA
Website:http://www.cped.uconn.edu
Abstract: The objective of this Training Institute is to assist professionals to meet the needs of college students with disabilities. Participants can select from a variety of Strands, Single Sessions, and Saturday Post-Sessions taught by experts in the field, which provide participants with in-depth information and adequate time for questions and follow-up discussions. Participants also have opportunities to share information and network with each other at various activities throughout the Institute.
Celebrating the Legacy, Shaping the Future
Conference
Date: June 10, 2009 - June 14, 2009
Location: Washington, DC
Website:http://www.mentalhealthamerica.net/go/conference
Abstract: Sponsored by Mental Health America and held in Washington, DC, the conference will celebrate Mental Health America's Centennial, a century of achievement, and discuss upcoming steps to take for mental health.
The National Center for Education Research's Summer Research Training Institute on Cluster-Randomized Trials
Conference
Date: June 21, 2009 - July 3, 2009
Location: Nashville, TN
Website:http://ies.ed.gov/whatsnew/conferences/?id=394&cid=5
Abstract: The National Center for Education Research, Institute of Education Sciences, announces its third Summer Research Training Institute on Cluster-Randomized Trials at Vanderbilt University. This Training Institute is held to increase the national capacity of researchers to develop and conduct rigorous evaluations of the impact of education interventions. Application information will be available on the IES Web site by mid-January. For assistance contact Dr. Christina Chhin, at (202) 219-2280 or christina.chhin@ed.gov.
---