May 2007 Special Educator e-Journal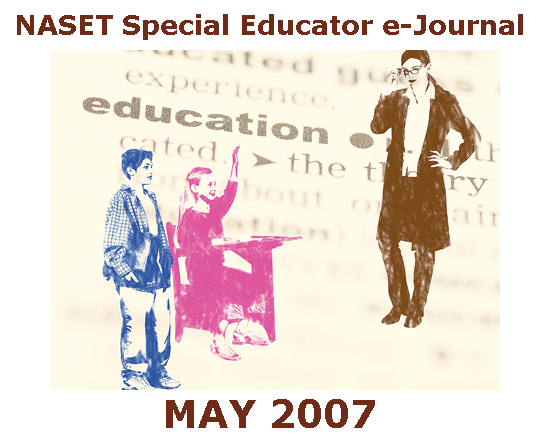 Table of Contents
Message from the Executive Directors
NASET Award Nominations End Friday
This Just In…."Building the Legacy" training Curriculum on IDEA 2004 Now Posted on NICHCY
Legal Issues Corner
Update from the National Dissemination Center for Children with Disabilities
U.S. Department of Education Update
Calls to Participate
Special Education Resources
Upcoming Conferences, Workshops, and Events
Funding Forecast and Award Opportunities
Latest Career Center Classifieds
Acknowledgements
---
NASET Members - Login Below to access the latest Special Educator e-Journal.
Site visitors: You may access a sample e-Journal - Sample e-Journal
---
---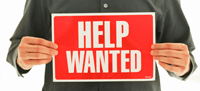 Latest Career Center Classifieds
Special Education Teachers
Charleston, SC
Job Category: Certified Teacher
Posted on April 30, 2007
Teach Charleston

Description: Change the Future. Teach our Children. Teach Charleston.
Teach Charleston seeks the nation's most outstanding certified teachers to make a difference by teaching in some of the Charleston County School District's highest poverty schools. This highly-selective initiative recruits talented individuals motivated to improve academic achievement for all students.
We are seeking outstanding candidates interested and eligible to teach all middle school and high school subject areas, however Teach Charleston is especially interested in candidates for science, math, special education, and English positions.
For more information and to apply online, please visit our website www.teachcharleston.org. Teach Charleston is only accepting online applications. Resumes emailed or mailed to our office will not be considered.
OUR APPLICATION DEADLINE IS MAY 17, 2007.
If you have more questions please call Heidi at 843-937-6495

Benefits:
Quick, streamlined, and personalized application and selection process
Full teacher's salary and benefits
A network of talented, committed teachers working to make a difference where they are needed most.
Living in a historical and coastline city.

Special Signing Bonus:
$5,000 Signing Bonus for Low Performing Schools
$3,000 Signing Bonus for Qualifying Schools
Visit our site at :www.teachcharleston.org
---
Special Education Teacher
Nashville, Tennessee
Job Category: Special Education Teacher
Posted on Thursday 26. of April 2007
Description: From pioneering surgical procedures to excellence in education, there's no better place than Vanderbilt Medical Center in Nashville, Tennessee.

As a full-time teacher within the Vanderbilt Psychiatric Hospital, you'll employ your Bachelor's degree in Education, one year of teaching experience and licensure, with an endorsement to teach special education, in Tennessee.

For those who would like to make a difference in special education cases and impact lives in a positive way, this is a highly rewarding opportunity.

From classroom instruction to behavioral interventions, you will facilitate and deliver instruction to patients while maintaining open communication between the hospital and local school. You will also coordinate with educational personnel, treatment teams, families and discharge planning to ensure the best level of instruction is being provided.
Vanderbilt offers competitive salaries, comprehensive benefits and savings/retirement plans. If you should have an interest in this opportunity, please contact us at 1-800-288-6622 or visit our website at www.mc.vanderbilt.edu. EOE/AA.
---


Special Education Teacher
POSITIONS AVAILABLE THROUGHOUT MARYLAND & DC

Posted on Tuesday 24. of April 2007
Description: Care Resources Inc. is a growing company with growing needs that is looking for caring, compassionate, and motivated SPECIAL EDUCATION TEACHERS and NEW GRADUATES.
Positions are available working with special needs students within the following populations:
infants
toddlers
pre-k through 12th grade.
Care's teachers are provided: flexibility in choosing the job location and student population they work with, full-time employment during the school year, and skilled and supportive mentors that are always a telephone call close.
JOIN OUR EDUCATION TEAM WHERE PEOPLE MAKE ALL THE DIFFERENCE!
Requirements:
A graduate or upcoming graduate of an accredited special education program
Currently hold a certification from or are eligible to be certified by the Maryland State Department of Education as a SPECIAL EDUCATOR.
Benefits:
Care Resources Inc. offers a comprehensive benefits package that includes:
Health, Dental & Vision Benefits
A Sign-On Bonus
A Strong Mentoring and Training Program
Contact us TODAY!
Care Resources Inc. Human Resources Department
Phone: (410) 583-1515 or 1-877-ASK-CARE
Fax: (410) 583-2491
e-mail:hr@careresources.net
---


Severe Needs Teachers
Glenwood Springs, Carbondale, & Basalt, CO

Posted on Wednesday 11. of April 2007
Description - The Roaring Fork School District is located on the western slope of the Rocky Mountains along the I-70 corridor. We serve families in the towns of Basalt, Carbondale and Glenwood Springs. These towns are linked by our namesake, the Roaring Fork River. The population of these three communities is 35,000. The mountains, rivers, recreation, and small town character of our valley brings talented teachers to our district. Community leaders and members value a high degree of involvement with their community-based schools, their academic program and extracurricular activities. We are looking for severe needs teachers for elementary, middle school and high school vacancies.
Requirements - Possess or have the ability to possess a Colorado Teaching License endorsed in severe needs.
20 reasons why you'd enjoy teaching in the Roaring Fork School District:
1) Induction program that includes orientation, training, ongoing support group and on-site mentor for each new teacher
2) Instructional facilitators to model lessons, find resources and provide feedback
3) District resource library for teachers to check out materials
4) Timely districtwide technology support and in-school support by tech teachers
5) Ongoing, in-school "critical friends" or support groups
6) Ongoing training for whole staff on best instructional practices
7) Visiting consultants from state/national levels
8) Opportunities to obtain master's degree while teaching
9) Remodeled, updated or new schools
10) Inter-school and inter-district teacher observations
11) Collaboration and communication for teachers to become part of a team
12) Excellent teaching materials – new curriculums for language arts, math and social studies within the past five years
13) Reading specialists in-district who provide literacy training and assistance
14) Community liaisons to provide bilingual support and to communicate with Spanish-speaking parents
15) District Assessment Team creates common assessments to drive instruction
16) Teachers treated as professionals and honored for what they contribute to students
17) Opportunities to meet with other teachers and learn from each other
18) Opportunities to grow professionally through leadership positions
19) Regular evaluations and goal setting with principals
20) Wide variety of professional development courses offered for recertification and salary advancement credit
Contact - Please visit our website at www.rfsd.org for more information.
---


School Principal
Williamsport, MD
Job Category: Education Director
Posted on Tuesday 03. of April 2007

Description: Cedar Ridge School is accepting applications for an Education Director. This is a Special Education facility that provides for the academic, emotional and spiritual needs of emotionally disturbed boys in Western Md. Cedar Ridge School is part of Cedar Ridge Ministries which is a non-denominational, non-profit Christian outreach.
The Education Director exercises general oversight of the on-grounds Special Education School which is certified by the Maryland State Department of Education as a non-public day school. This includes staff evaluation and review of certifications, licensure credentials, program development, budget development, curriculum development (review and adoption), and oversight and management of the organization within the MSDE accreditation requirements for certification.
More information is also available in PDF format on our website at: www.cedarridge.org
Requirements: The successful candidate would possess a valid Maryland professional certificate as a Special Education Supervisor, or Special Education Principal, or a valid Maryland Professional Teaching Certificate in Special Education.; and must also have at least 3 years of Special Education teaching experience
Benefits: Cedar Ridge Ministries has the following benefits:
1.) Health Insurance (at minimal cost to employee)
2.) Dental/Vision Insurance (at minimal cost to employee)
3.) Short Term Disability, Long Term Disability, and Life Insurance at no cost to employee
4.) Flexible Spending Account
5.) Employee Assistance Program
6.) Continuing Education Assistance
7.) Retirement Plan - 403(b)
8.) Paid Sick and Vacation Time

Contact: Dan Vannoy, HR Manager
Cedar Ridge Ministries
P.O. Box 439 (12146 Cedar Ridge Rd)
Williamsport, Md 21795
Phone: 301-582-0282 X151
Email:dvannoy@cedarridge.org
WebSite:www.cedarridge.org
---


BILINGUAL SPANISH
NYS Certified Special Educator: Birth to Grade 2 - Brooklyn, NY
Job Category: Evaluation QA Supervisor
Posted on Tuesday 20. of March 2007
All About Kids
Evalulations & Therapy
Evaluation QA Supervisor
Experience providing EI & CPSE Developmental and/or
Educational Assessments
Functional Understanding of Standardized Testing of Child
Birth to Age 5
Capable of Effective Multi-Disciplinary Review of Related
Assessments {i.e. OT, PT, SLP, Psych or SW}
Professionally Represent our Evaluation Team at
IFSP or IEP Meetings
Able to efficiently travel throughout BROOKLYN
Able to read, write & speak fluently in English & Spanish
Full-time position; Competitive salary & benefits
Fax resumes to D. Mastoridis @ 516-576-1615 or E-mail
D.Mastoridis@AllAboutKidsNY.com
---


ABA Special Educators
NYS Certified: Birth to Grade 2 - NY Metro Area
Job Category: ABA Special Educators
Posted on Tuesday 20. of March 2007
All About Kids
Evalulations & Therapy
ABA TEAM LEADERS ~ ABA TEACHERS ~ ABA SUPERVISORS
Experience providing Applied Behavior Analysis w/
special needs children required
Able to provide FACILITY, SCHOOL & COMMUNITYBASED
SERVICES
Qualified professionals needed to serve throughout
QUEENS, BROOKLYN, BRONX, MANHATTAN,
LONG ISLAND & WESTCHESTER COUNTY
Ongoing training opportunities & supervision
Full-time, p/t & per diem positions available
Competitive salary and contract fees
Fax resumes to D. Mastoridis @ 516-576-1615 or
e-mail D.Mastoridis@AllAboutKidsNY.com

---