June 2007 Special Educator e-Journal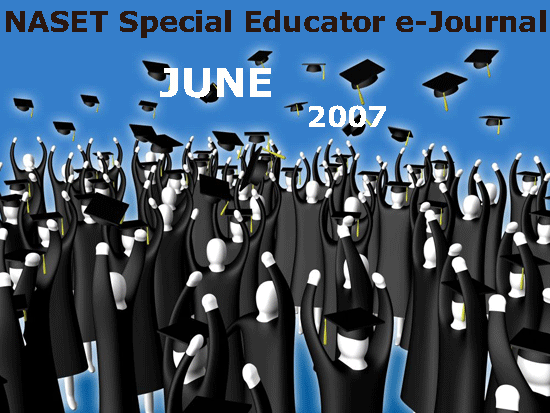 Table of Contents
Message from the Executive Directors
NASET Congratulates the Winners of its 2007 Outstanding Special Education Teacher Award
Legal Issues Corner
Update from the National Dissemination Center for Children with Disabilities
Update from the U.S. Department of Education
Update from the National Collaborative on Workforce and Disability for Youth
Guest Editorial: Staying Alive: Tips for Managing Special Education Paperwork - Monique Green, Johns Hopkins University
Calls to Participate
Special Education Resources
Upcoming Conferences, Workshops, and Events
Funding Forecast and Award Opportunities
Latest Career Center Classifieds
Acknowledgements
---
NASET Members - Login Below to access the latest Special Educator e-Journal.
Site visitors: You may access a sample e-Journal - Sample e-Journal
---
---
NASET Congratulates the Winners of its 2007 Outstanding Special Education Teacher Award
NASET takes great pride in awarding special educators for the dedication, loyalty, perseverance, and enthusiasm that they give to the exceptional students whom they educate. The NASET 2007Outstanding Special Education Teacher Award is bestowed on special education teachers who have demonstrated outstanding achievement as a teacher in the field of special education. It recognizes and rewards the special skills and excellence of special education teachers throughout the United States.
We congratulate this year's winners:


---
Latest Career Center Classifieds
DIRECTOR OF SPECIAL EDUCATION
Cheltenham Township, PA
Job Category: Director of Special Education
Description: DIRECTOR OF SPECIAL EDUCATION
School District of Cheltenham Twp is seeking to fill the following Central Office
ADMINISTRATIVE POSITION: Director of Special Education: 12 month position.

ABOUT THE SCHOOL: The School District of Cheltenham Township serves a diverse suburban community of approximately 35,000 located on the northern border of the City of Philadelphia. From tree-lined roads and elegant tranquil streets to sprawling apartment and condominium complexes, Cheltenham Township reflects a harmonious combination of residents who represent all religious and ethnic backgrounds.
The School District of Cheltenham Township covers the all of the Township. Four elementary schools include grades K-4. There is one school with grades five and six and one school with grades seven and eight. Cheltenham High School, fully accredited by the Middle States Association of Colleges and Secondary Schools, is comprised of grades nine through twelve. Residents of Cheltenham are justifiably proud of the accomplishments of the district and our students. Some noteworthy accomplishments include:
Being described by the U.S. Department of Education as "a shining example of what's right with education"
Being selected by Money Magazine as one of the "100 Top Schools in Towns You Can Afford"
Having Cheltenham Elementary cited as a State and National Blue Ribbon School
Having Elkins Park School cited as a State Blue Ribbon School Ranking in the top five districts in Pennsylvania in the numbers of National Merit Semi-finalists and Commended students
Winning top awards at national and state level science and problem-solving bowls with consistency
Exceeding the state and national averages in combined SAT scores
Sending 85% of graduating students to 4-year colleges
Sending 5% of graduating students to 2 year colleges or other educational opportunities.
Requirements: 4-8 yrs. prior exp. as a Director/Supervisor of Special Ed is required.
Must hold PA certification in Supervisor of Special Education.
Benefits: Salary range $100,000 to $115,452.
Contact: Send letter of interest, resume, PA standard teaching applic., copy of PA teaching certification, PA Act 34, 114 & 151 clearance, Praxis test scores, & 3 letters of recommendation to SDCT,
Attn: Office of HR, 1000 Ashbourne Rd, Elkins Park, PA 19027.
Deadline is June 15th, 2007.
EOE.
---
<//span>
Special Education Teacher
Washington, DC
Job Category: Special Education Teacher
Posted on Friday 25. of May 2007
Friendship Public Charter School, the first choice in college preparatory public charter education is currently seeking Special Education teachers to join our team of educators.
ESSENTIAL DUTIES AND RESPONSIBILITIES:
1) Show increasing skill with all aspects of the curriculum, intensifying and tailoring these for students with disabilities affecting learning, attention, social functioning, and self- regulation
2) Show commitment to refining curriculum approaches and materials to increase students' progress
3) Show persistence in learning new and specialized approaches for atypical learners
4) Provide strategic instruction for students with disabilities affecting learning, attention, social functioning, and self-regulation, 1-to-1 or in small groups, within the classroom or through focused pull-asides
5) Keep fine-grained track of the individual progress of students with disabilities
6) Engage technology creatively for individual students' learning and for tracking individual progress
7) Establish working relations with colleagues, developing effective systems for reciprocal communication about students with special needs
8) Provide ongoing support for classroom teachers, including taking over classroom instruction, so they can provide intensive pull-asides for students with difficulties
9) Plan with classroom colleagues, swapping expertise and following up with supportive instruction, strategic modeling, and tailored instructional materials
10) Demonstrate creativity, flexibility, and perseverance in dealing with learning, behavioral, family, and classroom situations that are not easily untangled
11) Be knowledgeable of, and comply with, relevant state and local regulations governing special education, including placements, time lines, notifications, IEPs, parental roles, reevaluations, and procedural safeguards
Job Requirements: The ideal candidate must possess a Bachelor's degree (master's degree preferred) Certification in Special Education, Experience working with students with disabilities, and Positive professional recommendations.
Job Benefits: We offer signing bonuses, a competitive salary, excellent benefits, and ongoing professional development opportunities.
Contact Information: If you are interested in a position please e-mail a cover letter, resume and salary requirements to careers@friendshipschools.org. For additional information about Friendship, please visit our website at www.friendshipschools.org
---


Special Education Teacher

Mountain Home, ID & Huntsville, AL
Job Category: (Special Education)
Posted on Friday 25. of May 2007
DESCRIPTION: Three Springs is a nationally recognized leader in youth services, founded in 1985 to provide therapy and education to adolescents experiencing emotional, behavioral and learning problems. Our highly trained staff has extensive experience providing the best possible care and support.
We are currently seeking DYNAMIC, ENERGETIC, AND YOUTH-FOCUSED INDIVIDUALS; to join our team as Special Education Teachers.
Three Springs has been in operation since 1985 and now operates twenty-seven treatment centers for teenagers in ten states. Each Three Springs residential program provides an on-campus private accredited school that is part of an overall education program.
For many troubled teens, their poor performance in school is caused by underlying problems. Three Springs focuses on the child's individual issues and incorporates the treatment process into his or her education. Many of our graduates go on to some of the most respected colleges and universities in the country. Our individualized attention and low teacher-to-student ratio mean that the residential programs at Three Springs can take a tailored approach to educating.
We currently are seeking Special Education Teachers for our locations in Mountain Home, Idaho (45 miles east of Boise) and Trenton, Alabama (30 miles east of Huntsville). At Three Springs our Teachers are an integral part of the therapeutic process.
In addition to teaching course content, teachers provide instruction in study skills and "classroom survival," understanding that many times deficits in these skills can lead to failure in school. The teachers at Three Springs work to challenge each child individually while encouraging interaction in group projects and discussions. Our goal is not only to help students remediate academic deficiencies, but also to encourage a positive, healthy attitude about education, learning, and life.
As an active member of the educational team, the Special Education Teacher provides skilled educational direction to adolescents ages 12-17. Under the supervision of the Director of Education, the Special Education Teacher reviews the student's educational needs, fulfill criteria set forth in each residents IEP, arranges and implements designed lesson plans, teach grades 7-12, and documents each residents educational progress according to educational accreditation standards. Classification: Exempt
Please visit our website for more information www.threesprings.com Applicants are encouraged to apply via our online application. Under Facility Search please choose either Three Springs of Paint Rock Valley Boys (Alabama Program) or Three Springs of Mountain Home.
REQUIRMENTS: The candidate must possess a degree in education with emphasis in Special Education from an accredited college or university. Appropriate certification to teach is required. A minimum of 1+ years experience in special education is desired. Finally, the successful candidate will be a self starter, creative, and able to work independently.

---


Special Education Consultant
Doha, Qatar, Arab Emirates Republic
Job Category: Special Education Consultant
Posted on Wednesday 16. of May 2007
Role Description:
1. Reports to the Mosaica Education Regional Vice President responsible for Doha Programs
2. Consults with the principal and key administrative support personnel on preferred practices in the management of special education programs and services
3. Plans and participates in needs assessment for assigned schools
4. Plans and conducts student population screening for the identification of students at high risk for failure and students with special needs
5. Plans, implements, and evaluates in-service professional development programs for a variety of instructional and non instructional staff
6. Maintains records, as required, of progress in the development of special education support activities
7. Communicates with individual parents as appropriate and participates in parent group meetings
8. Conducts classroom observations and academic evaluations of students
9. Assists Student Support Team Coordinator to perform the essential tasks in that position
10. Monitors and advises on student records management, assessment, and all aspects of IEP development

Minimum Qualifications: A degree and/or professional certification in special education or related specialization, with a minimum of 4 years relevant experience, at least two of which were in a leadership role (e.g., department head, coordinator, supervisor, director). Advanced degrees preferred, but not required.
Start Date: August 1, 2007

Benefits: Tax free income up to $80,000, insurance, housing, car and many other perks.
Contact:
Ron Pawlak
Director of Talent Acquisition
Mosaica Education Inc.
404-841-2305 XT 508
rpawlak@mosaicaeducation.com
---


Special Education Teachers
Charleston, SC
Job Category: Certified Teacher
Posted on Monday 30. of April 2007
Teach Charleston
Description: Change the Future. Teach our Children. Teach Charleston.
Teach Charleston seeks the nation's most outstanding certified teachers to make a difference by teaching in some of the Charleston County School District's highest poverty schools. This highly-selective initiative recruits talented individuals motivated to improve academic achievement for all students.
We are seeking outstanding candidates interested and eligible to teach all middle school and high school subject areas, however Teach Charleston is especially interested in candidates for science, math, special education, and English positions.
For more information and to apply online, please visit our website www.teachcharleston.org. Teach Charleston is only accepting online applications. Resumes emailed or mailed to our office will not be considered.
OUR APPLICATION DEADLINE IS MAY 17, 2007.
If you have more questions please call Heidi at 843-937-6495

Benefits:
Quick, streamlined, and personalized application and selection process
Full teacher's salary and benefits
A network of talented, committed teachers working to make a difference where they are needed most.
Living in a historical and coastline city.
Special Signing Bonus:
$5,000 Signing Bonus for Low Performing Schools
$3,000 Signing Bonus for Qualifying Schools
Visit our site at : www.teachcharleston.org
---


Special Education Teacher
Nashville, Tennessee
Job Category: Special Education Teacher
Posted on Thursday 26. of April 2007
Description: From pioneering surgical procedures to excellence in education, there's no better place than Vanderbilt Medical Center in Nashville, Tennessee.

As a full-time teacher within the Vanderbilt Psychiatric Hospital, you'll employ your Bachelor's degree in Education, one year of teaching experience and licensure, with an endorsement to teach special education, in Tennessee.

For those who would like to make a difference in special education cases and impact lives in a positive way, this is a highly rewarding opportunity.

From classroom instruction to behavioral interventions, you will facilitate and deliver instruction to patients while maintaining open communication between the hospital and local school. You will also coordinate with educational personnel, treatment teams, families and discharge planning to ensure the best level of instruction is being provided.
Vanderbilt offers competitive salaries, comprehensive benefits and savings/retirement plans. If you should have an interest in this opportunity, please contact us at 1-800-288-6622 or visit our website at www.mc.vanderbilt.edu. EOE/AA.
---


Special Education Teacher
POSITIONS AVAILABLE THROUGHOUT MARYLAND & DC
Job Category:
Posted on Tuesday 24. of April 2007
Description: Care Resources Inc. is a growing company with growing needs that is looking for caring, compassionate, and motivated SPECIAL EDUCATION TEACHERS and NEW GRADUATES.
Positions are available working with special needs students within the following populations:
infants
toddlers
pre-k through 12th grade.
Care's teachers are provided: flexibility in choosing the job location and student population they work with, full-time employment during the school year, and skilled and supportive mentors that are always a telephone call close.
JOIN OUR EDUCATION TEAM WHERE PEOPLE MAKE ALL THE DIFFERENCE!
Requirements:
A graduate or upcoming graduate of an accredited special education program
Currently hold a certification from or are eligible to be certified by the Maryland State Department of Education as a SPECIAL EDUCATOR.
Benefits:
Care Resources Inc. offers a comprehensive benefits package that includes:
*Health, Dental & Vision Benefits
*A Sign-On Bonus
*A Strong Mentoring and Training Program
Contact us TODAY!
Care Resources Inc. Human Resources Department
Phone: (410) 583-1515 or 1-877-ASK-CARE
Fax: (410) 583-2491
e-mail:hr@careresources.net
---