June 2010 - Special Educator e-Journal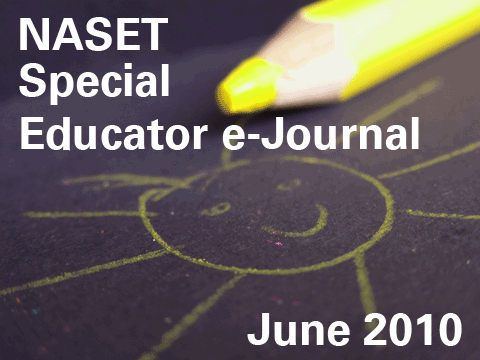 Table of Contents
Update from the U.S. Department Education

Calls to Participate

Update From The National Dissemination Center for Children with Disabilities

Special Education Resources

Upcoming Conferences, Workshops, and Events

Funding Forecast and Award Opportunities

Acknowledgements

Download a PDF Version of This Issue
---
NASET Members - Login Below to access the latest Special Educator e-Journal.
Site visitors: You may access a sample e-Journal - Sample e-Journal
---
NASET Sponsor - Drexel University Online
Click here for more information about Drexel University Online
---
Latest Job Listings
Special Education Teachers for August
2010
Description
Be Noble. Join a high-achieving, dedicated team of educators working relentlessly to prepare low-income students for college. As we expand our network of schools, each of our ten Chicago campuses is seeking exceptional special education teachers or learning specialists.
Founded in 1999, Noble Street Charter School has been recognized nationally for its success serving low-income students, sending more than 90% of graduates to college and becoming Chicago's highest performing non-selective high school. Our vision is that by the year 2020, there will be 2,020 Noble scholars who have earned college degrees, which will have a dramatic impact on their lives, our city and our movement.
Requirements
Noble campuses prepare scholars for college success using a program of rigorous academics, more time on task, strict discipline, health and fitness, and community service. Our special educators and learning specialists are an integral part of Noble's success and provide students with the quality education they deserve by following a co-teaching inclusion model. Duties include teaching classes, serving as an advisor, coaching a club or sport teams and working with fellow teachers on building curriculum and culture. Experience at the high school level is not necessary. Illinois certification in special education by August 1, 2010 is required. We have a dedicated staff member to assist with transferring out of state certifications.
Benefits
Noble Network of Charter Schools offers a competitive compensation and benefits package to its employees. These include:
Health Insurance

Dental Insurance

Vision Insurance

Chicago Teachers Pension Fund

Employer Match 401K

FSA Medical, Dependent Care, and Transportation

Long Term Disability /Short Term Disability

Life Insurance

Employee Assistance Program

Vacation, Holidays and Personal/Sick Days
Contact
If you are an experienced special education teacher and are interested in a new and exciting teaching position for August 2010, or if you are looking to start your career in teaching special education, Noble Network of Charter Schools may have the perfect opportunity for you! Join us in our mission to ensure Chicago students achieve the dream of college success. All applicants must apply online at www.noblenetwork.org
*****************************************************************
Teacher - Special Education - Emotional
Support
Description
Pathway, a school designed exclusively for the learning disabled child, was the first in the nation to unify the disciplines of psychology, psychiatry, medicine, social work and education. We are currently seeking an Emotional Support Teacher in Norristown, PA to prepare plans and implement a therapeutic classroom environment and develops student IEP's in social, emotional and academic areas under the Student Achievement Model.
Job Responsibilities
Prepares classroom lesson plans and utilizes differentiated teaching methods in the classroom environment.

Provides individual assistance and direction to students in learning, counseling, and classroom management situations.

Uses on-going behavior teaching interaction from the Student Achievement Model.

Requisitions textbooks, instructional materials and supplies as needed through established procedures.

Provides diagnostic, informal and standardized testing and participates in the diagnostic team process.

Participates in the implementation of Pathway's School-Wide Positive Behavior Support System (PBS).

Reinforces appropriate social skills.

Participates extensively in the IEP process through development, analysis of student data and revisions requesting further educational assessment information when needed from educational specialists or clinical staff.

Prepares for and contributes to student team meetings, parent-team conferences and IEP planning meetings.

Writes student progress reports as determined by the Educational Director.

Facilitates student transitions to other program components.

Participates in ongoing staff development training program including, but not limited to, training in: Student Achievement Model, Reality Therapy, Life Space Interviewing, CPI, classroom management, Positive Behavior Support, physical restraints, and instructional strategies.

Contributes to in-service education programs at the request of an Educational Supervisor and/or the Educational Director.

Participates in the development of curriculum, instructional materials and techniques.

Assists in developing and carrying out research or project plans as assigned by the Educational Director.

Will conduct staff training.
Requirements
Master's Degree in Special Education

Pennsylvania State Teacher Certification

Pennsylvania Elementary Education Certification

Minimum 2 years experience working with and supervising paraprofessional staff and classroom teaching students with significant social and emotional needs (differentiated instruction)

Must be able to obtain and maintain a satisfactory PA Criminal Background Check, have a valid PA Driver's License, Child Abuse and FBI clearances, and pass a Drug Screening

Must be physically able to assist in student emergency situations and have certification in CPR and First Aid.
Contact
Please follow the link below to apply. Only those who apply to the link will be considered for the opportunity. http://hire.jobvite.com/j/?aj=oJRiVfwx&s=Naset.org
*****************************************************************
$125,000 Salary for Master Middle School
Teachers
Description
Earn a $125,000 salary and join a team of master teachers at The Equity Project (TEP) Charter School, recently featured on the front page of the New York Times: (http://www.tepcharter.org/nytimes.php).
TEP is a new 480-student 5th through 8th grade middle school in the Washington Heights neighborhood of New York City. Applications are currently being accepted for teaching positions in Math, Science, English, Social Studies, Music, Latin, PE/Health Education, and Special Education.
Learn more and apply today at http://www.tepcharter.org/apply.php
About TEP Charter School:
TEP aims to put into practice the central conclusion of a large body of research related to student achievement: teacher quality is the most important school-based factor in the academic success of students, particularly those from low-income families. In singling out teacher quality as the essential lever in educational reform, TEP is uniquely focused on attracting and retaining master teachers. To do so, TEP uses a three-pronged strategy that it terms the 3 R's: Rigorous Qualifications, Redefined Expectations, & Revolutionary Compensation. For more information, visit us online at http://www.tepcharter.org
Compensation
$125,000 salary + potential annual bonus, full benefits package
Learn more and apply today at http://www.tepcharter.org/apply.php
Benefits
$125,000 salary + potential annual bonus, full benefits package
Contact
jobs@tepcharter.org
*****************************************************************
K-12 Special Education Teaching
Jobs
DESCRIPTION
Carney, Sandoe & Associates is an educational recruitment firm that places teachers in private, independent and like-kind (charter, magnet, pilot and merit) schools across the nation and worldwide. We have placed over 25,500 teachers and administrators in independent schools since 1977. For the most recent hiring year 2009-10, CS&A placed more teachers in schools than any other organization.
If you currently teach Special Education and want to find a new teaching position in 2010, or if you're interested in finding your first Special Education teaching job, CS&A might be able to help you find the perfect opportunity.
In the past several years, Special Education teaching jobs among CS&A schools have increased at a significant rate.
CS&A has a team dedicated to the recruitment and placement of Special Education teachers and they are currently working to fill hundreds of positions. We strongly encourage you to apply to become a Special Education teaching candidate with CS&A.
REQUIREMENTS
Candidates will need at least a BA/BS in the subject area they will be teaching, although minors or concentrations can be acceptable for the following areas: chemistry, physics, mathematics, computer science and Spanish. Experience working with children between the ages of 5-18 is preferred. The ability to coach or direct extracurricular activities is very helpful.
Teacher certification is not required.
BENEFITS
Compensation and benefit packages will be different at each school and will typically depend on geographical location, experience and level of degree. Benefit packages will include the following: Medical, and 401K (TIAA-CREF), and may include dental, housing, relocation, tuition remission and professional development.
CONTACT
Jonathan Ball
Director of Recruitment
Telephone: 617-542-0260
Email: jonathan.ball@carneysandoe.com
Website: http://www.carneysandoe.com
*****************************************************************
Teaching
Positions
DESCRIPTION
What makes Harlem Village Academies different? At Harlem Village Academies in Harlem, we emphatically believe that excellent teachers are the most important element of excellent schools. Therefore, we have thoughtfully designed every aspect of our schools to support, develop, respect, and empower our teachers. We are people-driven, not program-driven — and the difference is profound.
We're not replicating a particular program; we are deliberately and carefully setting out to create an ideal environment and rich intellectual life for teachers. By building a system of schools designed for teachers, we ensure an excellent education for all children.
QUALIFICATIONS
Minimum two years full-time classroom teaching experience as a special education reading teacher, preferably in an urban setting

Outstanding instructional skills, including the ability to motivate and challenge students

Experience implementing guided and level reading instruction

Demonstrated ability to create and maintain a warm, strict, orderly classroom environment

Demonstrated expertise in subject area and demonstrated student achievement results

A strong sense of personal accountability for student achievement

A belief that all students can learn at a high level and should be held to high academic standards

The ability to communicate effectively with parents

The ability to work effectively with colleagues as a positive, professional member of a team
RESPONSIBILITIES
Develop and teach engaging, rigorous lessons

Establish classroom routines and follow through consistently

Develop effective lesson plans, materials, and assessments aligned with Harlem Village Academies' standards

With guidance, analyze assessment data and use data to develop tutoring plans and inform instruction

Collaborate with colleagues to share best practices and ensure student mastery of standards

Maintain close relationships with families, including phone calls and conferences

Tutor those students needing extra help on a daily basis, and serve as an Advisor to 12-15 students
CONTACT
Aria Gee - Recruiter
Email: teach@harlemvillage.org
Telephone: 646-812-9206
Address: 2351 1st Avenue 4th Floor New York, NY 10035 Website: http://www.harlemvillageacademies.org/
*****************************************************************
Seeking Excellent Special Education
Teachers
Job Category: Special Education Teacher Pre-K to 12
Description
The New York City Department of Education is seeking excellent teachers who are or will be certified in special education for the September 2010-2011 school year. We offer competitive salaries and benefits, opportunities to grow and achieve as a professional, and the choice of 1,600 unique schools with their own missions and educational approaches.
The Office of Teacher Recruitment and Quality is currently conducting interviews for special education slots in TRQ Select, our program for teacher applicants who show the highest potential. Members of TRQ Select get access to a recruitment manager and extra support in making their transition to teaching in our schools. In addition to a competitive salary, special education teachers who work in one of our high-needs schools are eligible for an annual bonus of $3,400 for up to four years. Special education teachers with more than two years of experience are also eligible for a $15,000 grant through our Housing Support program. For more information on teaching in New York City, eligibility criteria, application information, and online and in-person events, please visit http://www.teachnyc.net or contact us at teachnyc@schools.nyc.gov. The deadline to apply for consideration for TRQ Select is April 19, 2010.
Benefits
Salary $45,000.00 - 54,000.00
Contact
Please visit: http://www.teachnyc.net or contact us at teachnyc@schools.nyc.gov.
*****************************************************************
Special Education Teachers for
2010-11 School Year
Description
Little Keswick School is looking for experienced, licensed candidates certified in ED and/or LD to work in supportive teaching environment with low staff/student ratios. We are seeking candidates with experience in differentiated instruction at the high school level. Experience in advanced math, Spanish, chemistry, and physics is a plus.
Requirements
Licensed to teach in the state of Virginia and certified in Ed and/or LD.
Benefits
Being part of a nationally recognized program. Tuition and course assistance available. Medical, dental, life insurance, paid vacation, tuition assistance, and profit sharing plan & 401K.
Contact
Marc J. Columbus, Headmaster
Phone: 434-295-0457
Fax: 434-977-1892
Email: childebrand@littlekeswickschool.net
Website: www.littlekeswickschool.net
---