July 2011 - Special Educator e-Journal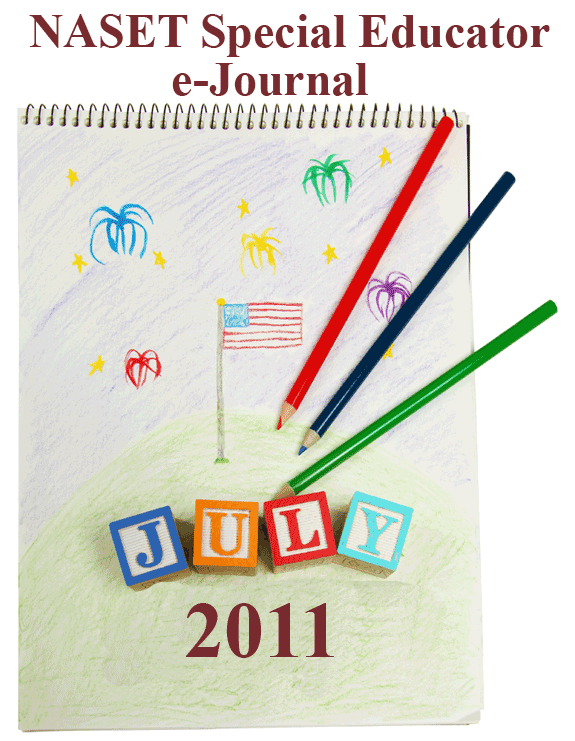 Table of Contents
Update from the U.S. Department of Education

Calls to Participate

Special Education Resources

Update From The National Dissemination Center for Children with Disabilities

Upcoming Conferences and Events

Funding Forecast and Award Opportunities

Acknowledgements

Download a PDF Version of This Issue
---
To learn more click on the image above or - Click here
---
NASET Members - Login Below to access the latest Special Educator e-Journal.
Site visitors: You may access a sample e-Journal - Sample e-Journal
---
---
Latest Employment Opportunities Posted on
NASET
Brooklyn, Troy, & Rochester, NY
Job Category: Special Education Teacher
UNCOMMON SCHOOLS
Uncommon Schools is a nonprofit organization that starts and manages outstanding urban charter public schools that close the achievement gap and prepare low-income students to graduate from college. We build uncommonly great schools by developing and managing regional networks that are philosophically aligned and highly accountable.
SPECIFIC RESPONSIBILITIES
Demonstrate a relentless drive to improve the minds, characters & lives of students both in and out of school.
Show unwavering commitment to urban youth achieving greatness.
Create a positive, structured learning environment to ensure that students observe the school's core values, high expectations, and strict code of conduct.
Implement curricula and activities to meet academic standards.
Design and implement assessments that measure progress towards academic standards.
Use assessment data to refine curriculum and inform instructional practices.
Participate in the collaborative curriculum development process.
Provide consistent rewards and/or consequences for student behavior to ensure that students observe the school's core values, high expectations, and strict code of conduct.
Be accountable for students' mastery of academic standards.
Share responsibility for grade-level and school-wide activities.
Exhibit resilience to persevere and turn challenges into opportunities.
Focus constantly on student learning, thinking critically and strategically to respond to student learning needs.
Communicate effectively with students, families, and colleagues.
Engage families in their children's education.
Commit to continual professional growth, participating actively in department meetings, faculty meetings, and other meetings.
Participate in an annual three-week staff orientation and training.
Mentor and engage another Teacher in instructional practice and professional development.
Include a Teacher in daily classroom activities to help students meet academic standards.
Drive to improve the minds and lives of students in and out of the classroom.
Proven track-record of high achievement in the classroom.
Mastery of and enthusiasm for academic subjects.
Evidence of self-motivation and willingness to be a team player.
Bachelor's degree is required; Master's degree is preferred.
Minimum of two years teaching experience in an urban public school or charter school setting.
Belief in and alignment withUncommon Schools' core beliefs and educational philosophy.
QUALIFICATIONS
COMPENSATION
We offer a competitive compensation package, including a salary significantly above the district scale and comprehensive health benefits. Aside from extensive professional development, all our teachers are equipped with a laptop computer, email, high-speed internet access, library budget, and all necessary instructional supplies.
TO APPLY
If you are passionate about improving educational opportunities for historically underserved children and communities, please visit our website atwww.uncommonschools.org and apply online atwww.uncommonschools.org/usi/careers/.
As an equal opportunity employer, we hire without consideration to race, religion, creed, color, national origin, age, gender, sexual orientation, marital status, veteran status or disability.
**************************
Washington, DC
Job Category: Full Time
Description
The Assessment Program at AIR is a well regarded organization that is growing rapidly. We focus on providing our clients with customized assessments that not only measure student achievement against state standards, but also provide meaningful score reports that can help students, parents, and educators address any areas of student weakness. Our environment is fast-paced and requires people at all levels that are willing to roll up their sleeves to get the work done in time without jeopardizing quality. We are currently seeking a Senior Alternate Assessment Specialist to assist with the overall responsibility for developing the adaptive alternate assessments that use the academic performance based design.
Responsibilities
The Senior Alternate Assessment Specialist must be able to work collaboratively in a fast paced environment; anticipate problems and come up with creative methods of solving them; develop strong, positive, constructive relationships with clients; coordinate among the various project teams; and make sure that quality control procedures are adhered to in order to produce high quality, performance based, alternate assessments.
Senior Alternate Assessment Specialist responsibilities include:
Demonstrate leadership for AIR in the alternate assessment practice area among clients, partner organizations, and at national meetings.
Provide subject matter expertise and leadership to state department staff who have responsible for the development and oversight of state wide alternate assessments.
Contribute ideas and information to support project efforts through presentations, trainings or seminars; while working directly with state department of education and district level staff.
Work with internal staff and subcontractors to develop processes, procedures, for meeting project deliverables and client special education related needs.
Work collaboratively with AIR staff to ensure that all plans and schedules are viable.
Adhere to a master schedule of deadlines and deliverables.
Provide information, support, and problem-solving to the clients, as needed, in a manner that provides positive solutions.
Keep AIR senior management informed of any potential project problems, including issues with a client or another stakeholder and any potential for missed deadlines.
Minimum of a Master's degree in special education, autism spectrum disorders, or low incidence disabilities.
Minimum of 5 years of instructing students (K-12) with significant cognitive disabilities in academic content areas.
Experience working in alternate assessment, extended/expanded standards and large-scale assessment.
Experience teaching students with deaf-blindness is desirable.
Experience providing instruction using assistive technology is desirable.
Requirements
Benefits
AIR offers an excellent compensation and benefits package, including a fully funded retirement plan, generous paid time off, subsidized garage parking, tuition assistance, and more. For more information, please visit our website at www.air.org.
To apply, please go to http://jobs-airdc.icims.com and conduct a job title search. EOE.
Contact
**************************
Plymouth Meeting, PA
Job Category: Account Management for therapy staffing firm
Plymouth Meeting, PA
Description
Therapy Source, a premier therapy staffing provider, offers highly qualified speech, occupational, physical, psychological and related therapy services to educational and healthcare organizations. We are looking for dynamic Account Coordinators to help manage accounts, recruit and coordinate therapists for our clients.
This is a ground floor opportunity to be part of something SPECIAL!
Therapy Source is listed as a 2008, 2009 and 2010 "INC 5000 Fastest Growing Company", as well as, a "Philadelphia 100 Fastest-Growing Company"!
Job Description
CAN-DO ATTITUDE
Manage, recruit therapists and placement details with clients
Manages day-to-day client and therapist interactions
Strategically grow your clients
Help develop efficient business processes
Work with recruitment team to fill open positions
Report all details and issues to managing Account Director
Establish and maintain a "Touch System" with clients
Maintain compliance within state laws
5+ years' experience in an educational and recruiting environment
Knowledge of Special Education, Early Childhood Education, Elementary Education, Speech and Language Pathology, Occupational Therapy Social Work or Psychology/Counseling.
Ability to multitask & be detailed oriented
Excellent phone communication skills
TEAM Player / self-motivated / strong work ethic
Excellent organization, time management and problem solving skills
Fully proficient in software applications Excel and Word
Minimum of a Bachelors degree
Requirements
Position: Senior Account Coordinator
Salary: Base + Performance Based Bonus
Benefits: Health, Vision, Dental & 401K w/employer match, PTO
Hours: Full-time
Location: Plymouth Meeting, PA
Contact
J. Cartagenova
Email:contact@txsource.net
Telephone: 866-783-5301
If you are yearning for a fun and fast moving organization to grow with, please email your resume, salary history/requirement and cover letter. Place "Senior Account Coordinator -- your name" in the subject line.
Visit us at: www.txsource.net
**************************
Cleveland, Ohio
Job Category: Behavioral Analysis, Teacher, Autism
Description
Year after year, Cleveland Clinic is ranked among the nation's top hospitals by U.S.News & World Report. That's why people from across the country and around the world come here for care. A teaching and research leader, we offer exceptional career opportunities, as well as access to cutting-edge technology and innovative medical ideas. | The state-of-the-art Lerner School for Autism is the centerpiece of the new 20,000-square-foot Debra Ann November Wing at our Shaker Campus. This chartered, non-public day school, certified by the State of Ohio, serves students from diagnosis to age 22. Our educational program emphasizes research supported intervention, based on the philosophy and interventional techniques of ABA. | The Coordinating Teacher collaborates with the Autism Center Coordinator of Educational Services to design specific curricula to work toward each student's Individual Education Plan goals and to design and monitor individual and group programs. This position provides support and direction for Classroom Behavior Therapist positions.
Requirements
Bachelor's degree in special education or related field; Master's degree preferred
One year experience working with children with autism utilizing applied behavior analysis
Ohio certification as a teacher
Benefits
Cleveland Clinic strives to reward dedication with an integrated and comprehensive benefits program that meets the needs of a diverse workforce and provides meaningful choices. Along with pension/savings plans, wellness programs and medical/dental/vision coverage, we offer flexible spending plans, life insurance and disability plans, paid time off, tuition assistance program, and reimbursement for professional certification.
Contact
Learn more and apply now at:
http://www.clevelandclinic-jobs.com/job/CLEVELAND-COORD-TEACHER-Job-OH-44101/1309564/
EOE
**************************
TUCSON, ARIZONA
Job Category: SPECIAL EDUCATION TEACHERS - MULTIPLE OPENINGS
Description
Provide students with appropriate learning activities and experiences in the core academic subject area assigned to help them fulfill their potential for intellectual, emotional, physical, and social growth. Enable students to develop competencies and skills to function successfully in society.
Qualification
Familiar with Special Education Laws
Ability to work in team environment
Familiar with needs of Elementary School Aged Students
Able to develop and implement IEP'S
Good communication and organizational skills
LICENSES / CERTIFICATION
Valid Arizona Teaching Certificate in subject area (Special Education Certificate: Severe & Profound; MR; CC; ED Certificate required)
Valid Arizona Fingerprint Clearance Card
Structured English Immersion Endorsement (SEI)
Salary
$30,137 -$38,191
TO APPLY PLEASE VISIT -  WWW.MARANAUSD.ORG
Contact
Marianne Castellon, Director of Educational Services
(520)682-4782 for more information.
***********************
New York, New York
Job Category: Special Education Teacher
Posted on Friday 10. of June 2011
Description
To learn more about the nature of the Special Education position at TEP, please click on the following link: http://www.tepcharter.org/special-ed-teachers.php
Requirements
To learn more about how to apply, click here:http://www.tepcharter.org/apply.php
Benefits
$125,000 Salary!
Contact
---