January 2012 - Special Educator e-Journal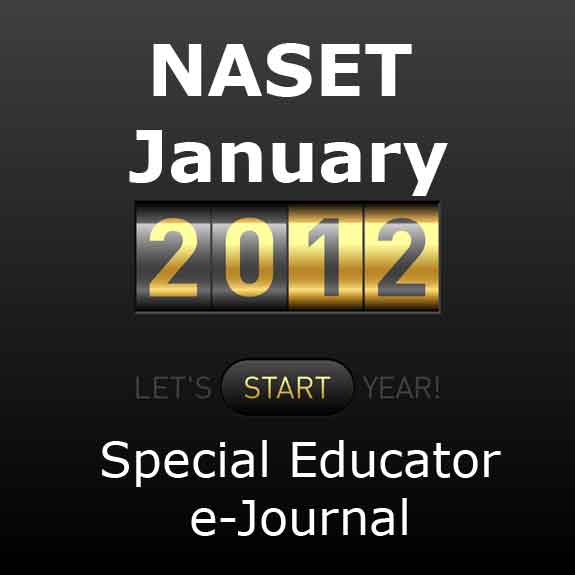 Table of Contents
Update from the U.S. Department of Education

Calls to Participate and New Projects

Special Education Resources

Update From The National Dissemination Center for Children with Disabilities

Upcoming Conferences and Events

Funding Forecast and Award Opportunities

Acknowledgements

Download a PDF Version of This Issue
---
NASET Members - Login Below to access the latest Special Educator e-Journal.
Site visitors: You may access a sample e-Journal - Sample e-Journal
---
---
Latest Employment Opportunities Posted on
NASET
New York, New York
Job Category: Full Time
Posted on Friday 02. of December 2011
Description
Earn a $125,000 salary and join a team of master teachers at The Equity Project (TEP) Charter School, recently featured on the front page of the New York Times: (http://www.tepcharter.org/nytimes.php).
TEP is a 480-student 5th through 8th grade middle school in the Washington Heights neighborhood of New York City.
Learn more and apply today at http://www.tepcharter.org/apply.php
Also, we invite you to learn more about TEP Charter School and about teaching at the school on our Live Online Information Session (link below):
http://www.tepcharter.org/info-session-for-teachers.php
About TEP Charter School
TEP aims to put into practice the central conclusion of a large body of research related to student achievement: teacher quality is the most important school-based factor in the academic success of students, particularly those from low-income families. In singling out teacher quality as the essential lever in educational reform, TEP is uniquely focused on attracting and retaining master teachers. To do so, TEP uses a three-pronged strategy that it terms the 3 R's: Rigorous Qualifications, Redefined Expectations, & Revolutionary Compensation. For more information, visit us online at http://www.tepcharter.org
Compensation
$125,000 salary + potential annual bonus, full benefits package
Qualifications
http://www.tepcharter.org/overview-the-3Rs.php
Email:jobs@tepcharter.org
________________________________________________________________
Washington, D.C.
Job Category: Teacher Evaluator
Posted on Thursday 01. of December 2011
Job Description
Position Overview In the fall of 2009, DCPS launched a ground-breaking teacher performance assessment system as part of its effort to become one of the highest performing school systems in the country. This performance assessment system,IMPACT, seeks to create a culture in which all school-based personnel have a clear understanding of what defines excellence in their work, are provided with constructive and data-based feedback about their performance, and receive support to increase their effectiveness. One of the key elements of this system (IMPACT) is the Master Educator role. Master Educators have three primary responsibilities:
1)to serve as impartial, third-party evaluators of teacher performance,
2) to provide teachers with targeted, content-specific feedback and resources and
3) to provide instructional capacity to support DCPS reform initiatives. Currently, DCPS is looking for master educators in the following content areas:
Early Childhood (Preschool – Kindergarten)
Elementary (Grades 1-6)
Bilingual Education
English as a Second Language
Secondary Science
Secondary English
Secondary Social Studies
World Languages
Secondary Math
Art
Music
Special Education
Health and Physical Education
Roles & Responsibilities
Specific responsibilities of the master educator role include, but are not limited to the following: Teacher Observations (Approximately 75-80%):
Evaluating teacher practice through classroom observations. Each master educator will complete approximately 100 30-minute observations per observation cycle (2 observation cycles per academic year).
Maintaining detailed observational records, thoroughly documenting and rating evidence from each observation.
Writing detailed reports to accompany each observation. Reports will include explanations of the teacher's ratings, evidence, and suggestions for growth.
Conducting one-on-one post-observation conferences with all observed teachers which allow opportunity to dialogue about specific areas of development.
Providing targeted professional development to teachers by providing clear and direct feedback, leading content-specific professional development workshops, collaborating with school-based instructional coaches, and connecting teachers with professional development resources. District-wide Instructional Capacity (Approximately 20-25%):
Collaborating with other DCPS staff and departments to further overall district initiatives, including curricular and professional development design, school outreach, and recruitment and selection efforts.
Attending meetings and on-going trainings as required.
Performing other duties as assigned.
Job Requirements
Candidates must possess the following professional qualifications:
At least 5 years of teaching experience in a low-income school
Documented evidence of success raising student achievement in a low-income school
Exceptional writing and oral communication skills
The ability to work effectively with others at all levels of an organization and to consistently display a high level of professionalism in all interactions
An ability to critically assess challenges and identify appropriate solutions
Strong organizational skills, including keen attention to detail and the ability to adhere to strict deadlines
Excellent time-management and a willingness to work non-standard hours
Ability to work in ambiguous situations, while maintaining a sense of possibility
Previous experience developing and providing support and training to other educators (preferred)
Knowledge of adult learner theory (preferred)
Comfort working with Microsoft Office suite (preferred).

Job Benefits
Compensation/Other Information: The Master Educator is a DCPS employee who primarily works in the field, conducting observations of, and conferencing with, teachers across the District of Columbia Public Schools system. The position therefore requires significant travel and the ability to effectively manage time independently. Master Educators receive extensive training on the Teaching and Learning Framework, as well as, delivering effective feedback both written and orally. Master Educator positions will be available in July 2012, however, please note that there may be some availability, based on subject area, for mid-year positions in the 2011-2012 school year. Applications are accepted on a rolling basis and the formal application for the 2012-2013 school year will open in late January. The annual salary for the Master Educator role is $90,000. In addition, Master Educators receive a comprehensive benefits package through the Council of School Officers union, which includes health, dental, and vision benefits.
Contact Information
Emily Allshouse Coordinator, Master Educator Program
Email:emily.allshouse@dc.gov
Phone: 202.299.2146
________________________________________________________________
Joliet, Illinois
Job Category: Special Education Classroom Teacher Assistant, Assistant Teacher, Paraprofessional
Posted on Thursday 10. of November 2011
Special Education Services, a member of The Menta Group, offers elementary, middle, and high school programming to special education students residing in the mid-state Illinois and the Chicago metro area; and the Maricopa and Pinal County areas of Arizona. Elementary and middle school curricula emphasize real-world, community-based learning. Classrooms are designed to be active learning environments where young people have the opportunity to experience educational and behavioral success on a regular basis.

Thompson Instructional Center provides an enriched educational environment for students in grades K - 8. The bright hallways and large classrooms are ideal for active learning and the school's curriculum promotes positive growth and development. Both regular and special education students benefit from the school's staff of committed educators and clinicians. Educational options are flexible at Thompson, ensuring that the individual needs of each student can be addressed.
Thompson Instructional Center is a public-private partnership between Joliet Public Schools District 86 and Special Education Services. Thompson offers academic instruction to students in kindergarten through 8th grade.
Duties of the Teacher Assistant consist of:
Lead or co-teach a class of students with behavior/emotional/social/learning disorders.
Provide behavior support in self-contained classroom.
Prepare and adapt materials for use in the classroom.
Maintain classroom order, safety and materials.
Communicate behavioral concerns of students to appropriate staff.
Implement and maintain behavioral program policies and data.
Attend all staff meetings and in-service training as requested.
State Certified Paraprofessional preferred.
College Associates Degree/two years college classes.
High School Diploma or GED.
Ability to obtain CPI Certification.
At least 23 years of age.
Previous experience working with special needs children.
Must be able to lift at least 50 lbs.
Clean driving record and must be able to drive student van.
Qualifications:

This position offers an access to medical, dental, vision plans, 403(b), sick pay, holiday pay, and personal/vacation days. The salary range is comparable for the position and area, depending upon certification and qualifications.
Apply at:
www.thementagroup.org/careers/apply
danyell.taylor-johnson@menta.com
Fax:(815) 774-5866
eoe
---