February 2012 - Special Educator e-Journal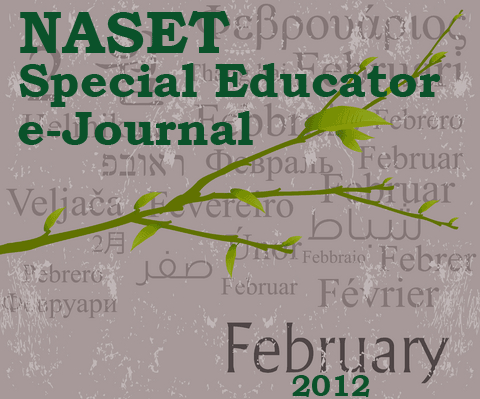 Table of Contents
Update from the U.S. Department of Education

Calls to Participate and New Projects

Special Education Resources

Update From The National Dissemination Center for Children with Disabilities

Upcoming Conferences and Events

Funding Forecast and Award Opportunities

Acknowledgements

Download a PDF or XPS Version of This Issue
---
To learn more click on the image above or - Click here
---
NASET Members - Login Below to access the latest Special Educator e-Journal.
Site visitors: You may access a sample e-Journal - Sample e-Journal
---
---
Latest Employment Opportunities Posted on
NASET
Mesa, AZ
Job Category: Teacher
Posted on Friday 20. of January 2012
Job Description
Mesa Public Schools is looking to hire Special Education Teachers in various categories. The role of these teachers is to provide appropriate special education programming for all students with educational disabilities and to promote programming that will accomplish transition of disabled students from school to post school activities, including post-secondary education, independent living and community participation.
Job Requirements
BS Degree. Arizona Teaching Certificate with Special Education endorsement required.
Job Benefits
Health and life insurance plan. Salary starting at $35,569. Excellent support for teachers with Professional Development and mentoring.
Contact Information
Qualified applicants should go to Mesa Public Schools websitehttp//www.mpsaz.org/hr/job_openings/
For information on the application process call Liz Biggs at 480-472-0406 or email to eabiggs@mpsaz.org
******************************
New York, NY
Job Category: Master Middle School Teacher
Posted on Friday 20. of January 2012
Description
Earn a $125,000 salary and join a team of master teachers at The Equity Project (TEP) Charter School, recently featured on the front page of the New York Times: (http://www.tepcharter.org/nytimes.php).
TEP is a 480-student 5th through 8th grade middle school in the Washington Heights neighborhood of New York City.
Learn more and apply today at http://www.tepcharter.org/apply.php
Also, we invite you to learn more about TEP Charter School and about teaching at the school on our Live Online Information Session (link below):
http://www.tepcharter.org/info-session-for-teachers.php
About TEP Charter School
TEP aims to put into practice the central conclusion of a large body of research related to student achievement: teacher quality is the most important school-based factor in the academic success of students, particularly those from low-income families. In singling out teacher quality as the essential lever in educational reform, TEP is uniquely focused on attracting and retaining master teachers. To do so, TEP uses a three-pronged strategy that it terms the 3 R's: Rigorous Qualifications, Redefined Expectations, & Revolutionary Compensation. For more information, visit us online at  http://www.tepcharter.org
Compensation
$125,000 salary + potential annual bonus, full benefits package
Contact
Email:jobs@tepcharter.org
******************************
Private International School - Doha, Qatar
Job Category: Teachers and Administrators
Posted on Thursday 05. of January 2012
Description
Teach Away is now accepting applications for Special Education teaching and administrative positions in an exclusive private international school in Doha, Qatar. Teachers with experience in Special Education classrooms, as well as subject-specific teaching experience are eligible to apply.
Teachers must have a degree in Special Education or an endorsement on their teaching license/certificate in order to qualify. Experience is required.
Requirements
Completed Bachelor's degree (Masters degree preferred)
Qualified teacher status/certified teacher (licensed to teach in home state/province); certified in relevant subject area
Endorsement or certification in Special Education required
Minimum 2 years of experience at relevant level
Salary: Starting from $39,000 USD/year tax-free (depending on qualifications and experience)
Flight: Return airfare provided (including spouse and up to 3 dependents)
Housing: Accommodations provided
Health Insurance: Provided by employer
Visa Sponsorship: Sponsored by the school
Vacation: Summer vacation; national holidays
Additional Benefits: Tuition allowance for dependents; shipping allowance; end of contract bonus; professional development opportunities.
Benefits
Contact
Qualified applicants should apply online athttp://www.teachaway.com/application.html
Successful candidates will be contacted via email to schedule an interview.
[Note:Additional Special Education teaching positions are available in other locations. Please visit www.teachaway.com for details.]
******************************
North Canton, Ohio
Job Category: Tenure-Track
Posted on Thursday 05. of January 2012
Description
Opportunity for a full-time, nine-month, tenure track position beginning FALL semester 2012 as Assistant Professor of Education.  Successful candidates will have substantial teaching experience in cultural foundations or special education, as well as substantial skills and experience in a second area (cultural foundations, special education, or education psychology) are a plus.
Requirements
A Ph.D. in Cultural Foundations or Special Education (or Foreign Degree equivalent), evidence of scholarship, and teaching experience required. ABD candidates will be considered provided clearance for graduation with a Ph.D. can be documented before the position start date.
Contact
To apply, please visit http://jobs.kent.edu/hr
You must complete an academic data form, attach a letter of interest, but not limited to, experience and research, and curriculum vitae.  In addition, please submit by USPS, official transcripts and three letters of recommendation to:
Kent State University at Stark
6000 Frank Ave NW
North Canton, OH 44720
Attn: Associate Dean's Office
---