February 2011 - Special Educator e-Journal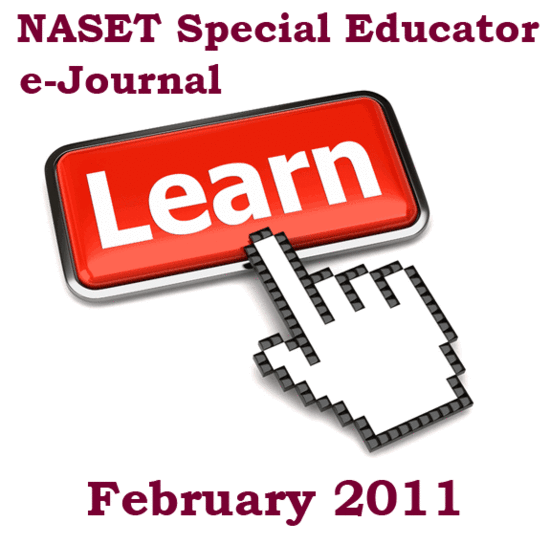 Table of Contents
Update from the U.S. Department Education

Calls to Participate

Special Education Resources & Update From The National Dissemination Center for Children with Disabilities

Upcoming Conferences and Events

Funding Forecast and Award Opportunities

Acknowledgements

Download a PDF Version of This Issue
---
NASET Members - Login Below to access the latest Special Educator e-Journal.
Site visitors: You may access a sample e-Journal - Sample e-Journal
---
---
Latest Employment Opportunities Posted on
NASET
$125,000 Salary for Master Middle School
Teacher
New York City
Job Category: (Special Education)
Description
Earn a $125,000 salary and join a team of master teachers at The Equity Project (TEP) Charter School, recently featured on the front page of the New York Times: (http://www.tepcharter.org/nytimes.php).
TEP is a 480-student 5th through 8th grade middle school in the Washington Heights neighborhood of New York City. Applications are currently being accepted for teaching positions in Science, Latin, Math, English, Social Studies, Music, PE/Health Education, and Special Education.
Learn more and apply today at http://www.tepcharter.org/apply.php
About TEP Charter School
TEP aims to put into practice the central conclusion of a large body of research related to student achievement: teacher quality is the most important school-based factor in the academic success of students, particularly those from low-income families. In singling out teacher quality as the essential lever in educational reform, TEP is uniquely focused on attracting and retaining master teachers. To do so, TEP uses a three-pronged strategy that it terms the 3 R's: Rigorous Qualifications, Redefined Expectations, & Revolutionary Compensation.
For more information, visit us online at http://www.tepcharter.org
Compensation
$125,000 salary + potential annual bonus, full benefits package
Requirements & Application
Learn more and apply today at http://www.tepcharter.org/apply.php
********************
Senior Alternate Assessment
Specialist
Washington, DC
Job Category: Special Education SME/Test Development/Program Man
Description
Senior Alternate Assessment Specialist responsibilities include:
Demonstrate leadership for AIR in the alternate assessment practice area among clients, partner organizations, and at national meetings.
Provide subject matter expertise and leadership to state department staff who have responsible for the development and oversight of state wide alternate assessments.
Contribute ideas and information to support project efforts through presentations, trainings or seminars; while working directly with state department of education and district level staff.
Work with internal staff and subcontractors to develop processes, procedures, for meeting project deliverables and client special education related needs.
Work collaboratively with AIR staff to ensure that all plans and schedules are viable.
Adhere to a master schedule of deadlines and deliverables.
Provide information, support, and problem-solving to the clients, as needed, in a manner that provides positive solutions.
Keep AIR senior management informed of any potential project problems, including issues with a client or another stakeholder and any potential for missed deadlines.
Requirements

Minimum of a Master's degree in special education, autism spectrum disorders, or low incidence disabilities.
Minimum of 5 years of instructing students (K-12) with significant cognitive disabilities in academic content areas.
Experience working in alternate assessment, extended/expanded standards and large-scale assessment.
Experience teaching students with deaf-blindness is desirable.
Experience providing instruction using assistive technology is desirable.
Benefits
AIR offers an excellent compensation and benefits package, including a fully funded retirement plan, generous paid time off, subsidized garage parking, tuition assistance, and more.
Contact
TO APPLY, please go to our Career Center at: https://jobs-airdc.icims.com/jobs/6403/job
***********************
DIRECTOR OF SPECIAL
EDUCATION
BOULDER VALLEY SCHOOL DISTRICT - BOULDER, COLORADO
Job Category: Administration
Description:
Work collaboratively with central administrative staff, principals and other staff to support and supervise special education policies, procedures, practices and personnel.
In-depth understanding of the RtI process and inclusionary practices in special education
Training and demonstrated success in special education curriculum development, staff development, educational leadership and administration
Visit our website at www.bvsd.org for further information.
Requirements
Colo Admin or Prin License with Sp Ed Director Endorsement
Demonstrated success as a school level administrator
More info atwww.bvsd.org.
Benefits
Please visit our website at www.bvsd.org for further information.
Contact
judy.steinbaugh@bvsd.org, 720-561-5032, Fax 720-561-5098, hrd@bvsd.org, www.bvsd.org
---