April 2012 - Special Educator e-Journal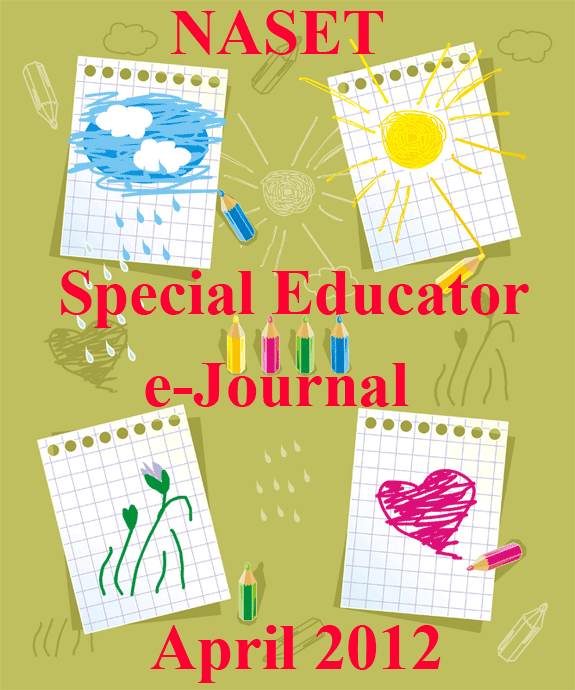 Table of Contents
Update from the U.S. Department of Education

Calls to Participate and New Projects

Special Education Resources

Update From The National Dissemination Center for Children with Disabilities

Upcoming Conferences and Events

Funding Forecast and Award Opportunities

Acknowledgements

Download a PDF or XPS Version of This Issue
---
To learn more click on the image above or - Click here
---
To learn more click on the image above or - Click here
---
NASET Members - Login Below to access the latest Special Educator e-Journal.
Site visitors: You may access a sample e-Journal - Sample e-Journal
---
---
Latest Employment Opportunities Posted on
NASET
New York, NY
Job Category: Teaching, Coordinators
What makes Harlem Village Academies different?
At Harlem Village Academies, we emphatically believe that excellent teachers are the most important element of excellent schools. Therefore, we have thoughtfully designed every aspect of our schools to support, develop, respect, and empower our teachers. We are people-driven, not program-driven — and the difference is profound. We're not replicating a particular program; we are deliberately and carefully setting out to create an ideal environment and rich intellectual life for teachers. By building a system of schools designed for teachers, we ensure an excellent education for all children.
RESPONSIBILITIES
Communicate regularly with the Center for Special Education regarding special education students' needs
Write and update Individualized Education Plans (IEPs)
Refer students for initial and repeat evaluations
Ensure compliance with all pertinent special education laws and policies
Establish classroom routines and follow through consistently
Develop and teach rigorous, engaging lessons
Develop effective assessments, lesson plans, materials
Analyze assessment data and use data to inform instruction and develop tutoring plans
Collaborate with colleagues to share best practices and ensure student mastery of standards
Maintain close relationships with students' families
Qualifications
Minimum two years full-time elementary classroom experience as a special education teacher, preferably in an urban setting
New York State certification strongly preferred
Outstanding instructional skills, including the ability to motivate and challenge students
Strong background in elementary literacy
Demonstrated ability to create and maintain a warm, strict, orderly classroom environment
Personal accountability for student achievement
A belief that all students can learn at a high level and should be held to high academic standards
The ability to communicate effectively with parents
The ability to work effectively with colleagues as a positive, professional member of a team
Competitive salary and benefits
Contact
Interested candidates should apply through our website. (http://www.harlemvillageacademies.org/pages/careers)
If you are unable to apply through our website, you may email your resume and cover letter, including how you heard about the position, toteach@harlemvillage.org with "Special Education" in the subject line. Applications will be reviewed as received, though due to the high volume of applications we receive, we are only able to notify those candidates who meet our selection criteria. If you have questions about your application, you may contact us atteach@harlemvillage.org or 646-812-9300 ext. 1382.
*******************
Washington, DC
Opening Date: February 1, 2012
Closing Date: Open Until Filled
Salary: Earn up to $83,199 your 1st year with DCPS http://bit.ly/DCPSTeachers
Location: Washington, D.C.
How to Apply:www.dcps.dc.gov/careers
Our public school students need your expertise, passion, and leadership.
We are looking for highly motivated and skilled educators to join our team at the District of Columbia Public Schools (DCPS). We seek individuals who are passionate about transforming the DC school system and making a significant difference in the lives of public school students, parents, educators, and central office employees. As part of a comprehensive reform effort to become the preeminent urban school system in America, DCPS intends to have the highest-performing, best paid, most satisfied, and most honored educator force in the nation and a distinctive central office staff whose work supports and drives instructional excellence and significant achievement gains for DCPS students.
Position Overview
Situated at the center of national government, DCPS aims to provide students with a quality education that prepares them to become future leaders, productive citizens, and individuals engaged in their communities. This position reports directly to the principal of the school. The incumbent is responsible for instruction as a lead teacher in DCPS.
Responsibilities
Under the direction of the school principal, the teacher plans and provides appropriate learning experiences for students. The teacher is responsible for providing an atmosphere and environment conducive to the intellectual, physical, social, and emotional development of every student. The incumbent is expected to review and select text and supplemental materials appropriate to the grade level and specific subject matter. The incumbent will design or modify teacher guides and activity materials and encourage the integration of various components, in an effort to challenge students and provide appropriate learning experiences for the specific subject.
Teachers will:
Prepare lesson plans with short and long-range curriculum goals and objectives in compliance with all standards
Establish clear objectives for all lessons, units, projects, etc. and communicate objectives to students
Plan a program of study that meets the needs, interests, and abilities for all students, including students with disabilities
Monitor student progress toward mastery of standards through frequent formal and informal assessments
Use a variety of instructional materials, resources, and experiences to enrich student learning
Use appropriate techniques and strategies that promote and enhance critical, creative, and evaluative thinking of students
Create a learning environment that reflects subject matter being taught through displays of student work and teacher created materials
Develop leadership and special talents among students by sponsoring out¬-of-class activities such as student government, dramatics, participation in science fairs and contests. etc
Confer with parents regarding progress of individual students
Monitor and evaluate student testing environments and outcomes
Use effective positive interpersonal communication skills
Perform other duties as assigned.
Desired Qualities
Commitment to improving the academic achievement of all students
Commitment to professional growth and eagerness to learn
Ability to provide instruction that reflects multiple perspectives and multicultural education
Experience working with linguistically and ethnically diverse student populations
Commitment to assist the administration in implementing all policies and rules governing student life and conduct
Knowledge of current behavioral management techniques, educational trends, methods, research and technology, and subject area knowledge
Ability to develop reasonable rules for classroom behaviors and procedures and maintain order in the classroom in a fair and just manner
Ability to establish relationships with colleagues, students, parents, and community which reflect recognition of and respect for every individual
Experience incorporating technology into curriculum
Excellent oral and written communication skills
Qualifications
Bachelor's degree
Completion of a state approved teacher preparation program (i.e. Bachelor's or Master's degree in education, or another state approved teacher certification program)
Eligibility toward a valid District of Columbia Teaching Certificate or License (Standard or Provisional)
Successful completion of Praxis I* and II exams, unless you hold your state's highest teaching license and have taught for at least 3 years outside of the District of Columbia
*Visit www.osse.dc.gov to review equivalent exams for Praxis I exams and other licensure requirements.
Apply Now!
www.dcps.dc.gov/careers
Be a part of public education's greatest turnaround story.APPLY NOW
*******************
Nokomis, Illinois
Job Category: Regular Education Teacher K-9
Description
Special Education Services (SES), an affiliate of The Menta Group, is a non-profit agency serving K-12 high-risk children in Illinois and Arizona. With its no refusal, no suspension, no expulsion policy, SES students attend school daily regardless of their behavior. A continuum of services is offered to meet the educational needs of special needs, at-risk and high-risk public school students. Small class size, intensive clinical services, and a competently trained staff of educators combine to make this a positive and dynamic place to learn. All children have a right to quality education services.
We are currently seeking qualified applicants for the position of Elementary & Secondary Education Teachers for the Cornerstone Academy located in Nokomis, Illinois. The curriculum is taught with an engaged learning methodology that nurtures academic, behavioral, and social-emotional growth. Our educational model encourages the development of academic and social-emotional skills in a positive and well-structured learning environment, with a focus on preparation for post-secondary education, employment, and citizenship. Programming is designed for students with significant cognitive, behavior, and learning difficulties... The curriculum is individualized to meet each student's special needs with an emphasis on four major community living domains: self-management/home living, vocational, recreation/leisure, and general community functioning. The curriculum is taught both in school and out in the community. It includes functional academics and embedded training in social-emotional skills, communication, and motor skills.
Requirements
State Teaching Certification in Specialty/Content Area
Ability to teach in a self-contained classroom for a full teaching day with youth having behavioral, emotional, and high risk behaviors is important
You must be 23 years of age with a valid driver license
Employment is contingent upon a background check, approved driving record, employment physical and drug screen
Must have a valid driver's license
Excellent oral and written communication skills
Emphasis on work skills as a basis for a career path curriculum
Flexible in which subject areas that they can work
Student focused approach while presenting general areas of required subject material
Willingness to be trained in working with Behavioral/Emotional Disordered students
Demonstrated ability to work well in a fast paced environment
Bi-lingual applicants are encouraged to apply
Benefits
This position offers an access to medical, dental, vision plans, 403(b), sick pay, holiday pay, and personal/vacation days. The salary range is comparable for the position and area, depending upon certification and qualifications.
Apply online at:
www.thementagroup.org/careers/apply
Nokomis, IL
email:barb.daugherty@menta.com
Fax: (217) 563-7606
eoe
*******************
New York, New York
Job Category: Teacher
Description
$125,000 Salary for Master Middle School Teachers!
Earn a $125,000 salary and join a team of master teachers at The Equity Project (TEP) Charter School, recently featured on the front page of the New York Times:http://www.tepcharter.org/nytimes.php
TEP is a 480-student 5th through 8th grade middle school in the Washington Heights neighborhood of New York City.
Learn more and apply today at http://www.tepcharter.org/apply.php
About TEP Charter School
TEP aims to put into practice the central conclusion of a large body of research related to student achievement: teacher quality is the most important school-based factor in the academic success of students, particularly those from low-income families. In singling out teacher quality as the essential lever in educational reform, TEP is uniquely focused on attracting and retaining master teachers. To do so, TEP uses a three-pronged strategy that it terms the 3 R's: Rigorous Qualifications, Redefined Expectations, & Revolutionary Compensation. For more information, visit us online at:http://www.tepcharter.org
Application Requirements
http://www.tepcharter.org/apply.php
*******************
Bradenton, FL
Job Category: Private Teacher
Description
My son has several diagnoses... SPD, ASD and Aspergers. Who knows which is most acurate. Not sure it matters. I need someone that understands he is moving so he can pay attention not because he is being disobient. He also makes vocal sounds on a regular basis. You will have to be tolerant. His need for moving is like the need for oxygen. We have a playground and trampoline, plenty of area to fun and climb or swim. It doesn't matter in which fashion he learns (while swimming, running, etc) as long as he is having fun.
As you can imagine he has had difficulty in typical private schools, so that is why we have chosen to home school. Learning can be fun... handson... I just need to find that person capable of doing that.
He is an 8 year old boy that is ALL boy. He is our angel.. and we love him beyond belief.
I would like someone to push him beyond grade level in Math. That's the good thing about homeschool, you can be on different grade levels in different subjects.
He is in several therapies which could take place after school, or before.
I am thinking that perhaps 4 hours may be all that is needed to teach curriculum.
He has advanced remarkably in FastForward. I have tons of equipment and supplies for the new teacher.
Times are flexible but I do prefer early mornings to early afternoons. (perhaps 8-11 or 12) Please email questions and salary requirement.
Requirements
The person we seek will be a Christian, have a huge amount of patience, and someone that will make learning a fun adventure.
Benefits
Flexible hours. Nice home to work in.
Contact
Email is best:
Lee@Santilli.us
*******************
Brooklyn, NY
Job Category: Special Education teacher for pre-school 2.6-5 yrs
Description
A not-for-profit pre schoool for special needs children ages 2.6-5 looking for a special needs classroom teacher.
Requirements
NY State Certificate
Benefits
Medical, Dental, Long Term Care, Vacation, Paid Sick Leave.
Contact
Janet Williams - Director
Phone: 718-854-3710
Fax: 718-854-3740
Email:jwilliams@childstudycenterofnewyork.org
Website:www.childstudycenterofnewyork.org
---