April 2008 - Special Educator e-Journal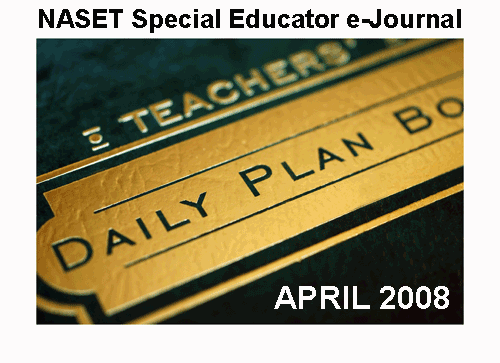 Table of Contents
Message from the Executive Directors
NASET Award Nominations Now Being Accepted
This Just In…….
Q and A: Questions and Answers on Serving Children With Disabilities Placed by Their Parents at Private Schools
Calls to Participate
Special Education Resources
Update From the U.S. Department of Education
Upcoming Conferences, Workshops, and Events
Funding Forecast and Award Opportunities
Intersection: Navigating the Road to Work
Acknowledgements
---
NASET Members - Login Below to access the latest Special Educator e-Journal.
Site visitors: You may access a sample e-Journal - Sample e-Journal
---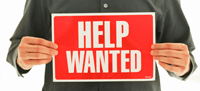 Latest Career Center Classifieds
Bronx, NY
Job Category: Community/Home-Based EI Evaluator
Location: Bronx, NY
Description: RCDS, a partner of The MENTOR network, is a NY State Department of Health approved provider of home & community-based Early Intervention services throughout the New York metro area, Rockland & Orange Counties. RCDS is seeking a FULL-TIME BILINGUAL (Spanish) Special Educator to serve as our EDUCATIONAL SUPERVISOR providing developmental evaluations, peer supervision & effective representation of the agency at IFSP Meetings.
Requirements:
NYS Certification as a Special Education Teacher (Birth Thru Grade 2)
Ability to read, write & speak English & Spanish
Two or more years experience serving & assessing infants & toddlers with special needs
Benefits:
Comprehensive Health Care Benefits Plans
Vision & Dental Coverage
Paid Vacation
Sick & Personal Days
401K Pla
Life & Disability Insurance
Authorized Mileage & Expense Reimbursement
State-of-the-art software systems for efficient case coordination & inter-disciplinary collaboration
Supportive & Caring Team Members
To apply send resume to:
E-Mail: Dawn Mastoridis,State Director, NY, TMN
dawn.mastoridis@thementornetwork.com
____________
Nationwide
Job Category: Independent School Teacher
Description:
Carney, Sandoe & Associates is an educational recruitment firm that places teachers and administrators in private, independent and like-kind (charter, magnet, pilot and merit) schools across the nation. We have placed over 20,000 teachers and administrators in independent schools since 1977.
CS&A has hundreds of special education teaching positions each year. All fees are paid by the client school; personal and professional placement services are free for the candidate.
Apply Online: www.carneysandoe.com
Benefits:
Compensation and benefit packages will be different at each school and will typically depend on geographical location, experience and level of degree. Benefit packages will include the following: Medical, and 401K (TIAA-CREF), and may include dental, housing, relocation, tuition remission and professional development.
Contact:
Jonathan K. Ball
Director of Recruitment
Carney, Sandoe & Associates
136 Boylston Street
Boston, MA 02116
phone: 617-542-0260
fax: 617-542-9400
Email:jonathan.ball@carneysandoe.com
Website:www.carneysandoe.com
____________
New York City, New York
Job Category: Special Education Teacher - Middle School
Description:
Earn a $125,000 salary and join a team of master teachers at The Equity Project (TEP) Charter School, a new 480-student 5th through 8th grade middle school in the Washington Heights neighborhood of New York City. Applications are now being accepted for teaching positions in Special Ed, Math, Science, English, Social Studies, Music, and Latin. Learn more and apply today at http://www.tepcharter.org/apply.php.
About TEP Charter School:
TEP aims to put into practice the central conclusion of a large body of research related to student achievement: teacher quality is the most important school-based factor in the academic success of students, particularly those from low-income families. In singling out teacher quality as the essential lever in educational reform, TEP is uniquely focused on attracting and retaining master teachers. To do so, TEP uses a three-pronged strategy that it terms the 3 R's: Rigorous Qualifications, Redefined Expectations, & Revolutionary Compensation. For more information, visit us online at www.tepcharter.org.

Requirements:
Visit http://www.tepcharter.org/apply.php for qualifications.
Benefits:
$125,000 salary, plus annual performance bonus of up $25,000, Health Insurance, 401K
To apply visit:
http://www.tepcharter.org/apply.php
____________
New York residents only
THE CHILD STUDY CENTER OF NEW YORK
A Very Special Not-for-Profit Pre-School for Special Needs Children
PROGRAM/SITE DIRECTOR- New York residents only
Seeking experienced Program/Site Director for our Staten Island, NY
special education pre-school. The responsibilities of the position include:
In charge of the overall functioning of a special ed pre-school
Maintain, develop and implement multiple programs, assess needs
and ensure that the program objectives are met
Coordinate activities and plan procedures
Provide direction and staff supervision
Report to the Executive Director
Must have NYS Master's certification in Special Education and
School Administration and Supervision (SAS).
Excellent salary and benefits.
Contact: childstudyctr@aol.com
Fax: 516-822-1084
---