January 2022 - Special Educator e-Journal
---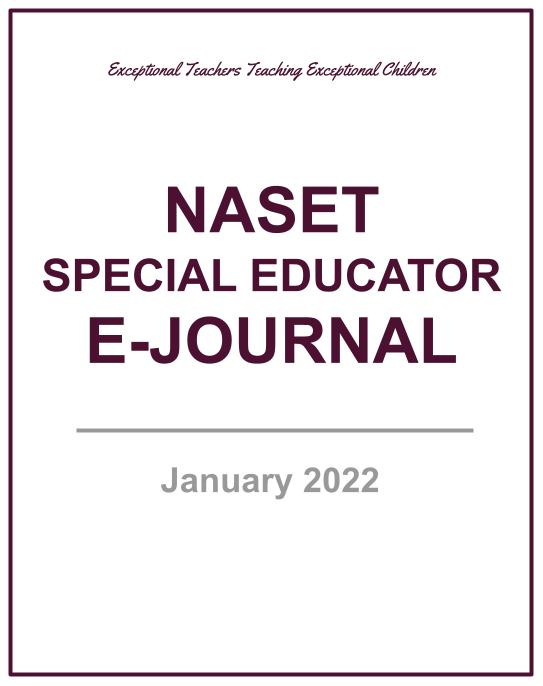 ---
NASET Members - Login Below to access the latest Special Educator e-Journal.
Site visitors: You may access a sample e-Journal - Sample e-Journal
---
---
Special Education Legal Alert
By Perry A. Zirkel
© December 2021
This month's update identifies two court decisions that address current issues, including school district mask mandates and special education teachers' lack of regular certification. For various related articles, special supplements, and earlier monthly updates, see perryzirkel.com.
NASET Members- Login to Access the Full Article
---
Buzz from the Hub
All articles below can be accessed through login:
Facing Fears, Supporting Students
Updated CDC Guidance for Operating Early Care and Education/Child Care Programs
Webinar on Development and Implementation of IEPs
How Parent Support Groups Can Help
Connect to Care
For Parents of Children Who Were Just Diagnosed With a Health Condition
New to Disability?
Autism | Have you seen what Sesame Street offers?
Return to School Roadmap: Development and Implementation of IEPs in the Least Restrictive Environment
Video on Supported Decision Making
and many more
NASET Members - Login to Access the Full Article
---
Update from the U.S. Department of Education
ED Will Award $5 Million to Support Parents and Families Informing Student Development and Academic Recovery
The U.S. Department of Education released the 2022 application for the Statewide Family Engagement Centers program, underscoring the Biden-Harris Administration's commitment to ensuring parents and families play a critical role in informing and supporting their children's education and academic success. The program will award $5 million in grants that will provide financial support to organizations that offer technical assistance and training to state educational agencies and school districts in the implementation of effective family engagement policies, programs, and activities that lead to improvements in student development and academic achievement. As students continue to recover from the pandemic, it is critical that states and districts work in partnership with parents and families to help address the impacts the pandemic has had on children across the country, and that their experiences can help inform how our schools address academic recovery and students' needs. As part of the Biden-Harris Administration's broader commitment to ensure parents and families can help inform their children's education, the American Rescue Plan's Elementary and Secondary School Emergency Relief (ESSER) fund requires states and school districts to conduct robust stakeholder engagement around how ESSER funds should be spent – and parents can and should participate in that process.
NASET Members- Login to Access the Full Article
---
Mental Health.gov in English and Spanish
This federal website is an excellent source of information and connection on mental health issues and concerns. The webpages and resources are available in English and Spanish, and are organized into sections such as:
Eating Disorders | Extreme emotions, attitudes, and behaviors involving weight and food is a kind of mental health problem. Read more about the causes, symptoms and how to get help.
Mental Health Experts and Resources | Find a local organization that can help you coordinate a community event, organize support groups, or provide general info.
Help for Young People | OK2TALK is a community for teens and young adults struggling with mental health problems. Learn more and start talking about mental health.
Show You Care. Connect and Share | Join the conversation and talk about mental health.
NASET Members - Login to Access the Full Article
---
Teen Mental Health
Useful to Parent Centers for sharing with families who have teenagers with special health care needs or mental health concerns. Most materials are also available in Spanish.
This resource-rich page at MedlinePlus pulls together a spectrum of topics related to mental health and includes numerous resources in Spanish. It's written so as to speak directly to teens, describing in bullet form some of the things they might feel or experience that may indicate the need to seek the help and support of parents, a school counselor, or a healthcare professional. Sections include:
where to start;
the latest news pertinent to teens (e.g., bullying, smartphone addiction, self-harm);
danger signs to look for and comprehensive psychiatric evaluation;
treatments and therapies; and
related issues (e.g., cliques, dealing with a health condition, coping with trauma, dealing with anger, helping friends who self-harm, peer pressure, and the teenage brain).
NASET Members - Login to Access the Full Article
---
Book Review: The New One Minute Manager
There are many, many organizations and groups that deal with mental health. This page will help you find the one or ones that offer the type of assistance, intervention, or information you're seeking. We've organized the information into the following sections:
If It's a Crisis…
First things first, regardless of how frightening a note this is to begin on. If someone you know is having a mental health crisis and you need help fast, try the resources below that seem to fit the nature of the crisis.
---
Sexual Health Education for Young People with Disabilities
In recent years, changes in public policies and attitudes have resulted in improved opportunities for people with physical and intellectual disabilities. Unfortunately, societal attitudes have changed less in regard to sexuality and disability. Even today, many people do not acknowledge that most people experience sexual feelings, needs, and desires, regardless of their abilities. As a result, many young people with disabilities receive little or no formal sexual health education, either in school or at home. Yet all young people need access to and can benefit from sexual health information. Young people with disabilities have the same right to this education as their peers. However, considerations must be made in order to modify the program to allow for information to be understood and learned in a way that is meaningful to them.
NASET Members - Login to Access the Full Article
---
Book Review: The New One Minute Manager
By Nohelis Mena
Dr. Kenneth Blanchard is the Chairman of Blanchard Training and Development, Inc., also known as BTD. He is known throughout the world for his work as an educator, consultant and author. He received his Bachelor of Arts degree from Cornell University in Government and Philosophy, a Master of Arts degree from Colgate University in Sociology and Counseling, and finally Doctorate degree from Cornell in Administration and Management. Currently, he is a professor of Leadership and Organizational Behavior at University of Massachusetts, Amherst.
NASET Members - Login to Access the Full Article
---
Book Review: Swimming in the Deep End Four Foundational Skills for Leading Successful School Initiatives
By Elizabeth Vasquez
Former teacher and wearer of many hats, Jennifer Abrams offers perspective when in leadership in a school setting for readers to view. She evokes self-reflection on four approaches towards typical encounters by individuals in a school setting when implementing new initiatives and offers multiple open-ended strategies for readers to utilize. Now a consultant, Jennifer provides a roadmap through personal and professional experiences with research-based support for readers to learn how to individually improve in order to collectively make a change. She identifies the challenges faced by many leaders within a school setting as an opportunity to learn, and refers to these endeavors as "swimming in the deep end." She proposes four foundational skills for leaders to consider and apply when starting a new initiative. Abrams speaks directly towards the reader and compels her readers to answer questions that self-evaluate one's thinking. Abrams appeals to readers' emotional state and overall mindset and provokes readers to consider others' reaction towards that mindset. By having readers dive into their sense of self, Abrams adds personal encounters that reflect the authenticity of each of the four foundational "deep end skills" to survive in the deep end. Although the skills are essential for effectively leading in a school setting, Abrams offers up a more personal growth side to her practice that grabs readers attention in implementing these practices as an overall self-improvement as a person. She additionally branches into taking these practices to collaboratively work with others, even with resistance, a leader's approach can make a world of difference in their process of encountering those who resist change. Leaders benefit from support academically, socially and emotionally and need them to continue to thrive. Therefore, Abrams justifies that leaders need their supporters and resistors to improve their overall effectiveness in multiple areas.
NASET Members - Login to Access the Full Article
---
Latest Employment Opportunities Posted on NASET
* Executive Director of Special Education - Willamette Education Service District is accepting applications for a full-time (40 hours per week) Executive Director of Special Education position. Successful candidate will work as a member of the Special Education Department and will follow a 240-day calendar. This position will be based at the Willamette ESD Marion Center in Salem, OR and will begin July 1, 2022. To learn more - Click here
* Special Education Teacher-Options Program - The teacher would need to be passionate about supporting inclusion in an academically rigorous environment as well as qualified to teach differentiated, developmental instruction based on student needs. The options Program teacher would help support success for both the student and general education teacher in the inclusion classroom. The teacher is also a key member of the larger Special Services team and should be excited to not only teach, but also work collaboratively to grow this new program. To learn more- Click here
* Special Education Teacher (All Specializations) - 2022-23 School Year - DCPS serves approximately 49,000 students in the nation's capital through the efforts of approximately 4,200 educators in 117 schools. As part of a comprehensive reform effort to become the preeminent urban school system in America, DCPS intends to have the highest-performing, best paid (Salary Range: $56,313 - $90,905), most satisfied, and most honored educator force in the nation and a distinctive central office staff whose work supports and drives instructional excellence and significant achievement gains for DCPS students. To learn more- Click here
* Potential Special Education Teachers 22-23 School Year - If you're a passionate educator or professional looking for a place to build greatness—within students and your own career—you've come to the right place! Our greatness begins with our staff. If you believe each child is capable of finding their own greatness, and working hard to help them pursue their passions, you will fit in well at McPherson Public Schools. To learn more- Click here
* School of Education (Special Education),Tenure Track Faculty - We value the ability to serve students from a broad range of cultural heritages, socioeconomic backgrounds, genders, abilities and orientations. Therefore, we prioritize applicants who demonstrate they understand the benefits diversity brings to a professional educational community. The successful candidate will be an equity-minded individual committed to collaborating with faculty, classified staff, administration, and students who are also committed to closing equity gaps. To learn more- Click here
* Dean of the College of Education - A key member of the Provost's leadership team, the Dean reports to and works with the Provost and Executive Vice President for Academic and Student Affairs. The Dean serves as the chief academic and administrative officer in the College, overseeing strategic planning; budgets; fundraising; curriculum; student recruitment and retention; faculty and staff recruitment, development, support, evaluation, and retention; program development; assessment and reporting; accreditation activities; administration; and community outreach. To learn more- Click here
* Laurence J. Adams Distinguished Chair McDaniel College & President & CEO Target Community & Educational Services, Inc. - McDaniel College in partnership with Target Community & Educational Services, Inc., both located in Westminster, MD., announce the search for a uniquely talented individual to serve the College as the Laurence J. Adams Distinguished Chair and to serve as President & CEO of Target, Inc. (Target), a human service organization. In this dual role, the incumbent will teach half-time at the College and coordinate McDaniel's Human Services Management graduate program and also serve half-time at Target, the program's internship site. To learn more- Click here
* Director of Special Services - The job of Director-Special Services is done for the purpose/s of planning, directing, managing, and supervising multiple Special Services programs; providing information, direction, training and implementation of Special Services processes; serving as a resource to others; achieving defined objectives by planning, evaluating, developing, implementing and maintaining services in compliance with established guidelines; and serving as a member of the leadership team. To learn more- Click here
* Special Education Teacher - Works closely with all members of the dedicated, inter-disciplinary therapeutic team supporting the students and classroom. Teachers also collaborate with parents and guardians to ensure the greatest wrap around services, school -to-home communications, and understanding of the student. Collaboration with our partnering school districts is also essential. To learn more - Click here
* Physical Education Teacher - Works closely with all members of the dedicated, inter-disciplinary therapeutic team supporting the students and classroom. This teacher also collaborates with parents and guardians to ensure the greatest wrap around services, school -to-home communications, and understanding of the student. Collaboration with our partnering school districts is also essential. To learn more - Click here
* Special Education Teacher - Our Teachers assist in providing direction and support to those that work with the students and work in cooperation with Leadership to provide evidence-based, ethical services based on Sherwood Autism Center's philosophy of care, thus ensuring the highest quality of services is provided in a timely and consistent manner to all students. To learn more- Click here
* Elementary and Middle School House Administrator - Green Chimneys School offers an enriched academic environment with a vast array of innovative programming, including life skills, music and art, therapeutic animal-assisted activities, and outdoor education, all based in experiential learning. The fully integrated approach to education at Green Chimneys includes: Academics, Therapeutic Education, Clinical & Related Services, Animal & Nature Program and Vocational Education. To learn more- Click here
*ESE/ESOL Teacher - The ESE/ESOL Teacher at New Beginnings High School utilizes a blended learning approach that combines traditional classroom instruction with online instruction and activities. This model enables New Beginnings High School to offer a wide variety of courses and to increase the amount of self-directed learning that is so crucial to the post-secondary success of our customer. To learn more- Click here
* Faculty - ABSE Special Needs and Learning Disabilities - Lane Community College Faculty members are expected to be skilled educators, with a passion for teaching and continuous improvement in best practices that support equitable student success. The primary responsibilities of full-time faculty is to provide quality education and teaching in a range of community college courses, which may include transfer and/or career technical courses, and to engage in academic professional activities which advance the goals of the College and Division. Faculty members are responsible for following College and Division policies and procedures in support of teaching and learning. To learn more- Click here
* Middle School Special Education Teacher - The Halton School, an independent school for students with Asperger's, is looking for a Middle School Special Education teacher. The teacher will provide special education instruction to students in a small multi-grade class. The teacher will utilize a variety of teaching methods to meet student's educational needs and adapt and develop instructional materials accordingly. To learn more- Click here
* Director of McKay Academic Center (Academic Support) - The Dunham School is a PK-12, non-denominational Christian, independent school serving 785 students on one campus. The school offers fee paid tutoring, coaching, small group instruction and individual courses for students with a range of learning challenges including ADD, ADHD, dyslexia, dysgraphia and high functioning autism. To learn more - Click here
* Special Education Teacher - STARS is owned and operated by Occupational Therapists. You will be an employee and receive full benefits. Summers off with year-round pay and year-round appreciation. With a proven track record, STARS is able to offer you an unbeatable support system and resources. STARS is hiring for the 2021-2022 and 2022-2023 school years. STARS places Special Education Teachers throughout the Phoenix, Tucson and the surrounding area public schools. To learn more- Click here
* Middle School and High School Special Needs Teacher at the Anglo-American School of Sofia - We are a school of extraordinary families and outstanding teachers. We are an inspiring educational community - nestled in the stunning foothills of Mount Vitosha on the outskirts of Sofia. We are an exceptional IB world school offering children from 4 to 18 years a world class educational experience. We take pride in academic achievement, and value creativity and athletic talent with equal vigor. We offer a curriculum and approach that looks beyond the classroom and prepares our students for the challenges and opportunities that the world has to offer. To learn more- Click here
* Coordinator, Residential Program for Students with Intellectual Disabilities - Lakeland University seeks a mission-oriented individual passionate about creating a more inclusive world to develop and coordinate an innovative residential program for students with intellectual disability slated to open on its campus in Fall 2022. The program is designed to provide students with a residential collegiate experience while preparing them for the next steps in their lives, whether that would be continuing with higher education or moving into employment and the community. To learn more- Click here
* Special Education Teacher - This position is responsible for the instruction of educational programs and curricula for exceptional students. The Emotional Support Special Education Teacher develops and implements the Individual Education Plan (IEP) for each student and collaborates with members of the instructional team in the planning and implementation of behavioral and academic interventions and supports to ensure students receive a quality educational program. To learn mor- Click here
---
Acknowledgements
Portions of this or previous month's NASET's Special Educator e-Journal were excerpted from:
Center for Parent Information and Resources
Committee on Education and the Workforce
FirstGov.gov-The Official U.S. Government Web Portal
Journal of the American Academy of Special Education Professionals (JAASEP)
National Collaborative on Workforce and Disability for Youth
National Institute of Health
National Organization on Disability
Substance Abuse and Mental Health Services Administration
U.S. Department of Education
U.S. Department of Education-The Achiever
U.S. Department of Education-The Education Innovator
U.S. Department of Health and Human Services
U.S. Department of Labor
U.S. Food and Drug Administration
U.S. Office of Special Education
The National Association of Special Education Teachers (NASET) thanks all of the above for the information provided for this or prior editions of the Special Educator e-Journal
---
Download a PDF Version of This e-Journal
NASET Members - Login to Access