March 2021 - Special Educator e-Journal
---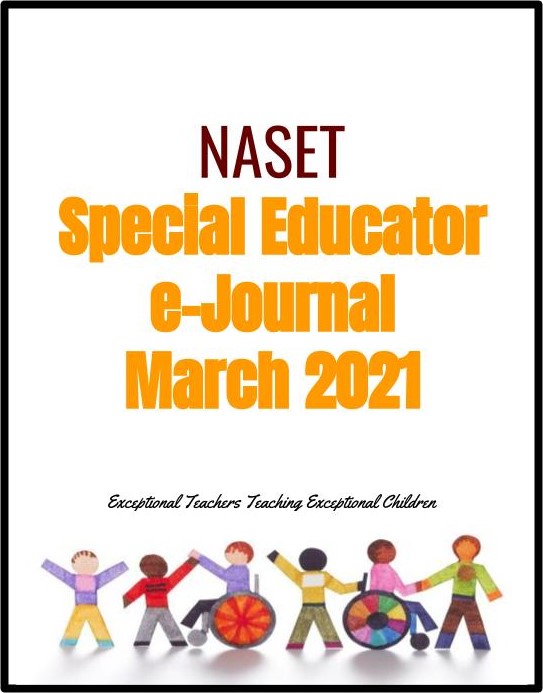 ---
NASET Members - Login Below to access the latest Special Educator e-Journal.
Site visitors: You may access a sample e-Journal - Sample e-Journal
---
Special Education Legal Alert
By Perry A. Zirkel
© February 2021
This month's update identifies recent court decisions of general significance, specifically addressing (a) FAPE and the remedy of compensatory education, and (b) FAPE and the remedy of tuition reimbursement, along with an added flourish under Section 504 and the Americans with Disabilities Act (ADA). For related information about these broad issues, see perryzirkel.com.
NASET Members- Login to Access the Full Article
---
Buzz from the Hub
All articles below can be accessed through login:
Helping Kids Understand the Riots at the Capitol
Tools to Build Community
Youth with Disabilities in Juvenile Corrections (Part 2): Transition and Reentry to School and Community
Reentry Services Directory
Childhood Trauma and COVID-19
Helping Children Who've Experienced Trauma
10 Helpful Podcasts About Mental Health
60 Digital Resources for Mental Health
Help for Mental Illnesses
Shareable Resources
Gathering and Training en Masse
Native American Resource Collection
Talking about Race
Disproportionality in Special Education: Training Modules for Centers
OSEP Fast Facts: IDEA 45th Anniversary
IDEA Presentation Materials at Your Fingertips
Creating Effective Partnerships to Improve Early Intervention | Webinar
It's Official: National Test Is Postponed Due to COVID-19 Concerns
GAO Report: Challenges Providing Services to K-12 English Learners and Students with Disabilities during COVID-19
Map: Where Are Schools Closed?
Why School Board Diversity Matters
Self-Care in the Time of Coronavirus
Holidays During the Pandemic
NASET Members - Login to Access the Full Article
---
Practice Makes Progress: Utilizing a Simulated IEP Meeting in Teacher Preparation
By Courtney Toledo
Abstract
This paper proposes that a simulated Individualized Education Program (IEP) meeting is an effective way for pre-service teachers to gain an understanding of the IEP process. Heinrich (2017) supports the use of role-play activities in order to achieve long term objectives and engage the students in collaborative work. In addition, using the work of Coulson & Harvey (2013), this paper explains how reflection supports the meaning-making process for students. By combining the research behind engaging students in role play and reflection, a simulated IEP meeting activity is described in detail with suggestions and materials for immediate implementation. Based on the author's experience of conducting this activity within an undergraduate setting, the author proposes that this activity helps to not only support comprehension, but also alleviate the stress that novice special education teachers often feel in regards to IEP documentation and meetings.
Keywords: teacher preparation, role play, simulation, collaboration
NASET Members- Login to Access the Full Article
---
Fostering Self-Advocacy Skills Across All Grade-Levels: Defining Self-Determination for Students with Disabilities
By Marissa Desiree Pardo
Abstract
Self-Advocacy is the action of representing or defending oneself, especially considering one's views, interests, or goals ("Topics - Self-Advocacy.," n.d.). Throughout elementary school, middle school, and high school, students are provided with age-appropriate opportunities to self-advocate for themselves (Morin, 2019). These opportunities and skills culminate until the transition period begins during high school and into adulthood.
NASET Members - Login to Access the Full Article
---
Retaining Special Education Graduate Students in Times of Transition
By
Karen M. Potter, Ph.D.
Randa G. Keeley, Ph.D.
Breanna L. Sherrow, Ph.D.
Note: Article retriened from the Journal of the American Academy of Special Education Professionals, Winter 2021 edition
Abstract
This paper examines special education graduate program retention data in connection with issues identified as affecting retention in higher education. We reviewed archival data for a three-year period to evaluate retention during a time of continual institutional and programmatic change. Descriptive data for four specific graduate strands in the participating program were examined through the consideration of student involvement, student interactions with faculty, and the disruption of established traditions. Through this examination, we found that retention rates remained stable over the three-year period, which may have been the result of several factors shown in retention literature to decrease student attrition.
Keywords: retention, attrition, graduate students, programmatic change, special education, higher education, student completion, student persistence
NASET Members - Login to Access the Full Article
---
Latest Employment Opportunities Posted on NASET
* Intermediate School District 917 is seeking an exceptional leader to serve as Superintendent - ISD 917 is one of four intermediate school districts in Minnesota created by the Minnesota Legislature in the late 1960s. The ISD 917 School Board was organized in March 1970, and is comprised of one board member from each of the nine member school districts. Currently, member districts include Bloomington, Burnsville-Eagan-Savage, Farmington Area, Hastings, Inver Grove Heights, Lakeville Area, Randolph, South St. Paul, and West St. Paul-Mendota Heights-Eagan Area. To learn more - Click here
* [2021-2022] Middle School Science Teacher - Through our commitment to rigorous academics, social-emotional learning, deep family and community engagement, and health and wellness, we create lifelong learners who are equipped to fulfill their vision of success in and out of the classroom. We dream big, as well, with an aggressive five-year plan to expand to serve 3,500 students across seven schools—growing our organization's impact and leveling the playing field for all children. To learn more - Click here
* SETSS (Special Education Teacher Support Services) Teacher - At Zeta, we pursue an unprecedented combination of high academic achievement and social-emotional development. We insist that every child receives a world-class education while fostering a love for learning. We are changing the public education landscape for all of New York City's children, and we are uncompromising in our mission. To learn more - Click here
* Special Education Teacher - $60,000/school year (185 days), summers off with year-round pay and year round appreciation. Special Education Teachers needed in Arizona (Phoenix and surrounding cities). Needs are in the self-contained and resource settings serving students with emotional disabilities (ED), Autism (A), Severe/Profound (S/P), and Intellectual Disabilities (ID). STARS is the largest school contract agency in AZ. You will be an employee and receive full benefits. To learn more - Click here
* Special Education Director - 15,000 student school district is looking for special education leader. 27J Schools is one of the fastest growing school districts in Colorado and located in the North Denver Metro Area - 30 minutes from Denver and Boulder and adjacent to Denver International Airport. The Director of Special Education is responsible for the leadership, supervision, guidance and support for all school support staff providing services to students with disabilities across special populations, including preschool. To learn more - Click here
* Special Education Teachers - All areas - We are looking for highly motivated and skilled talent to join our team at District of Columbia Public Schools (DCPS). We seek individuals who are passionate about transforming the DC school system and making a significant difference in the lives of public school students, parents, principals, teachers, and central office employees. To learn more - Click here
---
Acknowledgements
Portions of this or previous month's NASET's Special Educator e-Journal were excerpted from:
Center for Parent Information and Resources
Committee on Education and the Workforce
FirstGov.gov-The Official U.S. Government Web Portal
Journal of the American Academy of Special Education Professionals (JAASEP)
National Collaborative on Workforce and Disability for Youth
National Institute of Health
National Organization on Disability
Substance Abuse and Mental Health Services Administration
U.S. Department of Education
U.S. Department of Education-The Achiever
U.S. Department of Education-The Education Innovator
U.S. Department of Health and Human Services
U.S. Department of Labor
U.S. Food and Drug Administration
U.S. Office of Special Education
The National Association of Special Education Teachers (NASET) thanks all of the above for the information provided for this or prior editions of the Special Educator e-Journal
---
Download a PDF Version of This e-Journal
NASET Members - Login to Access