September 2020 - Special Educator e-Journal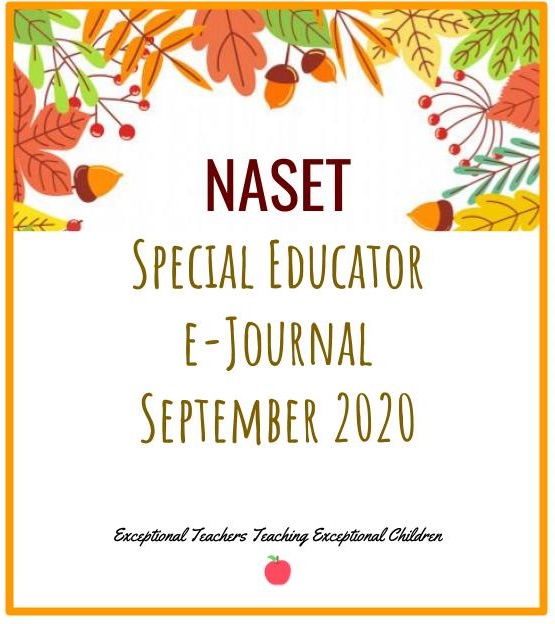 NASET Members - Login Below to access the latest Special Educator e-Journal.
Site visitors: You may access a sample e-Journal - Sample e-Journal
---
Special Education Legal Alert
By Perry A. Zirkel
© August 2020
This month's update concerns issues that were subject to recent court decisions of general significance: (a) transportation under a state open enrollment law, and (b) compensatory education and other relief from stay-put violation.
NASET Members- Login to Access the Full Article
---
Buzz from the Hub
All articles below can be accessed through login:
Planning for Equity and Inclusion: A Guide to Reopening Schools
Building Engagement with Distance Learning
A Guide to Equity in Remote Learning
Testing for COVID-19: What's Your State's Plan?
Talking to Very Young Children about Race
Anti-Racism Resource Directory for Families: Resources for Multiple Grade Levels
The Ultimate Parents' Guide to Summer Activity Resources
Parent Advocacy Toolkit for Equity in Use of COVID-19 Funds
COVID-19 Planning Considerations: Guidance for School Re-entry
Special Report | How We Go Back to School
Spanish-Language Webinar on the Transition to Kindergarten Amid COVID-19
The National Responsible Fatherhood Clearinghouse
What's Important to Native Youth?
Reinforcing Resilience: How Parent Centers Can Support American Indian and Alaska Native Parents
Bouncing Back from Setbacks: A Message for American Indian and Alaska Native Youth
Will Your Schools Re-Open? What's the Plan, Stan?
2020 Determination Letters on State Implementation of IDEA
Comparison Guide: Video Conferencing Tools for Your Nonprofit
Tech Soup Courses for Free!
Camp Kinda
How to Support Your Unique, Quirky Child
Video | The CDC Guidance on Reopening Schools, Explained
SAVE the DATE | Webinar on Monday, June 8th @ 3 pm EDT
NASET Members - Login to Access the Full Article
---
Use of Visual Performance Feedback to Increase Teacher Use of Behavior-Specific Praise among High School Students with Severe Disabilities
Michelle L. Simmons, Ed.D.
Robin H. Lock, Ph.D.
Janna Brendle, Ph.D.
Laurie A. Sharp, Ed.D.
Abstract
Behavior-specific praise has been deemed an effective, evidence-based positive behavioral intervention and support practice for use among high school students with severe intellectual disabilities. However, teachers are not adequately trained to use such practices with fidelity. One way to address this shortcoming is by implementing a performance feedback approach characterized with observations and consultations that provide visual performance feedback. Using a changing criterion research design, the present study evaluated the effect of a performance feedback approach to increase a high school teacher's use of behavior-specific praise among students with severe disabilities. Results showed significant increases with the teacher-participant's use of behavior-specific praise and mixed trends with the student-participants' exhibition of challenging and replacement behaviors. A discussion of reported results was provided, along with implications for stakeholders in teacher preparation programs and high school contexts. Limitations and areas for future research were also addressed.
Keywords: behavior-specific praise, severe intellectual disabilities, high school students, challenging behaviors, replacement behaviors
NASET Members- Login to Access the Full Article
---
The Changing Role of the Itinerant Teacher of the Deaf: A Snapshot of Current Teacher Perceptions
Holly F. Pedersen, Ed.D.
Minot State University
Karen L. Anderson
Supporting Success for Children with Hearing Loss
Abstract
The past two decades have seen unprecedented changes to the field of deaf education. Several factors including technological advances and educational policy have resulted in the inclusion of the majority of students who are deaf or hard of hearing in the general education classroom with various levels of support services. Consequently, the role of the professional educator of the deaf has changed to the itinerant teaching model as the primary service delivery system in deaf education in the nation today. Because this role for teachers of the deaf is evolving, ongoing research is necessary to identify emerging trends, successes, and potential barriers to ensure effective service provision to students who are deaf or hard of hearing. This study sought to obtain a current picture of the roles and responsibilities of the itinerant teacher of the deaf (ITOD) via an electronic survey conducted through postings on a well-known professional website. Participants were 267 itinerant teachers of the deaf. Survey results support previous findings that lack of awareness of the needs of this population of students and lack of time due to increasing caseloads are barriers to service provision. Teachers reported being better prepared for the itinerant role in their preservice program than in past studies, and the use of mentorship appears to be an emerging teacher support strategy. Results supported the adequacy of the itinerant model in supporting students who are above, at, or within 6 months of grade level expectations, with increasing concerns about the ability to provide adequate levels of support to students in inclusive settings with greater educational delays via the itinerant model. Implications for these findings for the field as well as potential questions for future research on this topic are discussed.
Keywords: itinerant, deaf education, survey, service delivery model
NASET Members - Login to Access the Full Article
Book Review: Leading With Intention: 8 Areas for Reflection and Planning in Your PLC at Work
By Dawn M. Denton
"Our great desire is to support, coach, and encourage others and share what we have learned" (Spiller & Power, 2019, p. v). The authors of, Leading With Intention: 8 Areas for Reflection and Planning in Your PLC at Work, do exactly that in this work about implementing Professional Learning Communities in schools.
Jeanne Spiller and Karen Power have been employed as teachers, administrators and superintendents, and share their knowledge and experience with leaders who wish to improve their schools. Their passion for effective leadership is evident throughout the book. Their belief in the use of PLC as the best means for improving schools is supported by examples, applicable ideas and reproducible tools to assist readers in creating personalized goals and plans for implementation.
NASET Members - Login to Access the Full Article
---
Book Review: If You Don't Feed the Teachers, They Eat the Students!
By Jovana Maximilien Berrouet
This book is for anyone who believes that teaching is an essential profession and is filled with tools, recipes, and advice for any leader. It reminds leaders to self-reflect and forces them to understand what it means to be a great leader. Significant points in the book include having a compelling vision and mission, possessing excellent communication skills, employing patience, kindness, and passion daily, taking care of yourself, never stop dreaming and imagining and putting the staff and students at the heart of all you do.
NASET Members - Login to Access the Full Article
---
Book Review: Smart Leaders Smarter Teams: How You and Your Team Get Unstuck to Get Results
By Sarojanie Samlal
Abstract
The mindset of the leader is key to the success of the team; this is the jist of what Roger Schwarz explains in his book, Smart Leaders Smarter Teams: How You and Your Team Get Unstuck to Get Results. Schwarz is a recognized thought leader in team leadership and improving team effectiveness. He achieves this by helping leaders change from a unilateral control mindset to a mutual learning mindset. This approach results in higher quality decisions, shorter implementation time, and a greater commitment and trust from team members. Schwarz has found that while 98% of leaders "espouse openness, cooperation and the sharing of accountability between peer members of a team" their actions "seem to be guided by the opposite mindset" (Schwarz, 2016, p. 6).
Since team members should all be viewed as leaders, the mutual learning mindset can be applied to a singular leader as well as a team. Schwarz dedicates an entire chapter to dealing with common team challenges by using the mutual learning approach and drives home his message that all leaders must change from a unilateral control mindset to a mutual learning mindset in order to improve results.
NASET Members - Login to Access the Full Article
---
---
Latest Employment Opportunities Posted on NASET
* Special Education Teacher - $60,000/school year (185 days), summers off with year-round pay and year round appreciation. Special Education Teachers needed in Arizona (Phoenix and surrounding cities). Needs are in the self-contained and resource settings serving students with emotional disabilities (ED), Autism (A), Severe/Profound (S/P), and Intellectual Disabilities (ID). STARS is the largest school contract agency in AZ. STARS is owned and operated by Occupational Therapists. You will be an employee and receive full benefits - To learn more - Click here
* Special Education Teacher (Chicago) - I've just been retained by Bennett Day School (one of Chicago's top-ranked private schools) to identify an outstanding Learning Resource & Special Ed Teacher. To learn more - Click here
* (Remote) Special Education Teacher - Special Education Teacher provide instruction, support and guidance, manage the learning process, and focus on students' individual needs as defined by each student's IEP. The special education teacher is also responsible for the compliance documents required in serving students with special needs. To learn more - Click here
* Early Childhood Specialist - Willamette Education Service District is accepting applications for multiple full-time (1.0 FTE) EI/ECSE Specialist positions with the Special Education Department's Early Intervention/Early Childhood Special Education (EI/ECSE) program. The positions are for the 2020-2021 school year and may be based in Marion, Polk and/or Yamhill County. Successful candidates will will follow a 190-day calendar and will begin on August 21, 2020. To learn more - Click here
* Special Ed Teacher - The Home at Walpole seeks a Special Education Teacher for their Massachusetts Chapter 766 Special Education School, Clifford Academy. Clifford Academy provides a year-round engaging and comprehensive program focused on education, career development, recreation/fitness, and an individualized therapeutic approach.Under direction of a Principal, participate in the implementation of individualized educational programs for special needs children at varying academic levels. To learn more - Click here
* Executive Director of Special Education - Garland ISD seeks an Executive Director of Special Education with the following qualifications, Master's Degree, Special Education Certification, Principal/Mid-Management Certification, three (3) years' teaching experience; special education preferred, experience in successful leadership role at the District or State level, earned or in progress doctorate. To learn more - Click here
* Special Education Teacher - Is sought who demonstrates a commitment to the success of all SLA students and specifically to raising the academic achievement of children in high-poverty communities and/ or children with special needs. Has a desire to grow professionally and seek out new opportunities to learn; and integrity and clarity in all communications and interactions. To learn more - Click here
* Special Education Teacher - We are looking for highly motivated and skilled Special Education teachers to join our team at District of Columbia Public Schools (DCPS). DCPS serves more than 51,000 students through the e?orts of approximately 4,000 educators in 117 schools. DCPS intends to have the highest-performing, best paid, most satis?ed, and most honored educator force in the nation and a distinctive central o?ce sta? whose work supports and drives instructional excellence and significant achievement gains for DCPS students. To learn more- Click here
Acknowledgements
Portions of this or previous month's NASET's Special Educator e-Journal were excerpted from:
Center for Parent Information and Resources
Committee on Education and the Workforce
FirstGov.gov-The Official U.S. Government Web Portal
Journal of the American Academy of Special Education Professionals (JAASEP)
National Collaborative on Workforce and Disability for Youth
National Institute of Health
National Organization on Disability
Substance Abuse and Mental Health Services Administration
U.S. Department of Education
U.S. Department of Education-The Achiever
U.S. Department of Education-The Education Innovator
U.S. Department of Health and Human Services
U.S. Department of Labor
U.S. Food and Drug Administration
U.S. Office of Special Education
The National Association of Special Education Teachers (NASET) thanks all of the above for the information provided for this or prior editions of the Special Educator e-Journal
---
Download a PDF Version of This e-Journal
NASET Members - Login to Access