May 2020 - Special Educator e-Journal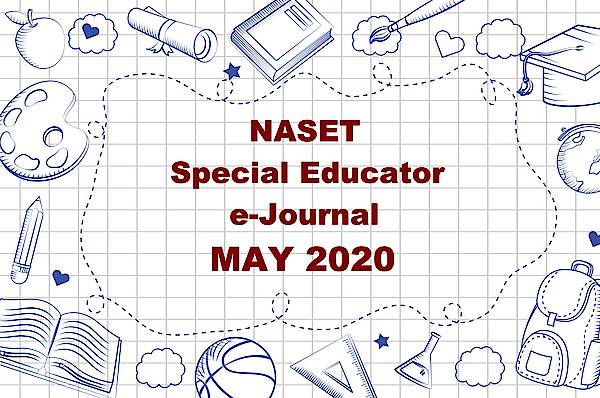 NASET Members - Login Below to access the latest Special Educator e-Journal.
Site visitors: You may access a sample e-Journal - Sample e-Journal
---
Special Education Legal Alert
By Perry A. Zirkel
© April 2020
This month's update concerns two issues that were subject to recent, published federal appeals court decisions of general significance: (a) tuition reimbursement under the IDEA, and (b) over-identification of "504-only" students for unwarranted accommodations. For further examination of such issues, see Publications section at perryzirkel.com
NASET Members- Login to Access the Full Article
---
Buzz from the Hub
All articles below can be accessed through login:
Keeping the Balance
Coronavirus Resources
Guidance from the U.S. Department of Education (and Others)
COVID-19 Info in Other Languages or Formats
Telecommuting Technology and Tips
Tips for Working Remotely
Schooling at Home
Coping Tips and Other Useful Info
NASET Members - Login to Access the Full Article
---
Characteristics of Effective Parent-Teacher Communication: A Literature Review
By Sarah M. Lane
Abstract
The purpose of this literature review is to discuss key characteristics of and issues in effective communication between teachers and parents of students with disabilities. A review of the literature showed that there are many considerations that go into parent-teacher communication that can determine its effectiveness. Some of the common factors found in the reviewed research that affected the quality of communication, positively or negatively, were possession of information, extent of understanding, and ideas held about the topic or person. These factors were common with both parents and teachers. For the purpose of this literature review, the characteristics and issues found in the research have been categorized as comprehension, openness and purposefulness, and preconceptions and misconceptions.
NASET Members- Login to Access the Full Article
---
Challenges Parents/ Guardians Encounter when Advocating for a Child in Special Education
By Julianne Ramos
Abstract
The challenge's parents and/or guardians face when trying to advocate for their child in special education are countless. Time after time parents come into Individualized Education Plan meetings; also known as IEP meetings, with choices already made for them and left with little to no time to clarify any misconceptions. Parents are looked on as onlookers sitting in to be informed rather than active participants in making choices for their child. This journal article goes into some challenge's parents face as advocates of students in special education: lack of resources, no reliable support, and little to no parental input. Studies have been done to show that parental involvement is imperative in a child's education, especially those in special education which is why changes need to be made as to how these parents are involved and supported.
Keywords: Transition, deaf, hard of hearing, minority, postsecondary education.
NASET Members - Login to Access the Full Article
The Impact of Parent Involvement in Meeting the Needs of Culturally and Linguistically Diverse Students with Disabilities
By Mirel Saban
Abstract
To families who are culturally and linguistically diverse (CLD), meeting the needs of their children with disabilities can be difficult due to the challenges they encounter every day. This can result in the lack of parental involvement and have detrimental to the developmental and educational growth of children with disabilities. Without the guidance of their parents, student advocacy, academic progress, and parent and teacher collaboration, CLD students may not have their needs appropriately met and are likely to be left to have no one to defend them.
NASET Members - Login to Access the Full Article
---
Parental Involvement of Students with Disabilities and Participation in the Individualized Education Plan (IEP) Process
By Altrese T Mays
Abstract
All around the county, you are bound to be in proximity of different people, backgrounds and abilities. One can hope that the interaction is smooth, effortless, and pleasant. With that in mind, have you ever been in a situation with a teacher or staff member that left you feeling frustrated and stressed? Not all interactions are positive and unfortunately it has caused parents to 'proceed without' when annual IEPs are due. For those that do attend, they either yell to get their point across or are quick to sign off on documents to end the tragedy. Due to barriers such as scheduling, cultural differences, terminology, just to state a few, are common reasons why parents are uncomfortable during the IEP process. Thanks to new research and studies, we can figure out triggers that stimulate uncomfortable meetings and ways to facilitate appropriate interactions that will encourage more parental involvement.
NASET Members - Login to Access the Full Article
---
Book Review: Mentoring Novice Teachers: Fostering a Dialogue Process
By Yolanda S. Stevens
Abstract
Mentoring is an effective way to train new teachers and it has been proven to be impactful in reducing teacher attrition. Both teachers and school leaders such as school principals benefit a great deal from the research-based activities that coincide with the mentoring process. This book review will include this writer's brief thesis on the role of mentoring as an effective school leadership strategy, Debra Eckerman Pitton's thesis concerning mentoring novice teachers, background information on the author and book, the main themes addressed in her book, key quotes from the book, strong and weak arguments found in Pitton's book and a comparison and contrast of Pitton's theories to those found in Michael Fullan's book entitled Leading in a Culture of Change.
Keywords: Coherence-Making, Dialogue, Graphic Organizers, Knowledge Sharing
NASET Members - Login to Access the Full Article
---
Book Review: Lead Like a PIRATE: Make School Amazing for Your Students and Staff
By Kellyn Juarez
Lead Like a PIRATE Book Review
Shelley Burgess began her journey as a principal in 2003 during the early stages of the No Child Left Behind era. Prior to becoming a principal, she had worked in a seventh through twelve grade school where her colleagues knew what she was capable of. In 2003 she made the transition into e Pre-K through six grade school where she didn't know anyone, and no one knew her or what she had to offer. At this new school, the staff members where going through a lot of changes. The Assistant Principal job had been eliminated due to budget cuts and not everyone was delighted that Shelley was the new principal. This was proven when a teacher who was part of the interview committee told Shelley that she didn't agree to her being hired because she believed the school needed a strong Latino man who was going to shape and change the school.
NASET Members - Login to Access the Full Article
---
Book Review: Leadership is an Art
By Kellee Endara
Leadership is an Art Book Review
Born October 28, 1924, Max De Pree was an American businessman and founder of the Herman Miller office furniture company. It is one of the largest American companies worldwide. This company gained its success in the 1960's. His motto was "all voices are heard". In his earlier years, he had inspiration to become a doctor but unfortunately that changed due to World War II. When his military service put some of his plans on hold, he had no choice but to delay his graduation from college. He was able to do this in 1948.
NASET Members - Login to Access the Full Article
---
Book Review: The Human Side of Changing Education
By Leah Abouganem Cedeno
Wilson, J.M. (2018). The human side of changing education: how to lead change with clarity, conviction and courage. Thousand Oaks, CA: Corwin. ISBN: 978-1506398532
In the Human Side of Changing Education, Julie M. Wilson elaborates on how education leaders can make sense of change, embrace the journey and implement it effectively utilizing human-centered tools resources and studies. She focuses on the imperative need to redirect schools from the industrial model of education towards one that serves the real needs of the students. She provides questions for reflection and action, notes, and surveys to evaluate the process throughout the book. Julie M. Wilson is a successful coach and advisor to school leaders, institutions and foundations focused on shaping the K-12 education system. She is the founder and executive director of the Institute for the Future of Learning, a foundation that aims to the transformation of the education system.
NASET Members - Login to Access the Full Article
---
Latest Employment Opportunities Posted on NASET
* Teacher-Special Education - Tacoma Public Schools is looking for exceptional special education professionals ready to inspire and make a positive impact on students. Our special education program serves approximately 4,000 students from preschool through high school; serving ages three to twenty-one. Specially designed instruction and related services are based upon the need of each student. To learn more - Click here
* Principal New York Institute for Special Education - The ideal candidate will be a well-respected special educator with experience teaching the blind and visually impaired who possesses knowledge of students with emotional disabilities and who, preferably, has administrative experience at the departmental or building level. A proven instructional leader who will maintain a safe and healthy school environment that is conducive to learning. To learn more - Click here
* Upper Division Learning Specialist - Casady School, will be expected to collaborate with the Student Support Services Team to provide assistance and resources for students with learning and behavioral differences, & Consult with the Upper Division problem solving team to review supports and monitor the progress of students with learning and behavioral differences. To learn more - Click here
* Special Education Teacher - Under the direction of the building principal and special education director, the special education teacher will develop and provide specialized instruction to meet the individual and unique needs of students with disabilities, evaluate and assess student progress based on instructional goals and objectives, and adhere to federal and state statutes and regulations governing special education services. To learn more - Click here
* Executive Director - The Timothy School is the oldest Approved Private School in Pennsylvania devoted exclusively to teaching students with autism. Its instructional program, widely considered one of the best in the region, provides students with the communication, social, cognitive, and life skills necessary to enable them to function effectively and as independently as possible in the least restrictive environment. To learn more - Click here
* Director of Academic Support - As program director, assist with school admissions and develop plans based on IEP/Psychological evaluation for students with mild learning disabilities, and or students with ADD/ADHD. Limited academic evaluations. Must consult regularly with teachers, students, parents, and administrators regarding the development of interventions for students demonstrating learning and/or behavioral challenges. To learn more - Click here
* Special Education Teacher - The Moffat County School District is looking for a motivated, caring, and enthusiastic persons to fill Special Education Teacher positions on the Elementary and Secondary level for the 2020-2021 School Year. Along with parents and classroom teachers the Special Education teacher will assess students' skills to determine their needs to develop and implement Individualized Education Programs for each student based on their specific needs and abilities.To learn more - Click here
* Special Education Teacher - Stars is seeking Special Education Teachers in Arizona (Phoenix and surrounding cities). With a proven track record, STARS is able to offer you an unbeatable support system and resources. We are hiring for the 2020-2021 school year. STARS places Special Education Teachers throughout the Phoenix, Tucson and the surrounding area public schools. to learn more - Click here
Acknowledgements
Portions of this or previous month's NASET's Special Educator e-Journal were excerpted from:
Center for Parent Information and Resources
Committee on Education and the Workforce
FirstGov.gov-The Official U.S. Government Web Portal
Journal of the American Academy of Special Education Professionals (JAASEP)
National Collaborative on Workforce and Disability for Youth
National Institute of Health
National Organization on Disability
Substance Abuse and Mental Health Services Administration
U.S. Department of Education
U.S. Department of Education-The Achiever
U.S. Department of Education-The Education Innovator
U.S. Department of Health and Human Services
U.S. Department of Labor
U.S. Food and Drug Administration
U.S. Office of Special Education
The National Association of Special Education Teachers (NASET) thanks all of the above for the information provided for this or prior editions of the Special Educator e-Journal
---
Download a PDF Version of This e-Journal
NASET Members - Login to Access