March 2020 - Special Educator e-Journal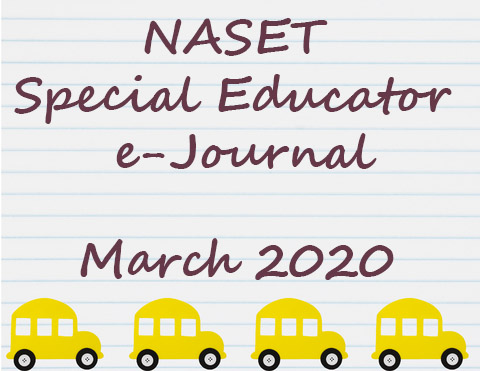 NASET Members - Login Below to access the latest Special Educator e-Journal.
Site visitors: You may access a sample e-Journal - Sample e-Journal
---
Special Education Legal Alert
By Perry A. Zirkel
© February 2020
This month's update concerns issues that were subject to recent, unpublished federal court decisions of general significance: (a) the appropriateness of a district's evaluation in the context of the parents' request for an independent educational evaluation (IEE) at public expense, (b) the reasonableness of attorneys' fees in liability litigation for alleged public school physical abuse of students with disabilities. For further examination of both of these issues, see Publications section at perryzirkel.com
NASET Members- Login to Access the Full Article
---
Buzz from the Hub
All articles below can be accessed through login:
Keeping the Keys to Your Parent Center

How to Request a Special Education Assessment

Consent and Kids with Disabilities

Person-Centered Career Planning Exercise

Webinar | Cultural Competence: What it Means for Person-Centered Thinking, Planning, & Practice

On The Outs: Reentry for Inmates with Disabilities
NASET Members - Login to Access the Full Article
---
Utilization of Paraprofessionals in Special Education: Challenges and Benefits
By Jeanne Dagna, Ed.D.
Immaculata University
Abstract
This paper explores the benefits and challenges of utilizing paraprofessionals as support for students in both general and special education classroom settings. Etscheidt (2005) expounded upon the concerns that, despite the wide staffing use, paraprofessionals are extremely under-trained and lack the formalized training necessary for the roles they are asked to perform. Giangreco, Suter, and Doyle (2010) contend that the unintended negative outcomes of using paraprofessionals in the classroom often out-weigh the potential benefits. Myriad legal cases discussed the ways in which the use of paraprofessionals can be legally challenged and shared the wide-range of concerns related to the use of paraprofessionals to support students in general and special education. Although articles vary regarding the levels of support and/or concern for utilizing this staffing method, most concur that if utilized carefully and reassessed often, these paraprofessional supports can prove beneficial.
NASET Members - Login to Access the Full Article
---
Book Review: Relentless: Changing Lives by Disrupting the Educational Norm
By Stephanie Estrada
As a child growing up in New Zealand, Hamish Brewer never saw his life as that out of the ordinary. He was part of a family that he considered not to have much, but that had enough to make financial ends meet. At a young age, he did not see any error in his upbringing, but as he transitioned into adolescence, he began to notice the abundance of drug and alcohol use in his home as something that was not only abnormal, but dangerous. While the situation felt uncontrollable as someone who was not yet an adult, he noticed the way his life around him slowly came crumbling as his mother eventually left his father, forcing him to take up odd jobs in order to keep food on the table at home. To further this turmoil, this father eventually battled depression during this time of adveristy, going so far as to attempt an unsuccessful suicide. While some assume that as a result of this Brewer may have found school as a safe haven, he notes that it was quite the opposite, as he often found schooling tedious and oppressive in nature.
NASET Members - Login to Access the Full Article
---
Hacking Leadership: 10 Ways Great Leaders Inspire Learning That Teachers, Students, and Parents Love
By Melissa A. Johnson
It can be assumed that every leader aspires to be a great one, but what exactly does a "great leader" exemplify? More specifically, what would a great leader look like within the context of education? Authors Joe Sanfelippo and Tony Sinanis coauthored "Hacking Leadership: 10 Ways Great Leaders Inspire Learning That Teachers, Students, and Parents Love". The two authors who are well versed in education (both working as educators, administrators, and later as superintendents) address some of the common issues today's school leaders face, and provide "hacks", or unique solutions to these issues in practical and easy to implement ways. A main recurring theme is for educational leaders is to remain visible, present, and engaged-this hack is an essential part of the book and critical for any aspiring leader. To start, the authors suggest leaders "Make one consistent change at a time until it becomes a habit in your practice" (p. 20).
NASET Members - Login to Access the Full Article
---
The ABCDEs: Five Considerations for Educating Homeless Students with Disabilities
By Brian Cavanaugh, Ed.D.
University of Maine Farmington
Abstract
This article provides a research-based discussion of the education of students who are homeless and also have disabilities. First, an overview of homeless students is provided, including recent data and legal requirements of the education of homeless students. Then, practical considerations for special educators working with students with disabilities experiencing homelessness are discussed.
NASET Members - Login to Access the Full Article
---
Book Review: Culturize: Every Student. Every Day. Whatever it Takes
By Jimmy Casas
Introduction
In a school culture that thrives for change, Jimmy Casas delivers a book about morally structuring a plan that develops leaders at every level. The development of the book begins by defining the term "culturize", leadership and more. While strategically sharing personal experiences, Casas manages to captivate an audience ready to make a change that begins with self. By providing emphasis on the power of building a community of learners, Casas raises interesting insight on what it's like to be a struggling student and how to address like students. Casas believes every individual is a leader, which is a belief he securely explores.
NASET Members - Login to Access the Full Article
---
General Educator Perceptions of School Support in Teaching Students with an IEP
By Faith Kenny
Manhattanville College
Abstract
Historically, researchers have focused on the perceptions of special education teachers regarding inclusion. Research has shown that general education teachers who feel supported by their schools provide better classroom experiences for all students (Hwang and Evans, 2011). This study expanded upon this thinking by asking general educators what they felt were the most beneficial supports in meeting the needs of students with an Individualized Education Plan (IEP). Results indicated that general education teachers viewed their ability to meet the needs of diverse learners positively. Respondents felt they had a positive relationship with special education teachers, even though little collaborative planning time was given Respondents additionally affirmed that smaller class size, more paraprofessional assistance, and more individual planning time were needed. These findings powerfully suggest that general educators value collaborative and individual planning time to meet the needs of their students. Overall, this study provides tangible ways that school administrators can provide desired support to general education teachers.
NASET Members - Login to Access the Full Article
---
Latest Employment Opportunities Posted on NASET
* Special Education Teacher - Ascend is a network of K-12 public charter schools serving 5,500 students in 15 schools across Brooklyn—New York's most populous borough. Our undertaking is to lead all students on a great intellectual adventure, provide them with an exceptional college preparatory education, and place them firmly on the path to success in college and beyond. To learn more - Click here
* Diverse Learning Teacher/Special Education - The primary responsibilities of the Special Education Teacher are to maintain quality services in accordance with state/federal guidelines and ensuring that instruction, modifications, etc. for students with special needs are being implemented consistently. An ideal candidate is someone who has a proven record of success and is committed to maintaining high expectations for students. To learn more - Click here
* 2020-2021 Classroom Teachers (PreK-12th) - Founded in 2013, InspireNOLA Charter Schools is currently the highest performing charter school management organization in New Orleans. InspireNOLA operates seven public charter schools and serves more than 5,000 students in Pre-Kindergarten through 12th grade. To leern more - Click here
* Bilingual Diagnostician - Bilingual Diagnostician sought by White Settlement Independent School District in White Settlement, TX. Select and administer formal and informal assessments to determine student eligibility for special education services according to federal and Texas Education Agency regulations. Requires travel to other US offices as needed. To learn more - Click here
* Special Education Teacher (SPED) - As part of our mission to pave the way for children's success worldwide, Therapy Source is currently seeking several full or part-time Special Education Teachers (SPEDs) to provide services for charter school students with various caseloads. This position is for the remainder of the 2019/2020 school year. Excellent compensation. To learn more - Click here
* Teacher (10-month) SY 2020-21 - As part of a comprehensive reform e?ort to become the preeminent urban school system in America, DCPS intends to have the highest-performing, best paid, most satis?ed, and most honored educator force in the nation and a distinctive central o?ce sta? whose work supports and drives instructional excellence and signi?cant achievement gains for DCPS students. To learn more - Click here
* Special Education Teacher - Stars is seeking Special Education Teachers in Arizona (Phoenix and surrounding cities). With a proven track record, STARS is able to offer you an unbeatable support system and resources. We are hiring for the 2020-2021 school year. STARS places Special Education Teachers throughout the Phoenix, Tucson and the surrounding area public schools. to learn more - Click here
* 2020 Arizona Education Job Fairs - The Arizona Department of Education will be hosting the 2020 Arizona Education Job Fairs. Arizona public schools will be looking for administrators, teachers, related service providers, and support staff. To learn more - Click here
* The Newark Board of Education is Hiring Now! - Newark Board of Education (NBOE) is now accepting applications for Special Education Teachers for the 2020-21 school year and still has openings for the 2019-20 school year. Certified teachers, career changers, and recent graduates should apply by January 31 for early priority for the 2020-21 school year, and as soon as possible for consideration for the 2019-20 school year. To learn more - Click here
Acknowledgements
Portions of this or previous month's NASET's Special Educator e-Journal were excerpted from:
Center for Parent Information and Resources
Committee on Education and the Workforce
FirstGov.gov-The Official U.S. Government Web Portal
Journal of the American Academy of Special Education Professionals (JAASEP)
National Collaborative on Workforce and Disability for Youth
National Institute of Health
National Organization on Disability
Substance Abuse and Mental Health Services Administration
U.S. Department of Education
U.S. Department of Education-The Achiever
U.S. Department of Education-The Education Innovator
U.S. Department of Health and Human Services
U.S. Department of Labor
U.S. Food and Drug Administration
U.S. Office of Special Education
The National Association of Special Education Teachers (NASET) thanks all of the above for the information provided for this or prior editions of the Special Educator e-Journal
---
Download a PDF Version of This e-Journal
NASET Members - Login to Access