July 2019 - Special Educator e-Journal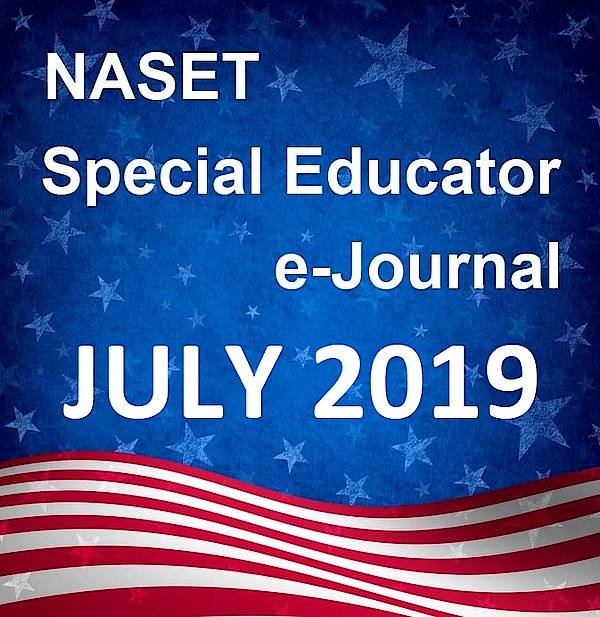 NASET Members - Login Below to access the latest Special Educator e-Journal.
Site visitors: You may access a sample e-Journal - Sample e-Journal
---
Special Education Legal Alert
By Perry A. Zirkel
© June 2019
This month's update identifies two new federal appeals court decisions focusing on the substantive dimension of FAPE, with secondary attention to interrelated requirements, such as LRE and transition services. Publications relating to both of these issues are available on my website perryzirkel.com.
NASET Members- Login to Access the Full Article
---
Buzz from the Hub
All articles below can be accessed through login:
Intervening to Prevent a Dropout | Video
Young Children Exposed Prenatally to Substances
Federal Data and Resources on Restraint and Seclusion
Students Most at Risk of Getting Spanked at School Are Black or Disabled, Data Show
Improving Federal Programs that Serve Tribes and Their Members: High Risk Issue
A Year in the Life 2018: Parent Centers in Action | Here's the infographic CPIR produced after
Reinforcing Your Child's IEP Goals Over the Summer
Living with Spina Bifida: Series
NASET Members - Login to Access the Full Article
---
Involving Immigrant Families of Children with Disabilities: A Review of the Literature
By Luz Arevalo
Abstract
This is a review of the literature of five articles that includes information about immigrant families of children with disabilities. The researcher discussed ways to involve immigrant families to advocate for their child with disability using strategies. Along with an explanation on why it is vital to involve immigrant families in their child's special educational life.
NASET Members - Login to Access the Full Article
---
Maternal Asthma vs. Child Autism
By Sydney Eason
Autism Spectrum Disorder is a developmental disorder that restricts communication and/or social interactions. Children with autism are typically not diagnosed until around 18 to 24 months of age; however, autism can be diagnosed as early as 6 to 12 months. Autism is a disability that has no cure, and whose cause is not completely understood. It is thought that genetic and environmental factors combined both have an effect on the formation of the disability. Asthma is defined as a respiratory condition caused by spasms in the lungs, making it hard to breathe. Although there has been no definitive research connecting asthma and autism, it is possible that the two are connected. There have been links between parental asthma during pregnancy and offspring with autism spectrum disorder (Gong T. Lundholm, C. Rejnö, G. Bölte, S. Larsson, H. D'Onofrio, B. M. Almqvist, 2019). This study will review multiple articles based on autism spectrum disorder and how genetic and environmental factors contribute to the cause of this increasingly expanding disability.
NASET Members - Login to Access the Full Article
---
Comparing: The End of Molasses Classes and Leading a Culture of Change
By Amanda A. Fernandez
Abstract
Children with special needs are unique, curious, creative, and many more adjectives in the English language. Parents are to children with special needs carry a huge burden when helping to raise their child. Not only do they have to learn how to care for them but they also need to learn to be an advocate for their child as they move through the education system. Parents need to be aware of their students' rights and what they can do to help them have a successful school experience.
Keywords: advocacy, special needs, student's, involvement
NASET Members - Login to Access the Full Article
---
Voucher Programs and the Florida McKay Scholarship: Article Review
By Luz Herrera
Abstract
In 1860 the states of Maine and Vermont enacted the first laws that permitted local school boards with a small student population to provide vouchers to students, so that they may attend other public or nonsectarian private school in neighboring communities rather than building the schools themselves (Eckes & Mead, 2016). In the 1990s state legislatures began to adopt vouchers and voucher like programs to create an educational marketplace rather than fund the public school districts. About 25 states today have one or more of these voucher or voucher like programs.
NASET Members - Login to Access the Full Article
---
Teaching Advocacy Skills to the Most Disadvantaged Parents of Children with Disabilities: A Literature Review
By Amairany Paniagua
Abstract
Every parent wants what is best for their child. Parents are often encouraged to participate in their child's education, and while some parents are happy to help their child, others struggle to help their child due to their disadvantaged backgrounds. Moreover, in the world of special education, parents must work with teachers, and other stakeholders to ensure that their child is receiving the appropriate services that they qualify for under the Individuals with Disabilities Act (IDEA). However, we must not think of parents as a project that we can fix, we need to think of them as valued members of a team. And instead of focusing on fixing parents, we as educators, administrators, and policy makers should focus on fixing a system that oppresses those that come from a disadvantaged background.
NASET Members - Login to Access the Full Article
---
A Follow-Up Study of the Graduates of an Urban Teacher Preparation Program: Career Patterns and Perspectives of Elementary and Secondary Mid-Career Special Education Teachers
By
Deborah L. Voltz
Tondra Loder-Jackson
Michele Sims
University of Alabama at Birmingham
Abstract
Teacher attrition is a commonly cited challenge in high-poverty, urban schools. Teacher preparation programs may have an important role to play in addressing this challenge. This paper presents the results of a follow-up study of the special education graduates of a teacher preparation program designed to recruit and prepare teachers for urban schools. The career patterns of these graduates over time, as well as their perspectives regarding urban teaching are examined. Differences with respect to those teaching in elementary versus secondary settings are explored. Findings indicated that the retention rate of study participants exceeded that of the teaching population in general. The interview responses of study participants were examined to determine their perspectives regarding their teacher preparation program and factors that they felt contributed to their longevity in urban teaching.
NASET Members - Login to Access the Full Article
---
---
Latest Employment Opportunities Posted on NASET
* Learning Specialist - Provides vision and direction for the Educational Support Services (ESS) Program by supporting students with different learning styles; supporting teachers in their efforts to advance students with different learning needs within the classroom; and working with parents, students, and outside professionals in order to better support the needs of the students. To learn more – Click here
* Special Education Teacher - Desert Choice Schools is looking for a Special Education Teacher or Teacher Intern at multiple locations including Buckeye, AZ - Tempe, AZ - Phoenix, AZ - San Tan Valley, AZ - Queens Creek, AZ and Yuma, AZ for the 2019/2020 school year. Being a special educator with Desert Choice Schools is unlike any other opportunity. To learn more - Click here
* Certified Special Education Teacher - Our client is seeking a Certified Special Education Teacher to assist children with special needs throughout several counties in North and South Jersey area schools. In this role you would be responsible to provide care to developmentally disabled children to promote emotional and social growth within a school setting. To learn more - Click here
* Special Education Teacher - We work to attract, empower and retain the finest therapists so that every human can manifest their full potential. We, TherapyTravelers, hold our (4) core values at high esteem, those being: Integrity, Being Exceptional, Teamwork, and Acknowledgement and Appreciation for great work. To learn more - Click here
* Special Education Teacher - Philadelphia, PA - The Invo-Progressus Team has incredible opportunities for Special Education Teachers…or, as we like to call them, Superheroes. If you use your super powers to help ensure that children have access to the best education possible in the least restrictive environment, we would love for you to join the Invo-Progressus team! To learn more - Click here
* Special Education Teacher - Chicago, IL - The Invo-Progressus team is comprised of some of the nation's most talented and influential education and therapy leaders all of whom have a keen understanding of how to meet the unique needs of school districts, children and families and help them succeed. We are currently seeking full and part-time Special Education Teachers in Chicago, IL to provide services in Chicago area schools. To learn more - Click here
* Chief Clinical Officer - Criterion Child Enrichment is conducting a search for a Chief Clinical Officer (CCO). Founded in 1985 as a not-for-profit organization, Criterion has served families for over 30 years and is a leading provider of early childhood education and early intervention services in Massachusetts. The Chief Clinical Officer will work in partnership with the agency's Chief Administrative Officer to oversee operation of programs fulfilling Criterion's Mission and Strategic Plans. To learn more - Click here
* Student Services Administrator - Monitors compliance with IDEA, ADA, OCR, CRDC, and other relevant Special Education and/or English learner regulations for the purpose of ensuring ECS schools are in compliance with federal and state regulations. Assist in the updating of all policies and procedures for ECS that adheres to mandates pertaining to English learners and students with disabilities. To learn more - Click here
* Special Education Teachers - Responsible for providing an educational atmosphere where students have the opportunity to fulfill their potential for intellectual, emotional, physical, spiritual and psychological growth. This person is responsible for organizing and implementing an instructional program that will maximize the learning experience of students with special needs. To learn more - Click here
Acknowledgements
Portions of this or previous month's NASET's Special Educator e-Journal were excerpted from:
Center for Parent Information and Resources
Committee on Education and the Workforce
FirstGov.gov-The Official U.S. Government Web Portal
Journal of the American Academy of Special Education Professionals (JAASEP)
National Collaborative on Workforce and Disability for Youth
National Institute of Health
National Organization on Disability
Substance Abuse and Mental Health Services Administration
U.S. Department of Education
U.S. Department of Education-The Achiever
U.S. Department of Education-The Education Innovator
U.S. Department of Health and Human Services
U.S. Department of Labor
U.S. Food and Drug Administration
U.S. Office of Special Education
The National Association of Special Education Teachers (NASET) thanks all of the above for the information provided for this or prior editions of the Special Educator e-Journal
---
Download a PDF Version of This e-Journal
NASET Members - Login to Access