August 2019 - Special Educator e-Journal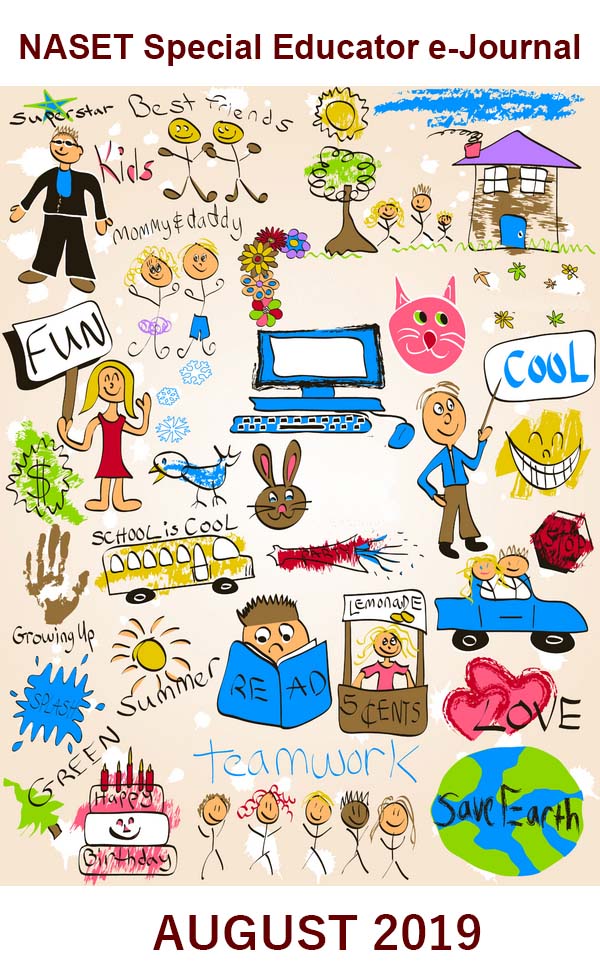 NASET Members - Login Below to access the latest Special Educator e-Journal.
Site visitors: You may access a sample e-Journal - Sample e-Journal
---
Special Education Legal Alert
By Perry A. Zirkel
© July 2019
This month's update concerns issues that were subject to recent federal appeals court decisions and are of general significance: (a) the application of Endrew F. and PRR, and (b) a surprising and puzzling wrinkle in tuition reimbursement jurisprudence. Both of these cases relate to other items available on my website perryzirkel.com.
NASET Members- Login to Access the Full Article
---
Buzz from the Hub
All articles below can be accessed through login:
Tips for Parents: Summer Provides Time to Reinforce Positive Behaviors at Home
14 Ways to Help Older Kids Build Motor Skills
Summer Reading with Bookshare
Why We Should Let Our Kids Be Bored
Intervening to Prevent a Dropout | Video
Young Children Exposed Prenatally to Substances
Federal Data and Resources on Restraint and Seclusion
Students Most at Risk of Getting Spanked at School Are Black or Disabled, Data Show
Improving Federal Programs that Serve Tribes and Their Members: High Risk Issue
A Year in the Life 2018: Parent Centers in Action
Reinforcing Your Child's IEP Goals Over the Summer
Living with Spina Bifida: Series
NASET Members - Login to Access the Full Article
---
Evaluation of "The Effects of Screen Media Content on Young Children's Executive Functioning"
By Samantha Beverly
Abstract
In this paper, the research article "The effects of screen media content on young children's executive functioning" will be analyzed. The author's research problem, measurement of the experiment, research design, sampling, data collection, data analysis and results will be discussed throughout this article analysis.
Keywords: executive functioning, screen media, educational applications, educational television, cartoons
NASET Members - Login to Access the Full Article
---
Establishing a Framework of Effective Communication with Families of Students from Diverse Cultures
By Alicyn Fifield
The United States is known to be one of the most culturally diverse countries in the world. Although this can add richness and strength to the country, it also can lead to errors in judgement because of a misunderstanding of cultural perspectives and norms. In education an error in judgement can cause a student to suffer academically and ultimately not reach his/her potential. This is an error that can be avoided when schools and families become educational partners and engage in effective communication practices for the benefit of the students being educated. It needs to be the goal of all educators to establish a community wherein they can engage in effective communication practices with families of all cultural backgrounds.
NASET Members - Login to Access the Full Article
---
Impact of Disability on the Families of Special Needs Students and Advocacy
By Carolina Fonseca
Abstract
Having a child can be one the greatest joys parents and families share throughout their lives. However, for some families, the joy quickly turns into fear, anxiety and confusion when they are told their child was diagnosed with a disability. Many emotions come into play when raising a child with special needs and this can impact families in many ways, including their involvement in their education and advocating for services. The research studied focused on the effects special needs children have on their families, the roles families play in advocating for their family members, the services provided to special needs children and the transitioning process. It is evident that students with special needs have a deep impact on their families and the roles they play as primary advocates and caretakers. However, there is conflicting data on whether families consider the impact to be negative or burdensome. Research conducted also seems to be limited to school age children and not on those transitioning into adulthood with aging parents. This warrants for further research on the impact that disability has on families of special needs students and parental advocacy, specifically those with aging parents.
NASET Members - Login to Access the Full Article
---
Comparing: The End of Molasses Classes and Leading a Culture of Change
By Deborrah L. Griffin
Abstract
With the passage of P.L. 94-142, also known as The Individuals with Disabilities Education Improvement Act (IDEIA), in November 1975, parents of children with disabilities were granted specific rights in regard to their children's education (Valle, 2011). The passage of IDEIA, should have improved the education needs of children with disabilities and ensured that parents have an active voice in their child's education. Unfortunately, parents today feel as though they are not able to fully advocate for their children and their educational rights. As educators, it is important to ensure that we are doing the best for the students and families we teach and come into contact with.
NASET Members - Login to Access the Full Article
---
Bridging the Opportunity Gap in Special Education: Mastering the Florida Alternate Achievement Standards Through the Use of General Education Resources in a 3rd-5th Grade Self-Contained Classroom for Students with Mild to Severe Intellectual Disabilities
By Marissa Desiree Pardo
Abstract
As special education practices have evolved over the course of recent decades under the Individuals with Disabilities Education Act (IDEA), many educators have sought to remedy the learning gaps that exist between students in general education and students in special education, particularly regarding students who are identified as having mild to severe intellectual or cognitive disabilities. Many methods have been introduced to close this gap, such as inclusion teaching methods, in which special education students spend most or all of their time in a general education classroom receiving assistance from a special education teacher, resource room teaching, a remedial and separate classroom in which students with educational disabilities are given specialized instruction in some content areas, and the self-contained or special separate classroom setting in which students with severe intellectual disabilities spend the entire day in the same classroom receiving specialized instruction from a special education teacher in all content areas. Despite the ever-evolving practices in the continuum of special education services being used to increase access to the grade-level text and curriculum for students with intellectual disabilities, minimal academic progress has taken place.
NASET Members - Login to Access the Full Article
---
The Significance and/or Effects of Parental Advocacy for Minorities and Students with Disabilities
By Loydeen Thomas
Abstract
Parent advocacy is the voice of the child with the inability, due to various factors, to make decisions, choices, and express views and opinions for themselves. This article focuses on the parents of minorities and children with disabilities and examines the parents' roles as advocates, the voices of children, giving them a chance to be heard. A study was conducted to parents of minorities and children with ASD to determine whether they feel they need to advocate for their child. Results suggest that the majority of parents of students who are considered ELLs do not feel the need to advocate for their child, as long as their child is happy
NASET Members - Login to Access the Full Article
---
---
Latest Employment Opportunities Posted on NASET
* Special Education Teacher - Newark Board of Education (NBOE) is now accepting applications for Special Education Teachers for the 2019-20 school year. Certified teachers, career changers, and recent graduates should apply today to be considered. Completing the central application will give principals the ability to access your resume and invite you to interview for open positions in your subject area. To learn more – Click here
* ESE Teacher - Pasco County Schools is looking for qualified individuals to join our team in providing a world-class education to all students. This highly rewarding work assists students with Autism to gain valuable social and vocational skills, achieve academic success via access points, and prepares students for a successful life transition. To learn more - Click here
* Special Education Teacher, Teaching Assistant - The California Montessori Project seeks both Special Education Teachers and Special Education Teaching Assistants. These postions are available at multiple locations in California. To learn more - Click here
* Math and Science Teacher - The Katherine Thomas School in Rockville, MD seeks to hire full-time high school Special Education Math and Science teachers for 2019/2020 school year. Responsibilities include: implement content area curricula, provide necessary accommodations to meet individual, group, and program needs, write and implement IEPs, create a supportive learning environment, implement Positive Behavior Interventions and Supports (PBIS) and create partnerships with parents and The Katherine Thomas High School Community. To learn more - Click here
* Chief Clinical Officer - Criterion Child Enrichment is conducting a search for a Chief Clinical Officer (CCO). Founded in 1985 as a not-for-profit organization, Criterion has served families for over 30 years and is a leading provider of early childhood education and early intervention services in Massachusetts. Each year the agency serves over 7000 families with a staff of over 400 through a program network that extends throughout the Commonwealth of Massachusetts. To learn more - Click here
* Rivermont Schools - Special Education TEACHER positions available! - Now is a great time to join Rivermont Schools. Currently offering a $2,000 sign-on bonus and reimbursement of relocation expenses for Special Education Teachers! Rivermont Schools are private, nonprofit, special education day schools with campuses across Virginia. Rivermont's mission is to help students learn to manage their behaviors so they can return to their home schools, graduate and become productive citizens. To learn more - Click here
* Lead Teacher - Cupertino Power Learning Academy is a private nonprofit school dedicated to equipping students with autism to build on their strengths, overcome their challenges and reach their full potential in a safe, supportive environment. The Lead Teacher is responsible for developing and delivering student instructional plans through small group and individual instruction. Responsibilities include training and directing a team of paraprofessionals and collaborating with a variety of special education and therapeutic professionals. To learn more - Click here
* Head Teacher - Integrated nursery school in Riverdale looking for a head teacher for a Threes Class. Hours are 8:30 to 12:15 Monday through Friday. Must have certification in early childhood education and preferably a masters degree in special education (or in progress). To learn more - Click here
* Special Education Teacher -Performs responsible professional instruction to students receiving special education; develops and carries out the provisions of an
Individualized Education Program (IEP); does related work as required. Work is performed under general supervision. To learn more- Click here
* Special Education Teacher (Multiple Openings) -We are recruiting for several Special Education Teachers in Southwest Washington state for the 2019-20 school year. All positions are full time, 184 contract days, school year schedule. We provide a professional yet family-friendly work environment. To that end, our benefits are designed to meet the individual needs of our employees and their families. Full-time or part-time positions working at least 20 hours per week are eligible for our standard package of benefits. To learn more- Click here
* Director of Pupil Services and Special Education- The Delaware County Intermediate Unit (DCIU) is pleased to conduct the Director of Pupil Services and Special Education search on behalf of the Chester Upland School District (CUSD). The Director of Pupil Services and Special Education shall perform those central office duties necessary to support the overall instructional mission of the school district. Departmental responsibilities include services provided to all district buildings, hospitalization programs and other outside agencies. To learn more- Click here
* Early Childhood Educational Diagnostician/Assessor - is responsible for accurately assessing a child's needs after s/he is referred to Early Stages through the administration of the appropriate screenings and educational assessments. The Coordinator functions as part of a multi-disciplinary team that collaborates to determine eligibility for special education services and is responsible for leading the team's collaboration and composing IEPs for children with special needs. To learn more- Click here
* Director of Education - At Kennedy-Donovan Center (KDC), everything that we do is tied to our mission. No matter your role at KDC, we are all working together to support individuals with developmental delays, disabilities, or family challenges to pursue their personal potential and success in the community. To learn more - Click here
* Special Education Teacher - Chicago, IL - The Invo-Progressus Team has incredible opportunities for Special Education Teachers…or, as we like to call them, Superheroes. If you use your super powers to help ensure that children have access to the best education possible in the least restrictive environment, we would love for you to join the Invo-Progressus team! To learn more - Click here
* Special Education Teacher - Wilmington, DE - We are currently seeking full-time Teachers with a Certification in Special Education in Wilmington, DE to provide services during the 2019-2020 School Year. The Invo-Progressus Team has incredible opportunities for Special Education Teachers…or, as we like to call them, Superheroes. To learn more - Click here
* Special Education Teacher - Philadelphia, PA - The Invo-Progressus Team has incredible opportunities for Special Education Teachers…or, as we like to call them, Superheroes. If you use your super powers to help ensure that children have access to the best education possible in the least restrictive environment, we would love for you to join the Invo-Progressus team! To learn more - Click here
* Special Education Teacher - Desert Choice Schools is looking for a Special Education Teacher or Teacher Intern at multiple locations including Buckeye, AZ - Tempe, AZ - Phoenix, AZ - San Tan Valley, AZ - Queens Creek, AZ and Yuma, AZ for the 2019/2020 school year. Being a special educator with Desert Choice Schools is unlike any other opportunity. To learn more - Click here
Acknowledgements
Portions of this or previous month's NASET's Special Educator e-Journal were excerpted from:
Center for Parent Information and Resources
Committee on Education and the Workforce
FirstGov.gov-The Official U.S. Government Web Portal
Journal of the American Academy of Special Education Professionals (JAASEP)
National Collaborative on Workforce and Disability for Youth
National Institute of Health
National Organization on Disability
Substance Abuse and Mental Health Services Administration
U.S. Department of Education
U.S. Department of Education-The Achiever
U.S. Department of Education-The Education Innovator
U.S. Department of Health and Human Services
U.S. Department of Labor
U.S. Food and Drug Administration
U.S. Office of Special Education
The National Association of Special Education Teachers (NASET) thanks all of the above for the information provided for this or prior editions of the Special Educator e-Journal
---
Download a PDF Version of This e-Journal
NASET Members - Login to Access