June 2006 Special Educator e-Journal
Forgot your password?
Please enter the email address by which you registered your user account. Then press "Send password" and your password will immediately be emailed to you. Make sure to spell your email address correctly.
Message from the Executive Directors of NASET - Dr. Roger Pierangelo & Dr. George Giuliani
National Association of Special Education Teachers (NASET) Selects LDOnline as the 2006 Recipient of its Excellence in Special Education Award
This Just In……
Research Update in Special Education
Letter to the Editor
Focus Topic of the Month: Usher Syndrome
Calls to Participate
Update from the National Dissemination
Center for Children with Disabilities
Topics of Interest and Practical Resources
Report from the National Center on Secondary Education and Transition (NCSET)
Funding Forecast, Grants, Awards, and Scholarships
Legislative Announcements
Upcoming Conferences and Events
Acknowledgements

---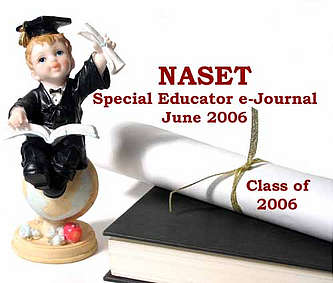 NASET Members - Login Below to access the latest Special Educator e-Journal.
Site visitors: You may access a sample e-Journal - Sample e-Journal