April 2010 - Special Educator e-Journal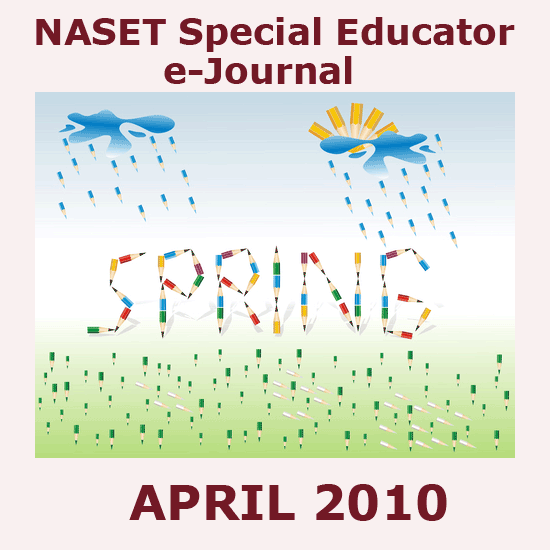 Table of Contents
Update from the U.S. Department Education
Calls to Participate
Update From The National Dissemination Center for Children with Disabilities
Special Education Resources
Upcoming Conferences, Workshops, and Events
Funding Forecast and Award Opportunities
Acknowledgements
Download a PDF Version of This Issue
---
NASET Sponsor - Drexel University Online
Click here for more information about Drexel University Online
---
NASET Members - Login Below to access the latest Special Educator e-Journal.
Site visitors: You may access a sample e-Journal - Sample e-Journal
---
Forgot your password?
Please enter the email address by which you registered your user account. Then press "Send password" and your password will immediately be emailed to you. Make sure to spell your email address correctly.
Latest Job Listings
Seeking Excellent Special Education
Teachers
Job Category: Special Education Teacher Pre-K to 12
Description
The New York City Department of Education is seeking excellent teachers who are or will be certified in special education for the September 2010-2011 school year. We offer competitive salaries and benefits, opportunities to grow and achieve as a professional, and the choice of 1,600 unique schools with their own missions and educational approaches.
The Office of Teacher Recruitment and Quality is currently conducting interviews for special education slots in TRQ Select, our program for teacher applicants who show the highest potential. Members of TRQ Select get access to a recruitment manager and extra support in making their transition to teaching in our schools. In addition to a competitive salary, special education teachers who work in one of our high-needs schools are eligible for an annual bonus of $3,400 for up to four years. Special education teachers with more than two years of experience are also eligible for a $15,000 grant through our Housing Support program. For more information on teaching in New York City, eligibility criteria, application information, and online and in-person events, please visit http://www.teachnyc.net or contact us at teachnyc@schools.nyc.gov. The deadline to apply for consideration for TRQ Select is April 19, 2010.
Benefits
Salary $45,000.00 - 54,000.00
Contact
Please visit: http://www.teachnyc.net or contact us at teachnyc@schools.nyc.gov.
*****************************************************************
Special Education Teachers for
2010-11 School Year
Description
Little Keswick School is looking for experienced, licensed candidates certified in ED and/or LD to work in supportive teaching environment with low staff/student ratios. We are seeking candidates with experience in differentiated instruction at the high school level. Experience in advanced math, Spanish, chemistry, and physics is a plus.
Requirements
Licensed to teach in the state of Virginia and certified in Ed and/or LD.
Benefits
Being part of a nationally recognized program. Tuition and course assistance available. Medical, dental, life insurance, paid vacation, tuition assistance, and profit sharing plan & 401K.
Contact
Marc J. Columbus, Headmaster
Phone: 434-295-0457
Fax: 434-977-1892
Email: childebrand@littlekeswickschool.net
Website: www.littlekeswickschool.net
---