Establishing a Positive Classroom Climate
National Association of Special
Education Teachers
(NASET)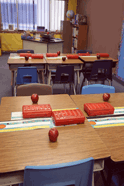 This Week's Topic:
Establishing a Positive Classroom Climate:
At a recent behavior-management workshop, teachers shared their best ideas for managing student behaviors in the classroom. This issue of the Practical Teacher contains six tips that they offered:
Members Login Below To Access The Practical Teacher
Forgot your password?
Please enter the email address by which you registered your user account. Then press "Send password" and your password will immediately be emailed to you. Make sure to spell your email address correctly.